Fabricut is getting an upgrade. This week, the company launched a new fully digital ordering platform that offers fabric-to-frame renderings for each of its SKUs. More than 600 renderings are live now. Eventually, the brand plans to have all 11,000 SKUs available.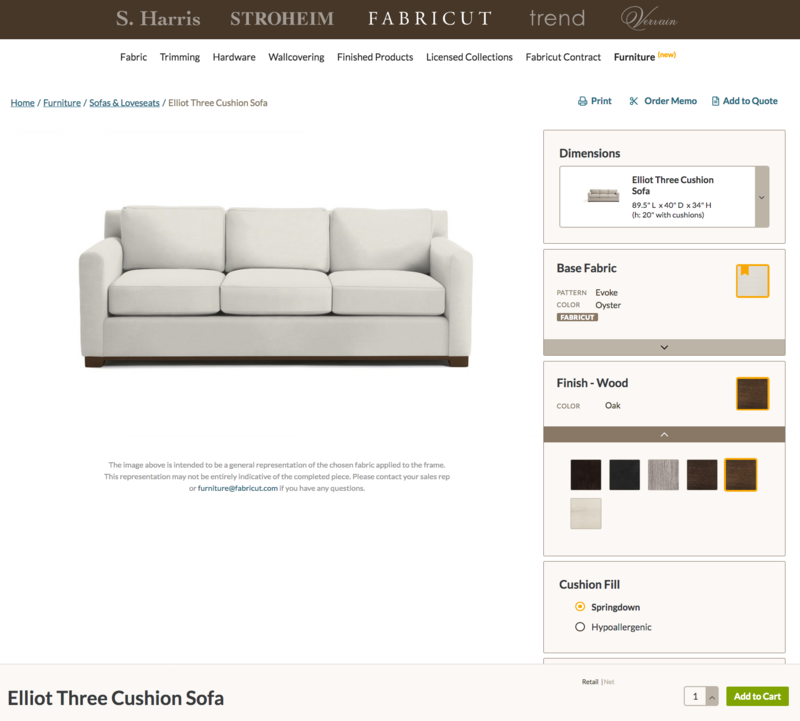 The new ordering system is meant to simplify the process for designers, and offer the same low-friction convenience of a direct-to-consumer site. Net pricing, retail pricing, shipping estimates, and, soon, railroads are all included. Consumers can access the platform and play with it, but they will not see pricing or an add-to-cart option. They can, however, save a PDF tear sheet with their customized settings or print the tear sheet, or add the image to a rendering.
"We've all had to fill out long order forms," Fabricut senior director of marketing Danica Jones tells Business of Home. "It's hard for designers who have very little time already to take time to fill things out, especially if they're ordering from multiple places."
Jones joined Fabricut in 2016, when it was about to launch its on-demand furniture program. She credits S. Harris creative director Jodi Finer with turning the vision into a seamless digital experience. The new platform has been in development for more than two years. "It's more comprehensive than going on Wayfair and seeing what the pink fabric looks like," says Jones. "The goal is to present this really elevated version of [online ordering]—you see it on the frame and it's as close as it can be to what shows up on your doorstep."
Though it won't be possible for designers to, say, insert a Fabricut rendering into their clients' rooms (at least, not yet), it will be easier to envision what the product will look like to an end user—rather than using a skilled imagination and a few fabric samples. To create the renderings, Fabricut used its in-house photography of the thousands of fabrics, and a partner company is applying each to the frames. New options are being added on a daily basis.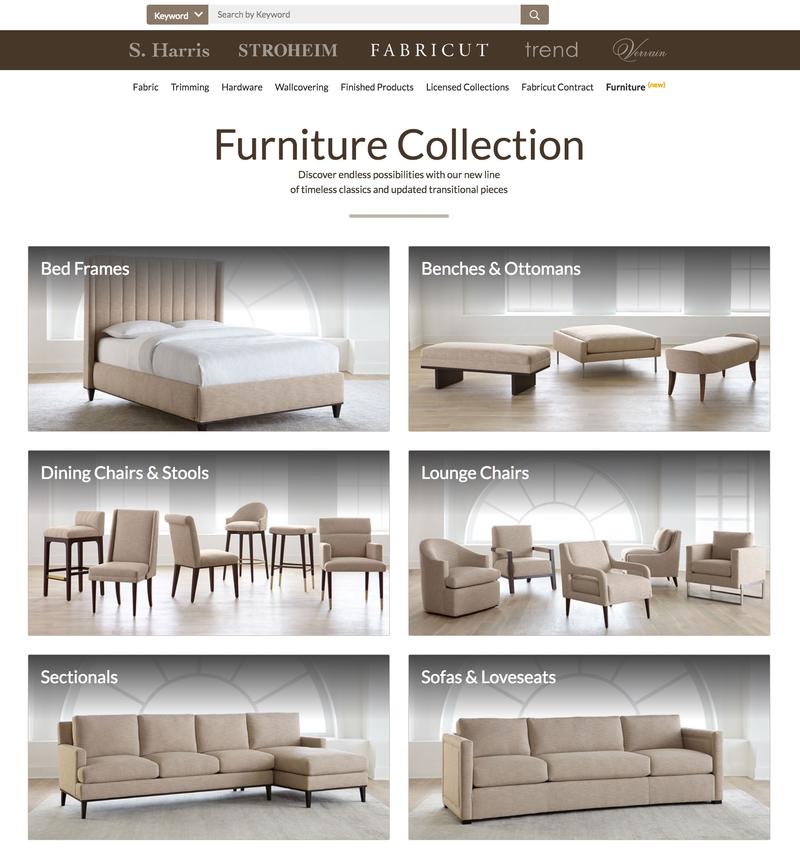 The technology that powers Fabricut's new tool is not itself a disruptive breakthrough. Many retail and fast furniture destinations—Wayfair, Christiane Lemieux's The Inside and One Kings Lane's new Palette, to name a few—allow customers to digitally preview fabric options. But Fabricut hasn't adopted a fast furniture model, it's just bringing the convenience of fast furniture ordering to the trade. "Fabric is our competitive advantage so the designer comes to us for those options first and then brings the flexibility and convenience of fast furniture ordering to the trade," Finer tells BOH.
To accommodate those who prefer ordering from the showroom, sales representatives can access the same platform that designers do. "You can go in and see the fabrics in person, you can sit on our furniture, you can feel it—that's an important part of the experience," says Jones. "But I may not see every fabric on every frame. [The new platform] would only help. People would have more of an incentive to go in."
Making moves to re-energize Fabricut's customers comes hot on the heels of competitor Robert Allen Duralee Group's recently announced bankruptcy. "We're conservative spenders," says Jones. "It's difficult watching people that are friendly competitors dealing with these kinds of things. It's all coming out of that consumer shift where retail is quick and easy." The software upgrade is the latest in a series of moves Fabricut has made to stay ahead of the curve. In October, the brand debuted on-demand furniture.
"Fabricut was built on the belief that we have the power to solve our customers' core challenges," says Finer. "Innovation is about creating solutions for those challenges and luxury is the freedom to be able to choose how to meet them. We aim to intersect both with the values of our business strategy and humbly serving our customers every day."