On September 14, shares of online furniture purveyor Wayfair reached an intraday all-time high of $151.20 each. For that brief moment, the company, which after 16 years in business has yet to turn a profit, was valued at over $14 billion.
Often, traders will sell a portion of their shares when a stock reaches a new high, so it was not unexpected when Wayfair's shares pulled back over the next few weeks. By October 1, it appeared as though buyers once again had the upper hand; shares quickly ran back up toward $150. This time, however, as shares approached their previous heights, more sellers seemed eager to liquidate their positions.
The selling momentum continued in earnest all month, and by the end of October, shares had fallen by over 25 percent. Some traders had begun speculating ahead of Wayfair's earnings release that the company's numbers for the third quarter would come in well short of Wall Street's expectations—and, as it turns out, they were right.
Wayfair reported revenue of $1.7 billion for the third quarter—an increase of 43 percent, which was in line with expectations. However, the company also reported a loss of $151 million, double the loss it reported for the same quarter a year ago. Advertising spending alone had ballooned to over $540 million for the first nine months of the year, an increase of more than 41 percent over the year before. The company also hired 1,200 new employees in the third quarter, bringing its total head count to 10,908.
Wayfair pointed out that it added more than 3 million new customers in the past year. Judging by the dramatic increase in the company's marketing spend however, it's clear that the customer acquisition cost, known in the marketing world as CAC, has risen to nearly $200 per customer. At the same time, the company disclosed that its average order value, or AOV, actually dropped in the third quarter to $244, down from $250 the year before.
Shares would fall another 10 percent as the news broke, with many traders trying to sell shares before the market opened. Yet even after losing more than $5 billion in market capitalization in recent weeks, Wayfair is still valued at nearly $9 billion. That's more than the valuation of Knoll, Herman Miller, RH, Ethan Allen and La-Z-Boy combined. The question is why. Namely, why have investors chosen to bid up the value of Wayfair's business model and price its shares more like a fast-growing tech stock, instead of a low-priced home furnishings company that sells its products online?
Some have suggested that Wayfair is the next Amazon—that the company is building a logistics and data-driven infrastructure that will allow it, in time, to dominate the market. Unfortunately for Wayfair, the company does not have a separate cloud-based business, like Amazon's AWS, that generates huge profits and pays the bills for the retail side of the business.
At the moment, Wayfair really does seem to be counting on building an online furniture and home decor business—one that can resell products at very low margins, offer free shipping, and hire engineers and back-office workers at a far faster rate than any of their brick-and-mortar competitors. The company seems to assume that one day it will all pay off; profitability doesn't seem to be a pressing goal.
The model certainly seems to have paid off for the company's founders, both now billionaires and, perhaps in an effort to diversify their assets, both regular sellers of Wayfair shares. Niraj Shah, the CEO, sold 90,459 shares in October alone, totaling more than $11 million, and has been selling shares at a similar clip all year long.
Wayfair shares have suffered a 30 percent pull back four times since the company became public in 2014, each time triggered by a greater-than-expected loss. The shares have always recovered and gone on to reach new highs. What's different now is that we are in a rising interest rate environment for the first time in a decade and the housing market has been particularly weak of late—factors that wouldn't necessarily concern a fast-growing tech company, but which might matter to an online furniture business. I'm guessing that in the coming months, we're going to find out once and for all which one Wayfair really is.
____________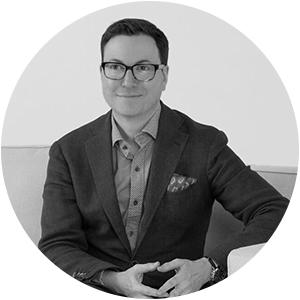 Dennis Scully is the host of the weekly BOH podcast, where he explores the changes and challenges facing the interior design community through interviews with industry thought leaders, entrepreneurs and creatives. He is also the vice president of sales and marketing at luxury textiles company Castel. Scully was previously a business development consultant for major trade brands, and has held sales and marketing roles at Domino, Waterworks and Twill Textiles. In his Market Watch columns, Scully calls upon his background as an analyst and long-time securities trader as he explores the ins and outs of the home industry's publicly traded businesses.
Disclaimer: The author does not hold shares of the companies featured in this column at the time of the story's publication. The views, thoughts and opinions expressed here belong solely to the author, and do not necessarily reflect those of BOH. The material is for informational purposes only, and does not constitute any form of financial advice.