Generally speaking, cold calls are often more miss than hit. But for Greensboro, North Carolina–based furniture company Ferrell Mittman, a simple cold call two years ago led to its latest licensed collection, a 12-piece line designed by famed architect Robert A.M. Stern.
One of Ferrell Mittman's sales representatives reached out to the architect's firm to pitch some product, which resulted in the two companies working on a substantial custom project together. When that project came to a close, Stern's office proposed collaborating on a licensed collection.
"We were looking for a partner to help us realize a furniture collection that would offer both comfort and timeless elegance, not just for the houses our firm designs, but for a wide variety of homes in the broader market," says Lauren Kruegel Siroky, interiors design director at Robert A.M. Stern Architects (RAMSA), who oversaw the creation of the collection with Stern. "We were impressed by the hands-on work of the craftspeople on the Ferrell Mittman factory floor, who worked and reworked our designs to get them just right; it was clearly a labor of love for them as for us."
For Ferrell Mittman, collaborating with RAMSA gave the brand a chance to refresh its product assortment. "We have a very wide customer base, and we're always looking to keep expanding our array of products and bring designers something new and different," says Ira Glazer, the president and CEO of Ferrell Mittman and its sister company, Avery Boardman. "When we started working with RAMSA on custom pieces a few years ago, it became clear that we worked well together and that we had a common interest in the type of furniture we wanted to bring to market." It also gave the brand an opportunity to showcase its finishings department, which has more than 70 in its portfolio. "That gave the team at RAMSA so much creative license to choose and develop finishes that truly inspired them," says Glazer.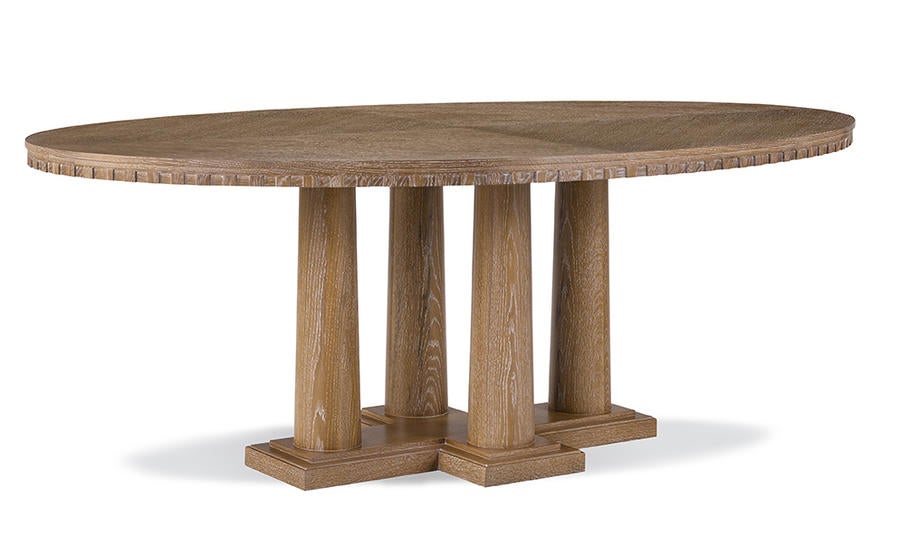 Courtesy of Ferrell Mittman
The resulting collection is influenced by the signature timeless architectural style that RAMSA is known for, and by historical research: "We looked not only at buildings we admire, but also at furniture designed by architects we admire, interpreting their lines at appropriate scales and in logical if unexpected ways," says Lawrence Chabra, studio director at RAMSA's interior design department. "For example, elements from the work of [turn-of-the-century architect] Joze Plecnik—both his buildings and his furniture—inspired the leg details of our McClintock dining table and Pitman console." The design team also looked to contemporary and traditional Scandinavian architecture to inform the collection.
The partnership is the fourth designer collaboration for Ferrell Mittman and joins RAMSA's extensive number of product licenses, which currently includes deals with Walker Zanger, Remains Lighting and CF Stinson, among others.
Although not designed to be sold as a matching set, the pieces do complement one another aesthetically and thematically. "We approached this collection in the same way we approach decisions about stone, millwork, and specialty finishes in our work on our firm's interior architectural projects," says Kruegel Siroky. "Just as we strive to make our interiors flow from room to room, the furniture in the collection relates from piece to piece." Part of that flow is thanks to the finishes that she and Chabra selected, a palette of muted but saturated blues, greens and creams, and a terra cotta inspired by Roman frescoes and Swedish country houses. "[We feel] we were able to curate a set of finishes in tones and colors that express the contemporary RAMSA aesthetic that we saw as missing from the market and that we wanted to bring to a wider audience," says Chabra.
Glazer is hopeful that the new pieces, coupled with Ferrell Mittman's customization capabilities, will allow designers to be inspired and creative during these difficult times. "Like a painter with their brush, we want to give designers an opportunity to continue to layer new pieces into their work," he says. "We're here to serve them."
Homepage image: The Whitefield Library sofa from Robert A.M. Stern for Ferrell Mittman | Courtesy of Ferrell Mittman