Just in time for fall, a suite of new showrooms to explore. Grab a scarf and set out to explore these new spaces. In our monthly showroom roundup, all the expansions and openings to have on your radar.
EAST COAST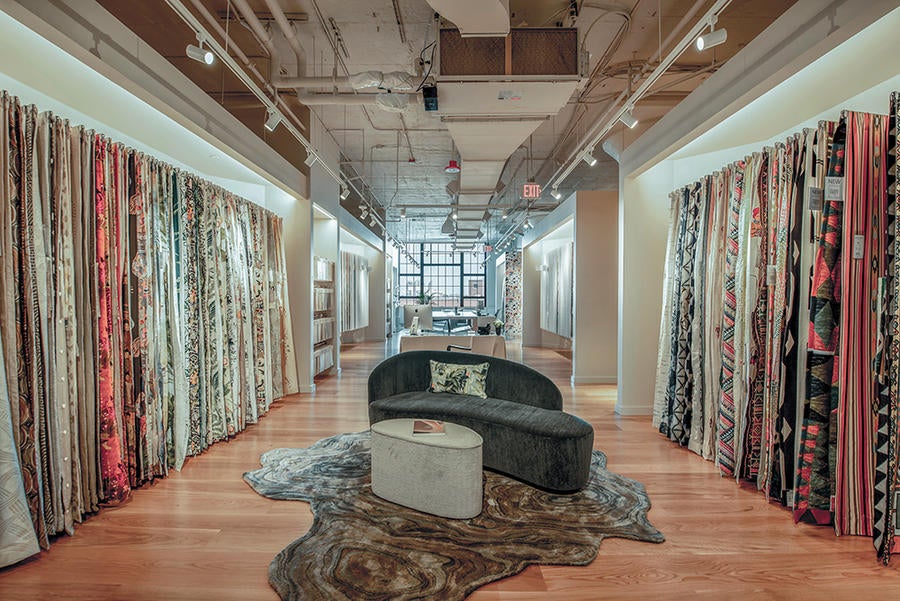 French fabric brand Pierre Frey is opening its third U.S. showroom in Boston. The space is 3,000 square feet.
Brooklyn-based lighting startup Juniper will move its manufacturing from Canada to a new 20,000-square-foot space in Southington, Connecticut, as well as relocating its showroom headquarters from Brooklyn to SoHo in a new space on Crosby Street designed by Asthetíque.
Élitis is bringing CMO Paris, a wallcovering and upholstery brand, to its showroom in the Decoration and Design Building this week. (979 Third Avenue, Suite 333, New York)
South African home furnishings brand Ngala Trading Co. opened its first design center showroom at the New York Design Center. (200 Lexington Avenue, Suite 412, New York)
Spanish tile and bath brand Porcelanosa opened a new showroom in Industry City, a retail neighborhood in Brooklyn. (33 35th Street, Suite A-101, Brooklyn, New York)
International flooring brand Tarkett will open a new New York showroom at the end of the month.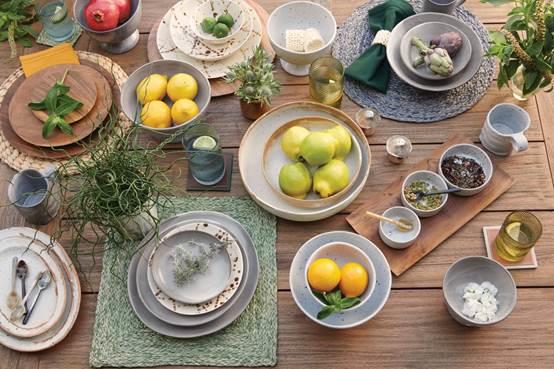 Courtesy of Blue Pheasant
Blue Pheasant will be opening their first permanent showroom in New York at 41 Madison. The new eighth floor showroom will be open to the trade during the New York Tabletop Show.
Office furniture company MASHstudios opened a new showroom in New York City, showcasing vignettes of designs it has made for Chanel, Nike and other retail clients.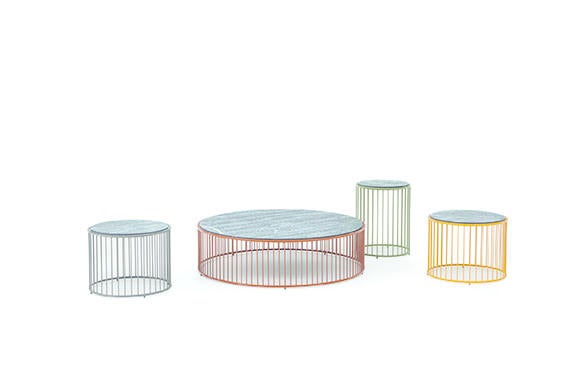 DDC opened a 7,000-square-foot outlet in New York for its samples that are no longer on existing showroom floors, sold at discounts of up to 70 percent off. The outlet complements the brand's two flagships on Madison Avenue. (16 East 40th Street, 11th floor, New York)
WEST COAST
Furniture retailer Scandinavian Designs opened a new showroom in Phoenix, and will open new Arizona locations in Glendale and Mesa later this year.
German Kitchen Center opened a newly renovated 1,900-square-foot showroom in West Hollywood, California, and now hosts Italian brand Matteo Gennari and English brand Charles Yorke in addition to Leicht and Team 7, which it had carried previously. Michala Metzler and Debra Tendler of GKC designed the new space. The brand also opened an 8,000-square-foot showroom in Brooklyn's Red Hook neighborhood, which will feature products from brands Stosa, Team 7, Doca, Pianca and others. (8761 Beverly Boulevard, West Hollywood, California; 465 Van Brunt Street, Brooklyn, New York)
Maison Flaneur, a showroom and event venue, has opened in West Hollywood.
MIDWEST
Chicago-based flooring brand Home Carpet One has renovated its Lincoln Avenue showroom in celebration of its 50th anniversary. The 15,000-square-foot showroom was designed by Jonathan Splitt Architects. (3071 North Lincoln Avenue, Chicago)
Michigan Design Center has California Closets and Leonardo's Marble & Granite as new tenants. (1700 Stutz Drive, Suite 95 and Suite 102-B, Troy, Michigan)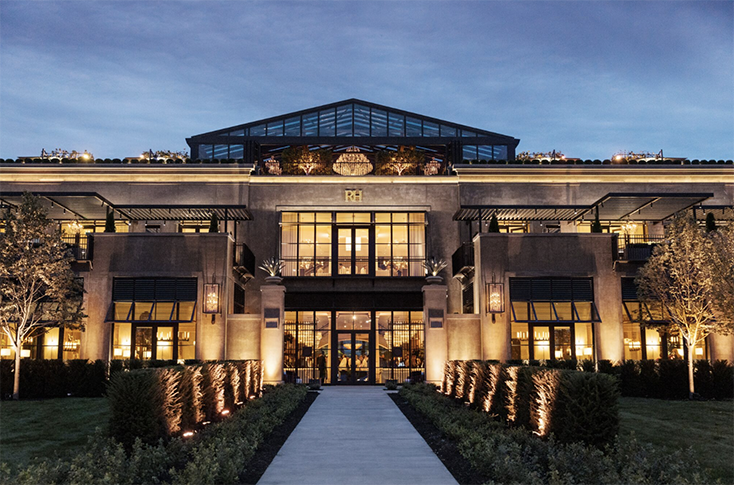 La Vie Photography, courtesy of RH
RH Minneapolis, The Gallery in Edina opened on October 2. It's almost 60,000 square feet—and, similar to the New York gallery, it has ample space devoted to the brand's major product lines and interior design services, as well as a rooftop restaurant. (6801 France Avenue South, Edina, Minnesota)
TEXAS
Over 40 lighting brands have made either long-term renewals, expansions or new leases at the Dallas Market Center, contributing to more than 160,000 square feet in new space, the largest total expansion since 2007. Sonneman—A Way of Light has expanded; new leases were signed by Accord Lighting, Artika, InStyle Gallery and Samsung. Acuity Brands Lighting, like many of the other new lessees, will open its 1,000-square-foot showroom in time for Lightovation in January. ELK Lighting has a multiyear renewal for its two DMC showrooms. (2100 Stemmons Freeway, various, Dallas, Texas)
Chad Dorsey Design will open a new shop and studio space in Dallas's Design District during Dallas Design Week this month. The studio is 2,500 square feet and has an open floor plan; the shop will feature mantels, upholstery and bespoke bar, tableware and case goods, with lighting and rugs to come in 2021.
THE SOUTH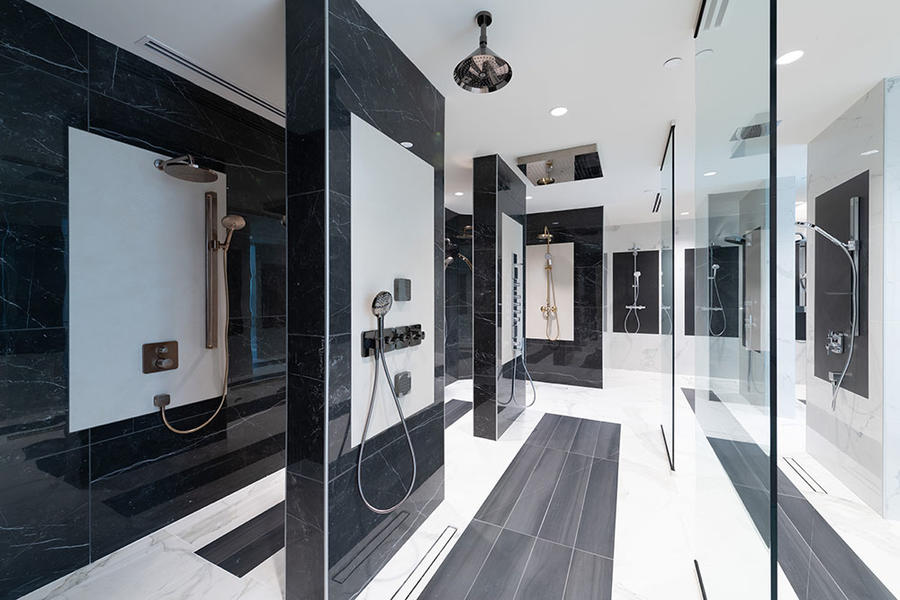 Courtesy of Hansgrohe USA
Hansgrohe USA has premiered a just-remodeled Aquademie, which is what the brand calls its interactive product display center and educational training hub, at the corporate headquarters in Alpharetta, Georgia. There are now full-room vignettes with new collections from Hansgrohe and AXOR, as well as a larger Showerworld. Hansgrohe opened the Aquademie in 2001. (1490 Bluegrass Lakes Parkway, Alpharetta, Georgia)
Julian Chichester expanded its space in the Atlanta Decorative Arts Center at the beginning of this month. The move, essentially doubling the showroom in size, has allowed the brand to include more of its products and introduce more new collections. (351 Peachtree Hills Avenue NE, Suite 139, Atlanta)
Homepage photo: Juniper's new SoHo showroom; courtesy of Juniper