RH New York, The Gallery has officially opened in the city's Meatpacking District. Spanning 90,000 square feet and five floors, the term "retail outlet" doesn't quite cover what the $50 million, contemporary glass-and-steel space entails.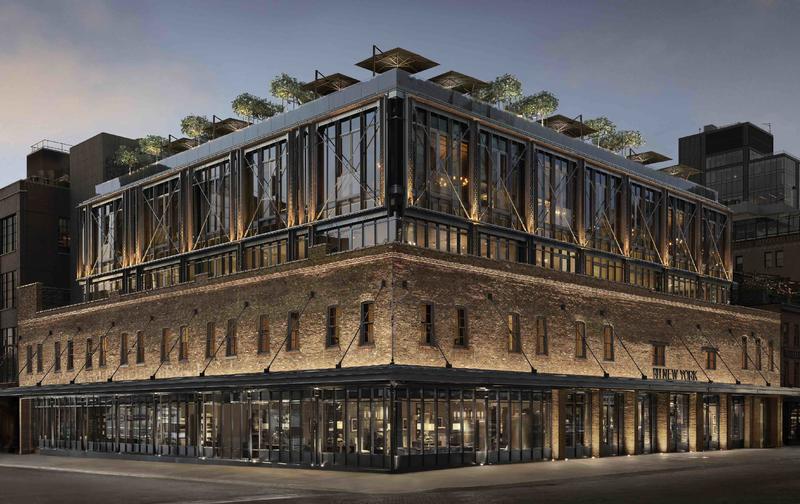 The Gallery also served as the site of an investor event held on September 6 with Gary Friedman, chairman and CEO of the home furnishings brand, and his team, to discuss the company's growth strategy. In a statement, the company noted of the new location and its significance: "RH New York provides the rare opportunity to create what the Company believes will be the most innovative new retail experience in the world, in arguably the most important city in the world."
Designed by Jim Gillam, of the firm Backen, Gillam, and Kroeger, the building maintains its original facade and features indoor and outdoor space, including a landscaped park area, linked by a main atrium. It also includes a glass elevator, a grand staircase adorned with an art installation titled "New York Night," by Los Angeles–based artist-designer Alison Berger, and offers views of downtown Manhattan.
For sale are food and wine (at the rooftop restaurant, bar and outdoor "wine terrace"), as well as different floors dedicated to RH Interiors, Modern, Outdoor, Baby & Child, and Teen, in addition to RH Interior Design Offices and what the brand calls a "Design Atelier with private presentation rooms for clients."
In a recent earnings report, the company shared that it was raising its fiscal 2018 earnings guidance a third time, noting: "As articulated since the beginning of the year, we continue to manage the business with a bias for earnings versus revenue growth. We will restrain ourselves from chasing low quality sales at the expense of profitability, and instead focus on optimizing our new business model while building an operating platform that will enable us to compete and win over the long-term."
It also shared that RH Yountville (in Northern California) will open later this month in a historic building, and that the brand is rethinking its prototype for its stores, or Design Galleries: "The new prototype is based on key learnings from our recent Gallery openings and will range in size from 33,000 square feet inclusive of our integrated hospitality experience to 29,000 square feet without. These new Galleries will represent our assortments from RH Interiors, Modern, Baby & Child, Teen and Outdoor. Due to the reduced square footage and efficient design, these new prototypes will be more capital efficient with less time and cost risk, but yield similar productivity. We anticipate these new Galleries will represent approximately two-thirds of our target markets and enable us to ramp our opening cadence from three to five new Galleries per year, to a pace of five to seven new Galleries per year."
Consumers can also expect to see another type of shop in secondary markets, clocking in at 10,000 to 18,000 square feet and, according to the company, will enable it to "gain share in markets currently only served by smaller competitors. We expect these Galleries to drive $10 to $15 million of revenues at a net investment of $0 to $5 million, with a payback on our invested capital of 0 to 2 years. Our plan is to test a few of these Galleries over the next several years, and if proven successful, this could lead to an increase in our long-term Gallery targets."