Actress and art collector Portia de Rossi is leveraging technology to benefit artists—as well as the would-be art collectors interested in their work. De Rossi's company, General Public, has partnered with Restoration Hardware. Her art curation and publishing platform aims to bring "good art to more people," starting with nearly four dozen paintings from artists Kali Sanders (Los Angeles), Paul van Rij (The Netherlands), Seb Sweatman (South Africa), and Koen Lybaert (Belgium), whose works will be available solely via RH and RH Modern.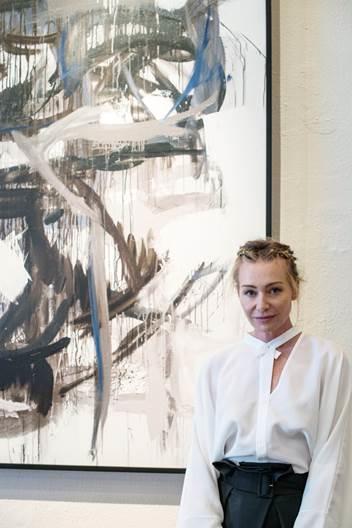 "As an art lover and collector, I became fascinated with the concept of finding great works and sharing them with the general public," says de Rossi. "Our ground-breaking 3-D technology makes that possible, redefining the limits of printing. Each nuance of brushwork, texture and technique is captured, authentically revealing the artist's hand."
General Public uses 3-D scanning and printing tech in order to reproduce works from the group of curated artists via a type of technology called Synograph. The companies describe it as a state-of-the-art print that captures artwork in such detail that it is near identical to the original.
The actress and entrepreneur, who grew up in a rural town in southern Australia, credits her relationship with art with expanding her worldview. De Rossi is also an artist herself, working across a number of mediums.
Of the innovation behind her new partnership, she explains: "I'm fascinated by the concept of using 3-D technology, because unlike the current method of printing, which is merely a photograph of a painting, 3-D printing makes an authentic version of the artist's work—with the subtlety of each brushstroke or palette knife mark—available to as many people who wish to enjoy it, as opposed to just one collector."