For designers who work on a smaller scale, finding a convenient location to consult with clients can be a challenge. And while a design center can offer an efficient office alternative, it can still incite uncomfortable conditions: "If you're buying Baker, you can't hang out in Henredon," says interior designer Michael Coyne, who's headquartered out of the Michigan Design Center (MDC). "We've watched people sit in their cars and look at blueprints."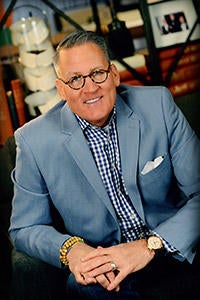 It was enough of that, decided Coyne and Susan Todebush, the executive vice president and general manager of the MDC. While the Troy, Michigan-based design center had undergone several small updates since opening in 1977, it was in need of a modern redesign—in both form and function.
"The business is always changing," says Coyne, "so if we can create neutral spaces where professionals can meet with each other, network and have conversations with the showrooms, that opens up an opportunity for everyone to hear what the needs are and to try to meet them together."
The 215,000-square-foot MDC has long served as a designer resource in the Midwest, intermixing national showrooms like Baker Furniture, Schumacher, Kravet and Henredon with locally owned tenants. With designers' product needs met, Danto Investment Co., owner and operator of the MDC, was ready to tackle designers' growing demand for a working space.
"We were looking for a way to reimagining how we're using the common areas," says Todebush. "We wanted to create a space where design professionals could meet, review floor plans, and have conversations with their clients, so we didn't want to just replace furnishings."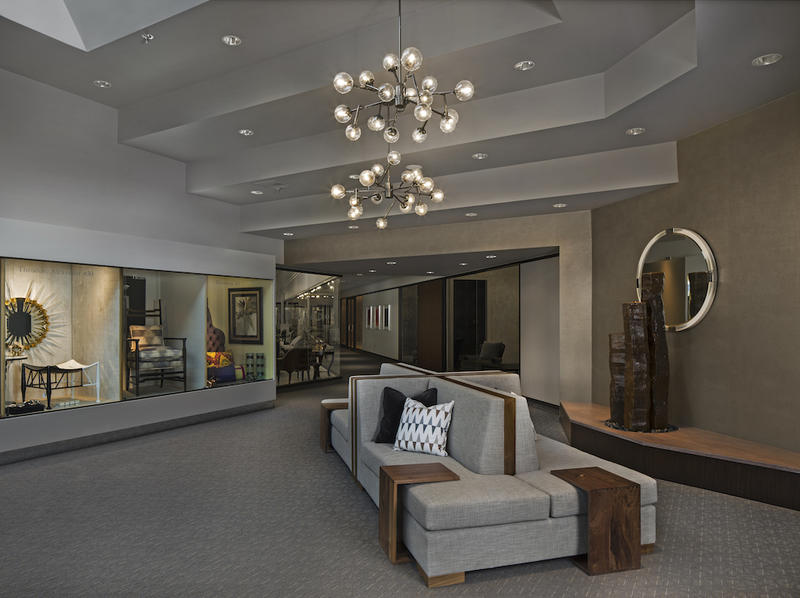 Having Coyne in-house helped too. His pitch for creating nine distinct workspace hubs in the design center's common area was an immediate hit with MDC officials. Along with the public space, Coyne was also asked to update the center's event space and replace the lighting throughout the entire building.
Known for his modern and classic aesthetic, Coyne mixed showroom-sourced products with custom designs to refresh the new space. "As a design center, you want to be current and using the new products that are out there," he says.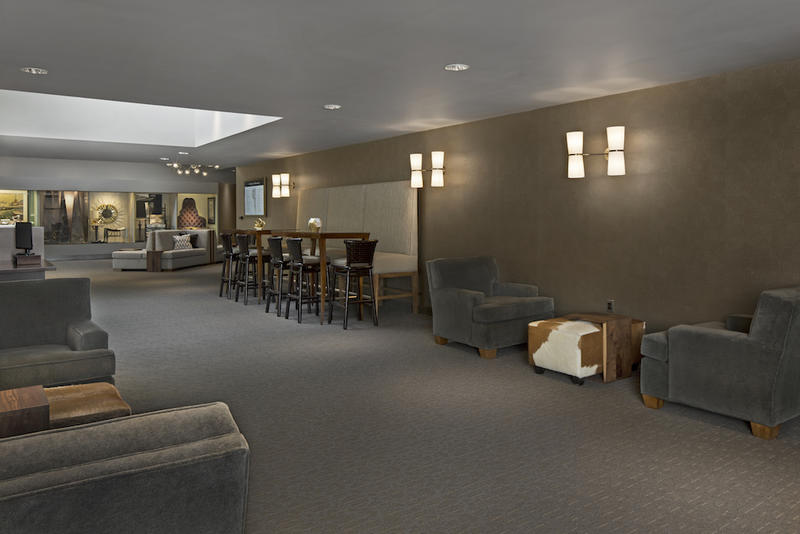 One of Todebush's favorite parts of the redesign? The common space's three-column fountain. "We questioned at first, but it's really very functional," she admits. "It's not only a beautiful focal point within the space, but the sound of the water actually helps muffle the conversations, which gives people meeting within the space a veil of confidentiality that they wouldn't otherwise have."
The MDC hosted an unveiling party earlier this month to much acclaim. "It's such a necessary resource for us designers," says Coyne. "And with the building spending this money to renovate, it's showing a commitment to the design community."