The summer may be over, but here at Business of Home, we're feeling reinvigorated following this year's Future of Home conference. After (virtually) connecting with so many of you, the uncertain future feels a little brighter. Read on for headlines, launches and events, recommended reading, and more.
BUSINESS NEWS
In response to coronavirus concerns, Pinterest has paid $89.5 million to cancel a new lease on 490,000 square feet of office space that was set aside for construction near its current San Francisco headquarters. In a statement, Todd Morgenfeld, CFO and head of business operations of Pinterest, said, "As we analyze how our workplace will change in a post-COVID world, we are specifically rethinking where future employees could be based."
On September 10, the U.S. Green Building Council hosted its Green Business Summit, where more than 1,000 green building and business professionals gathered to discuss the future of corporate sustainability, highlighting COVID-19 and climate change as two standout challenges. As part of the forum's conclusion, it released the Healthy Economy Forum Report, outlining some of its key takeaways—notably, that investing in schools is a first step to reopening the economy; as much as $12 trillion could be added to the global GDP by 2040 if businesses can emphasize better health; future buildings should have a "pandemic mode" that can be switched on and off; and designers should prioritize high indoor air quality.
Last week, People reported that Kim Kardashian West has trademarked KKW Home, a move that may be the first step toward an expansion of the reality TV star's empire into the home space. With existing lines in beauty and fashion, Kardashian West's trademark would cover everything from gifts and bath products to furnishing and decor, reports Refinery29.
Former congressman and New York mayoral candidate Anthony D. Weiner (whose political career ended in federal prison following multiple sexting scandals) is now the acting chief executive of IceStone, a Brooklyn-based countertop company. The New York Times reports that despite Weiner's colorful history, the former politician had been advising one of the company's executives before he was asked to join the team as CEO in May.
U.K.-based luxury home goods label Buster + Punch announced a £7 million (that's just over $9 million) series B round on September 3. Led by British investor Mobeus Equity Partners, the new injection of capital brings the company's total to nearly £10 million (or $12.8 million). Buster + Punch specializes in lighting and furniture design, offering hardware, design services—and motorcycles, as well.
LAUNCHES, COLLABORATIONS & PARTNERSHIPS
New Jersey–based kids' educational nonprofit Those Amazing Professions has announced the launch of Those Amazing Architects, a new website designed to inform young people about careers in architecture, showcasing examples of how architects work and the difference they make in people's lives. The platform targets middle and high school students, educators, counselors, universities and design professionals in the U.S. to help build the next generation of architects. It was developed with the support of industry associations like Gensler, HOK, the National Academy of Construction, STV Incorporated and the Thorton Tomasetti Foundation.
Together with Architectural Digest, the Black Interior Designers Network has announced The Iconic Home, a virtual showhouse launching this November that will highlight the talents of Black designers while emphasizing the importance of diversity and inclusivity within the industry.
Last week, Los Angeles–based soft goods company Parachute announced its Home for Dreams Initiative, a new mentorship and grant program that aims to support Black-owned, product-centered businesses with capital, advisory meetings and brand amplification. The program will focus on one business every six months, providing $25,000 in financial support and business advice from Parachute founder Ariel Kaye. The application period is now open, and closes on October 8; to learn more, click here.
Martinsville, Virginia–based manufacturer Hooker Furniture has announced Breegan Jane as its first digital brand ambassador. The company hopes to engage with consumers and the interior design community by strengthening its social media presence, reports Furniture Today. "We knew immediately upon being introduced to Breegan that she would be the perfect fit as our first digital brand ambassador," said Johne Albanese, Hooker Furniture's vice president of corporate marketing.
Beginning September 29, groups of two Los Angeles County residents will have the chance to book one of five nights to stay in a wing of the Fresh Prince of Bel-Air's mansion, courtesy of Airbnb, reports Adweek. The promotion will commemorate the show's 30th anniversary, allowing guests to play foosball or max and relax by the pool in this iconic home.
Sunbrella has released its first comprehensive collection of performance textiles that use up to 93 percent recycled materials, as well as a few designs in a first-time line with textile designer Jack Lenor Larsen.
CALENDAR UPDATES
CEDIA Expo Virtual begins today and runs through September 17, showcasing the latest in home technology innovations.
Following the success of its Virtual MRKT this summer, Field + Supply will host its fall fair as an interactive digital experience. Beginning on Thursday, October 8, the four-day event will celebrate fine craftsmanship, turning to its year-round e-commerce marketplace as a tool to allow attendees to discover and shop the markers' collections.
Forty One Madison has announced that this year's New York Tabletop Market will take place virtually from October 13 to 20, as well as in person. Showrooms will be open by appointment; all visitors will be required to check in and comply with the building's COVID-19 safety protocols. Digital programming will include a full schedule of interactive workshops and webinars, lookbook, digital reading room and influencer-curated Instagram product.
The Antiques & Garden Show of Nashville announced last week that it would cancel its 2021 event due to ongoing concerns surrounding COVID-19. The show, the largest of its kind in the U.S., usually attracts more than 15,000 attendees, whose tickets support the charities Cheekwood Estate & Gardens and Economic Club of Nashville. The organizers are encouraging supporters to make a comparable donation in lieu of ticket purchasing this year to continue support of those organizations, and they plan to resume the show in 2022.
RECOMMENDED READING (and VIEWING)
The Weird Homes Tour has returned, this time entirely virtual. On September 26, the Weird Homes team will travel to Portland, Oregon, leading viewers through the (weird) homes and fielding questions from the virtual audience along the way. A portion of ticket sales will be donated to Central City Concern and its mission to provide more affordable housing in Portland. At least seven wacky residences will be featured, from a grotto-like dome home to a psychedelic "House of Sarcasm." For a deeper dive, click here.
Last week, The New York Times spoke with several architects and landscape architects to see where their imaginations have taken them in the quest to solve the pressures being placed on public spaces as the pandemic continues. In New York, Claire Weisz of urban design and architecture firm WXY proposes raising awnings to allow small businesses to operate while maintaining social distancing; in Oakland, California, Deanna Van Buren, executive director of community development nonprofit Designing Justice + Designing Spaces, is brainstorming a "de-escalation" center where conflicts can be anticipated and better resolved.
After speaking to interior designers and architects from around the country, The Wall Street Journal has made its bid for the top design trends to come in the next decade—and some are less obvious than others. Say farewell to open floor plans and hello to nature-inspired spaces that support wellness; furniture pieces will grow more compact; and "rigid rectilinear design will further recede," writes WSJ contributor Allison Duncan.
CUE THE APPLAUSE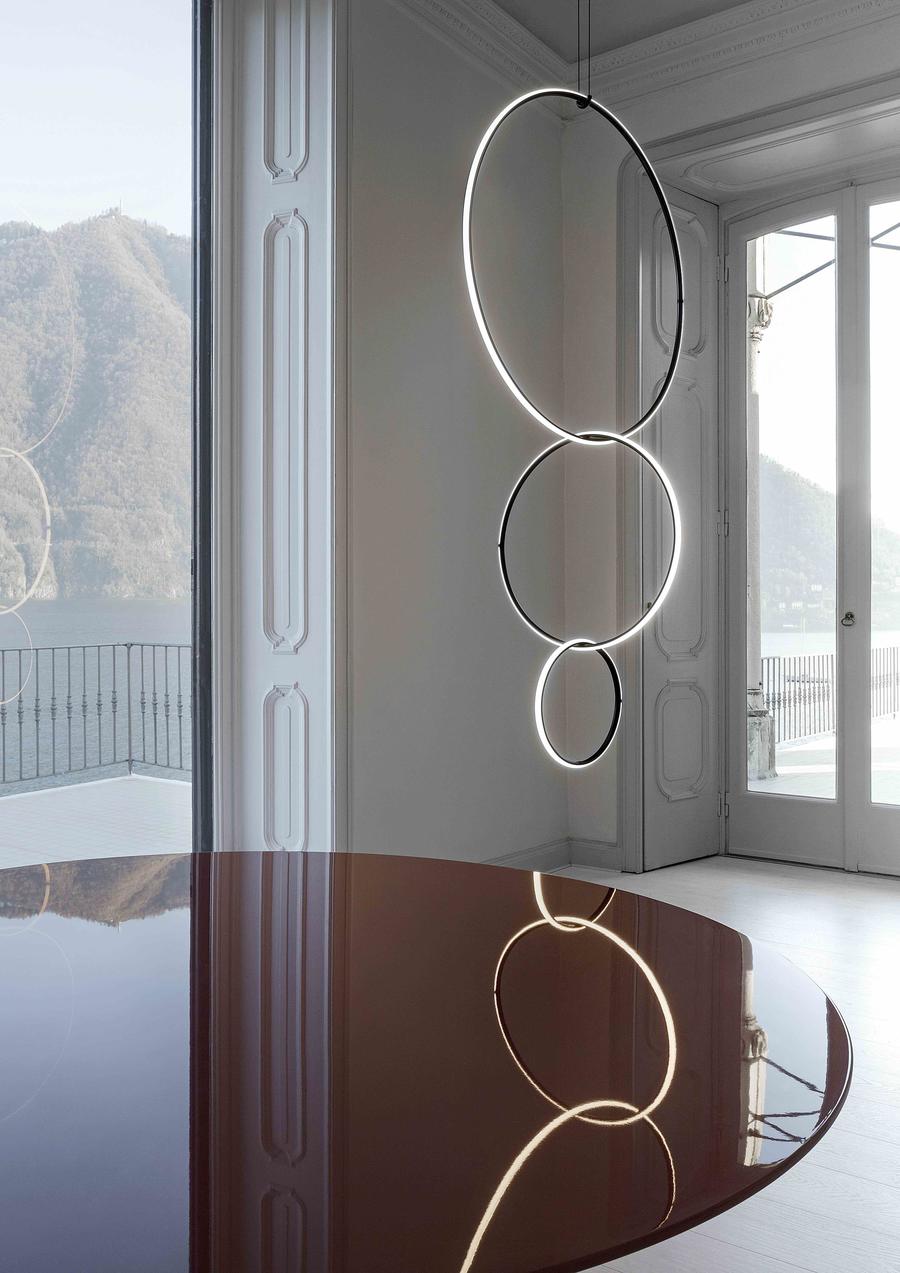 Lighting designer and manufacturer Flos has been honored with two awards from the 26th edition of the highly regarded Italian design award the Compasso d'Oro ADI. The Product Lifetime Achievement Award was given to Flos's Arco lamp, which was originally designed in 1962; the company's modular lighting elements, Arrangements, won the Influential Award.
CALL FOR ENTRIES
As the recipient of the American Society of Interior Designers 2020 Irene Winifred Eno Grant, the Sustainable Furnishings Education Fund has allocated the $5,000 award toward an interior design survey titled "What's it made of?" Through the survey, the Sustainable Furnishings Council seeks to identify what interior designers understand about the hazardous chemicals currently used in today's manufacturing of home furnishings. Designers can participate until September 30. To take the survey, click here.
Surface material company Formica has opened its call for submissions for the 2021 FORM Student Innovation Competition, which invites architecture and interior design students to design a piece of furniture using Formica products and addressing the theme "Design for the Next Generation." Entries will be accepted until March 12; to learn more, click here.
IN MEMORIAM
On September 14, Ann Getty, longtime benefactor of the arts and head of her eponymous design firm, passed away from a heart attack at age 79. Author of Ann Getty: Interior Style, she coupled her philanthropic work with a prolific design career, and supported innumerable charitable events by opening her home to the public. Getty's taste for richly detailed, opulent interiors will live on as a hallmark of her legacy.
Longtime design editor George Jason Kontos passed away this weekend. After graduating from Strathearn School with an interior design degree, he started his career in publishing at House Beautiful and went on to work at 12 magazines throughout his lifetime, including 25 years at Hearst titles (with posts at Country Living, Colonial Homes and Classic Home, which he founded). Kontos ended his career as much-lauded editor in chief of New York Home and then New York Spaces, a position he held until the magazine's closure in 2018. "Jason was an incredible boss, an incredible mentor, and most of all, an incredible friend," wrote his longtime colleague and friend Nicole Haddad in a post on Facebook that announced his passing. "I will forever be grateful for the joy, laughter and love he's brought into my life. Words will never convey what a beautiful force of nature Jason was. Or how hollow the world will be without his big booming laugh and his fiery temperament when angered. He used to rail at us when we overruled his design decisions, but he continued to surround himself with strong, stubborn women—a testament to who he was. … He lived life to the fullest always, traveled the world, and spent his days doing what he loved."
Legendary British designer and retail mogul Terence Conran passed away this weekend at age 88. Conran made a name for himself in the industry designing affordable yet stylish home furnishings in postwar Britain before pivoting to the restaurant industry. His influence will continue to resonate within the industry, BOH retail columnist Warren Shoulberg writes in his tribute: "Sir Terence Conran leaves his wife, Victoria, five children, 14 grandchildren, one great-grandchild, and a legacy that will be felt in the home furnishings business and households around the world for generations to come."
Homepage image: Inside Dome Home from Weird Homes Tour, Portland | Thanin Viriyaki Photography