One of the 20th century's most iconic textile designers might never have gotten started, save for a lucky gap in his knowledge. "I studied interior architecture with a great teacher at a good school, but I couldn't draw very well," Jack Lenor Larsen tells host Dennis Scully on this week's episode of the Business of Home podcast, sponsored by The Shade Store. "When we had to learn a little about weaving, that I liked. And I was good at it."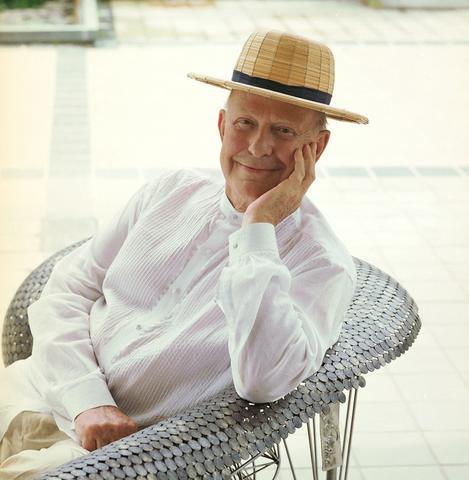 And so began one of the most legendary careers in fabric. Larsen went on to deepen his skills at the Cranbrook Academy of Art in Bloomfield Hills, Michigan before moving to New York, where his young firm met almost overnight success, earning a project at the Lever House, a piece for the Museum of Modern Art, and a commission for an icon: "I also did a collection for the Siamese company that was importing, Jim Thompson. They were afraid they'd lose Thailand as a source to the communists, so would I do an American collection? I did it, and my first buyer was Frank Lloyd Wright, who bought 200 yards for Taliesin."
Architects became a key early audience. "Marcel Breuer said, 'That's the kind of fabric we use at home,' and he became our good client. And [Louis] Skidmore and the others all wanted to look like Marcel, so soon I had a huge market of great architects primarily doing executive offices." Later, Larsen would count the temperamental neo-futurist Eero Saarinen as a key client: "He barked at people, he always seemed to be uncomfortable," says Larsen with a laugh. "I accepted it. And he was very loyal."
Though Larsen started as a weaver, his business grew by leaps and bounds, taking him all over the world, to Bali, Morocco and Peru (among dozens of other destinations). Credited with bringing ikats and bakits to an American audience, Larsen's company at its peak was manufacturing in more than 30 countries globally. Some of his tales are downright swashbuckling, like the time he barely escaped imprisonment in Myanmar (then Burma) while working to set up shop there. "Burma has the best weaving in Asia," Larsen. "Their communists were like the North Koreans—very tough. I would have been in jail if I had stuck it out."

I knew more ASID interior designers than anyone in America.
Jack Lenor Larsen
Along with a reputation for its global outlook, Larsen's company became known for more than just woven fabrics—it started working in printed fabrics, leather and furnishings—at one point Larsen, Knoll and Herman Miller were all competing for the top of the market. Larsen's company, however, was the only one to work both sides of the coin: commercial and residential. He attributes this reach to great personal relationships. "I knew more ASID interior designers than anyone in America," says Larsen. "At one point I was writing 200 letters to designers a month. We would go to Europe together."
They also partied together. It was a different time in the design world, when product launches would see 500 people crammed into a Larsen showroom for black tie dance parties. "Eventually we figured out that if we had openings at 5 p.m., only staff would come. But if we did them at nine, only principals would come."
It wasn't all Champagne, disco balls and toile. A shaky business manager, a fraudulent accountant and a series of recessions eventually saw the contraction of Larsen's business, and in the '90s he sold to New York firm Cowtan & Tout. However, Larsen didn't slow down much: He continued to serve on various boards, write books, and develop his Easthampton estate, Longhouse, into a public trust.
Even at 92, Larsen hasn't fully retired: He's got an upcoming collaboration through Cowtan & Tout with Burlington, North Carolina–based performance fabric brand Sunbrella, alongside a new book about his celebrity collaborators and clients—and Larsen has no shortage of those, including Marilyn Monroe. But you'll have to listen to the podcast to find out about the time Frank Lloyd Wright dunked on Dorothy Draper, then asked her for money. (No one said the design business was all pretty.)