The Goldstein Museum of Design at the University of Minnesota is celebrating the 90th birthday of Jack Lenor Larsen with an exhibit curated in his honor. "Jack Lenor Larsen at 90: Transformations by a Textile Innovator" is on view through January 7, 2018.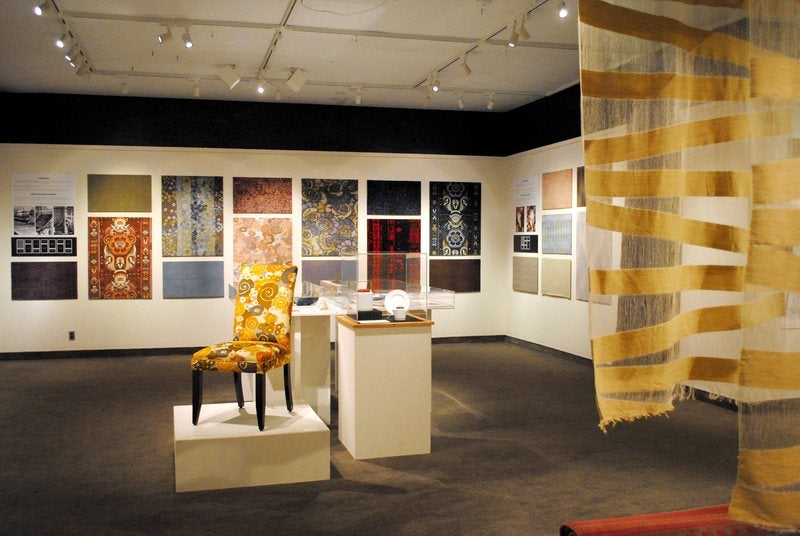 The exhibit was co-curated by UMN professor Stephanie Zollinger and Goldstein Museum of Design associate curator Jean McElvain. It has been almost 20 years since the university acquired part of Larsen's archive, so they felt it was time to bring some of the collection out again.
"A lot of time has gone by, and a lot of designers coming out of school today do not realize the impact that this gentleman has had," says Zollinger. "The whole exhibition focuses on some of the innovation that Jack has made strides in."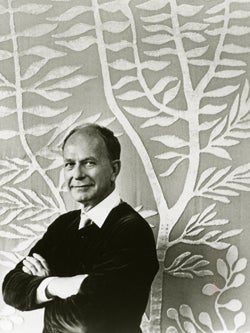 Larsen founded his firm, Jack Lenor Larsen Inc., in 1952 and early on in his career developed his signature style: handwoven textiles with randomly repeating patterns. He spent a lot of time traveling, learning traditional textile-making techniques that he eventually was able to mass-produce. His firm was purchased by Colefax and Fowler in 1997.
Throughout his career, Larsen created new types of fabric, ultimately expanding what was available to designers. Zollinger says when curating the exhibit, these were the categories they chose to focus on, including stretch fabrics and printed velvet.
"He introduced stretch fabrics to the interior design profession in the 1950s," she shares. "Prior to that, as the shapes of furniture pieces changed—pieces becoming more sculptural—there weren't fabrics that would fit the curves and the forms of these furniture pieces."
To demonstrate Larsen's innovation, the exhibit includes finished products, drawings and production samples, showcasing an overview of his creative process. The museum is also hosting a panel discussion on November 2, when former colleagues of Larsen's will speak about what it was like to work in his studio.