Stay in the know with BOH's weekly news digest, including business headlines, launches and events, recommended reading and more.
BUSINESS NEWS
The Congressional Budget Office, a nonpartisan legislative agency, has issued a report estimating that the U.S. economy will likely take the better part of a decade to recover from the contraction caused by the coronavirus. As reported by The Wall Street Journal, a series of surveys assigns tremendous significance to the decline in global manufacturing, with a predicted 3 percent drop in U.S. GDP between 2020 and 2030.
Brooklyn-based entrepreneur Aurora James has challenged major U.S. retailers to commit to buying 15 percent of their merchandise from black-owned businesses, reports Fast Company. James launched the campaign, the 15 Percent Pledge, on Instagram this past Saturday, calling to action companies such as Whole Foods, Target, Walmart, Net-a-Porter, Barnes & Noble, The Home Depot and more.
While Google will welcome employees back to offices starting July 6, the tech giant will cover up to $1,000 in home office furniture purchases to facilitate a better work environment for staff who aren't yet comfortable returning to the workplace, reports the New York Post.
In other Google news, the search engine will now take UX (user experience) into consideration in search results. Per Fast Company, as part of its new set of best practices, Google will quantify website UX through metrics including speed, responsiveness and visual stability, among other criteria. Put simply: "Intuitive, user-friendly page design is about to become even more important," writes Lilly Smith.
The direct-to-consumer cookware brand Caraway Home has raised a $5.3 million seed round, with plans to grow its product line and expand distribution channels. Since launching in November 2019, the New York–based company has made waves with its nontoxic nonstick pots and pans.
In the wake of its bankruptcy filing in May, Neiman Marcus is under investigation for fraudulent asset transfers. According to the Financial Times, the allegations surfaced on Friday during a court hearing on the company's profitable business Mytheresa.com, a Munich-based e-commerce brand that was originally promised as collateral for Neiman Marcus's debt. A heated courtroom exchange suggests that the company will face intense scrutiny over its restructuring proposal.
Many experts and media outlets have been forecasting how office spaces might change in a post-COVID world—and now the Centers for Disease Control and Prevention has something to say about it. As summarized by The New York Times, many of the guidelines align with what the world has seen already: face masks, 6 feet of separation from other people. New protocols also include recommendations against public transportation and carpooling; suggested ventilation systems; and the elimination of communal snack bins.
Global consumer brand management company Iconix (which owns brands like Ed Hardy, Joe Boxer and Mossimo) has added five home decor names to its portfolio: textile manufacturer Waverly, bedding and bath brand Cannon, fabric producer Charisma, bath linen brand Fieldcrest and home fashions company Royal Velvet. "We see the home industry as a key driver for many of our brands," Bob Galvin, CEO and president of Iconix Brand Group, said in a press release. "As the retail industry continues to shift and develop, we are seeking to adapt by expanding our partnerships with a group of leading home licensees."
LAUNCHES, COLLABORATIONS AND PARTNERSHIPS
Brick, New Jersey–based wallpaper company Tempaper has announced its latest collaboration with Bobby Berk: In honor of Pride Month, the brand will donate 20 percent of June sales from the "You Are Seen" wallpaper design to GLSEN, a New York–based organization that works to increase LGBTQ+ cultural inclusion in K-12 schools.
Luxury passementerie brand Samuel & Sons has partnered with Dallas-based performance fabric company Perennials to release the Terrace collection, an exclusive new line of 11 performance borders, cords and fringes woven from acrylic yarns.
Despite its financial troubles, JCPenney is debuting a new private-label home decor brand called Linden Street, a collection of casual cotton linens that includes bedding and curtains.
Surface Media, publisher of Surface magazine, has come together with the Stuart Weitzman School of Design at the University of Pennsylvania to host Surface Summer School at Penn, a new design contest. Students are invited to design a mobile medical unit for COVID-19 testing; the winner will receive a profile in Surface, as well as the opportunity to intern with the magazine at a later date.
CALENDAR UPDATES
B2B trade show organizer Emerald Expositions announced last week that it would cancel the in-person CEDIA Expo 2020, originally scheduled to take place at the Colorado Convention Center this fall. The now virtual event will launch in September, offering tools to take businesses that work with residential tech to the next level.
RECOMMENDED READING
"Fashion is learning the hard way that consumers are raising the moral bar for the brands they patronize," writes Alexandra Mondalek for Business of Fashion. In the current climate, business owners are facing new standards as cultural politics interact more intimately with consumer behavior—and the author points out a few ways that brands can be thinking (and more importantly, acting) right now.
In an article for Retail Dive, Consumers in Motion founder and CEO Daniel Hodges argues that retail businesses are an essential component of the economy's recovery. "I can't imagine any arguing with this one: What's good for retail is good for the U.S., and vice versa," he writes. Hodges points out that the retail industry, comprising 29 million Americans, is the largest private employer in the the country, so any economic reopening would be incomplete (if not remiss) without bringing these jobs back. That won't happen, he argues, without a major adjustment to the way that brick-and-mortar stores operate.
In a recent article, consulting giant McKinsey & Company outlines three principles of brands that consistently outperform competitors: first, a keen understanding of the market based on rigorously tested concepts; second, a clear purpose expressed through creativity and design; and third, a consistent brand experience.
Italian scientists have excavated the mosaic floors of an ancient villa located near Verona. Lead archaeologist Gianni de Zuccato described the discovery to The New York Times: "I had the sensation of entering a time machine, of coming into contact with reality that's long gone, so many centuries ago, and yet having the imprint of humankind."
CUE THE APPLAUSE
Yesterday, the Formica Corporation announced the winners of its annual FORM Student Innovation Competition, which challenged interior design and architecture students to use Formica products to design a piece of furniture representing the theme "Blurred Lines." Over 175 students submitted entries, but the grand prize went to Alexandra Clement of Cégep de Saint-Jean-sur-Richelieu college in Quebec. Her desk design, titled "Origami," will be created and showcased at NeoCon 2021.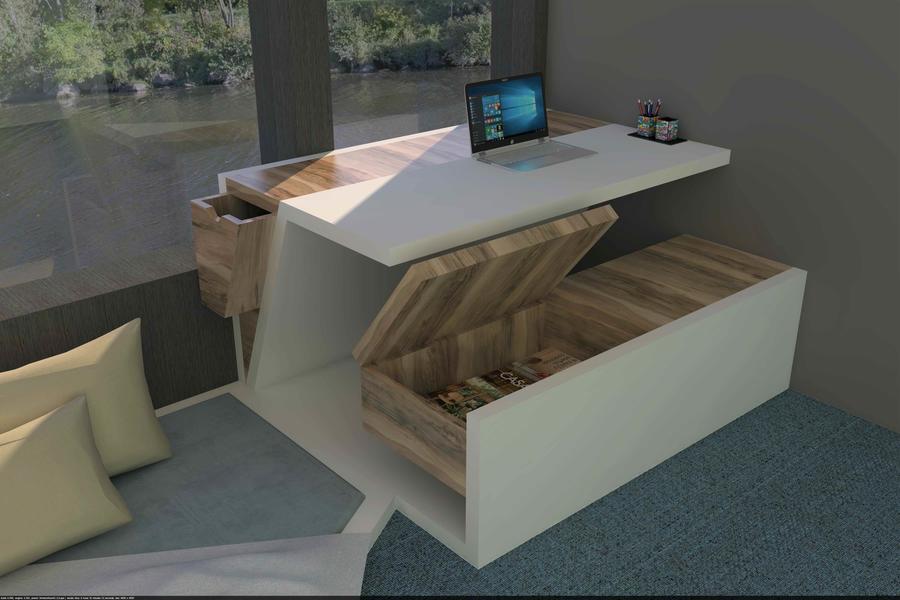 CALL FOR ENTRIES
The Company Store has launched The Blanket Fort Challenge, a contest that aims to engage families together in quarantine. For every post shared on Instagram with the hashtag #BlanketFortChallenge, the company will donate $10 to the Ronald McDonald House New York. The fort that best demonstrates comfort and connection will win a $1,000 gift card to The Company Store.
Homepage image: An employee riding a bike at the Google Campus | Courtesy of Google