Opening a brick-and-mortar is no easy feat. What's good, bad and complicated about running your own store? And how do you measure its success? Get a look behind the counter at some of the industry's top designers' shops.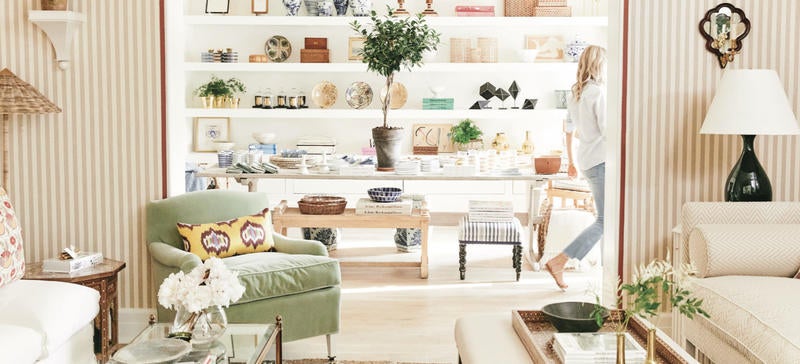 Margaret Naeve
The success of Houston-based M Naeve, a shop that carries designs from Apparatus and Egg Collective, as well as antique and vintage furnishings, inspired founder Naeve to launch her full-service interior design firm eight years ago.
| | |
| --- | --- |
| | "Every piece in my shop has a story. The emotion of a particular piece is what eventually sells much of my inventory—that's something unique to brick-and-mortar retail that is oftentimes lost in the digital age. Most of my clients are interior designers, and working with them and their clients in the shop helped me grow my interest in becoming a designer myself. The shop and my design business are a perfect yin-yang—but don't let any potential clients out there think I cannot give 110 percent for the next design job simply because I run the shop. I like to think the split is half-and-half!" |
Sarah Bartholomew
The 2016 House Beautiful Next Wave designer (and Instagram star) opened her specialty home goods shop in Nashville, Tennessee, this summer after gaining national acclaim for her interior design work.
| | |
| --- | --- |
| "The most surprising interaction with my shop is via Instagram; we've had such overwhelming support—and a lot of sales—through the app. The reach that the platform offers for a small brick-and-mortar shop is amazing. The store is an extension of my design firm's work, with a curation of goods from special, under-the-radar brands and one-of-a-kind vintage and antique pieces. It's unpredictable, curious and rewarding—there is no foolproof formula, and sometimes it's the most unusual pieces that fly off the shelves. It reminds me to listen to my gut when sourcing." | |
Ariene Bethea
Though she recently closed her Charlotte, North Carolina–based furniture shop due to rising rents, Bethea plans to reopen in 2019. For now, she sells online and in a local multi-merchant store.
| | |
| --- | --- |
| | "The shop allows customers to see how I use color and pattern. Even though I sell primarily vintage furniture, customers are often shocked that the pieces are not new—I change their idea of vintage and give them a fresh take on the 'stuffy' old antique shop. They often come back with friends and family to share the experience; it has been a great tool for word-of-mouth marketing, and I've gotten consultations and design work through customers who have visited." |
Lindsay Anyon Brier
Anyon Atelier, the five-year-old shop founded by Brier in the heart of San Francisco's Presidio Heights neighborhood, offers a mix of vintage and modern California-made goods.
| | |
| --- | --- |
| "I underestimated how the shop would change our business in terms of being part of our community, our neighborhood, and even our city. I have met so many artists, vendors and clients who have wandered through our front door; it has made our brand more visible and helped our audience understand our point of view. On Halloween, London Breed, the mayor of San Francisco, picked five shops to trick-or-treat at and ours was one of them—a semi-official mayoral visit!" | |
Peter Dunham
Dunham opened Hollywood at Home in Los Angeles in 2007, which he runs in addition to his textile company and design firm. (When his design business slowed during the recession, he says he was grateful for the shop.) He recently added a quick-ship element to the store with a new in-stock outdoor furniture collection.
| | |
| --- | --- |
| | "It still surprises me how much people respond to the Hollywood at Home environment as a whole. It's the ultimate reward when people come in and feel inspired by the curation of vintage, new, patterns and textures that I pour my heart and soul into. Los Angeles has a very collegiate community of designers, many of whom are friends and shop with us. Their feedback, even when it's not what I want to hear—make something deeper, wider, shorter—is a constant learning experience. On the flip side, the design practice acts very much as a laboratory for Hollywood at Home. We often introduce furniture pieces that get a positive response from clients in the shop. I think of our custom furniture for clients as the couture experiment for my ready-to-wear collection." |
Melissa Benham, Jennie Bishop & Kristen Ekeland
When they formed Studio Gild in 2014, this design team knew an eventual foray into retail would one day be part of the plan. Two years later, they opened Gild Assembly in Chicago, where they sell art, furniture and home accessories.
"We assumed that our collective dream would incubate slowly before ever coming to life. But then we stumbled upon a raw space on a prime corner of Bucktown that serendipitously set the wheels in motion! One thing led to another, and Gild Assembly was born. We initially didn't realize how much fun it is to engage with artists locally, nationally and abroad. Many are open to—and welcome—collaboration, so we've been able to commission one-of-a-kind pieces, or go behind the scenes at artisans' workshops to see their process firsthand. The Gild Assembly storefront is also where we hold meetings within our firm—there have been numerous occasions where customers have walked in and started shopping right in the middle of a meeting! The good news is, clients never seem bothered by it."
Brian Paquette
The Seattle-based designer closed his brick-and-mortar shop this fall after two-and-a-half years in business. While open, Brian Paquette at Home sold a finely curated selection of furniture, lighting and objects made near and far by artisan friends and collaborators. Paquette and his team will continue to operate an e-commerce shop.
| | |
| --- | --- |
| "Brick-and-mortar is no easy task, and it comes with a lot of risk. We were lucky to have our clients and fans from afar purchasing online, which is why we're keeping the online shop. The physical shop became a distraction—it was a lot of work, and we're not a big team. The benefit of the digital shop is that we still get to offer a well-curated selection of items, but without the stress or added expenses of the physical shop. The store only accounted for 8 to 10 percent of our revenue, and most of that came from online sales or from us placing items in our clients' homes; walk-in sales were very slow. We decided to close the physical store to make sure we could focus on our clients and their projects, which is the work that makes me the most happy." | |
Cheryl Kees Clendenon
The enterprising Florida-based designer started selling cabinet hardware out of her office nearly two decades ago; today, her 4,000-square-foot shop, 1514 Home, in a historic house in Pensacola, also offers home furnishings and fine art.
| | |
| --- | --- |
| | "Not much surprises me after 19 years in business and eight years doing retail. When we were downtown, we had some crazy people in. Once we had to call the police on someone who came in and refused to leave, and another time we had to tell a kleptomaniac she was no longer welcome. Overall, we sell anything we think will be a good fit for our customer and client base. Having a shop allows me so much more flexibility and opportunity for making money. It's the only way to grow for most design firms—I can't command $500 an hour, and even if I did, that still wouldn't be enough to pay for my team of six, overhead on the building we own, taxes, workers' comp and all the rest. We are able to open lines of revenue others can't because we have a brick-and-mortar." |
Shelley Johnstone Paschke
After two decades building her interior design business, the London-trained Paschke opened a home decor shop in Lake Forest, Illinois, last year that reflects her love for European-inspired interiors.
| | |
| --- | --- |
| "I literally signed the lease in a few hours after looking at the space, and put it all together in a few weeks. The design process was similar to designing my own home—I make decisions quickly, and I know what I like. (Fresh flowers, candles and books are all musts.) The benefit of having a showroom like this is to meet with current and future clients—people are yearning for small, local specialty shops—in a beautiful environment that reflects my firm's aesthetic. With the studio downstairs, I have access to all our fabric samples, sourcing materials and work space to put together presentations for clients. Everything sourced in the showroom are products that I know will work in our projects. With it all in-house, clients have immediate gratification—they know pieces are a perfect fit!" | |
Jason Oliver Nixon & John Loecke
In 2014, the Madcap Cottage design duo packed up their lives and their three dogs and moved to High Point, North Carolina, after 25 years in Brooklyn. Their first store, a design laboratory in a former pharmacy, closed after three years; this past July, the two opened a new headquarters a few miles away, in Thomasville.
| | |
| --- | --- |
| | "The retail aspect of Madcap Cottage helps build brand recognition and get our name out there to new audiences not only locally and nationally, but also internationally. Retail can be almost one-third of our annual revenue—if we weren't diversified in that way, we wouldn't have made it. When we were operating in High Point, we had several folks tell us that they drove through town—and out of their way, to boot—to see us and visit our retail outpost. You've got to make it worth their time: We always deliver exceptional customer service and have a map with suggestions for lunch and coffee spots. But it's a heck of a lot of work to keep up the shop. We are now creating more pop-up situations that allow us to partner with other folks and tap their brick-and-mortar and staff." |
Photography: Margaret Naeve, courtesy of M Naeve; Sarah Bartholomew, Tec Petaja; Ariene Bethea, Courtney Schramm; Lindsay Anyon Brier, Leigh Miller; Peter Dunham, Sam Frost; Studio Gild, Erika Dufour; Brian Paquette, Jenny Jimenez; Cheryl Kees Clenendon, courtesy of Kohler; Shelley Johnstone Paschke, courtesy of Shelley Johnstone; Madcap Cottage, Bert VanderVeen.