Never let it be said that designers aren't a charitable crowd. The industry is full of nonprofits that seek to give back—even the marquee events, showhouses, are fundamentally charitable institutions. But while many design charities are built on the attention economy model (designers do their thing, people pay to come see it, the money goes to good), a growing number are taking a more hands-on approach. These designers are soliciting donations from their networks, rolling up their sleeves, and bringing their craft directly to those in need: Call it giving back by doing.
SPECIAL OPPORTUNITIES
Monet Masters of Atlanta-based design firm Forbes + Masters became involved with SafeHouse Outreach (which works to sustainably transition the homeless into independent living) through her business partner, Tavia Forbes. This year, they struck on an innovative idea: Offer their services directly to a beneficiary of SafeHouse's programs. So Masters and Forbes came to meet a woman named Trina.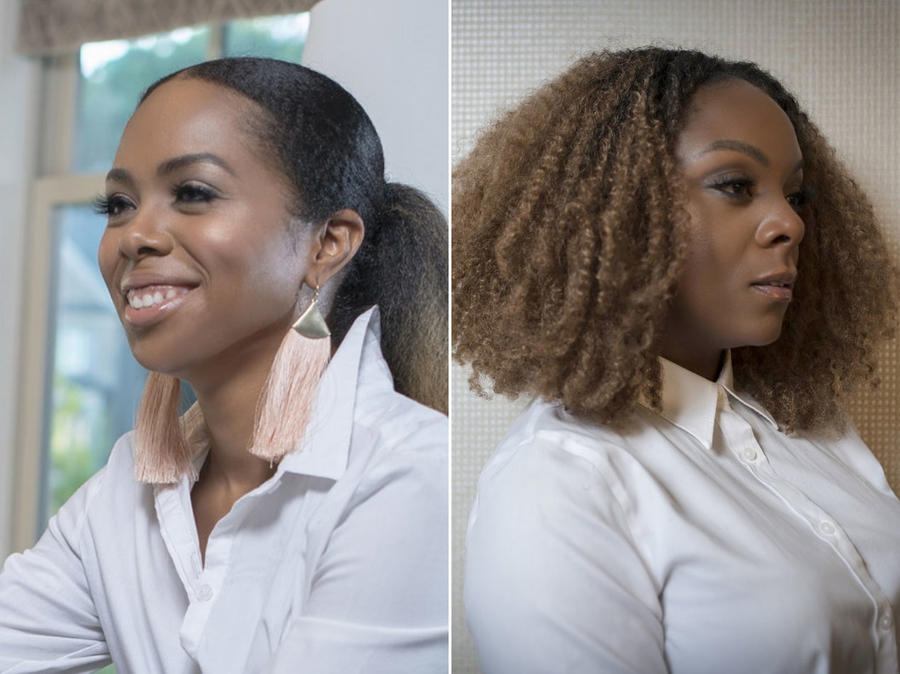 Courtesy of Forbes + Masters
Trina had become homeless in the process of escaping an abusive relationship—and, as a result, had been separated from her children. With SafeHouse's help, she was setting up an apartment to establish to the court system that she could provide a safe, comfortable environment for kids. It was proving difficult. "When we came to see her apartment, she had a blow-up mattress in her bedroom," Masters tells Business of Home. "She managed to buy two toddler beds on Craigslist, but they were broken. The apartment itself looked like no one should live there, but we knew that we could help."

Washington, D.C.–based interior designer Melissa Colgan had a similar experience. Growing up, her father worked with children in the foster care system, so Colgan was "hard-wired to be sensitive to their plight, having heard their stories all my life." After connecting with Transformations of Montgomery County, a 501(c)(3) that helps teenagers who are aging out of the foster care system settle into their own homes, she knew she wanted to help in any way she could.

Through Transformations, Colgan connected with two girls who were in the process of securing their own apartment. One had been a refugee, exacerbating the sense of displacement. Colgan knew she could help, and is currently in the process of redesigning the space. "It's such a challenge, they're in and out of the system their whole life," she says. "They've never really have had a space of their own. But if they're able to feel for a little while how wonderful it can be to have a home that makes them feel safe and inspired, I think it's so important."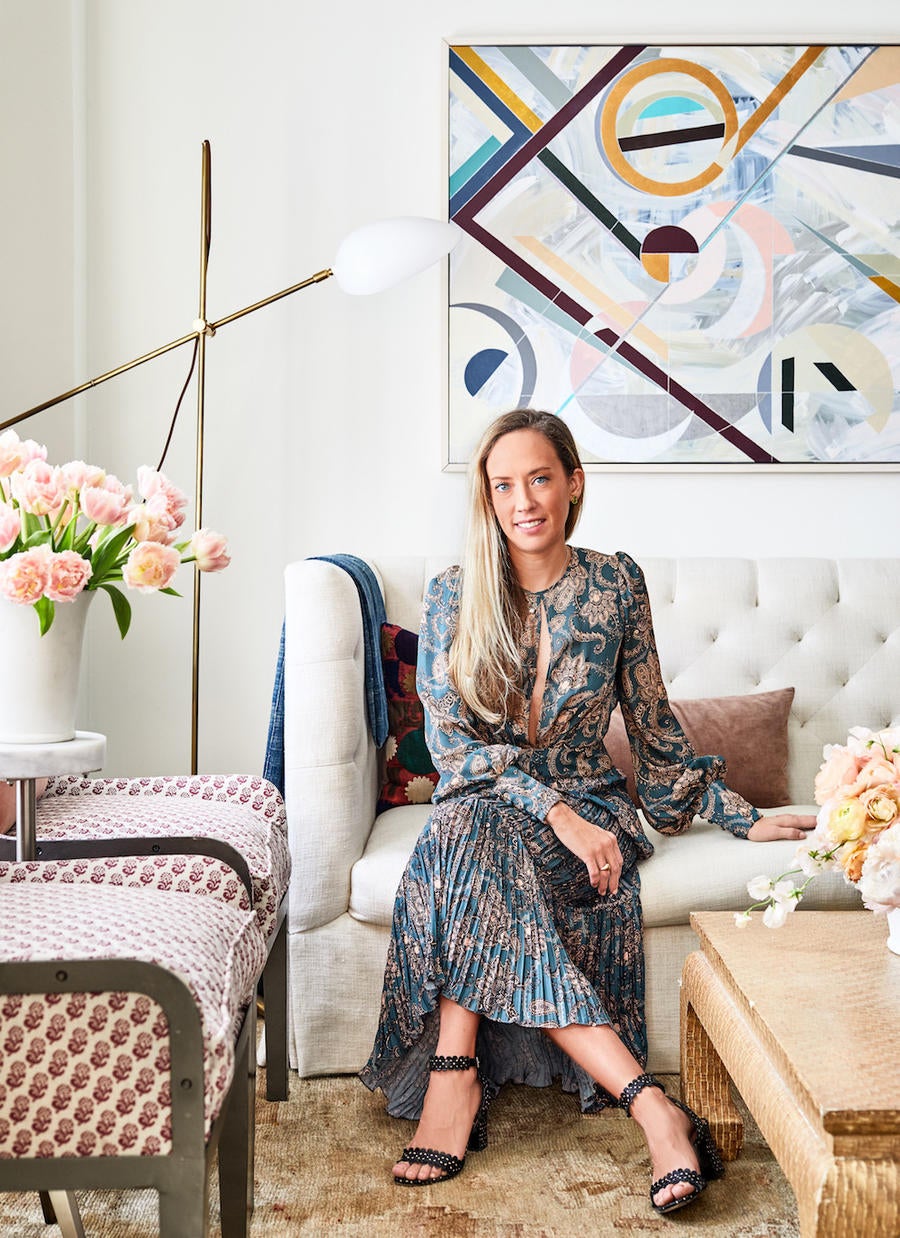 Courtesy of Melissa Colgan
Perhaps the most expansive designer-led charity is San Diego–based designer Susan Wintersteen's Savvy Giving by Design. She founded the charity in 2014 after connecting with the family of a child recovering from cancer treatment. "I was more apprehensive to meet with her than I ever had been with any other client," says Wintersteen, "but I remember going into her room and I knew immediately we could improve it. … When we were done, and I saw the difference it made, I was addicted."
Since then, her charity has redesigned rooms for more than 40 local children undergoing medical crises. Wintersteen is in the process of expanding Savvy Giving to be a national organization, with active chapters in over a dozen states and counting. Recently she's partnered with the Make-A-Wish Foundation to redesign two rooms, and is hoping to expand the collaboration going forward.
"I know there are plenty of designers out who can do the design part, do what they do best," she says. "The goal is to create a network and a brand that supports them with marketing and funding. The more rooms we can do, the more children we can help."
UNIQUE CHALLENGES
In many ways, working for clients in need is no different than any other design process. There's the initial design phase, the shopping, the install, and the OMG-inducing reveal. However, designers working with clients in need face singular challenges that test their skills.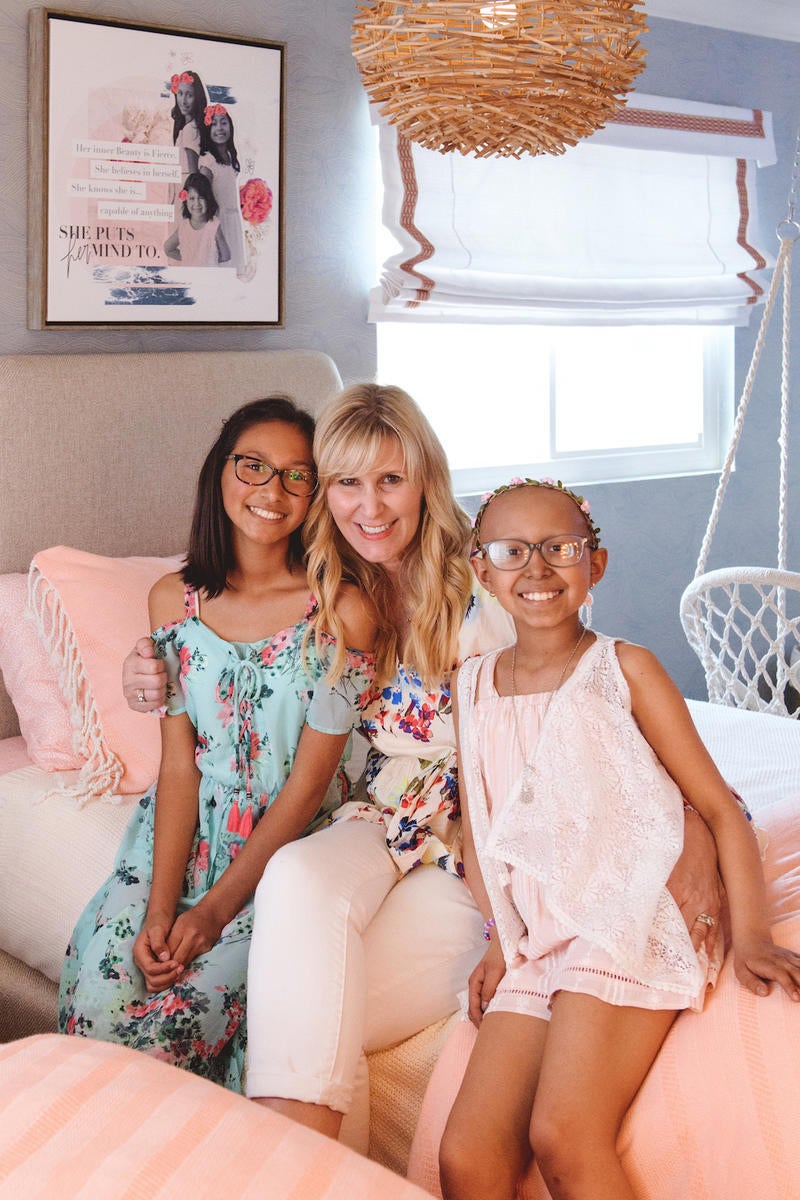 Courtesy of Savvy Giving by Design
For one, there are often unique requirements. Colgan's clients are still minors and supervised by the foster care system, meaning that some design meetings are, by legal necessity, focused purely around function, not personal questions. Though it's an atypical way for Colgan to work, her questions nonetheless yielded poetic requests. "One of the girls said she wanted her room to feel like going down a mountain in a car, seeing the trees move really fast," says Colgan.
Savvy Giving by Design's clients are all children in medical crises. Over time, Wintersteen has developed a sense of their needs: Dimmers on light switches so parents can deliver chemo doses in the middle of the night without waking the child; low off-gas furniture and paint; pull-out beds so parents can sleep in the room if need be.
There's also the emotional side: Early on, Wintersteen realized that it was important for Savvy Giving to redesign not only the patient's room, but sibling rooms as well. "Siblings are in a really precarious position," she says. "They're scared, they don't have an adult perspective, and they may feel jealous of all the attention the identified patient is getting but they can't show it. So giving them something that's their own, we hope will encourage them to support their sibling."
Sometimes it's the space itself that leads to difficulty. Many clients in need are living in rental or institutional apartments, which creates unique challenges. Though Colgan has secured a carpet and paint donation for her clients, she's been hitting roadblocks dealing with the bureaucracy of the building itself. Forbes and Masters also struggled with the fact that their client Trina had limited control over what could be done in her space.

Courtesy of Forbes + Masters
"The most challenging thing is not being able to do our absolute best because some elements are out of our control," says Masters. "She needs repairs to the floor, she needed windows to be sealed. We weren't able to touch certain things because it's an apartment. The hardest part is bringing in the rug to lay on top of a floor that we know need patching."
FUNDRAISING
It's undeniable: Good design costs money, and designers find clever ways to get funding to work with clients in need. They all take a slightly different tack, depending on the project.
Forbes and Masters used a GoFundMe page in order to raise money for Trina's project. They also reached out to their personal clients to solicit donations. Ultimately, the budget was used to purchase new furnishings. "We wanted to give her a place to 'dwell with dignity,'" says Masters. "When we sat down and interviewed Trina, she was thinking very functionally, but we asked to dream a little bit, to tell us her favorite colors, what her dream vacation would be."
Colgan, whose project is still in process, reached out to friends and family and posted to social media in order to solicit donations of cash, gift cards or furniture. She was shocked by the generosity of her network. "I've been floored. I had an artist donate an abstract painting, I've had designers offer to help with the install, I've had $2,500 in gift card donations just from an Instagram post," she says. For her teenage clients, it's not just about sofas and curtains, it's about basic possessions. "They really are coming in with nothing, not even washcloths."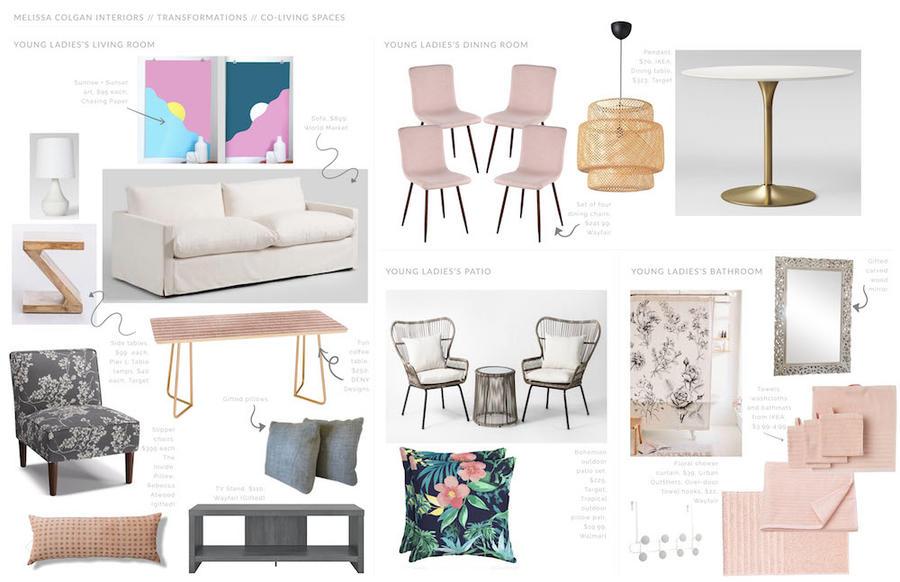 Courtesy of Melissa Colgan
Wintersteen initially relied on her network of vendors to provide for Savvy Giving's early projects. However, she's in the process of growing her nonprofit's profile in order to seek funding from corporate donors. Part of that effort? Insisting on great work.
"Our designs have to be exceptional," says Wintersteen. "We're looking for magazine-quality work." Work of that caliber will make Savvy Giving a better pitch to large brands who can donate funds and goods to help the organization grow.
AN EMOTIONAL REWARD
Though it carries significant challenges, all of the designers we spoke with were unequivocal in their enthusiasm for working with clients in need. Some were emotional while discussing their experiences (and perhaps an editor reached for the tissue box as well). All are planning to continue their efforts. Maybe it's because the connection with the beneficiary is so immediate, maybe it's the eye-opening change of perspective, or maybe it's a chance to see one's craft make a difference, but designers tend to get hooked on the experience.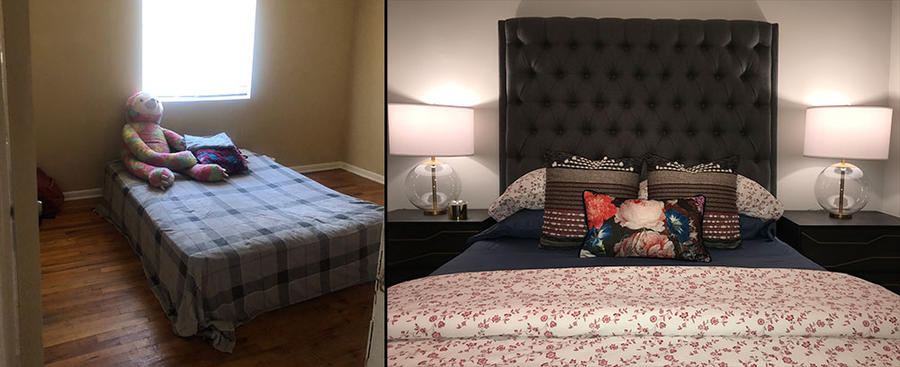 Courtesy of Forbes + Masters
"When we finished [Trina's] apartment, it was amazing to see how interior elements can transform a space," says Masters. "It doesn't matter the space, or the house. It's how you fill it that really makes the feel of it."
Colgan says she'd rather donate her time and energy than money. "Being able to use my expertise and contacts and knowledge is much more rewarding than just giving $100 to charity. We work in this lofty world, it's nice to see how, in a really humble way, the most basic design decision make a difference."