Susan Wintersteen was nervous to meet her new client. It wasn't a high-powered executive or a finicky celeb—it was a 13-year-old girl named Kasey. Kasey was suffering from rhabdomyosarcoma, a form of soft-tissue cancer, and was about to undergo a difficult treatment. Wintersteen, a San Diego–based designer, had connected with Kasey's family through a Facebook group, and volunteered to redesign her room to help her through the challenging time.
"I was more apprehensive to meet with her than I ever had been with any other client," Wintersteen tells Business of Home. "I didn't know what to expect—is she going to be into this, is she going to think, What's this woman doing here? But I remember going into her room and I knew immediately we could improve it. … When we were done, and I saw the difference it made, I was addicted."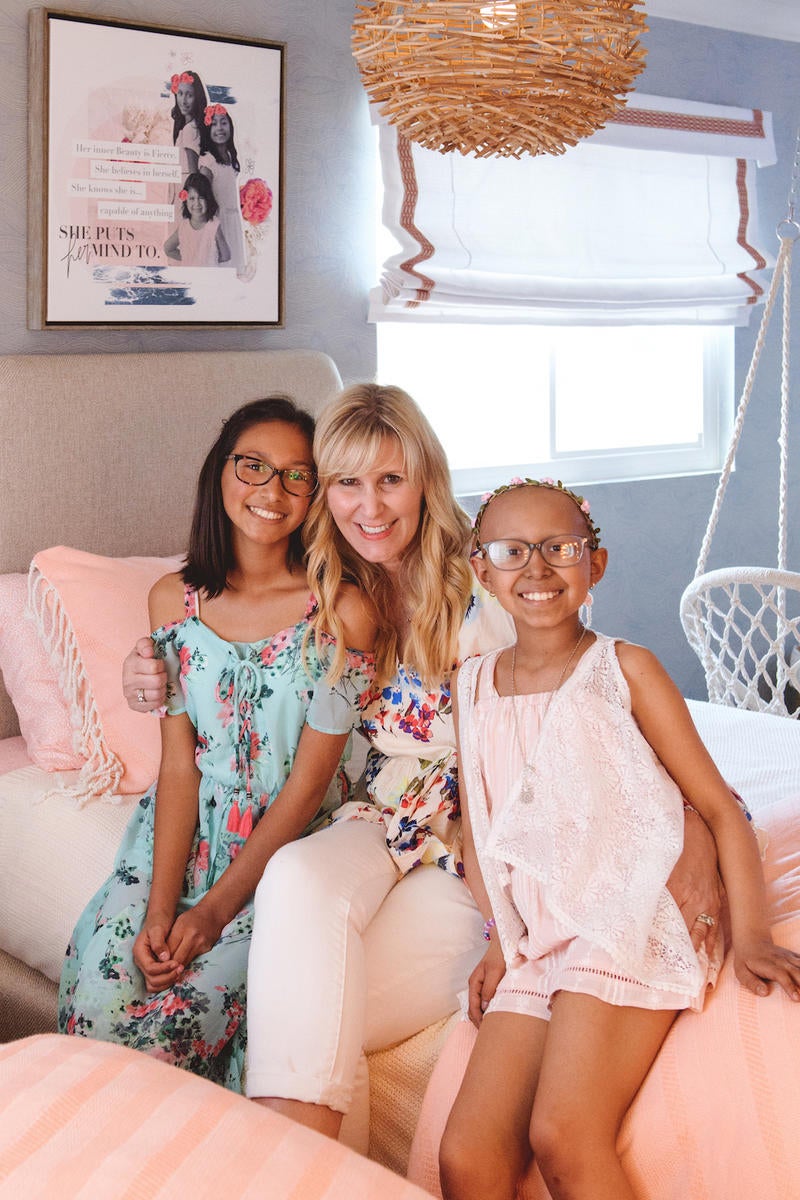 Courtesy of Savvy Giving by Design
That was four years ago. Since then, Wintersteen has redesigned more than 40 rooms for children facing medical crises (at no cost to the families) and turned the concept into a nonprofit, Savvy Giving by Design. Last year, she added seven chapters across the country; this year, she's adding seven more. By 2025, Wintersteen wants to have a Savvy Giving chapter in every state, which would make it the first truly national designer-led charity.
"Designer-led" is an important distinction. Many charities will execute room makeovers for children in crisis, but most of the work is done by volunteers. Wintersteen believes designers are uniquely situated to deliver helpful, healing rooms, done professionally and thoughtfully.
Some of the concerns are pragmatic. Designers are able to tap into networks of local vendors who can donate time and materials. They're also professionally attuned to the very real practical needs of their clients: Dimmers on light switches so parents can deliver chemo doses in the middle of the night without waking the child; low off-gas furniture and paint; pull-out beds so parents can sleep in the room if need be.
There's also the emotional side. For example, early on, Wintersteen realized that it was important for Savvy Giving to redesign not only the patient's room, but sibling rooms as well. "Siblings are in a really precarious position," she says. "They're scared, they don't have an adult perspective, and they may feel jealous of all the attention the identified patient is getting but they can't show it. So giving them something that's their own, we hope will encourage them to support their sibling." It's the kind of observation that comes from a designer's well-honed empathetic ear.
The most important benefits designers are able to deliver are the healing, personalized rooms they create for children in need. However, there's another reason why Wintersteen is looking for great designers to join up: It helps with fundraising.
"We have to be on brand and on point with our designs that set us apart from the volunteer organizations. Our designs have to be exceptional," says Wintersteen. "We're looking for magazine-quality work." Work of that caliber will make Savvy Giving a better pitch to large brands who can donate funds and goods to help the organization grow. So will a national reach—most large brands in a position to give are geared toward reaching 50 states, not one or two.
Of course, building a national nonprofit is no small feat. Local chapters need to create their own boards and do their own fundraising, and Wintersteen has to maintain the nonprofit while also running her own business. To ease some of the burden for newcomers, she reached out to Houzz, who agreed to cover the legal fees required to set up five new chapters per year.
Courtesy of Savvy Giving by Design
Caitlyn Waite, a Mobile, Alabama–based interior designer, was one of the first to open up a regional chapter. She heard Wintersteen speaking on a podcast and the mission immediately connected with her on a personal level: Waite's own mother died tragically young from cancer.
One of her earliest challenges was connecting with local patients—Waite found that some families of children in medical crisis are beset by nonprofits that overpromise and underdeliver, which leaves them wary. Determined, she connected with the parents of a 14-year-old girl who was in remission from her cancer though still suffering from chronic pain.
Waite brought a desk into the room where the child could do homework, and replaced her dusty carpet with a specialized low-allergen rug. Because the child was sensitive to smells, Waite rented dehumidifiers to quicken the paint drying process so that the room would be finished on time. It's another key aspect of Savvy Giving's unique strength: Designers, used to executing projects on the double, know how to make things happen fast—crucial for families who have enough on their plate already.
Waite's final touch was a pair of pointe shoes signed by the child's favorite ballerina. Tissue warning: The reveal video is here.
Wintersteen hopes to one day fund all of Savvy Giving's projects with an endowment. For now, she's looking to grow the network and connect with designers who fit the bill (three to five years' professional experience is required, previous nonprofit experience is preferred). "I know there are plenty of designers who can do the design part, do what they do best," she says. "The goal is to create a network and a brand that supports them with marketing and funding. The more rooms we can do, the more children we can help."