This week, the internet is abuzz with The Englander, a 141-year-old Victorian mansion that made its way through the streets of San Francisco on the back of a semitruck. As the world continues to focus on home, stay in the know with our weekly roundup of headlines, launches and events, recommended reading, and more.
BUSINESS NEWS
At the end of 2020, HomeWorld Business ceased print operations. Last week, the publication announced that it would shut down its digital operations on Friday, February 26, concluding a more than 30-year run covering the home and housewares business.
Digital wholesale marketplace Abound has just closed a $22.9 million Series A round. The investment, led by New York–based VC and growth equity firm Left Lane Capital, will go toward the company's international expansion and team growth, as well as enhancing its technology offerings. Abound serves as a platform for independent retailers to sell products across a variety of lifestyle categories, including food, drink, home and living.
Christie's has become the first major auction house to accept cryptocurrency as payment on the sale of digital artwork, reports The Hill. The inaugural lot will be the sale of "Everydays: The First 5000 Days" a collage of daily works by digital artist Beeple—a project that he began more than 13 years ago. Christie's will accept either traditional payments or the cryptocurrency Ethereum.
Ikea has published a number of "disassembly instructions" as part of its sustainability mission. For some of its most popular items, reports Input, the company has created a series of step-by-step instructions for the proper deconstruction as a way to combat waste and promote reuse of its products. The free, downloadable PDFs are available online through Ikea: "Taking it apart correctly reduces the risk of damage, and reduces its impact on the environment," reads the website.
The California Association of Realtors is introducing a number of fair housing and equity bills in response to a study that found that less than half of Black households in the state earned the minimum income needed to purchase a home as compared with white buyers. The results illustrate a staggering homeownership and wealth gap for people of color. In 2020, just 19 percent of Black home buyers could afford to purchase the median-priced single-family home, compared with 38 percent of white buyers. The proposals include providing implicit bias training to its members, increasing affordable housing construction, and prohibiting discrimination against people living in affordable housing.
Walmart has announced that it will raise the wages of 425,000 of its employees, reports The Wall Street Journal. Amid a national conversation about increasing the minimum wage, the big-box retailer said the targeted raises would increase pay for its hourly U.S. workers to an average above $15 an hour, up from an average above $14 in January 2020. While the company will maintain an $11 per hour starting wage, the shift comes at a time where competition for warehouse workers is surging.
GoContractor, a leader in the digitization of construction worker onboarding and tracking, has announced a $5 million Series A round of funding, led by Building Ventures and Ironspring. The capital will be used to further scale the platform within U.S. and European markets, as well as to grow its sales, support and marketing teams.
LAUNCHES, COLLABORATIONS & PARTNERSHIPS
Zillow has launched a new technology that will allow prospective home buyers to tour properties remotely. The free tool, dubbed the 3D Home, features interactive floor plans, panoramic images and AI-generated room dimensions in one streamlined shopping experience.
Furniture rental company Feather has launched its services in three new metro areas: Baltimore, Washington, D.C., and Richmond, Virginia.
Online design marketplace Chairish is launching a new television advertising campaign to grow its audience and will debut a new namesake magazine in March. The company's first commercial is out now, and can be viewed online here. "Inspired by overwhelming growth in online furniture buying and a record acceleration in our business, we see an opportunity to introduce Chairish to an even wider audience of design lovers," says co-founder Anna Brockway.
This spring, Regina Andrew Detroit and Coastal Living are stepping into the outdoor lighting category—a first for both brands. Come April, the collaboration will debut during Pre-Market in High Point, continuing the partnership that began in 2020 with their indoor lighting line.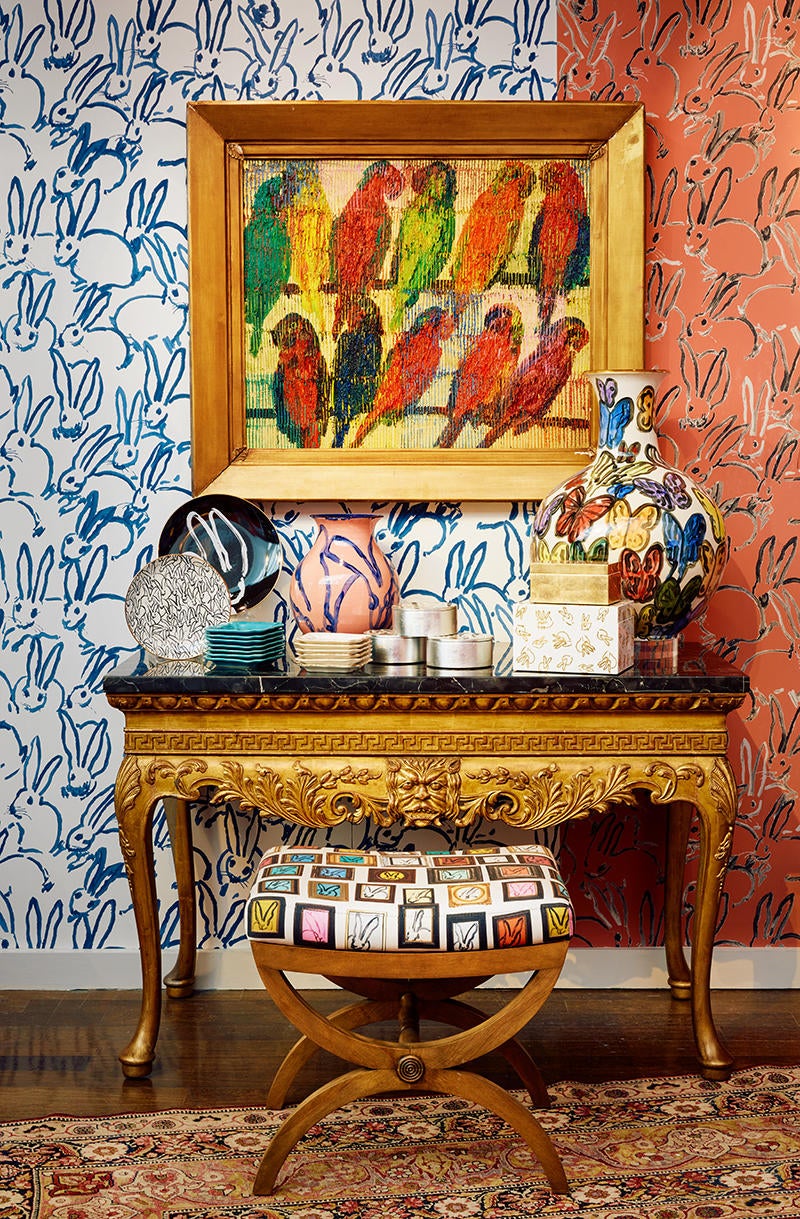 Artist and designer Hunt Slonem has launched the Hop Up Shop on the seventh floor of Bergdorf Goodman in New York—the temporary loft space is showcasing his luxury home goods and fashion accessories, all adorned in his signature rabbits, butterflies and birds.
Textile and wallpaper designer Serena Dugan is releasing an exclusive collection of fine art pieces through Hollywood at Home: two diptychs and two large-scale pieces. Working with the showroom's proprietor, Peter Dunham, Dugan selected color palettes that complement the space's layout and merchandising.
In collaboration with the Louvre Museum, Bordeaux, France–based furniture and interior designer Maison Sarah Lavoine has launched the Tuileries collection, inspired by the beauty of Renaissance gardens. The line features ceramic candle holders, colorful cushions and silk scarves.
Designer Rachel Ashwell's soft goods brand, Shabby Chic, will launch a collection through Walmart. Starting in March, the brand's signature floral prints, quilted bedding and country-inspired pillows will be available in stores and online.
Brooklyn, New York–based interior designer Cara Woodhouse has released a jewelry collection in partnership with Walters Faith, bringing her creative tastes and luxury touch to the world of fine jewelry.
CALENDAR UPDATES
The spring editions of Intertextile Shanghai and Yarn Expo have been postponed. They were originally scheduled to run from March 10 to 12, but the organizers at Messe Frankfurt have decided to delay the shows to comply with local guidelines for pandemic prevention and control.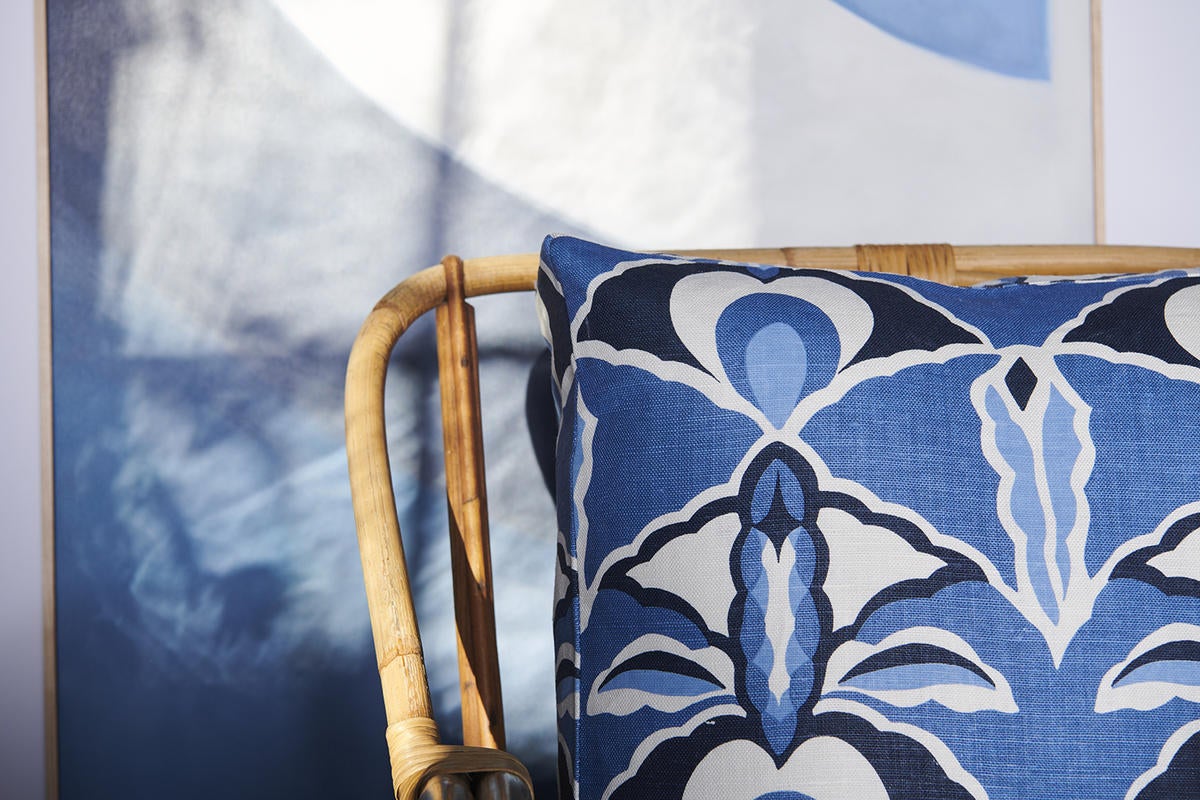 SHOWROOM REPRESENTATION
Textiles and wallcoverings from Serena Dugan Studio are now available in Chicago through John Rosselli & Associates.
SHOWHOUSES
The Kips Bay Decorator Show House in Palm Beach has announced its 2021 interior designer lineup, bringing together 20 talents: Alexandra Naranjo Designs, Amy Morris Interiors, Anna Braund Interiors, Benjamin Deaton Interior Design, Brittany Bromley Interiors, Casa Gusto, Nina Magon Studio, Courtney Giles Interiors, Ellen Kavanaugh Interiors, Fernando Wong Outdoor Living Design, Forbes + Masters, Harry Heissmann, HW Interiors, Kemble Interiors, Lorna Gross Interior Design, Mally Skok Design, Mark Williams Design, Mikel Welch Design, Nicole White Designs, and SMI Landscape Architecture. This year, the event will feature both in-person and online programs beginning on April 8; all proceeds will benefit the Kips Bay Boys & Girls Club in the Bronx, New York and the Boys & Girls Clubs of Palm Beach County. To learn more or purchase tickets, click here.
RECOMMENDED READING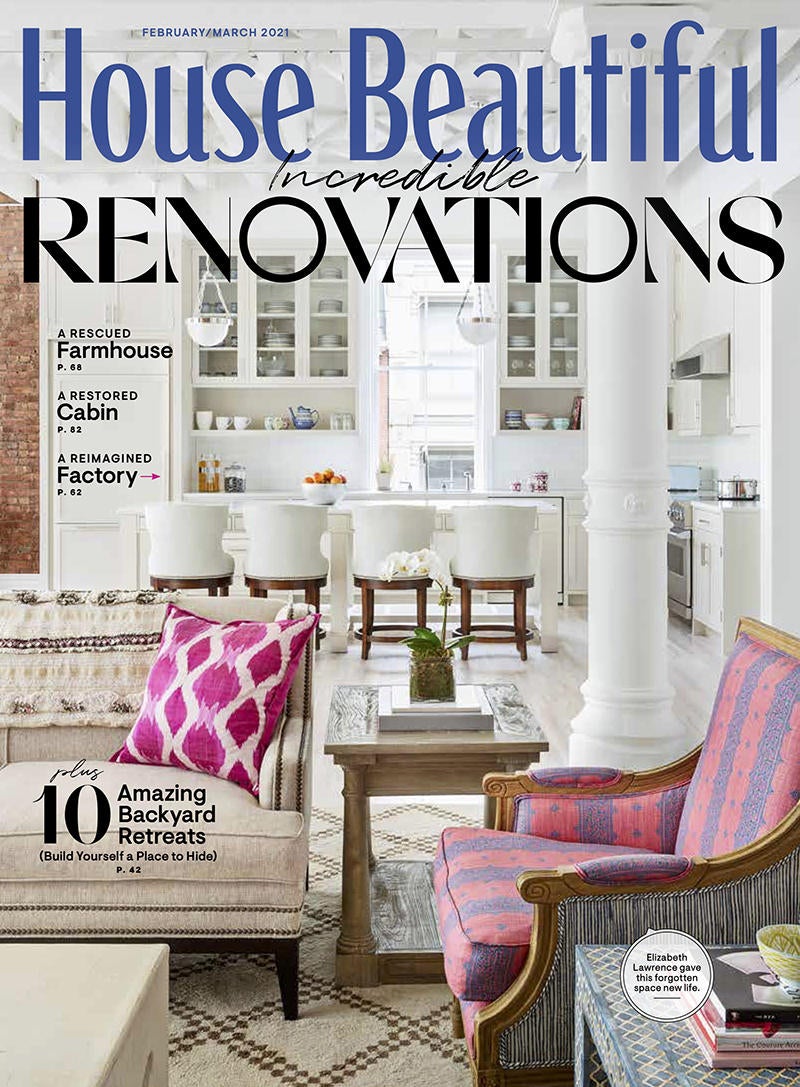 Courtesy of House Beautiful
Home spending is still riding high, and as more Americans update their residences, the question is: Should you renovate or build from scratch? In Business of Home's latest column for House Beautiful, BOH editor in chief Kaitlin Petersen tackles this of-the-moment topic, tapping interior designers, authors and real estate experts to help homeowners determine their best course of action. Online, the column also explores everything from the nuances of restoring a historic home and how to land on the right square footage to the hurdles involved in high-rise renos, four signs it's time to sell and start building, and five reasons you might want to invest in the home you're in.
Sourdough came and went, and now there's a new pandemic trend: miniature one-room modeling kits. These tiny dollhouse spaces may seem like a creative way to decompress, but they pack a time-intensive punch—many would-be builders find that they lack the patience to complete the designs. WSJ asks: Are you up for the challenge?
How do you practice gratitude? Since the start of the pandemic, Jean Brownhill, founder and CEO of Sweeten, the technology platform that matches homeowners with contractors, has returned to a ritual first discovered on a trip to a temple in Thailand: Each day, she thinks of 108 unique things that she is grateful for. "It's easy to dwell on everything that is going wrong, so I purposely make time to be really specific and grateful," Brownhill tells Inc.
This week, The Strategist interviewed Nicole Gibbons, founder of direct-to-consumer paint brand Clare, to round up the eight items she can't live without—from the espresso machine that has replaced her morning coffee runs to her favorite smoky fig candle.
CUE THE APPLAUSE
House Beautiful has released its Next Wave 2021, a list of up-and-coming designers and firms: New York–based Anthony Dunning of Traders Haven Design; Nicholas Obeid and Eneia White; Story Street Studio's Lizzie Bailey and Laura Stanley, based in New York and Bozeman, Montana; Philadelphia designer Rasheeda Gray of Gray Space Interior Design; Richmond, Virginia–based designer Sara Hillery; New Orleans designer Whitney Jones; Atlanta designer Nina Nash Long of Easterling and Long; Dallas designer Josh Pickering; Oakland, California–based Chloe Redmond Warner; Guadalajara, Mexico–based designer Erick Millan; and Toronto-based Natalie Chong.
1stDibs has announced the newest 1stDibs 50 list, a global lineup of designers selected by their ability to curate antique, vintage and contemporary furnishings. Among this year's honorees are 27 new names, including Amber Interiors, Bunny Williams Interior Design, Laura Hodges Studio and more. To see the full list of winners, click here.
Metropolis has announced the names for its inaugural Future100 program, which was conceived as a way to connect top design graduates with leading design firms. The magazine chose 100 students from undergraduate and graduate programs across North America. Among the diverse group, one-third of the students identify as BIPOC and one-fifth identify as LGBTQ+. The honorees will appear in the April issue of Metropolis.
Milanese architecture and design firm Foro Studio has been awarded the BigSEE Interior Design Award for its BIS interactive library built in northwest Milan. The award recognizes outstanding projects that bring together innovation, originality, sustainability and functionality.
Danish design firm AYTM has been awarded a 2021 German Design Award for its Novo table, an outdoor table designed by Rasmus Falkenberg.
Houston-based wholesale art dealer Classy Art LLC has made the Inner City 100 list for 2020. The list is compiled by the Initiative for a Competitive Inner City, a Roxbury, Massachusetts–based nonprofit research firm that uses the award to honor businesses leading the charge in revenue growth and job stability.
CALL FOR ENTRIES
The International Furnishings and Design Association's Education Foundation has announced the call for submissions for its 2021 design student scholarships. This year, nine scholarship positions are being offered to help support and nurture emerging talent in the design and furnishings industry. Applications will be accepted from March 1 to 31. To learn more about the scholarships or to apply, click here.
IN MEMORIAM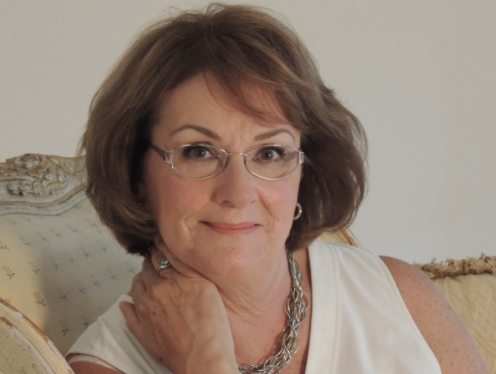 On February 13, designer, author, educator and mentor Ellen Cheever unexpectedly passed away at 72. In the 1980s, Cheever was an influential figure in the design industry for her role as director of educational services for the National Kitchen & Bath Association, and as a certified master kitchen and bath designer. She will be remembered for her contributions to the field of design education and for her legacy in the kitchen and bath industry.
Homepage image: Candle holders from the Tuileries collection that Maison Sarah Lavoine has launched with the Louvre Museum | Courtesy of Maison Sarah Lavoine