The KIPS BAY PALM BEACH SHOW HOUSE kicked off on November 25 at a 1920s Mediterranean-style villa that was transformed by 17 designers. This marks the first time the storied showhouse has traveled away from New York City. Proceeds will benefit the KIPS BAY BOYS & GIRLS CLUB and BOYS & GIRLS CLUBS OF PALM BEACH COUNTY.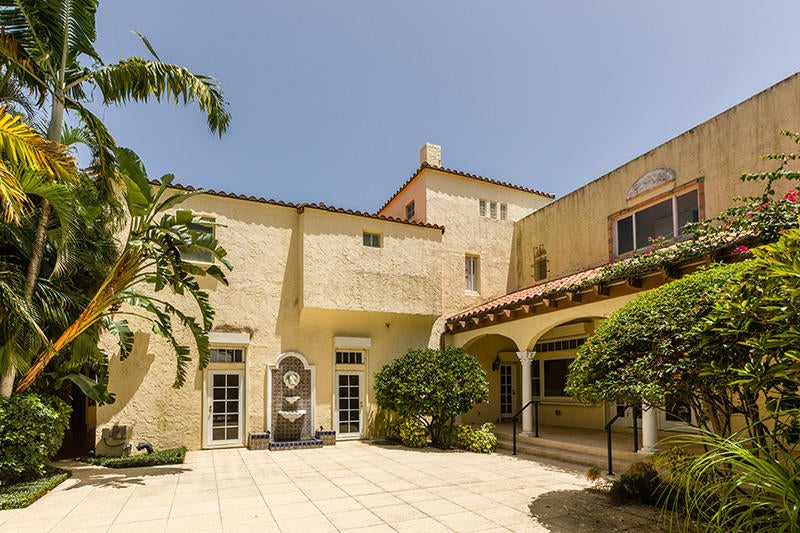 "We couldn't be more thrilled to finally open the doors for the Kips Bay Palm Beach Show House at Villa Belmonte in the beautiful El Cid neighborhood," says James Druckman, president of the Kips Bay board of trustees. "Designers have come from all over the country to showcase the best in design for a worthwhile cause: helping to support more than 18,000 disadvantaged children in New York and Florida."
Of the 17 designers who designed a room, six are local Florida designers: Stephen Mooney, Caroline Rafferty, Amanda Lindroth, Fernando Wong, Lisa Erdmann and McCann Design Group. Many of them communicated Florida style through their designs and worked with local vendors to outfit their rooms.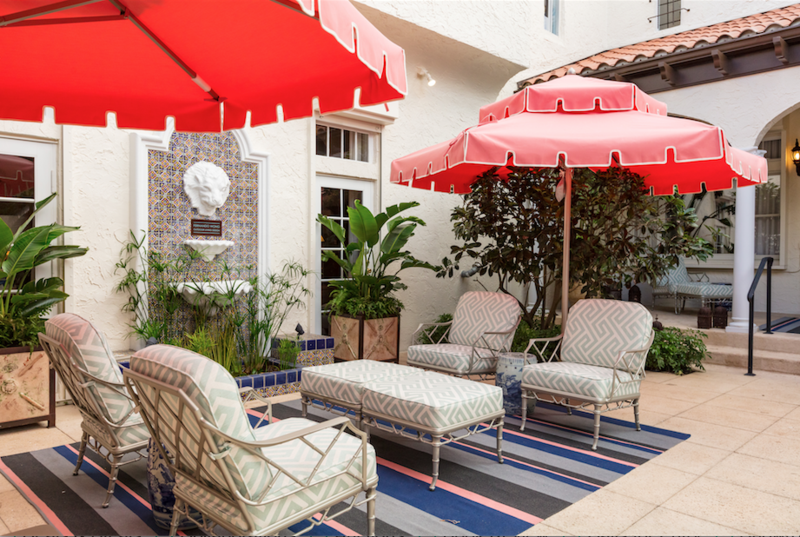 Wong and Rafferty both took inspiration from the house and its location for the design of their rooms. "The Mediterranean Revival design of the house is a very Old Florida style of architecture, so we took our cues from that when we designed the landscape and when we did the furniture," says Wong. "We also used very bright Florida colors, such as blue, pink and turquoise, and of course, lots of tropical plants and palms. All of these things are a loving homage to Old Florida."
In keeping with the palm theme, Rafferty worked with decorative painter Joseph Steiert, who painted large-scale palm leaves on her room's walls. She says that since moving to Florida from New York City, incorporating "typical" exterior elements into her interiors has become common for her.
"For many of my Florida projects, I am wholly inspired by what is going on with the landscape or ocean views and how the interiors can become a frame for viewing and moving between the inside and outside of the home," she says. "Many of my clients like to feel as if their exterior spaces are as much a part of the home as the living room or kitchen. Further to this point, I find myself referencing the exterior surroundings in my design, as I did at the showhouse."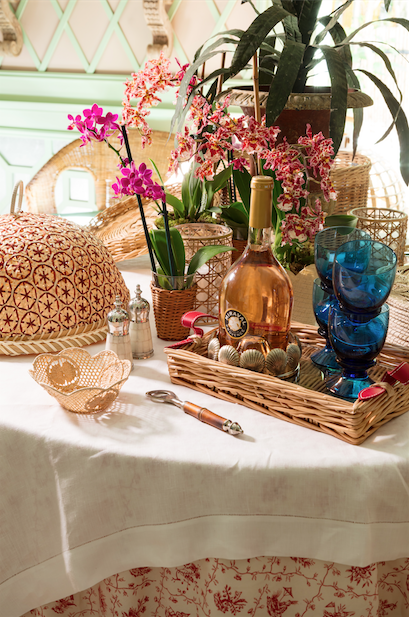 Erdmann, who designed the master sitting room, played off the natural light in her space, and chose to incorporate bright yellows in the paint, wallcovering and drapery she chose. Based on her experience designing for her clients in Florida, she also incorporated natural colors and textures to balance the space. Similarly, Sara McCann, Jenna Conte and Ashley Warren of McCann Design took inspiration from the light of the coast for their stair tower.
Designers also kept their rooms local through their sourcing, many incorporating pieces from local antique dealers. Mooney and Erdmann both sourced furniture from The Elephant's Foot, Wong worked with Authentic Provence for garden antiques, and Lindroth sourced some of her table setting from Henemader Antiques.
"We wanted the room to look like we had dusted it off, put in some fresh orchids and candles, and it had otherwise remained untouched since the glamorous days of Palm Beach in the 1920s," says Lindroth of her dining room design, which she calls the "Orchid House."
The showhouse is open to the public until December 19, and tickets can be purchased online.