You already know Serena Dugan—she's the "Serena" half of Serena & Lily. But before her first name became synonymous with a now-ubiquitous coastal lifestyle brand, Dugan was a painter and textile designer working in Northern California. A chance meeting in 2003 with entrepreneur Lily Kanter led to a collection of nursery bedding that sparked a runaway hit. Categories were added. Investors bought in. Stores were opened. The business grew and grew into the behemoth it is today.
Dugan left Serena & Lily in 2017 to return to her roots, spending a few years a pure painter. However, soon her love of pattern reared its head, and in 2019 she began crafting a textile and wallpaper line under her own (full) name, which launched last month. With Serena Dugan Studio, in some ways, she's coming full circle. But this time around, Dugan wants to keep it focused and personal: "It's going to stay an 'I,' not become a 'we,'" she tells Business of Home.
BOH chatted with Dugan about what she learned from Serena & Lily, why she left, the old and new guards of the textile world, and why she's putting the creative side first.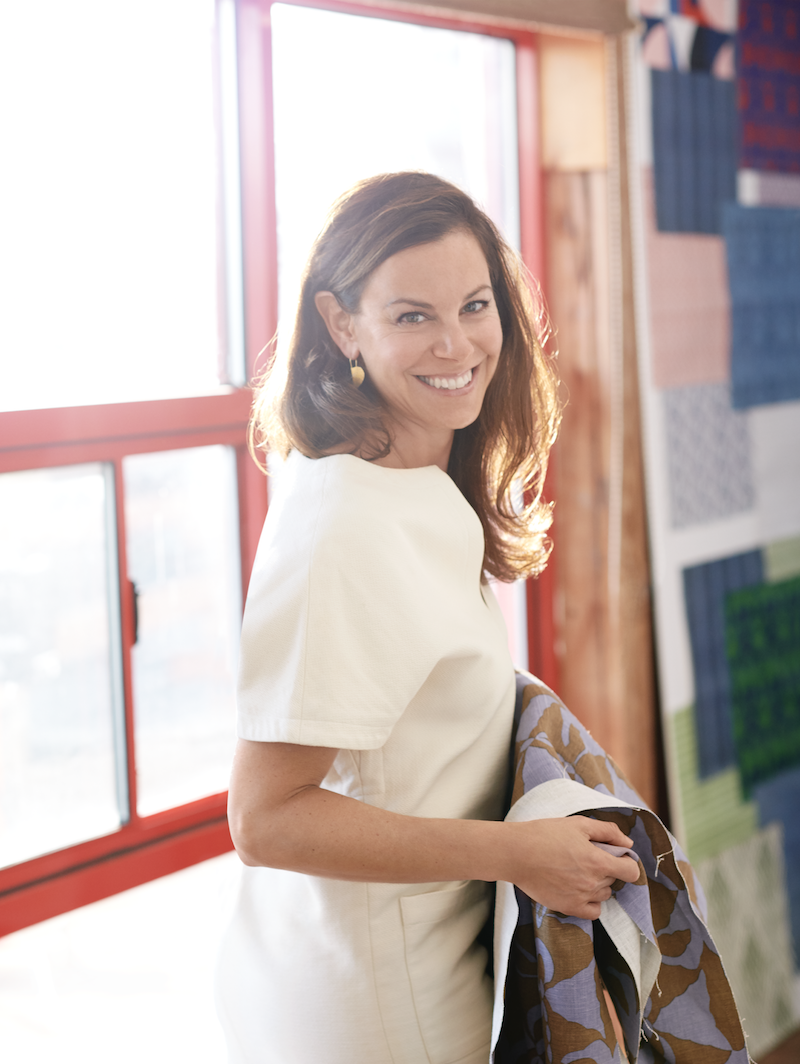 Courtesy of Serena Dugan Studio
After leaving Serena & Lily, it seems like you've had this nice period of being able to explore art in a very pure way.
My background is in fine arts, and when I started Serena & Lily, I had just entered the world of textile design, and then those textile designs got rolled into this product concept. And then that rolled into the next concept, and that became a fully fledged business, and before I knew it, I was really taken further and further away from the roots of what makes me tick, which is creativity and expression. At Serena & Lily, I straddled the roles of designer and executive and co-founder. I really missed just making, and being creative in an undirected way.
Did you like being an executive at Serena & Lily?
In truth, I loved all of it. It started out creative, because I came up with the initial designs, and then we got into the nitty-gritty, and it became a startup. So, I was the one packing boxes and putting out fires with our wholesale accounts, and handling mis-ships, and all of those things. And I realized that I hadn't put pen to paper in many months, and I thought, "When am I going to get back to what I do?" And at that moment, I realized that this is creative—I am creating something, I am creating a business.
Right, a different kind of creative challenge.
I learned about PR, I learned about marketing, I learned how to read a P&L. It was an amazing journey, so I don't regret or resent any of that growth. However, the point came when I realized where our paths diverged. Where what I needed at that point no longer matched what they needed. [Serena & Lily] had to be a really big company; we had brought in new management, we're investor-backed, and it just became something different.
When you left after building up this company for so long, did you know immediately what you wanted to do?
It was actually a kind of a gradual decision. I had started painting for the stores that we were opening, so I would have to create large art installations for [those spaces]. That got me painting again, and I realized this is something I really want to do. We also had an art collection within Serena & Lily, and I started painting for [that line]. When new management came in, we reorganized and the focus shifted from design innovation to market response and sharp merchandising. This was educational in many ways, considering how design-driven we had been. My role shifted to support these priorities, and I recognized that my interests, abilities and creative focus did not match the needs of the business.

We found a nice middle ground that allowed me to continue to design high-level but stay out of the business fray inside the building. I contributed assets undirected for about a year and half while exploring my painting, and this allowed me a soft return to being an artist, and allowed them a soft launch with new textile design and creative direction.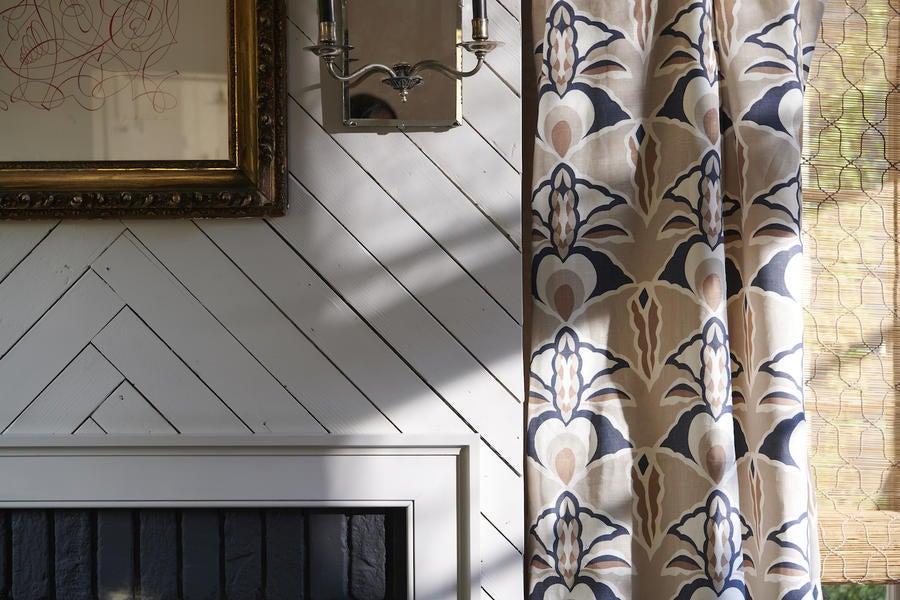 Courtesy of Serena Dugan Studio
What drew you back into textiles?
When I left, the point was to get back to my roots, which is painting and artistry, and really saying whatever I wanted to say, and exploring what that actually looked like. So I went back to the studio and painted, and figured out a new career direction, which was making and selling paintings. I started relationships with galleries and figured out how to make a living in that world, and I was very happy doing that.
But eventually all of these creative impulses turned into thoughts about textile designs, and patterns started wafting into my mental space. I accepted that patterns are part of who I am as an artist, and I would figure out a way to fold that into what I present. At that point, I decided that I would develop a line of fabrics, and then that rolled into wallpapers. What was a small line became a larger line, because once I got to it, I had a lot to say, and it was really hard to edit when I felt like it all held together in a complete way. So, my goal [became] to express myself through both painting and textiles.
Margins be damned, I'm missing multicolor.
Serena Dugan

Right after you left, you had an artistically pure period of just painting. But now you're dipping your toe back into creating a business. Are you worried about putting that executive hat back on?
I've had to ask myself the same question. I have learned a lot through the Serena & Lily experience, [including] how to get a business started and why to get a business started. And I recognize that it's a bit of a slippery slope to pull something together into the form of a business. If it gains traction, then it grows in size and scale and you have the potential to get further away from the original intent.
But this time around, I'm aware of what I want and don't want. I can honestly say that I have no regrets about any piece of Serena & Lily. But [now that] I have the chance to do it over again, it will stay much closer to my source of satisfaction, which is in keeping it small. So yes, I'm starting something new and it has the risk and the potential of another business. But I'm taking careful measures to keep it small in scale, through selling channels, expected deliveries, [product] format and messaging. It's going to stay an "I," not become a "we."
It sounds like what you want is a happy, humming, functional studio, not a big franchise.
Exactly. I want to work within the confines of the space that I have, [which is] a thousand square feet. I have two part-time employees, which keeps me from getting mired in things I don't want to do, but [allows] us all to balance the needs of our families and private time and well-being with an initiative that we're all passionate about. So it does sometimes look like a business, but I think that businesses don't have to be on steroids.
Right, not everything has to be giant.
I've actually answered this question recently to friends who went to Harvard Business School and have this inflated view of what a business should be. I said, "You can have a one-person, two-person, three-person, fully functioning, highly successful business, and it can stay looking like that forever." That was a head-scratcher for them. But I would really like to strive for that, because I want to be doing this in this form for the rest of my life.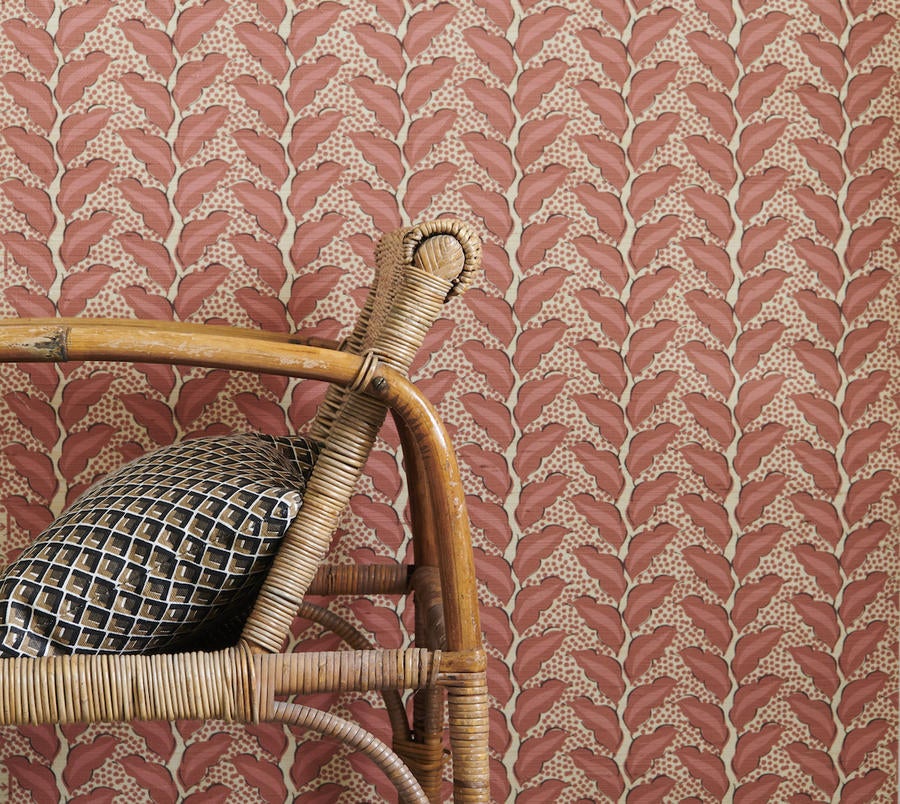 Courtesy of Serena Dugan Studio
You mentioned consciously choosing sales channels to match the aspirations of the business. The collection is launching at Hollywood at Home in Los Angeles and at Temple Studio in New York. How did those two relationships happen?
Serena & Lily had great relationships with the interior design trade. I got to know many interior designers and resources to interior designers through that experience, but it was really important to me in this go-round to form relationships that I cultivated anew, that were not leveraged from the past. So I reached out to Kate Reynolds [the owner of Temple Studio] when I was thinking that textiles might be an avenue for me. And we started talking early on and the same holds true with Hollywood at Home.
So you were talking before the collection was finished?
When it was just a twinkle in my eye, I started having conversations with both of them, and I thought, "Hmm, they could be a nice aesthetic match to what I have in mind and let me start talking to them about what it is that they're looking for to make sure that as I develop this idea, I'm developing it within the right parameters so that I have a proper selling partner."
What came out of those conversations that helped you put the collection together?
There were basic topics like "Linen sells over cotton" or "People like a base that looks like this." But one of the questions that I had for Kate was, "What are you missing?" And that might be the Serena & Lily in me. That's not a purely artistic question.
Right, that's a business question.
Exactly. But if I create something, I want to be solving a need. I don't just want to be putting something out in the world that's an overlap of something that has been said before. So I have the ability to still be purely creative, but within certain parameters. One of Kate's comments was, "I'm missing color, I'm missing multicolor." Again, this is my business hat. I said, "You're probably missing multicolor because it's expensive." Multicolor is multiscreen and people are leaning toward one screen, two screens, because it's affordable.
But personally, margins be damned, I'm missing multicolor too. I would love to say something that is wild and bold that maybe few people buy, but many are attracted to. And that was in many ways permission for me to be wildly creative. Kate didn't make it as a request, because she knows that it is expensive. And truthfully, those are my lowest-margin products, my lowest-margin textiles. But I said it because it felt good.
Do you sell direct through your website as well, or only through the showrooms?
I sell at retail [price] direct through my website. That seems to be the way of the world these days. And that makes sense, at least until I fill out my showroom presence, because geographically I'm not available throughout the majority of the country. I'm covering New York, L.A., London, and I'm in a home decor store [in the Bay Area]. And I might do some additional home decor stores and I will add additional showrooms. But I want to take my time to do that in a way that allows me to work out the kinks prior. So I have to sell direct or at least offer it direct and service the designers through our studio.
I was talking to the founder of another fabric and wallpaper company, and she was telling me about the challenges of both working with showrooms and selling direct, and how you navigate those complexities.
It's a really interesting time, because we're straddling an old set of rules and a new guard. The old guard does not sell direct. They do not offer swatches through their website. And there is a new guard that does. We want to make our showrooms happy, which means not doing anything direct. But it's a new day and age, and I think that we kind of have to take control of our destiny and hope that the showrooms will understand.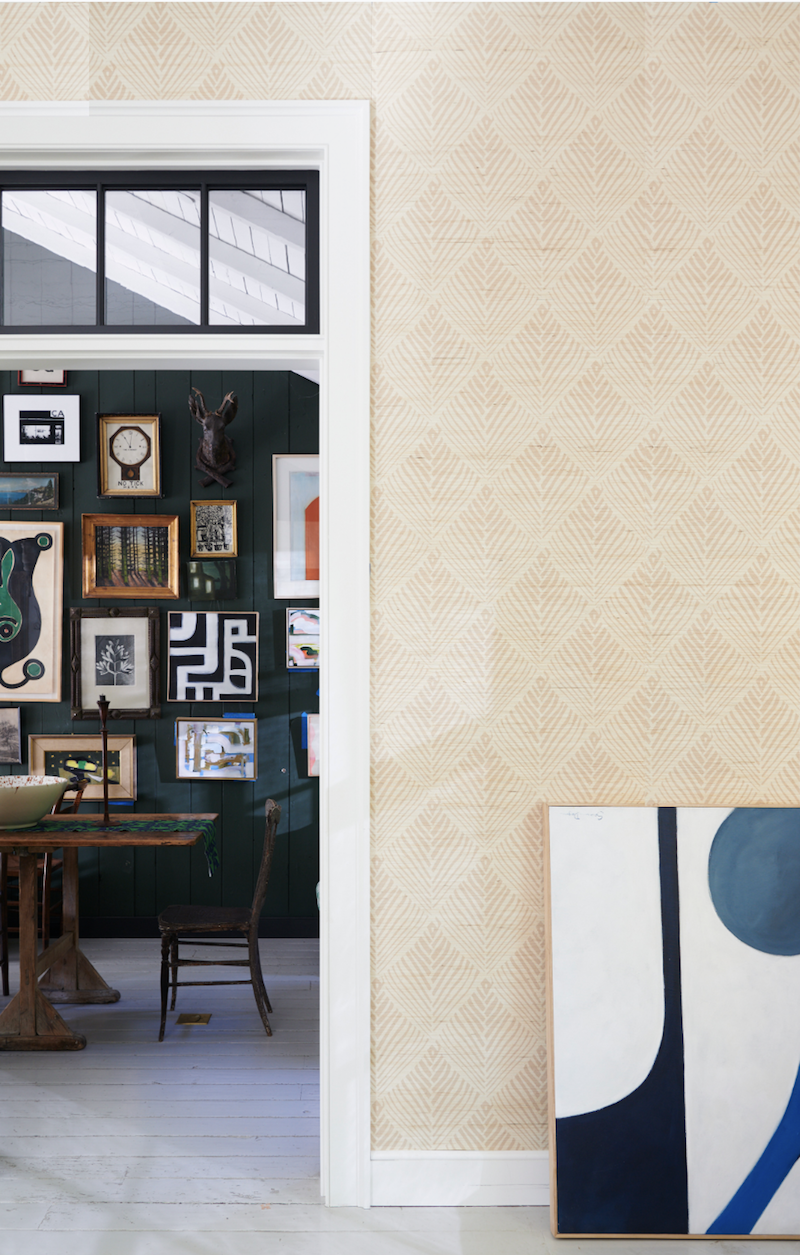 Courtesy of Serena Dugan Studio
So you're doing swatches through your website?
Yes, I am.
I understand you're also doing these unique, one-of-a-kind objects. Tell me a bit about that.
I found that leather sling chair at a design show in Mexico City. It's produced in Malinalco, Mexico. And I loved the story behind who made that. I loved the object itself and I thought, wouldn't it be amazing to extend my artistry to objects where I paint a really beautiful piece of some sort? And maybe each painted chair is two-of-a-kind—[maybe] I do things in pairs, or maybe it's a few [for] a series. Maybe it's one-of-a-kinds. Maybe it's limited-edition. But I see the object category being hand-selected, beautifully curated objects from my travels around the world that I bring in and do something to.
In some cases, it might be a collaboration. Maybe I collaborate with a ceramicist locally, where they do the shapes and I do the glazing. Maybe it's a series of garden stools, or hand-painted leather pillows, or chairs. It's going to be super fun. I am already painting a rug right now, actually.
Do you have a lot of friendships or other relationships with individual interior designers?
I do.
Do you talk to them about the kinds of things they're looking for?
I have always felt that my job, ability and interest was in showing people what they didn't know they already wanted. Surprising and delighting—undirected by the customer or market. In this way, I can move things forward by presenting a new vision. There's no reason that decor can't have the same ingenuity factor as art. That thought really propels me and fuels what I want to do with my studio.
Serena & Lily was started because we didn't ask the way people were doing it and what they were missing. We just intuitively marched into a space that we felt needed a paradigm shift. And I feel like I need to fully articulate what I have to say before I look for validation.
On the eve of launching this collection with your name on it, is there a sense of nervousness? Excitement?
Oh, I'm not nervous. In many ways, this is my first coming out, because it has my name on it. And while people say, "Oh, but your name was on Serena & Lily," it was an amalgamation and it was a brand. It wasn't personal. I don't see this as a brand. I see this as a personal expression, and I am putting it out as a statement of what I find beautiful, of what I want to say undirected by the market, undirected by trend. So that really thrills me.
I feel like I have enough history behind me [so that] I have faith in its success, but I also don't have far to fall. I have two people and we will stay busy, whether it's busy fulfilling textiles or servicing paintings. So this is a creative endeavor. It's not an enterprise. It's not a corporation. I don't have backers. I don't have to prove myself. It's purely for creative expression, and I hope that people appreciate it and enjoy it and keep it going with their support, but I'm not dependent on it.