For Contour Interior Design founder and principal designer Nina Magon, no look is complete without a little glamour—be it fashion or home. So when the Houston-based interior designer signed on to create a new collection for Universal Furniture, European couture became an early muse. "There's a special way people talk about a runway dress at a fashion show, and that's what I wanted to create with this collection," Magon tells Business of Home. "It's something that has a lot of detail, and for the collection, there was one entire day was spent detailing out the furniture."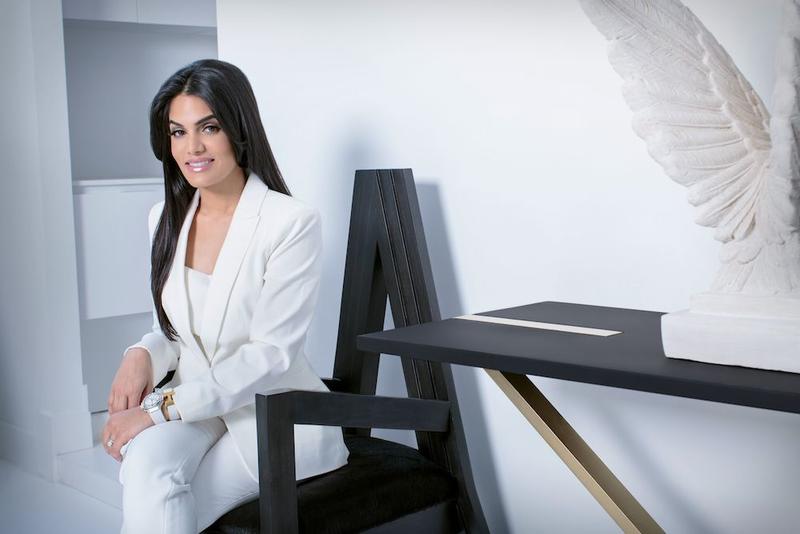 Laurie Perez, courtesy of Universal
Last fall, Magon visited Universal's 4 million-square-foot factory in Shanghai to perfect each detail of her 20-plus piece collection, Nina Magon for Universal–A Design Collaboration, which debuts at High Point Market in April. "When I got to the factory, I had no idea what I was getting myself into," she recalls. "We had to review all the furniture, detail it out and then pick all the fabrics in three days—it took me a day to digest all that needed to be done!"

The result is unlike anything Universal has created before. "I thought they were missing this European Modern aesthetic, which is my specialty—not so transitional, but inspired by international design," says Magon, whose work is influenced by Italian design fairs and European designers like Zaha Hadid, Marcel Wanders and Philippe Starck. Leather upholstery, bronze, stone, tinted mirror finishes and a sophisticated, jewel toned color story help to convey Magon's signature refined glamour within the collection.

"It's an opportunity for Universal to have something that's an approachable luxury item," says Neil MacKenzie, director of marketing at Universal Furniture, who first connected with Magon at a bloggers' conference a few years ago. "The collection is aspirational, and Nina is an expert perspective on the style. It was nice to lean on one another and have that collaboration."

Universal's past collections include Escape, a seaside-inspired collection in partnership with the editors of Coastal Living Magazine, and the traditional-leaning Paula Deen Home collection.

Not only is the design aesthetic new for Universal, but Magon says it's a fresh take for High Point Market as well. "It's something that High Point needs, which is why I'm so excited about it. I think it's going to open a lot of eyes, bringing a little bit of European drama." And, if all goes according to plan, Magon's collection might even get the kind of awestruck reaction usually confined to the runways.