This week, Twitter was graced by the presence of "hot pigeon," a pastel-colored bird that was seen roaming around Manhattan, nabbing the attention of the public—and some paint manufacturers. Meanwhile, Ikea spared no expense enlisting Swedish chef Alexander Magnusson to create meatless Swedish meatballs in response to an announcement from the country that the dish is, in fact, not Swedish. No matter what's happening in the industry, stay in the know with our weekly roundup of headlines, launches and events, recommended reading, and more.
BUSINESS NEWS
With the passage of the $1.9 trillion American Rescue Plan Act last Thursday, President Joe Biden authorized the extension of an important clause for small business owners: the Employee Retention Credit. This refundable tax credit makes it easier for business owners to keep employees on the payroll. The initiative was originally scheduled to end June 30, writes Inc., but from January 1 through June 30, eligible employers can claim refundable credits equal to 70 percent of a full-time employee's wages, with a maximum of $14,000 per employee. On July 1, the new law will allow businesses to claim the tax credit against their share of employment taxes, including Medicare, again at a maximum of $14,000.
Everydays: The First 5000 Days, a digital collage by Mike Winkelmann, the artist known as Beeple, sold last week at Christie's for a gobsmacking $69 million. According to The New York Times, a last-minute surge of activity pushed the sale into an extended two minutes of bidding, where the price leapt from less than $30 million to a final chit of more than double that price. The digital artwork sold for the third-highest auction price ever achieved for a living artist, behind Jeff Koons and David Hockney.
BBC News has reported a shortage of outdoor furnishing stock in the U.K., owing to a combination of high demand and shipping delays, as global supply chain issues and steep tariffs continue to plague imports. The Telford, England–based Leisure and Outdoor Furniture Association, which represents 70 manufacturers and wholesalers, says all of its members are experiencing problems with shipments, paying anywhere between $7,000 and $10,000 per container to ship items from China (compared with pre-pandemic prices that hovered around $1,200).
Tulsa, Oklahoma–based home furnishings and accessories resource IMAX Worldwide Home halted operations on March 10, reports Home Accents Today. Late last year, co-founder Al Bulak announced his retirement, and while its website is up and running, behind the scenes, just a few employees remain to oversee customer service, human resources and accounting. The company's leadership informed the magazine that more information about IMAX Worldwide's future would be released later this week.
Despite new rounds of government-funded business relief, some are struggling to take advantage of what's already on offer. On Twitter last week, Lite Brite Neon, a New York–based neon fabrication company, became a minor cause célèbre, as friends of the business began posting about its struggles clearing a second-round Paycheck Protection Program loan through Bank of America. The 20-year-old company—which has worked with interior designers as well as artists like Glenn Ligon and Bruce Nauman—filed its application in mid-January, but after seven weeks and countless hours on hold, it has not yet received funds and is unable to apply to other banks because its application to B of A is still active. "It's like a Kafka nightmare where the stakes are 20 years of your adult livelihood," wrote Jynne Dilling Martin, sister of Lite Brite founder Matt Dilling.
This week, Swedish furniture giant Ikea announced that, as a tribute to its iconic catalog, it is releasing the 2021 edition in podcast form, reports Marketing Interactive. After 70 years of producing the beloved catalog, the company announced in December that it would discontinue printing the physical book, and recently declared that it would cease a product catalog entirely. The nearly four-hour-long podcast features 13 chapters of audio content, with descriptions of products as well as tips, to-do lists and design inspiration for its listeners. (No word yet on whether Ikea will next host its catalog as a Clubhouse room.)
LAUNCHES, COLLABORATIONS & PARTNERSHIPS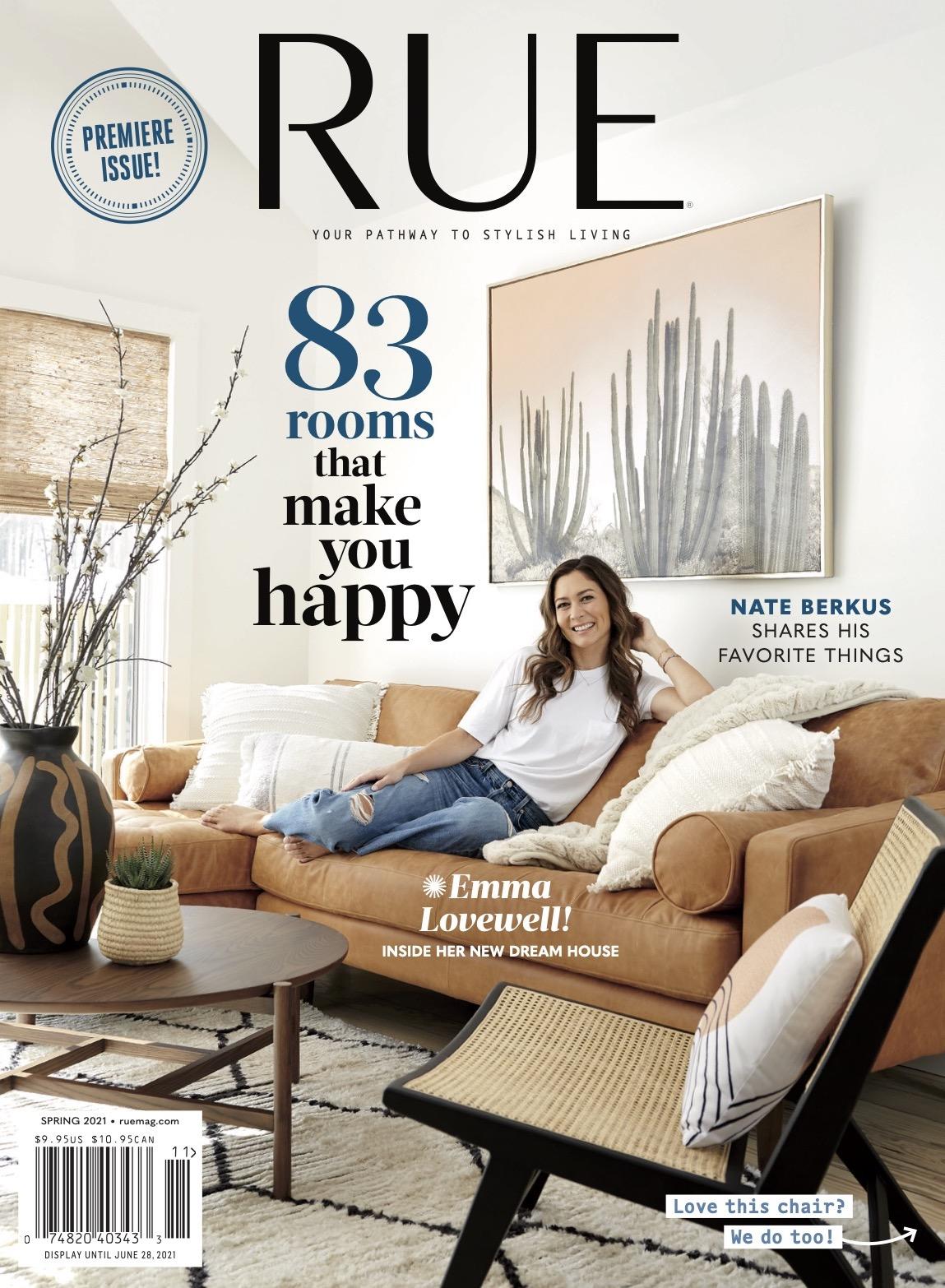 Rue magazine has published its premiere print issue, featuring Peloton's Emma Lovewell on the cover. The media company was acquired by lifestyle expert and entrepreneur Danny Seo of Naturally, Danny Seo in October 2020, and under new leadership, the magazine will run as a quarterly publication focused on design, style and home tours. (A Rue coffee table book is also in development.)
Also on the media front, Domino style director Benjamin Reynaert is launching a weekly "Scouting" newsletter, which will deliver market discoveries alongside expert design tips, and a new column called #AskBen that is inspired by reader questions.
Designer Brad Ford's biannual maker's market, Field + Supply, has announced a limited-edition pop-up with ABC Carpet & Home. Available until mid-June at the retailer's New York flagship, the collaboration features a curated selection of hand-crafted artisanal products, with a selection available through ABC's e-commerce site.
Bloomingdale's has launched a debut capsule collection of home organizing objects in collaboration with direct-to-consumer brand Neat Method. Available online and in select Bloomingdale's stores, the collection features baskets, drawer dividers, canisters, labels and turntables designed from sustainably sourced acacia wood.
While living in Venice, designer Roger Thomas completed a number of sketches and patterns that have been realized as a passementerie collection that launched through Samuel & Sons in February. The Venezia line features six patterns, each one inspired by the hand-printing techniques of the region.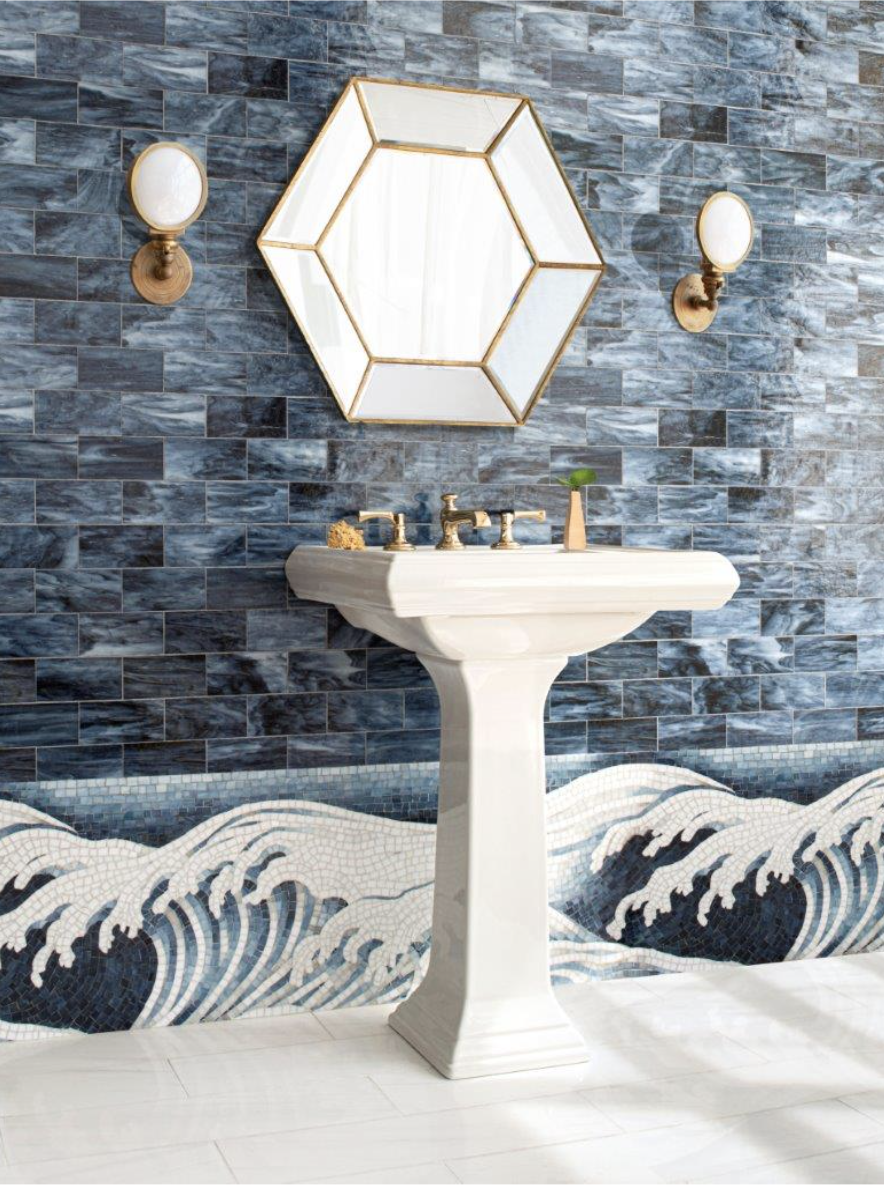 New Ravenna has partnered with wallcovering brand Gracie to launch a collection that interprets five of Gracie's hand-painted wallpaper designs as mosaics.
Suzanne Tucker Home and The Nanz Company have announced a collection of custom hardware inspired by various architectural styles and West Coast locations. The line features doorknobs, drawer pulls and gemstone-inspired levers.
Carl Hansen & Son has collaborated with London-based designer Ilse Crawford to release a new color palette for Hans J. Wegner's First Five Masterpieces collection, reimagining the iconic designs in fresh hues, including his Wishbone Chair in a delicate blue and his Lounge Chair in forest green.
In the early weeks of the pandemic, a group of designers in Mumbai launched the Corona Quilt Project to connect communities and invite self-expression. The project has collected more than 12,000 squares, which are being assembled into five site-specific installations across the city.
Textile designer Logan Montgomery has launched a collection of outdoor fabrics with artist Liesel Plambeck. The palm-leaf-inspired jacquard-woven fabric, named Sabal, comes in eight natural colorways.
CALENDAR UPDATES
The San Francisco Decorator Showcase has announced that the 2021 edition will be entirely virtual. The event, dubbed "New Perspectives," will feature a 3D experience created by Steelblue, a creative agency that works with real estate developers, opening to the public on May 22.
Design Centre London has announced that Artefact, a new contemporary art fair, will launch this summer at its Chelsea Harbour center. From June 22 to 29, the free in-person event will welcome designers, architects and collectors. To learn more, click here.
RECOMMENDED READING
Millennial pink is being shown the door as the Gen Z aesthetic gets ushered in. But what exactly does that mean? Glossy's Sarah Spruch-Feiner explains that the design aesthetic rests on a foundation of bold colors, sustainability and an irreverent, if not self-effacing, sense of humor. It's up to brands now to tailor their language to meet this new agenda, as the TikTok generation finds its legs.
The demolition of the iconic art deco lobby in the McGraw-Hill Building in Manhattan is nearing completion, writes Audrey Wachs in The Architect's Newspaper. The high-rise, designed by architect Raymond Hood, was built for the education company in 1931, and some renovations took place in the 1980s. Over the past several months, historic preservationists have been working to landmark the lobby, but demolition began on January 6. The current owners notified the Landmarks Preservation Commission about their intent to salvage materials they deemed original and historic, including the emerald-green metal wall panels, the elevator doors and several lighting fixtures.
In Alabama, educator Mark Martin of Build UP (Urban Prosperity) Birmingham is leading a charge. In 2018, after seeing firsthand the inadequacies of the education system, he founded the organization to teach students how to renovate homes—and provide a clear path to owning one. The program targets students who are at risk of dropping out of school, paying them a stipend as they learn how to remodel homes. After two years in the program, students and their families become eligible to move into one of the remodeled homes, and at the end of the program, students are offered no-interest loans to purchase the homes on the condition that they either secure a job in construction, transfer to get a bachelor's degree or start their own business, writes Fast Company.
CUE THE APPLAUSE
The Kitchen & Bath Industry Show has announced its Best of KBIS 2021 honorees. The Best of Show award went to Cosentino for its Dekton Craftizen collection; the Kitchen Gold award went to Emtek for its Select Knobs doorknob collection; and Bath Gold went to Toto for its GC Touchless Faucet. For the full list of winners, click here.
Better Homes & Gardens has announced the winners of its 2021 Clean House Awards, which recognize 40 innovative tools and cleaners across six categories: Best Bathroom Cleaning Products, Best Cleaning Products for Dishes, Best Cleaning Products for Floors, Best Cleaning Products for Pet Messes, Best Laundry Products, and Best Surface Cleaners. To view the list of winners, click here.
California Home+Design has announced its 2021 Design Award winners. Chad Dorsey Design won in both New Product Design and Powder Room Design, while Humberto Leon brought home the Restaurant Design prize for Chifa in Los Angeles. For a look at all the winners, click here.
CALL FOR ENTRIES
NYCxDesign has announced a new design competition: ImpactxDesign. In partnership with Caesarstone, the contest seeks to showcase how design can enhance public spaces and foster engagement. Downtown Manhattan and Dumbo in Brooklyn have been selected as the two regions for designers to submit proposals that introduce new ways of gathering and using quartz. The winning designs will be announced in May and awarded $10,000 prizes. Submissions will be accepted until April 8; to enter, click here.
International stone and tile exhibition conference Coverings has announced that it will extend the submissions deadline for its 2021 Installation & Design and Rock Star awards programs to correspond with the event's postponement. Entries will be accepted until March 26; to learn more, click here.
IN MEMORIAM
Longtime Kneedler Fauchère associate Rocky LaFleur passed away at age 72 from stage four pancreatic cancer. Los Angeles–based LaFleur was a fixture of the design industry, dedicating himself to mentoring design students and the elevation of the industry at large. "Rocky's impact on our industry will be felt for generations," reads an announcement from the Kneedler Fauchère team, which is setting up a scholarship in his honor. "He dedicated his life to honoring and lifting up the values and practices that make our industry so very, very special."
French fabric and wallpaper mogul Manuel Canovas passed away last week at age 87. Canovas founded his eponymous company in 1963 following his studies in Paris and Rome, capturing the spirit of travel and discovery within his designs and building a brand that would come to be a visionary force in textile design. "Manuel was the most gracious and elegant gentleman, gifted with incredible talent and panache," Castel CEO Stephane Silverman, whom Canovas mentored early in his career, wrote on Instagram.
Longtime Elle Decor art director Florentino "Flo" Pamintuan passed away unexpectedly on March 8. Pamintuan joined the magazine in 2000 under editor in chief Margaret Russell, serving as the magazine's creative director until 2017. "He was an extraordinary creative partner—translating my editorial vision and the story pitches of our amazing editors into layouts brimming with ideas and inspiration, style and grace," Russell shared on Instagram. "He was a perfectionist, he was patient, and he was prolific, designing not only ten issues a year, but everything—gorgeous event invitations, subscription mailers, and two best-selling ED books; even the media sales kit that Flo designed won awards."
Homepage image: Courtesy of New Ravenna