This week marks a strange anniversary—it's been one year of living with the pandemic. Thankfully, with vaccines on the march, it looks like brighter days are coming soon. Despite a crazy year, the industry pushes on. Stay in the know with our weekly roundup of headlines, launches and events, recommended reading, and more.
BUSINESS NEWS
"It is the end of one era and the beginning of a new and exciting one," reads the Dezeen homepage. After 15 years of independent ownership, the online architecture and design publication has been acquired by Danish media group JP/Politikens, which is owned by two private trusts dedicated to supporting journalism as a vital pillar of democracy. Despite the acquisition, things at Dezeen will look largely the same to its readers, with founder and editor in chief Marcus Fairs remaining at the helm (and adding the additional title of CEO as the publication positions itself for growth).
A lawsuit has been filed against Zillow Group Inc., accusing the real estate platform of stifling competition in online home listings, reports Bloomberg. The antitrust suit, brought by real estate brokerage startup REX (Real Estate Exchange) Inc., claims that Zillow's recent website changes effectively boycott independent brokers while also preventing home buyers from seeing a comprehensive selection of homes available for sale.
The American Rescue Plan Act, a $1.9 trillion stimulus package sponsored by the Biden administration, has passed the Senate. The bill currently awaits approval by the House of Representatives and final approval from President Joe Biden—and should it pass, there are a number of noteworthy changes that small business owners can expect. For starters, an additional $50 billion would be channeled to the Paycheck Protection Program, along with grants allocated to restaurants, bars and closed venues, reports Inc. The minimum wage won't be affected by this bill, but small businesses in low-income communities that have been most affected by the pandemic will be eligible for up to $10,000 each.
After months of empty containers signaling trouble in the global supply chain, Furniture Today reported that January brought a (welcome) spike in the shipping industry's activity in the United States. Retail container ports recorded their busiest January on record since the National Retail Federation began tracking imports in 2002, marking a 13 percent year-on-year increase. According to FT, imports can be expected to continue growing during the first half of the year, but furniture imports may not always be first in line at the ports. The bottom line: Things are on the way—but whether it's your client's long-awaited sofa or just another shipment of sweatshirts, it's too soon to say.
Saks Fifth Avenue has revealed plans to separate its e-commerce business from its brick-and-mortar division. The Wall Street Journal reports that the move comes with a $500 million investment from venture capital firm Insight Partners to capitalize on an industry-wide boom in online spending (which makes up $1 billion in annual sales for Saks). While the changes from a consumer standpoint will be negligible, the decision marks a notable shift in the company's priorities: "By separating the dot-com business, we can show investors its value," Richard Baker, CEO of Saks parent company Hudson's Bay, said in an interview. "Investors don't want to put their money in brick-and-mortar retailers right now."
With a whopping 17 million viewers on Sunday, Oprah Winfrey's interview between of Meghan Markle and Prince Harry drew attention for the eye-popping statements about the royal family (inciting much debate among the interior design community on Instagram)—but the beautiful outdoor decor that comprised the stage was a head-turner, as well. As Veranda points out, the Christopher Knight Home chairs that the three reclined in during the special are available on Amazon for $620.
LAUNCHES, COLLABORATIONS & PARTNERSHIPS
Furniture rental platform Feather has announced a new branch of the company: Feather for Staging. The self-service offering targets home staging professionals, granting them access to the brand's assortment of furniture and home decor as a resource for their real estate projects. The service will initially roll out in Feather's most active real estate markets, including Baltimore; Los Angeles; New York; San Francisco; Orange County, California; Richmond, Virginia; and Washington, D.C.
In celebration of Women's History Month, 1stDibs and the Female Design Council have curated a collection of works made by designers, artists and craftspeople who identify as women. The artful lifestyle and home decor objects are available on the FDC's 1stDibs storefront.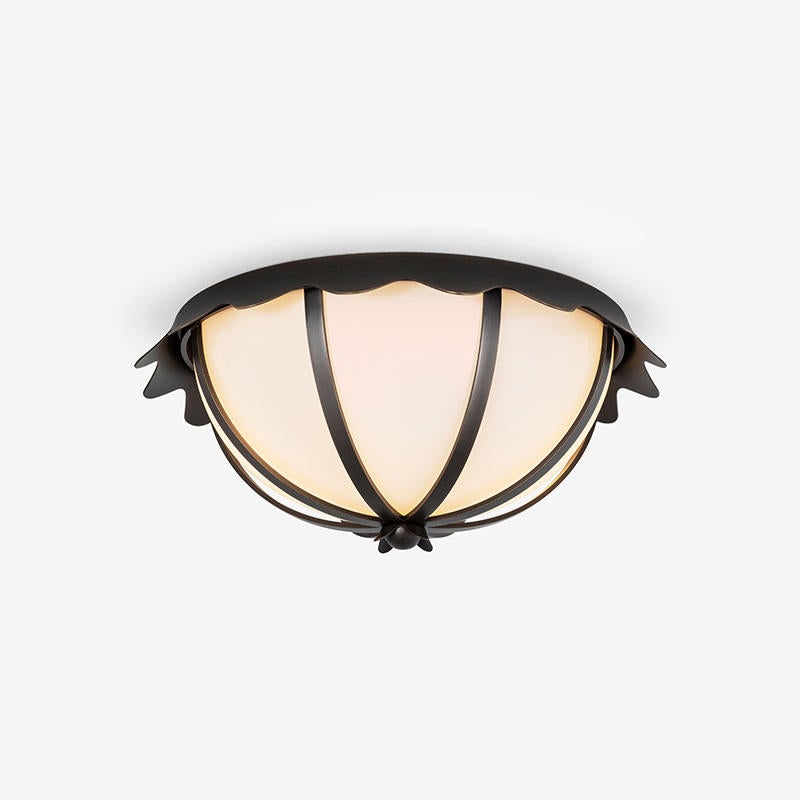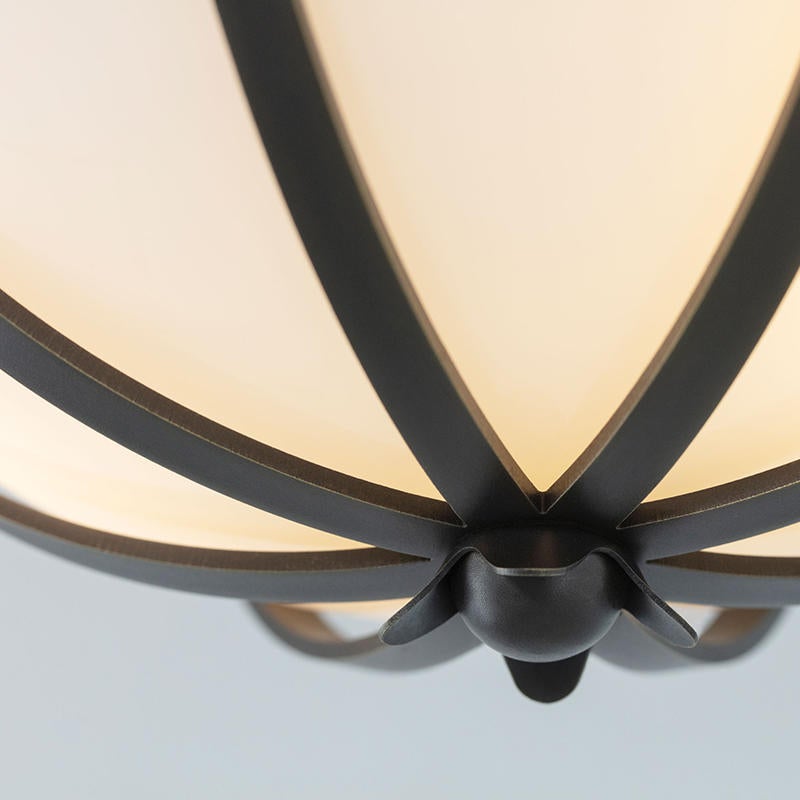 Interior designer Ken Fulk has announced a new collection with The Urban Electric Co. The assortment of fully customizable lighting fixtures, ranging from pendants to picture lights, all inspired by classic millinery.
Lamps Plus is debuting an exclusive line of luxury fixtures in partnership with Stiffel, a New Jersey–based lighting company. The collaboration also places Stiffel's designs on Lamps Plus's new microsite, LP Luxury Lighting, an offshoot that will focus on high-end fixtures.
Luxury home furnishings brand Arteriors has launched a guest designer collection with Workshop/APD. The line features 48 pieces, including furniture, lighting and decorative objects, marking Arterior's first-ever collection with an architecture and design firm.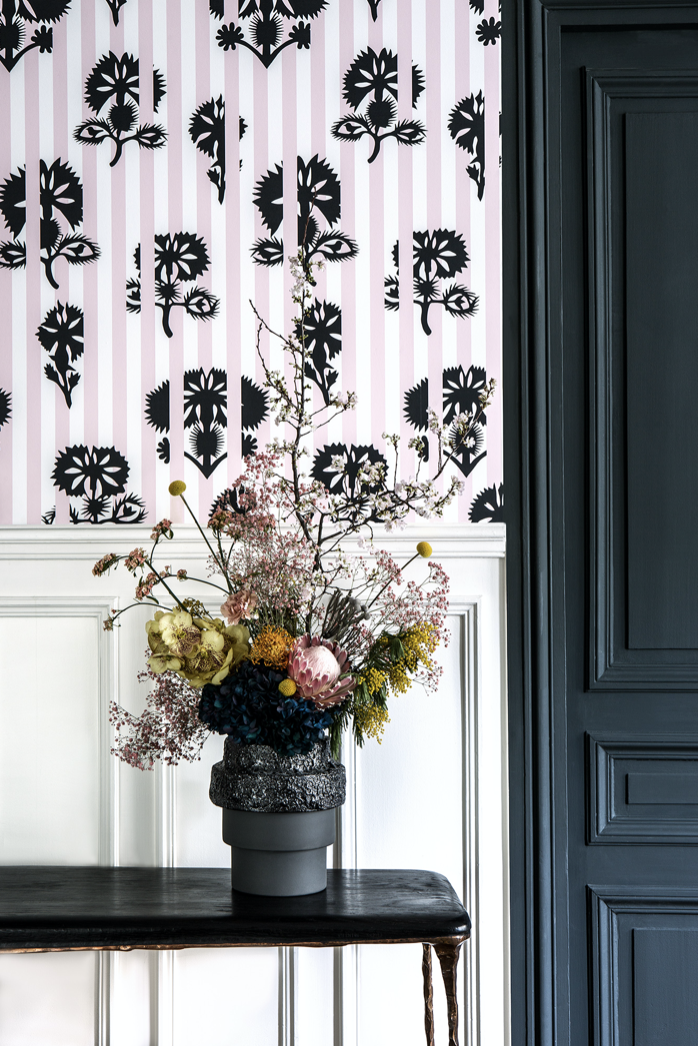 Courtesy of Graham & Brown
British wallcovering brand Graham & Brown has launched a new line of wallpaper with designer Sacha Walckhoff, creative director of Christian Lacroix Maison. The Paper Games collection features three graphic prints in a variety of cheerful colorways.
Last week, Form Kitchens officially launched in the U.S., bringing its e-design capabilities and European-styled kitchens to the American market.
Italian furniture brand Fratelli Boffi has launched its first collection of outdoor furnishings, inspired by places in nature and mountain settings. The line includes benches, a dining table and additional seating options in two warm wood tones.
CALENDAR UPDATES
Design Centre Chelsea Harbour has shifted the dates of London Design Week 2021. The event will now run from May 16 to 21, combining in-person visits with virtual programming.
The American Home Furnishings Hall of Fame has announced the postponement of its 2021 induction ceremony—previously scheduled for June, the event will now take place on October 17.
RECOMMENDED READING
In a thought-provoking essay for The Atlantic, writer Arielle Bernstein points out the fraught (and often privileged) assertions that Marie Kondo's KonMari method rests upon. For the financially secure, ridding your life of excess feels different than for someone who cherishes all that they own—down to the knickknacks. And "beneath some of the self-help-inspired platitudes about how personally enriched you'll feel after you've discarded items you don't need, there's an underlying tone of judgment about the emotional well-being of those who submit to living in clutter," writes Bernstein.
In the age of Amazon, algorithms are everything—but what of the mystery that once held the potential for surprise? In Business of Fashion this week, Doug Stephens explains how the iTunes Store model was the first domino to fall in the realm of online shopping discovery, and why digital marketplaces have become conduits for shoppers to find what they already knew they wanted.
CALL FOR ENTRIES
ADAC Atlanta has announced its call for entries for the 2021 Southeast Designers & Architect of the Year Awards, which recognize excellence in the categories of architecture and residential and contract interior design. Submissions will be accepted until May 7; to learn more, click here.
Apartment Therapy's Small/Cool contest returns this year, welcoming submissions from small-space dwellers across the country. Entries will be accepted through March 29 and will be categorized by square footage. To learn more, click here.
The PR Net has launched its BIPOC Mentorship Program, in which industry founders and senior executives help advance students and recent graduates in the field of marketing and communications. The 12-week program will kick off in April, with one- or two-hour sessions between mentors and their mentees. Applications will be accepted until March 15; to apply to the program, click here.
Homepage image: A lifestyle display from the Arteriors x Workshop/APD collection | Courtesy of Arteriors