There's no question that social media has changed the design industry—and thanks to Instagram, houses are becoming more colorful (read: photogenic) than ever. As the industry continues to evolve, stay in the know with our weekly roundup of headlines, launches and events, recommended reading, and more.
BUSINESS NEWS
Shortly after taking office, Joe Biden announced that his first 100 days as president would focus on rectifying the current economic and health crises facing the U.S. According to Inc., in a speech on January 14, Biden outlined his American Rescue Plan, a new $1.9 trillion COVID-19 relief bill, earmarking $440 billion for communities and small businesses. The legislation also proposes direct payments of $1,400 to most Americans, an expansion and extension of unemployment benefits, and renewed aid to state and local governments. At a joint session of Congress in February, the president will present the plan, which will include rigorous support for small businesses in the form of a $15 billion grant program, as well as $35 billion in government assistance as part of a $175 billion investment in small business lending. Passage of the aid bill isn't guaranteed; it requires a simple majority vote to be enacted into law.
In Riverhead, New York, construction home technology company SQ4D has listed the first 3D-printed home permitted in the U.S., and it is priced at $299,999. Using the company's proprietary Autonomous Robotic Construction System, the residence was printed on-site using concrete to create more than 1,400 square feet of living space and a 750-square-foot garage. Included with the 3D homes is a 50-year limited warranty—part of SQ4D's mission to responsibly advance safety and sustainability in the home construction industry.
Stock photography company Shutterstock has announced the acquisition of 3D model marketplace TurboSquid, a site used by rendering artists the world over to source everything from digital plants to digital sofas to digital fidget spinners. (Fred Nicolaus wrote about how the company, which sells stock 3D models, plays a role in the global rendering economy in his feature on the impact of photorealistic renderings for BOH's Fall 2020 issue.) The transaction is expected to close early next month, transitioning TurboSquid's more than one million 3D models and objects to Shutterstock, making it the world's largest 3D marketplace.
According to The Wall Street Journal, Americans are making themselves at home and staying put longer—in 2020, the average homeowner had remained in place for 13 years, well ahead of the 8.7 years that Americans had clocked in their homes in 2010. As a result, home inventories are reaching record lows and prices are skyrocketing, as the effects of work-from-home culture continue to encourage Americans to relocate away from densely packed cities. (For more on the state of real estate, we took a look at what a runaway home seller's market means for designers here.)
Latch, a maker of smart locks, home security technology and building management software, has announced its plans to IPO this year as part of a merger with New York–based TS Innovation Acquisitions Corp., which was acquired last year by commercial real estate firm Tishman Speyer. The deal values Latch at $1.56 billion dollars, reports The Wall Street Journal.
LAUNCHES, COLLABORATIONS & PARTNERSHIPS
Los Angeles–based direct-to-consumer soft goods company Parachute has released a new collection of bed and bath linens through Crate & Barrel, featuring a new sea green color palette. This collection marks Parachute's first wholesale partnership with a global retail brand. It will be available exclusively through Crate & Barrel until July 31.
Courtesy of Christopher Farr
Los Angeles–based rug brand Christopher Farr has launched a collection of rugs in partnership with the Josef and Anni Albers Foundation, including a graphic low-pile rug inspired by Josef Albers's studies from his book, Interaction of Color.
Home organizing company The Home Edit, featured on Netflix's Get Organized With The Home Edit, has partnered with Crossing, a Washington, D.C.–based luxury residential development, to bring organizational services to its residents. Crossing is offering them three packages to have their work or home spaces organized at a discounted cost.
Children's furniture brand Storkcraft has partnered with motherhood and lifestyle brand Motherly to launch Timeless Nursery Collection, featuring a convertible mini crib and mattress, a playhouse, a glider and a six-drawer dresser.
Houston-based interior designer Marie Flanigan has launched a collection in partnership with local Aria Stone Gallery, featuring three statement marbles that can be outfitted as backsplashes, countertops or bathroom surfaces.
CALENDAR UPDATES
The South Florida–based Home Design and Remodeling Show has announced that it is expanding its show to Palm Beach County for the first time this year. From May 28 to 31, the event will take place at the Palm Beach Convention Center, bringing together homeowners and design experts under one roof.
The fall 2021 edition of Intertextile Shanghai Home Textiles will join forces with Intertextile Shanghai Apparel Fabrics from August 25 to 27, following a successful edition of the show in 2020.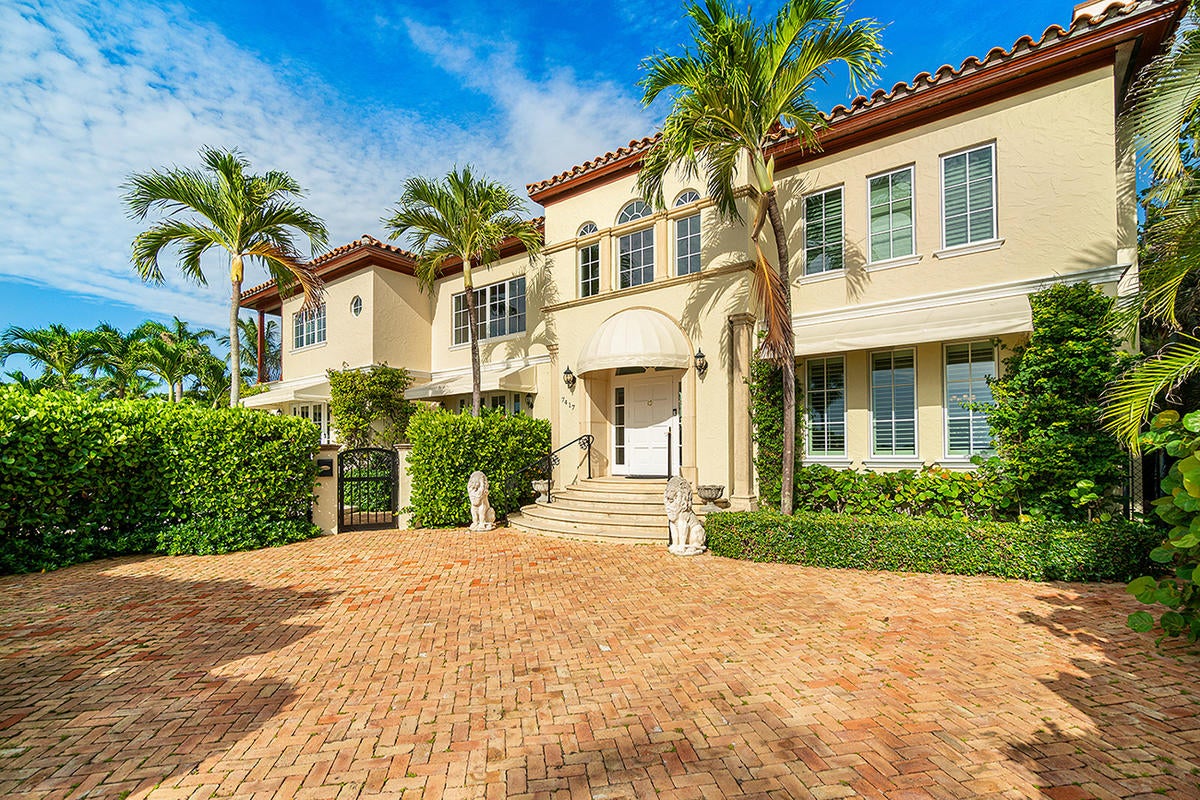 Living Proof Real Estate Photography
showhouses
The organizers of the Kips Bay Decorator Show House Palm Beach have announced the location of the event's fourth edition. From April 8 to May 9, a talented lineup of interior designers will transform 7417 South Flagler Drive, a Mediterranean-style waterfront home in the South End neighborhood.
RECOMMENDED READING
For Andi Owen, CEO of office furniture manufacturer Herman Miller, the last few months have introduced political challenges at work: Navigating the pandemic became extra complicated as employees began donning politically charged clothing, and looming uncertainty around the future of the workplace didn't help. In The New York Times, writer David Gelles asked Owen how she's been navigating these treacherous waters.
Following the inauguration of President Biden last week, The Washington Post stepped into the new administration's Oval Office. Incoming presidents traditionally change the decor of the space to reflect their personalities and the type of presidency they wish to have. Biden has filled the Oval Office with images of American leaders and icons, bringing in paintings and busts of historical figures of Martin Luther King Jr., Franklin D. Roosevelt, Cesar Chavez and Rosa Parks.
"The 20 percent off coupon from Bed Bath & Beyond—a homely and oversize mailer known as Big Blue—is omnipresent, unmistakable and a joy to deploy in the chain's endless aisles," writes Ron Lieber for The New York Times. "It's also an oddball marketing achievement where the promotion became a stand-in for the brand itself." In this oral history of the company's infectious marketing scheme, Lieber traces back to the beginnings of Big Blue, and how the strategy gained traction over the years.
"The home pantry is in the spotlight," writes Amy Gamerman for The Wall Street Journal. As the months at home stretch on and renovation projects continue to unfold, Americans are increasingly investing in Instaworthy walk-in pantries. Custom shelving and hired organizers are helping homeowners craft ultrasatisfying food storage spaces, down to hand-finished matching spice jars.
CUE THE APPLAUSE
The Chicago Athenaeum Museum of Architecture and Design has announced the winners of its 2020 Good Design Awards, which recognizes innovative designs across 30 categories, ranging from electronics and textiles to furniture and transportation. In the lighting category, Venice, Italy–based designer Lorenzo Truant was honored for the Black Hole pendant; Sunbrella and designer Richard Frinier were awarded first prize in the Textiles category for the Retweed collection; and the Armadillo Armchair by Valencia, Spain–based firm MUT Design won in the Furniture category. To view the full list of winners, click here.
Apartment Therapy has announced the 24 members of its Class of 2021 Design Changemakers to Know, which honors industry visionaries including content creator Alberthe K. Buabeng and interior designers Aurielle Jones, Holly Hickey Moore and Laura Thurman, among others. To view the full lineup of honorees, click here.
CALL FOR ENTRIES
NYCxDesign has announced the launch of its Breakout Grant, a new initiative to promote entrepreneurship in design. The annual prizes will support New York–based independent talent and businesses as they bring new ideas, products or projects to market—one $15,000 grant will be awarded to support a career-making moment, and two additional $5,000 grants will be given to support continued project growth. To apply, click here.
Supported by NeoCon and theMART, the Chicago Department of Cultural Affairs and Special Events and the Design Museum of Chicago have announced the second edition of the Design Impact grant, which supports civic good through design. Part of the Designing a Better Chicago initiative, the program will award $25,000 in project-specific grants to individuals and organizations using design to address pressing issues in Chicago communities. Nominations will be accepted until March 12; to learn more or to submit a nomination, click here.
The High Point, North Carolina–based Bienenstock Furniture Library has launched a new fundraising campaign to support its inaugural Future Designers Summit. U.S.-based students are invited to submit applications until February 28 to vie for a place among 50 available spots at the summit. To learn more about event sponsorship, click here; to submit an application, click here.
Homepage image: Soft goods by Parachute for Crate & Barrel | Courtesy of Parachute