Dallas-based interior designer Samantha Fisher was standing in front of a Target, gingerly applying a face mask before entering, when Business of Home reached her by phone. The question of the moment: Was she eager to get back inside her local design center? The Dallas Market Center had recently reopened its doors to the trade, ending a state-mandated shutdown.
"Yes, I've missed it terribly," said Fisher. "I'd feel safer going into a showroom than I do going into Target."
Across the country, as states begin to ease coronavirus-imposed restrictions, design centers and showrooms are tentatively opening their doors—and designers are weighing whether or not to walk through.
Some, like Fisher, are ready to shop. Others are more hesitant. Whatever they do, it will have a huge impact on the brands that sell to the trade and the landlords who rent them space. But with no clear end to the pandemic in sight and conflicting information coming from the federal government, local authorities and the media, companies face a complicated set of decisions about opening up for their clients. As a result, when and how to do it "right" often comes down to the state, city, building and even the individual designer.
CITY BY CITY
One of the ironies of the coronavirus era is that while it has inspired national solidarity, every state—in fact, every city—is experiencing the crisis in its own way. Designers in New York City (177,000 confirmed cases) might find the idea of a stroll through the D&D Building unimaginable at the moment. In Jacksonville, Florida (less than 1,000 confirmed cases), the situation feels less dire—more than one designer told BOH some version of, "Where I am is another world from New York."
Simply put: For many, your zip code correlates with how comfortable you'd feel picking up fabric samples in person right now. But the picture is complicated by conflicting decisions made by state governments, local governments and individual landlords.
In Florida, for example, the state is officially open for business, but outbreaks in Miami-Dade and Broward counties have kept its southeast region on lockdown. As a result, designers in central Florida can visit local showrooms, but in Dania Beach, the Design Center of the Americas is a ghost town. Georgia has reopened statewide, but in Atlanta, ADAC's management has kept the building closed, citing a need for more time to establish cleaning and safety procedures.
In one state, the government has kept the building closed. In another, the landlord has. Such complications will likely persist in the months ahead as outbreaks of COVID-19 move through the country.
Interestingly, Texas is one of the few places in America where both the government and design centers are currently in agreement: This week, the Decorative Center Houston and Dallas Market Center opened their doors, making the Lone Star State a test case for what the design industry will look like as the rest of the country emerges from quarantine. Both design centers are expecting a gradual return to business—emphasis on gradual.
"We're starting to see the showrooms come back slowly," says DCH marketing director Mary Vu. "Right now there's hardly anyone around; we probably won't see much until next week at the earliest."
Dallas Market Center balanced reassurance with patience in a statement: "We are ready when the buyers are ready—and while we know that might take some time, we are confident in our ability to balance good health and good business."
MAKING IT WORK
For the companies with showrooms that are up and running (or about to be), a few patterns have emerged. One is taking a hyperlocal approach.
Dedon, the outdoor furnishings maker, has two showrooms in Texas (out of seven nationally) that recently reopened. The company is treating each location as unique, says Dedon U.S. managing director and president Mary Beth Hunsberger.
"The states are so different," she tells BOH. "[To make the decision], we start with what the governor and mayor say is the right thing to do, then what the landlord recommends, then looking at staff—how can we safely bring them back in? In some areas, there are wide-open parking lots. But in New York and Chicago, when they do open, we'll pay for private taxis for a few weeks."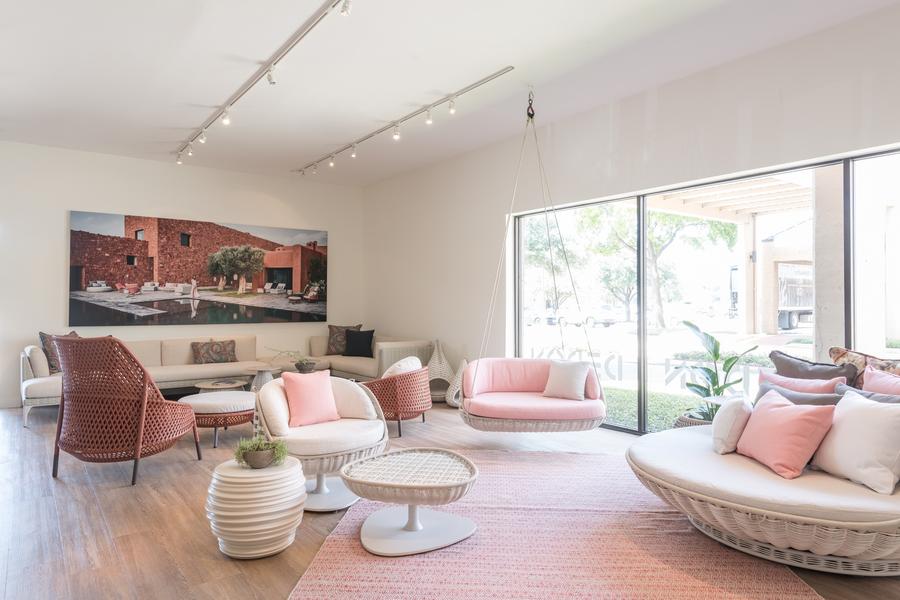 Another common approach: a by-appointment-only policy for designer visits. Dedon's Texas showrooms have instituted a call-ahead request for designers, and Vu says that though they're not required to, most companies in the DCH are taking a similar tact to avoid showroom crowding.
For designers, who are often in regular touch with reps even under normal circumstances, the change is hardly disruptive. "I did one appointment at the Decorative Center," says Lauren Haskett, a Houston-based designer. "We kept a distance and everyone had hand sanitizer ready. It felt oddly normal in a way—something normal to do in the middle of all of this."
One of the challenges for design center brands, of course, is that appointment shopping won't lead to the same volume of just-dropping-by spending from designers, but most see it as a necessary in-between step. "We have been able to rely on [our] long-term designer relationships," says Hunsberger. "But our hope is that [foot traffic] can come back."
NEW STANDARDS
It probably goes without saying that showrooms are investing in disinfectant spray and wipes, hand sanitizer and professional cleaning like never before. "Everything is spotless," says Dennis Hunt, the owner of Atlanta multiline showroom Ainsworth-Noah, who is hoping to open up on May 18—almost a full month after the official end of Georgia's shelter-in-place order. "We're having commercial cleaners come weekly, and we'll continue to do that for the months ahead. Every desk has hand sanitizer and disinfectant. We've had so much downtime to prepare—every lampshade is completely straight, the pillows are perfectly fluffed."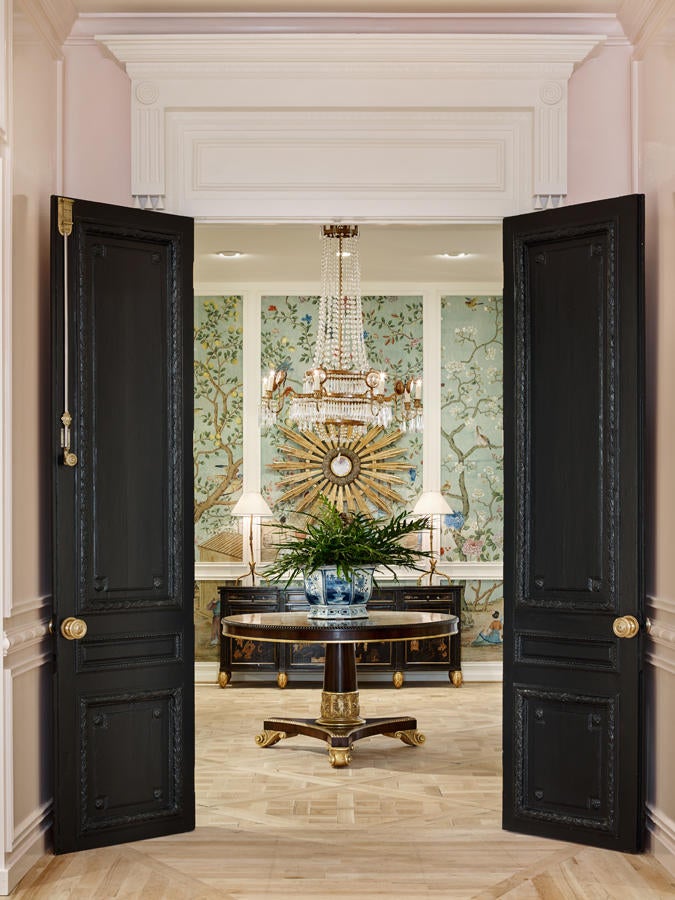 "We're sanitizing door handles multiple times a day," says Matt Copeland, showroom manager of Aria Stone Gallery's DCH location. "We had professional cleaning weekly, and we doubled that protocol. If we see that a slab has been touched, we'll scrub it down ourselves."
A thorough approach to hygiene extends beyond cleaning surfaces. Copeland has been careful to offer all customers the option to pay invoices via their own phone, so that they won't have to handle a showroom tablet or pen. "It's about gauging what people are comfortable with," he says. "Luckily, most of the time our clients are pretty forward about what they want."
Then, of course, there are masks. Though the Centers for Disease Control and Prevention currently recommends that Americans wear masks in areas where social distancing is impossible, adherence to that guideline varies wildly. Even in New York, the epicenter of the outbreak in the U.S., masks are by no means universally worn.
Most brands opening up right now have an official policy that showroom employees will wear masks (Hunt's staff has theirs made in Rose Cumming fabrics). Some are asking designers to wear masks as well. However, in practice, it's likely that there will be some variation.
Copeland says most of Aria's recent designer clients have been wearing masks, which is presenting an interesting sales challenge. "You're gauging customer experience based on facial expression 60 percent of the time," he says. "You can tell a lot based on [a client] just pursing their lips. With masks, you're looking at body language, you're listening for a sigh."
Designers, too, are settling into the strangeness of the new normal. "When I find myself smiling [with a mask on], I keep thinking: I hope I'm smiling with my eyes too!" says Fisher, with a laugh. "It's so bizarre."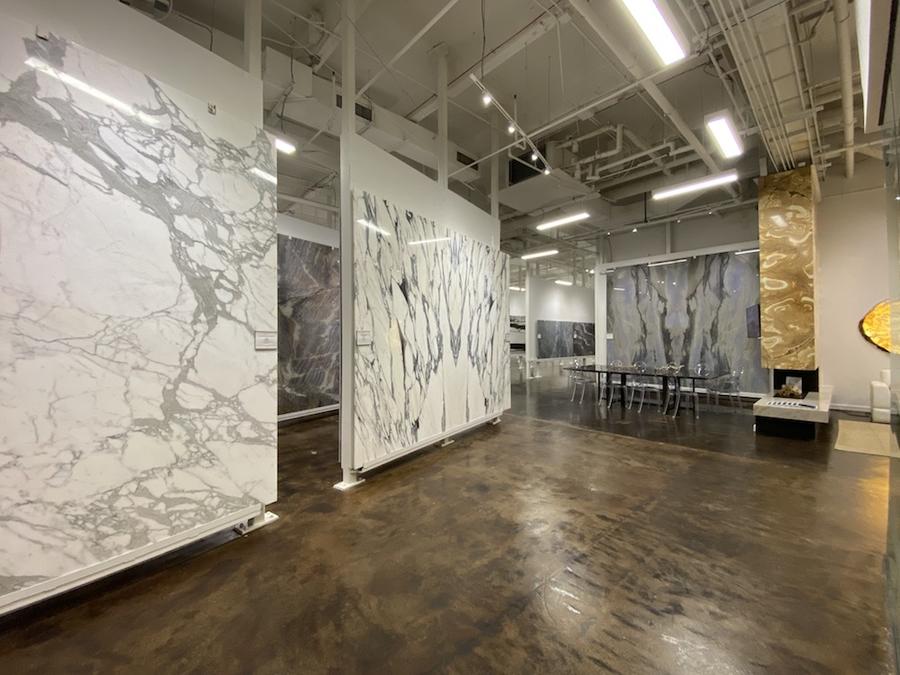 Courtesy of Aria Stone Gallery
LOOKING AHEAD
Reopening showrooms hope to invite designers into a safe, welcoming environment. Most of the designers we spoke with seemed willing to take them up on the offer, though not all. "I'm trying to limit going into showrooms and stores as much I possibly can," says Haskett. "Anything I can do via email, phone calls and Zooms, I'm doing that way. … It's definitely a challenge, and I can't operate like that forever, but right now I'm taking it one week at a time."
Ann Ueno, a Miami-based interior designer, says that among her circle of designer friends, the mood has shifted radically in the past few weeks. "At the beginning of [the coronavirus outbreak], everyone was saying, 'Don't go,'" she says. "Now people are starting to be more open to the idea of getting back into showrooms."
"If it's by appointment only, and there's only one other person in the showroom, then that's OK with me," says Fisher.
Indeed, through a certain lens, the interior design business is remarkably well-suited to operate under coronavirus restrictions. Buyers and sellers know each other well. With most events canceled, there are very few crowds (three months ago, slow foot traffic was the bane of design centers across the country; now it seems like a competitive advantage). Even the physical spaces that define the profession seem tailored to the medical needs of the moment: The average showroom is fairly spacious, and even without special precaution, many might have met CDC guidelines. "I've got 40,000 square feet," says Hunt. "It's not going to be hard to maintain distance."
In other words, the path to reopening may be decidedly less rocky for the design trade than it will be for restaurants, department stores and hotels.
However, trade brands (and their landlords) have another factor to consider: the possibility that they and their clients have adapted too well to this period of enforced isolation. Many have told BOH that while business has slowed down, they've been able to keep selling via Zoom sessions and shipped samples. As companies ponder their rent bills, some may be wondering if they can get by with a smaller showroom footprint going forward.
If they do, some designers might not notice much of a change. "I can see all the new stuff on Instagram," says Andrew Howard, a designer based in Atlanta and Jacksonville, Florida. "[Brands] do such a good job with road reps and emails that corona or no, my own days of going to showrooms were dwindling anyway."