Photorealistic imaging has become a powerful tool for interior designers. What's the catch?
Dumb question: If there was a sales tool so simple and powerful that all you had to do was attach it to an email and send it to a client, and they'd immediately call you, breathless with excitement about spending money—you'd use it, right? Nicole White, a South Florida–based interior designer, describes a phenomenon she has seen happen over and over in her practice: "I'll send it over, and like clockwork, a few minutes later, my phone buzzes and it's the client. They're like, 'I'm going to live there?!'"
It, of course, is a digital rendering—a computer-generated 3D model that White and her team labored over for hours (and hours) to approximate the design transformation planned for the client's home. She began using the technology as a regular part of her process in 2015, and has never looked back. "You can show them all the concepts you want, but when people see your design in their space, they really see the value," she says. "It gets them enthusiastic about the project at a crucial phase, because the next phase is when they need to start writing checks."
For decades, 3D models were mostly the province of architects and commercial designers, but in recent years, they've crept more steadily into the home. First, it was kitchen and bath designers using renderings to convey the complicated space planning required by their craft. However, as the tools have gotten better, and cheaper, residential interior designers have begun using them for every room in the house.
Though the technology is relatively new, the reason to use a digital rendering is as old as the design profession itself. Decorators have always relied on visual aids—floor plans, watercolors, mood boards, cocktail-napkin sketches—to sell their vision to the client in the early, delicate phase of a project. Executed by the masters of the practice, architectural renderings have even become an art form, with interior watercolors by Mark Hampton and Albert Hadley regularly bought and sold by collectors.
It's tempting to see 3D models as just another link in that evolutionary chain, but there's a fundamental difference that sets them apart—photorealism. Well-executed renderings are so lifelike that they can't be grouped in the same artistic category as paintings
and sketches. In a museum, they'd be exhibited alongside photography because of a crucial similarity: Our brains are trained to see photographs as a documentation of reality, not an interpretation.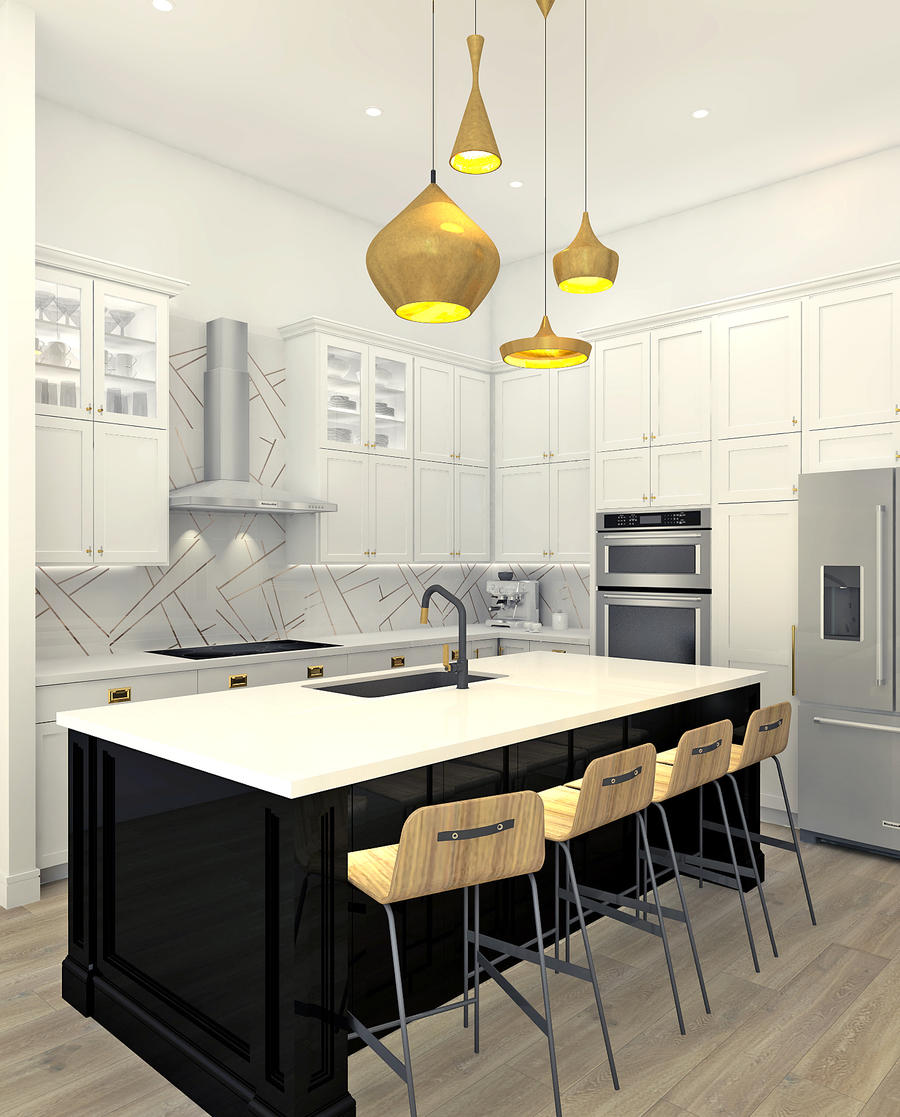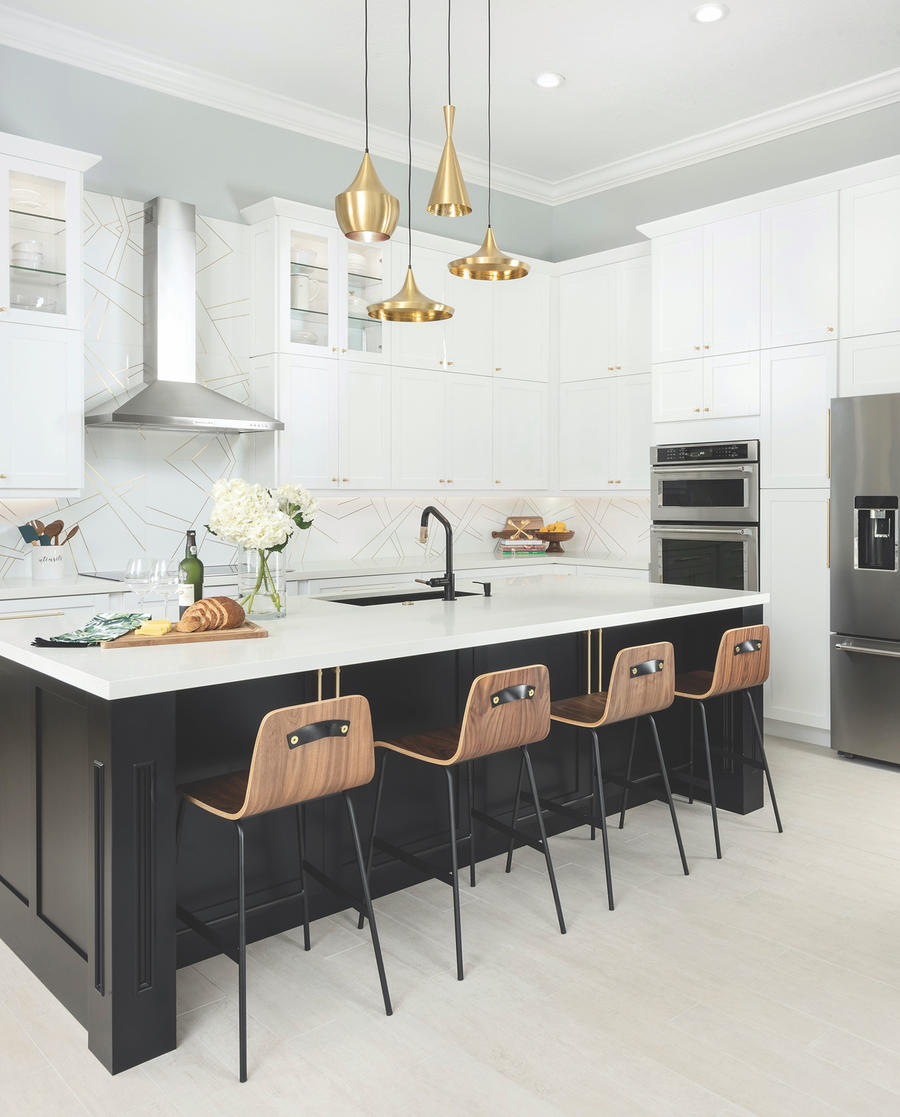 Photorealistic (or near-photorealistic) renderings allow a designer to sidestep "Imagine that your home will look something like this," and instead say, "This will be your home." That reassurance can sway even the most skeptical clients. (Several designers I spoke with for this article said that, for whatever reason, digital renderings tend to make the biggest impact on men. "Most of the time, it's the husband who needs the rendering to begin to see the vision and understand the value of the process," says Baton Rouge, Louisiana–based interior designer Arianne Bellizaire.)
Some design firms are so invested in the power of renderings that they've shaped their entire process around using them. Over the past five years, Montreal-based duo Nabil Akl and Nadim Sioufi of Arc.Hive have fine-tuned a method of presenting to their clients that involves creating exhaustively precise 3D models that are not only dimensionally accurate, but feature the exact furnishings, finishes and fabrics they're planning to use in the project. "There is a way to present where you give clients an overall vision and then let them imagine, but we don't believe in it," says Sioufi. "Using hyperrealistic renderings has been successful for us—95 percent of the time, there's very little modification to our designs." (All those exhausting rounds of revisions? Gone.)
The time investment is extreme, and the cost is high. The pair say that their conceptual phase can take up to three times longer than an average firm's, and that total rendering costs for a residential project can sometimes exceed $100,000. Still, they swear by it. "The client gets what they see," says Akl. "In the past, we would explain the budget for our renderings and the client would try to exclude it, thinking they would save money. But now we've changed our strategy and don't even mention it because the visualization is to their benefit."
It's difficult to come by hard data on the efficacy of digital renderings in residential design, but what information does exist points in one direction. E-design platform Modsy, which has always included a rendering among its deliverables, attributes that approach to its low return rate. Amra Tareen, CEO and co-founder of digital rendering startup ALL3D, says that back in 2016, when she was the chief product officer at Decorist, the e-design company conversion rate increased by 50 percent when it experimented with making 3D renderings of its designs instead of just sharing mood boards with customers.
We had a client who, after the room was complete, pulled out the rendering to compare. I was like, What's the point of that? Do you like the room or not?
Kelly Finley
Anecdotal evidence leads to similar conclusions: There are designers young and old who swear by 3D renderings. Even venerable icons of the profession are known to dabble. David Kleinberg, who began his career at the legendary firm Parish-Hadley, has done a few here and there. Bunny Williams's firm, too, has used them for the occasional client. White told me her clients love the images so much that when she posts one on her Instagram feed, they tag their friends in the comments, as if to say, "Hey, check this out."
In fact, in the course of interviews for this article, I got so used to designers telling me how well renderings worked that I reacted with genuine surprise when Oakland, California–based designer Kelly Finley told me that yes, she had once been a devotee, but just two weeks before I called, she had decided to quit using them. It's a proven sales technique, an impressive bit of digital magic, and a near-guaranteed client-pleaser—yet Finley gave it up, cold turkey. Why?
A Booming Market
In order to understand the idiosyncrasies of digital rendering in the design world, it's important to understand something called TurboSquid.
TurboSquid is the biggest furniture store in the world. It's also the cheapest. There, you can buy a Barcelona chair in supple brown leather for $34. Lighting from The Urban Electric Co. costs $20. A limited-edition Carlton bookshelf from iconic designer Ettore Sottsass? $13.
TurboSquid is a website that sells stock 3D models. Its collection, numbering nearly one million items, contains far more than furniture—you can buy everything from a digital fiddle-leaf fig to a digital fidget spinner (there are 180 of them, in fact). It is only one of many massive marketplaces that sell to the vast network of artists and technicians who churn out renderings every day. When designers hire a renderer to create a living room, chances are that the artist picked up a few pieces from TurboSquid.
Who makes the products on the platform's digital shelves? Everyone, everywhere. Renderings can be made with relatively inexpensive software and "shipped" anywhere on Earth for free. As a result, a worldwide cottage industry has sprung up, with digital artists cranking out models of individual pieces—and the rooms they'll eventually fill—everywhere from Italy to Venezuela. (One designer interviewed for this story guards her digital sources so closely that she would only disclose the name of her favorite Thailand-based rendering agency off the record.)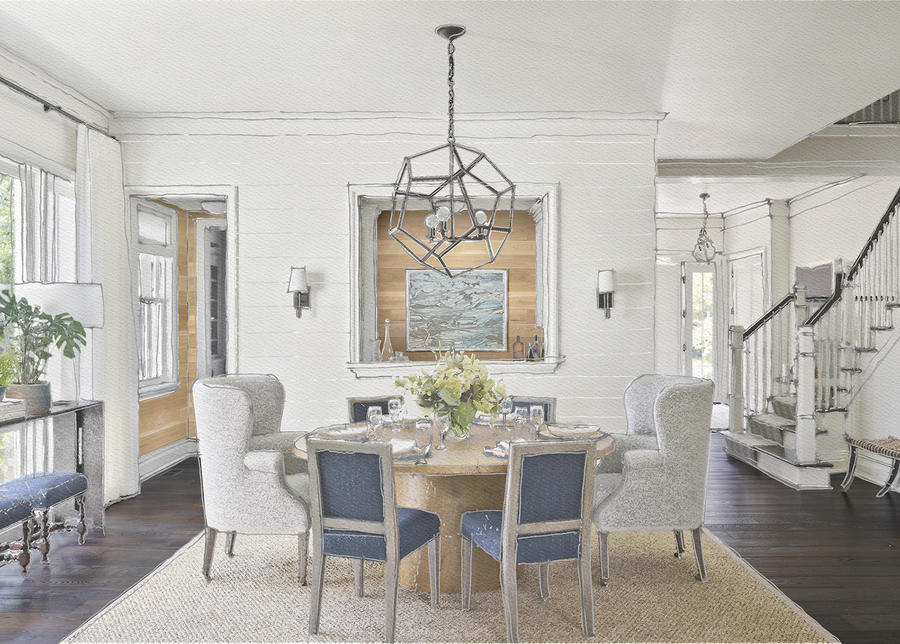 Courtesy of Andrea Goldman Design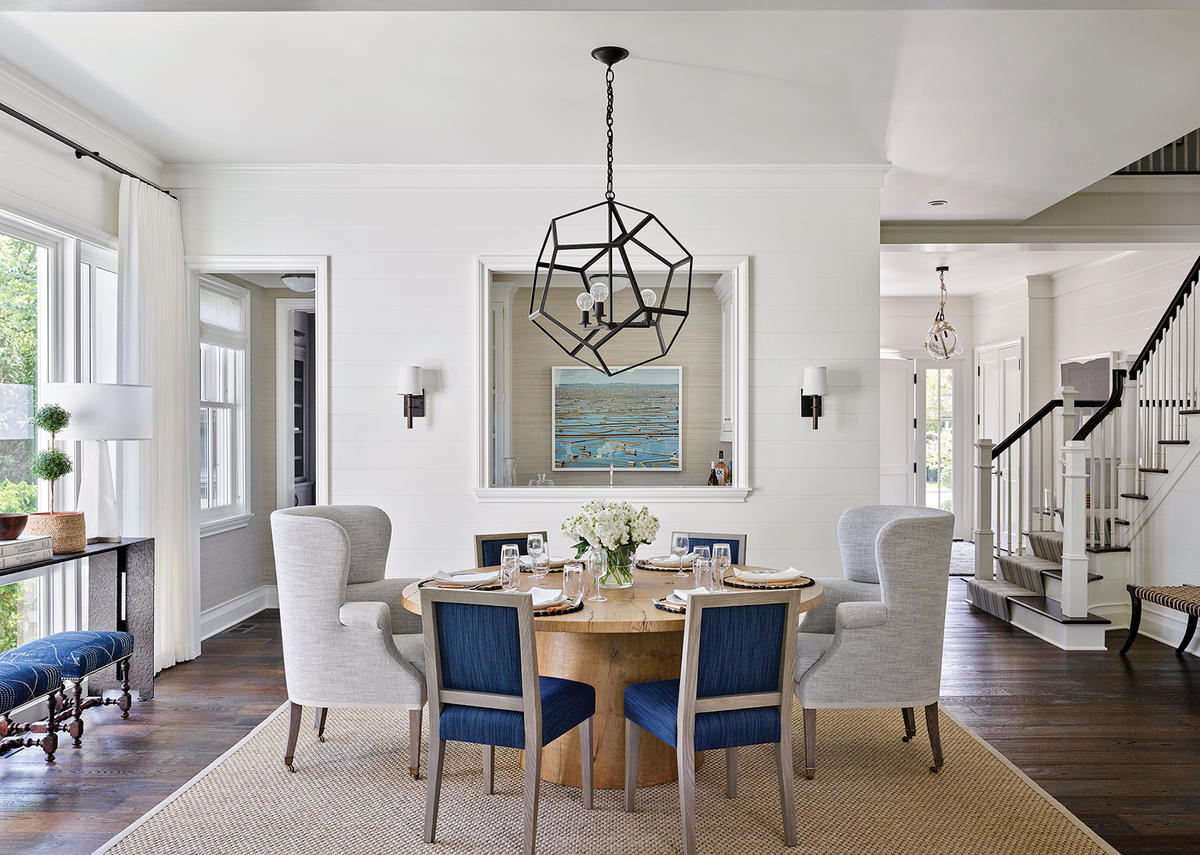 The rise of renderings has created a digital shadow of the global manufacturing economy: While a factory full of craftspeople in Vietnam makes armchairs to sell to American customers, six blocks away, a man in an apartment can make a digital model of that same armchair to sell to Ukrainian renderers, who are working for American designers.
Like any other economic sector, globalization drives down costs. When renderings are made in countries with a low cost of labor, they can be sold for less to consumers in first-world countries. Consequently, the price of a rendering has been creeping down over the years. While a painstakingly created, hyper-photorealistic image of a room stuffed with objects can still cost thousands of dollars, a good-enough image can go for as little as $250 to $300.
The fragmented nature of the rendering industry keeps prices low, making the products increasingly accessible to designers at any level. However, it creates friction as well. While some large retailers freely offer digital models of their inventory, most trade-facing companies don't. And while sites like TurboSquid have thousands of pieces of furniture available, there are hundreds of thousands more that require rendering from scratch. The result is that often, when a designer directs a renderer to include a particular sofa or fabric in a design, the artist is only producing an approximation. That discrepancy might seem minor, but can have a major ripple effect.
Reality Check
Like many designers, Finley's first experiences using 3D renderers were positive—almost magical. It was a few years back, and she had lucked out by teaming up with a great freelancer whose creations dazzled her clients. Eventually, she even hired an employee who could do the modeling in-house. Her firm, Joy Street Design, started to do more and more renderings.
"I feel like we got a lot of early yeses because we had these drawings," she says. "At first it was one room; then at some point along the way, we started including more than one view—we would spend all this time trying to get the curtains just right."
But over time, Finley started to notice something. Clients loved the renderings almost too much, to the point where they started to look at the process backwards. They would become fixated on little details and complain when samples didn't exactly match the original digital drawing—when the pattern on a tile wasn't quite to scale, or a shade of green wasn't quite the same. "We had a client who, after the room was complete, pulled out the rendering to compare," says Finley. "I was like, What's the point of that? Do you like the room or not? The rendering is just supposed to be inspiration."
She's not the only designer who has had clients' sky-high expectations backfire as a result of taking a rendering too literally. Chicago-area designer Andrea Goldman now only uses digital renderings if a client specifically requests it, as the inevitable inconsistencies, however subtle, have frustrated past clients. "When you give them a visual that's not the real thing, they can get hung up on it," she says. "They're like, 'I don't like the legs on that couch!' And you're like, 'Well, that's not really the couch.'"
On one level, problems like that will one day be "solved." In the not-too-distant future, making 3D models will be cheap and easy enough that most manufacturers will produce them as a matter of course. Just as it would be unthinkable for a brand to release a collection today without photographing it, someday soon it will be unthinkable to drop a new line without rendering it. (Indeed, it isn't very far-fetched to imagine that 3D rendering could almost completely replace product photography.) As more real-world inventory becomes available as a digital model, renderers will need sites like TurboSquid less and less, and it will become ever-easier for designers to present a sofa to the client as a rendering, then deliver that exact sofa weeks later. What Arc.Hive does at great expense will become cheaper, easier and more accessible.
The goal was always trying to get renderings to approach photorealism, and now we're there. We can make anything look real. So there are two things left: How painful was it to get there, and how fast was it?
Lon Grohs
However, behind that practical issue lurks a more philosophical one: Even if designers can show a client an exact image of their design, should they?
"I started to feel that renderings had become my lock and key," says Kesha Franklin of New Jersey–based firm Halden Interiors. Like Finley, she at first had early success with renderings (particularly when it came to selling initial concepts), but came to feel constrained by them. "Clients loved them so much that they got caught in the trap of, 'I want what you showed me! I want everything you showed me!' If it looked like the lamp was a little bit to the left in the rendering and now you're moving it to the right, they would get upset."
Franklin ultimately took a hiatus from using renderings in her practice, finding that they inhibited her ability to develop a room naturally over time. "Any designer will tell you: If the client allows the process to evolve organically, the end result is always better," she says. "I might have put a beautiful lamp in the rendering, but what if I go to High Point and see something else, or a vendor sends me something better? I want the flexibility to swap that out. And sometimes what I've found is that it doesn't matter if there's a better lamp. If the client has gotten married to what I present in that glossy rendering, I'm almost fighting with myself. I'm trying to talk down what I had presented, which is crazy! I have to unsell what I was trying to sell in the beginning."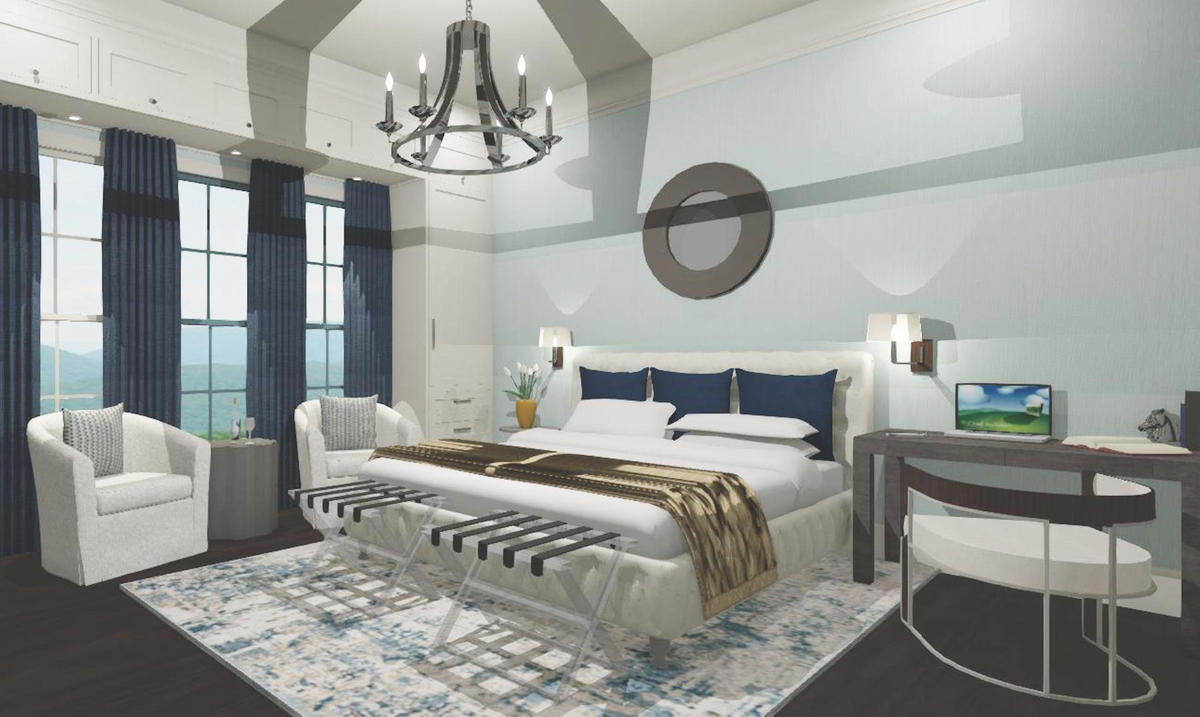 Courtesy of Arianne Bellizaire Interiors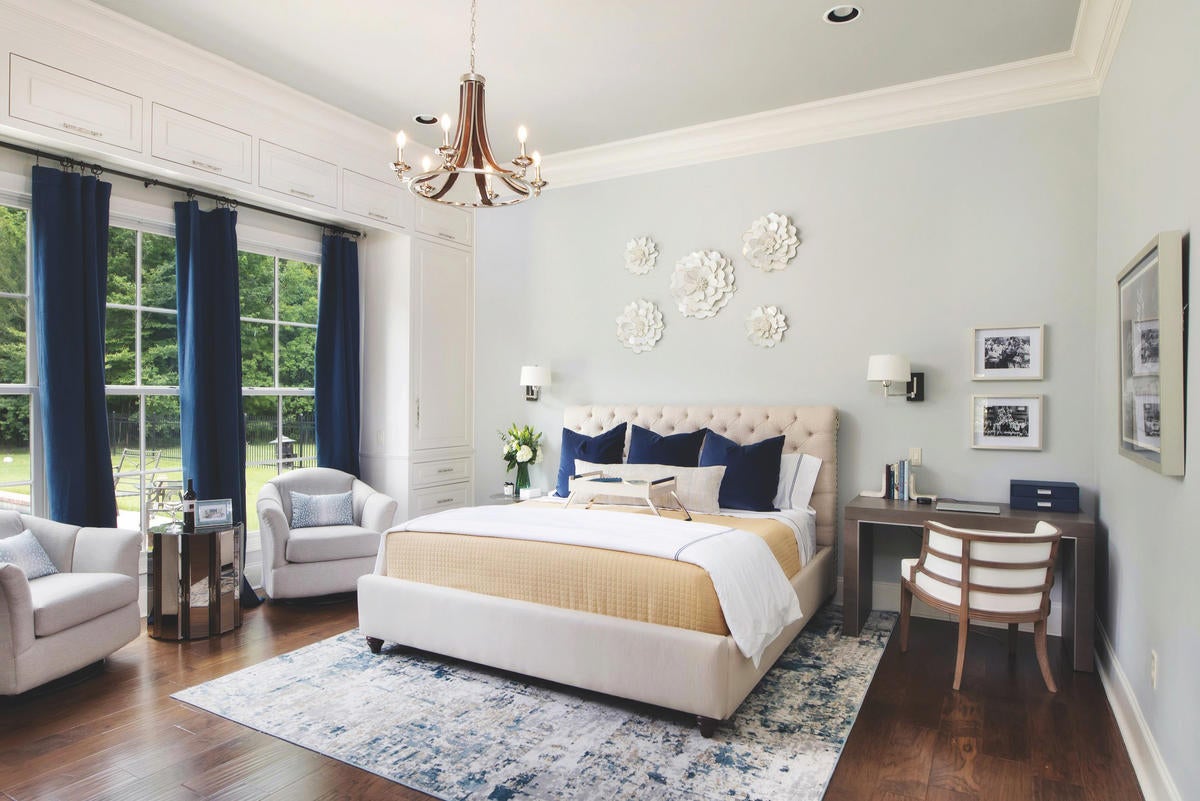 Courtesy of Arianne Bellizaire Interiors
The same quality that makes 3D models such a powerful tool—their photorealism—makes them difficult to work around. Digital models trigger the left side of clients' brains, helping them see past whatever practical doubts they might have about a project. However, once a client starts thinking analytically, it's difficult for them to switch back to dreaming.
Artistic sketches don't have the same power. If a client is fundamentally skeptical of a designer's work, a lush watercolor or a thoughtful mood board likely won't do much to change their mind. However, no client has ever complained that their bedroom didn't precisely match the painting. While the space between a rough sketch and the finished room is filled by the client's imagination, a photorealistic rendering leaves less room for that. Depending on the client (and the designer), that can be a good thing or a bad thing.
"I almost liked it better when the technology wasn't as good and renderings looked worse," Finley says with a laugh. "Too much information takes some of the fun out of our job."
The Cutting Edge
Digital renderings aren't going anywhere. Several designers told me that their clients started asking about the images soon after HGTV began incorporating them into home makeover shows. The same shows still use them, of course, but now you also see digital interior renderings everywhere—in real estate listings, DIY renovation tools, design-oriented video games, online design services, and especially in e-commerce.
The coronavirus pandemic has only accelerated that trend. As large-scale retailers have struggled to grapple with the logistics and expense of a socially distanced photo shoot, many have turned to digital renderings to showcase their product. Likewise, in an effort to connect with customers stuck at home, many have developed virtual design programs of their own that involve photorealistic images. The more mainstream the concept becomes, the more clients will walk into their first experience with a designer expecting a rendering as part of the process.
At the same time, the technology that powers rendering is only getting better, faster and cheaper. Lon Grohs, the global head of creative for Chaos Group, the company that produces V-Ray, a rendering engine popular among 3D artists, explains that in the rendering world, photorealism is essentially a "solved" problem, and that technologists already have their sights set on new frontiers.
"For a while, the goal was always trying to get renderings to approach photorealism, and now we're there," he says. "We can make anything look real. So there are two things left: How painful was it to get there, and how fast was it?" His company is in the process of launching something it calls Project Lavina, which will allow users running the right hardware to produce photorealistic rendering in real time. (Currently, it can take anywhere from 10 minutes to more than 10 hours for a computer to process and generate the final rendering, depending on the complexity of the image.) When that kind of speed becomes standard, the cost will continue to plummet, and renderings will only become more common in the design industry.
However, Grohs wryly points out that tastes evolve just as quickly as technology advances. Just as the CGI in movies is mind-boggling when first released, anyone who has rewatched the first Harry Potter movie can attest to the fact that computer graphics often age poorly. Likewise, the same clients who are dazzled by a well-executed 3D rendering today may require virtual reality goggles in a few years.
The constantly shifting consumer expectations help explain why, no matter how cheap basic renderings get, there will always be a market for the latest and greatest. And no matter how good the technology gets, as Grohs points out, it's merely a means to an end. Even with cheap, powerful tools, it takes a talented artist to generate a truly beautiful image. "It's extraordinarily easy to make a bad-looking rendering," he says with a chuckle.
It's a distinction that has long been clear to designers who use renderings: The technology alone isn't a magic bullet. You have to find the right renderer, and the right way to work it into your process.
Akl and Sioufi discuss their relationship with their renderer in much the same way most designers would praise a particularly talented artisan. "You need an artist who understands interior architecture and materials—the way light bounces off of a wood veneer," says Sioufi. "3D artists are emotional artists. It's like a camera: Using a technologically advanced camera won't be beneficial for someone who doesn't have the right eye for framing and composition."
They, too, acknowledge the challenge of a rapidly advancing industry, and the need to stay on the leading edge to deliver the wow factor to their clients. Currently, they frame the presentations of renderings almost like the premiere of an auteur film, renting out a screening room and catering the event. Going forward, they're worried that might not be enough, and are looking into using augmented and virtual reality.
"The user-friendliness of the technology is going to make it easier for more people to do photorealistic renderings, but there's always going to be a level that only specialists can achieve—we want to stay within that 'almost impossible to reach' level," says Akl. "We saw a presentation the other day that used Oculus [goggles], and we felt challenged. We said, OK, what we do is going to be primitive in a few years; we've got to look into VR."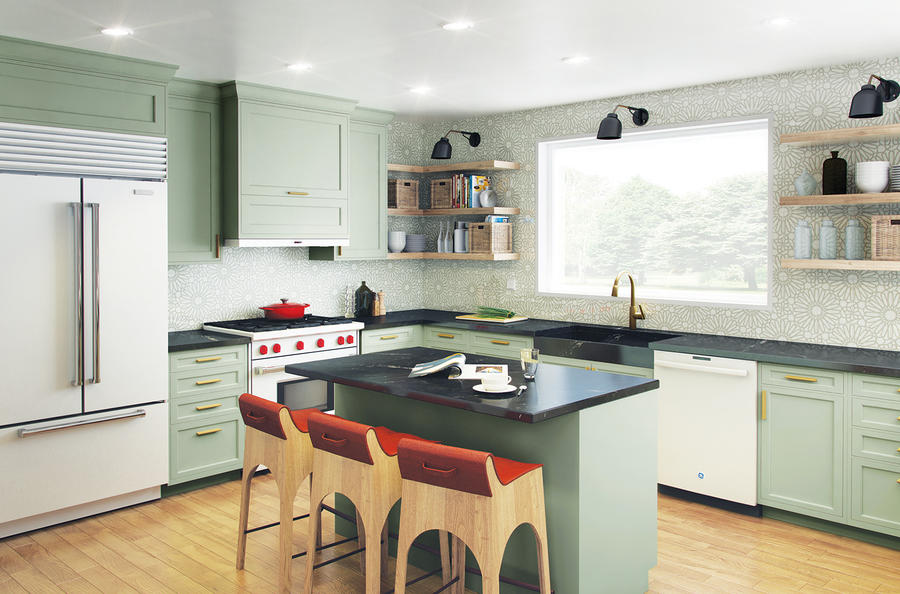 Courtesy of Joy Street Design
Rendering With Restraint
Franklin, who swore off renderings for a few years, was drawn back while working on a project for a married couple with a problem that will be familiar to most designers: The spouses had very different aesthetics, and neither was visually inclined. The designer came up with a plan that would harmonize their sensibilities, but her standard presentation techniques weren't getting the point across. Finally, she tried a rendering—and the couple immediately signed off. "It was like, Wait a minute, that was all I had to do?" she says.
The experience convinced her to start using renderings again—but now, instead of revealing the image with a flourish, she downplays it. "In the beginning, I was so excited [about the image] myself, I might have oversold it," she explains. "Now it's just another thing that's part of the process. You don't want the reveal of the rendering to be a bigger deal than the reveal of the room."
Franklin is also careful to make her renderings less detailed, rather than more. Even if she finds a digital model of the exact lamp or sofa she has in mind for a room, she opts for a generic version, giving her the freedom to make changes and improvise down the line. "I now use the rendering as a template for the design approach, not a depiction of the actual design," she says. White, who still swears by renderings, is careful to explain to clients that the image they're seeing is a draft, not the final product—and has even taken to including language in her contract that stipulates as much.
As for Finley, she's enjoying getting back to an old-fashioned approach. On a kitchen project, a client had been struggling to grasp how a vivid backsplash would look. Rendering after rendering, the reaction was lukewarm at best. Finally, Finley brought only one thing to the meeting: the actual tile. The client loved it. "Afterwards I told her, 'The rendering was hindering your ability to see the depth of the tile.' She agreed."
Homepage image: A 3D model by the creative visualization studio Kilograph, created using V-Ray rendering software. The project is a Beverly Hills development designed by MAD Architects, featuring interior design by Rottet Studio. | Courtesy of Chaos Group