The Container Store is kicking off 2021 by launching a co-branded collection with tidying expert and organizational phenomenon Marie Kondo. Dubbed The Container Store x KonMari (the name of Kondo's media and merchandising empire), the collection features more than 100 sustainably sourced products, ranging from bamboo drawer organizers to ceramic jars and rattan baskets. "We have always had tremendous respect for Marie, as we are aligned from a brand and mission perspective, so the collaboration came together [easily]," says John Gehre, chief merchandising officer for The Container Store.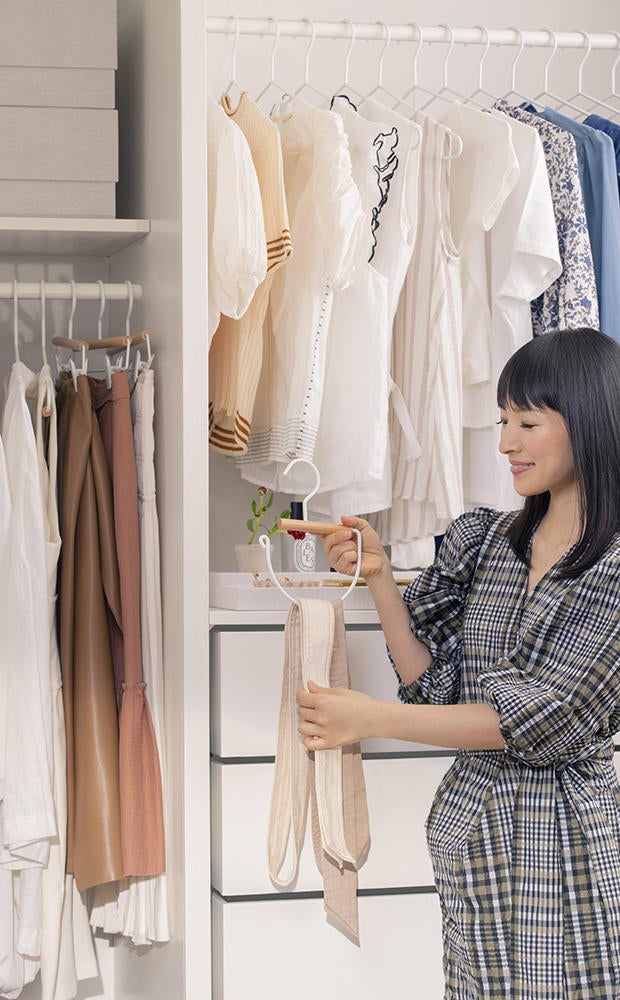 Courtesy of The Container Store x KonMari
For most Americans, investing in organizational products often means bringing a lot of plastic and acrylic pieces into the home. The KonMari line stands out in this ever-crowded sector for its use of sustainable materials—a priority for Kondo and her team from the collection's inception. "The collection was a bold undertaking, as we wanted to fuse sustainability, premium products, and Marie's personal style together," says Gehre. "Our buying team traveled all over the world to accomplish a collection [that's like] nothing you have ever seen in our stores." In addition to bamboo, ceramic and rattan pieces, the line includes a variety of items made from recycled fiberboard and wood certified by the Forest Stewardship Council.
The resulting collaboration captures the minimalist sophistication Kondo is known for and nods to her Japanese heritage. Bamboo bins and hampers feature a lattice pattern inspired by shoji room dividers; a shoe rack is placed next to a front door in the collection's lookbook, one of many styling choices that nod to Japanese culture.
Kondo shot to international fame following the 2014 release of her book The Life-Changing Magic of Tidying Up, which introduced readers to her KonMari method of parting with objects that don't "spark joy." The runaway success of the book resulted in a companion book, Spark Joy; collaborations with brands like California Closets; a Netflix show, Tidying Up With Marie Kondo; an online tidying course; and her own line of merchandise under her KonMari brand.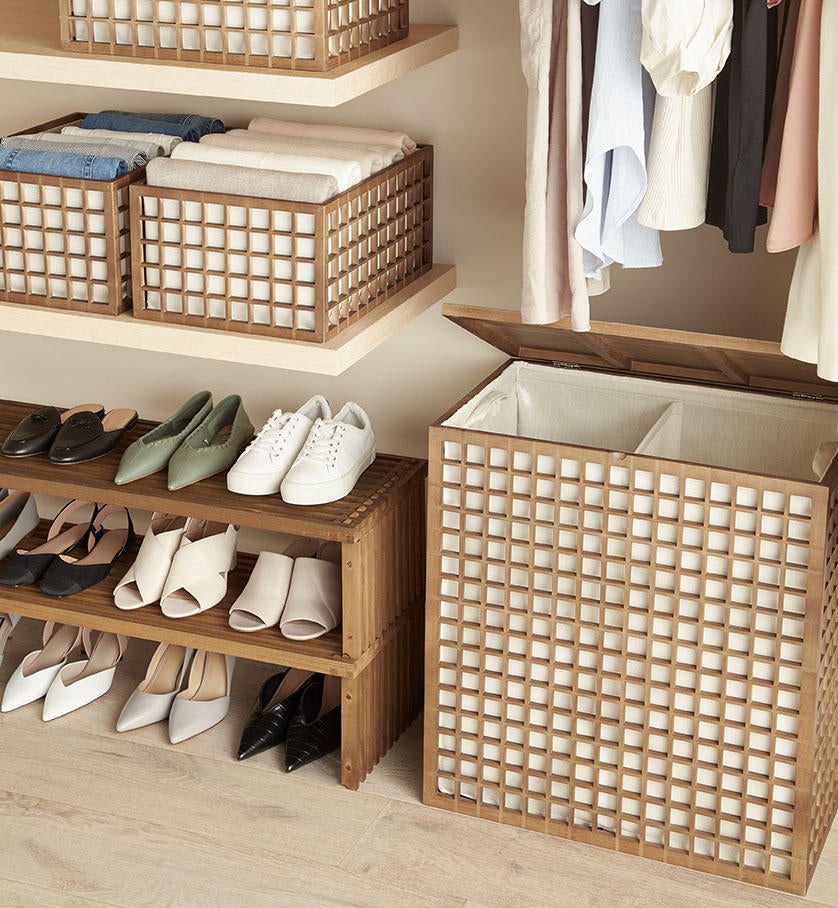 Courtesy of The Container Store
The pandemic has resulted in a surge in the home sector, and home organizing is no exception. "Our Q2 earnings were the best in company history," says Gehre. "Having a tidy home is certainly more urgent if you're working from home, have kids taking virtual classes or are generally spending more time at home. We all have a certain amount of space that we must maximize to meet our present needs."
No surprise then that The Container Store is betting big on the new collection. In stores, the line will get the red carpet treatment, with its own specialty section that Gehre calls a "mini shop," which the retailer is placing front and center. Two large visuals flanking the display will spotlight the story of the partnership; Kondo's signature watercolor pattern (which is featured on the fiberboard pieces in the collection) will be used as wallpaper behind the display's shelving. "It can't be missed, that's for sure," says Gehre.
Homepage photo: Courtesy of The Container Store