The world changed in March, when the coronavirus began to creep into every corner of the globe. As uncertainty took hold of all aspects of life, event organizers were faced with limited options: postpone, cancel or go digital. Some marquee spring events, like Salone del Mobile and High Point Market, were optimistically postponed until summer, but ended up getting canceled when it became clear the pandemic's end was nowhere in sight. Planning an in-person event in 2020 started to feel like Charlie Brown's attempts to kick a football. In the span of a few weeks, the design industry's event calendar was essentially wiped clean.
"I know it was only a few months ago, but it does feel like 10 years ago already," says Dawn Zidonis, the executive director of San Francisco Design Week, which was originally scheduled for mid-June. "We were watching in shock as event after event was canceled. It was just before the shelter-in-place order came down in California, and we knew we'd have to figure out our next steps."
Zidonis and her team were initially unsure of how to proceed. "We were trying to figure out what our priorities should be, and weren't even sure if people would still want to talk about design with the world in such turmoil," she says. They reached out to their event partners and people in the Bay Area's design community to gauge their feelings. "What we heard was that people wanted to participate in something that felt normal, even if it wasn't in a traditional format."
Her team came up with three plans, ranging from best- to worst-case scenario. "In March, June seemed like a lifetime away," says Zidonis. "It still seemed like a possibility that things might turn around and be back to normal by then." Despite that lingering hope, they decided that it would be best to go with Plan C, the worst-case scenario, and prepare for a completely online event, knowing they could always incorporate some in-person aspects if the virus were to ebb (spoiler—it didn't).
Across the country in Chicago, the organizers of the annual trade show NeoCon came to a similar decision, deciding in March that they would need to go virtual. "It was heartbreaking because we had a very robust physical event planned," says Lisa Simonian, the vice president of marketing at the Merchandise Mart, which hosts NeoCon. "But we didn't want to cancel and wait another year to connect our exhibitors with the trade community."
They came up with NeoConnect, an online platform offering a series of digital resources, programming and events from NeoCon. NeoConnect went live on June 1 with a panel on designing for the workplace, and throughout the month hosted talks, CEU webinars and virtual cocktail parties, also dedicating sections of the site to new product. "In spite of everything, there is still new product coming to market, so that was very important to emphasize," says Simonian. The site will continue to update through the fall, with designers and industry experts regularly contributing blog posts and video content.
The virtual nature of NeoConnect has its perks, allowing for a broader range of attendees from more than 30 countries and removing the 75- to 200-person room capacity of CEU classes. Digitally, NeoCon's CEU seminars last month averaged 750 participants.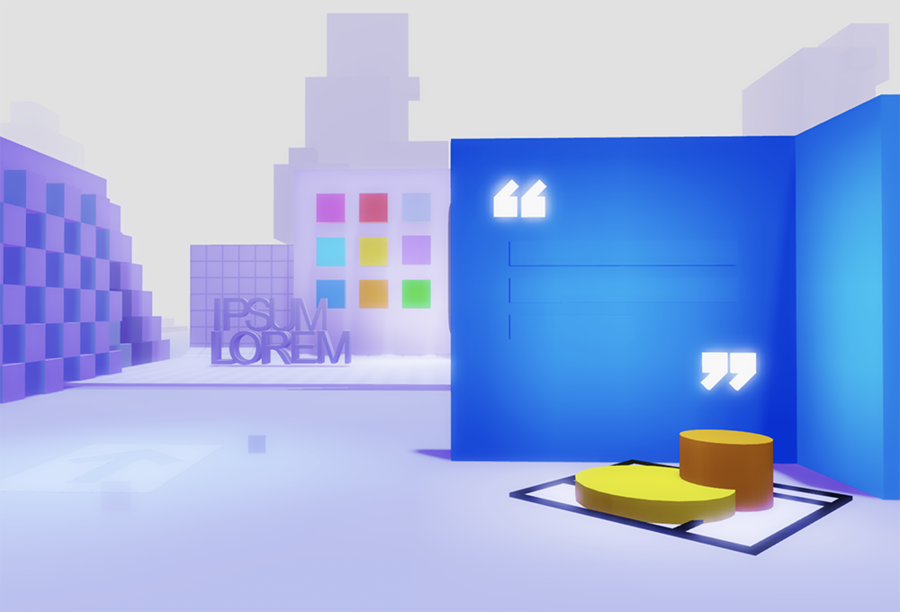 Reification.io Virtual Studio Tours with Nonfiction
With all-digital events, user experience is everything. So, Zidonis, sensing the early onset of Zoom fatigue, leveraged the Bay Area's rich tech resources to improve San Francisco Design Week's user connectivity. "We wanted to incorporate technology that would allow people to interact with each other in a different way," she says. They partnered with Roblox, an online gaming and social networking platform traditionally targeted at kids and teens, to create an adult version.
"They created an Imagination Space, where people could go in between conversations and create a sense of play. We wanted a place where people could relax, similar to the lobby of a conference center, where people do most of their mingling." The platform featured multiple rooms where users could virtually wander through and interact with other attendees, exchanging virtual business cards. It even included a Zen meditation room. "Human connection is the biggest thing that you miss out on when you have a virtual event," says Zidonis. "So it was very important to us to find ways to replicate that."
For Field + Supply, a biannual design fair in New York's Hudson Valley that celebrates small makers, replicating the in-person experience has meant distilling and reimagining aspects like live music and craft food and drinks. From July 16 to 19, the Field + Supply website will feature a playlist, recipes for food and cocktails, and livestreamed demonstrations by makers. An interactive map of virtual exhibitor booths will let attendees click through and discover different shops and even live chat with some of the makers. "It's obviously difficult to re-create the feeling of being at one of our markets in person, but it felt important to try," says the event's founder, interior designer Brad Ford.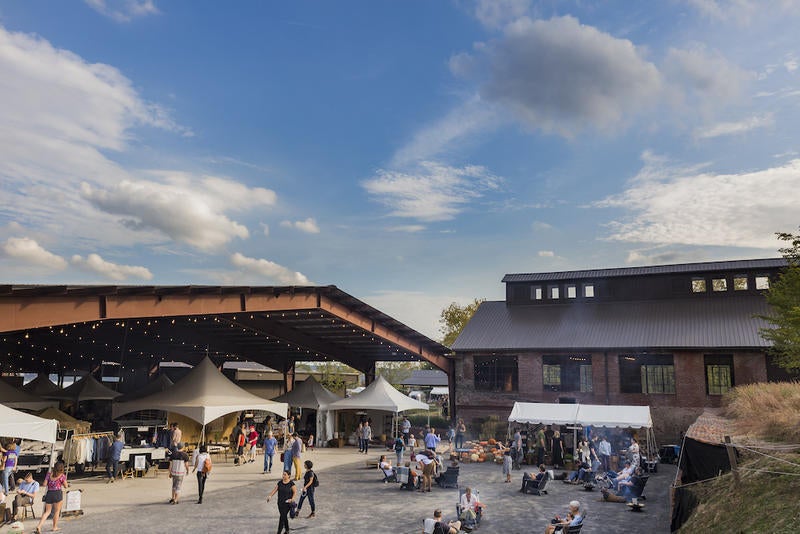 Bringing Field + Supply online also allowed Ford to include more vendors than their previously planned spring market was set to host. "Because our exhibitors don't have to travel or pay for bringing their merchandise, people who weren't going to be able to attend now can," he says. The digital fair will also coincide with the launch of Field + Supply's e-commerce platform, something that was already in the works before the pandemic rendered it vital. "We're able to offer such a broad range of products on this new platform and that will live on after the event, which is very exciting," says Ford.
For Nantucket by Design, an annual fundraising event hosted by the Nantucket Historical Association, going virtual meant bringing on big-name designers like Alessandra Branca, Meg Braff and Richard Keith Langham, and finding creative ways to reinvent in-person dinners and cocktail parties. Sponsors and attendees who shell out for high-tier tickets are usually invited to intimate dinners with A-list designers, but instead of canceling this year, they'll be broken up into small parties held over Zoom.
"We wanted to find ways to keep it exciting and give people a dose of Nantucket even if they can't be here in person," says Kelly Williams, chair of Nantucket by Design. Local participants will have a catered dinner delivered in a picnic basket with some swag, like custom napkins designed by the decorator they'll be dining with. Williams and her team have worked with local restaurants in other cities to provide the same experience if the guests or designers aren't able to make it to Nantucket this year. The three-day event (July 30 to August 1) will conclude with a virtual dance party featuring New York–based DJ Mad Marj.
While everyone hopes that things can get back to some semblance of normal in 2021, for event planners, the process of migrating online will have a permanent influence. "For us, offering a virtual experience ticket is an additional stream of revenue that it would be silly to ignore," says Williams, who imagines a digital pass would include livestreams of programming and access to recorded elements of the events. For his part, Ford sees the experience as both unifying and teachable. "We're all embarking on these new experiences together," he says. "It's a chance for us all to learn."
Homepage photo: A virtual room from San Francisco Design Week | Courtesy of San Francisco Design Week