The season's standout textiles, ceramics and soft goods have a creative secret in common: They were all designed screen-to-screen rather than side-by-side.
While the home industry posted some of its best numbers in 2020, the year was also a test of resilience amid a new work-from-home reality that upended creative routines, separated design teams and forced high-touch processes online. A lot can get lost in translation, whether it's colors that read differently on-screen or fabrics that have to feel just right—but the talents behind these new product lines rose to the challenge.
Artemest
Artemest, a luxury online marketplace for Italian artisan-made goods, has always taken a virtual approach to commerce. But the company has also prided itself on its traditional approach to craft—and despite strict lockdown orders in Italy, its network of small-scale artisans were largely able to continue designing products and fulfilling orders in their workshops with added sanitary precautions. (As a result, only a few dozen of its more than 1,000 makers experienced shipping delays.) Meanwhile, the company also made an unlikely strategic shift, devoting resources to develop more merchandise geared toward hospitality projects to renovate and refresh hotels, restaurants, lounges and bars while many were experiencing lower-than-normal traffic.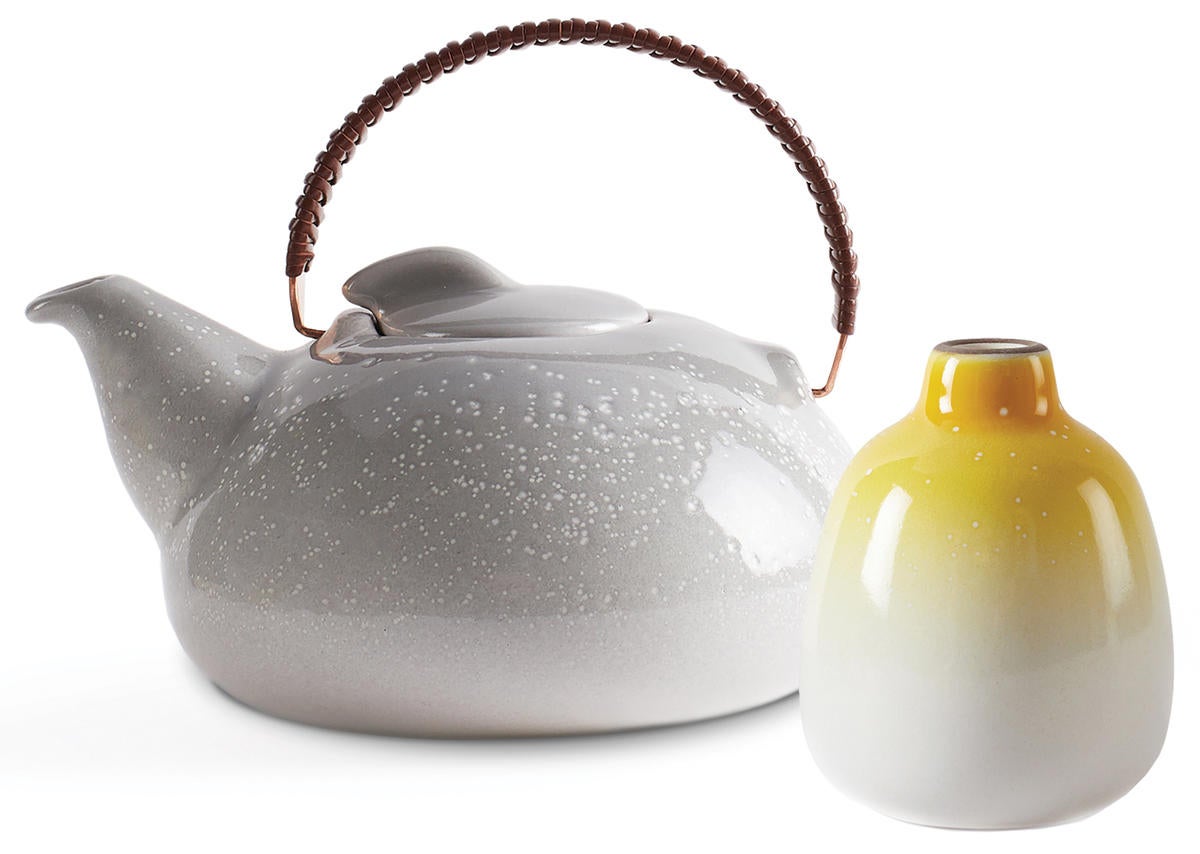 Heath Ceramics
The Winter Seasonal 2021 collection from Heath Ceramics is a glossy line of ombré-glazed pieces in chirping tones of lemon yellow, lavender and ash gray. Through a combination of videoconferencing and shipping samples to each team member, the company was able to circumnavigate many of the pitfalls of remote work. "The actual spark and the essence of a design doesn't always happen in video calls or in-person meetings, but the rest of the process needs to," explains co-owner and brand director Catherine Bailey. "The challenge comes in making sure that everyone is understanding the design, especially when it comes to designing physical objects."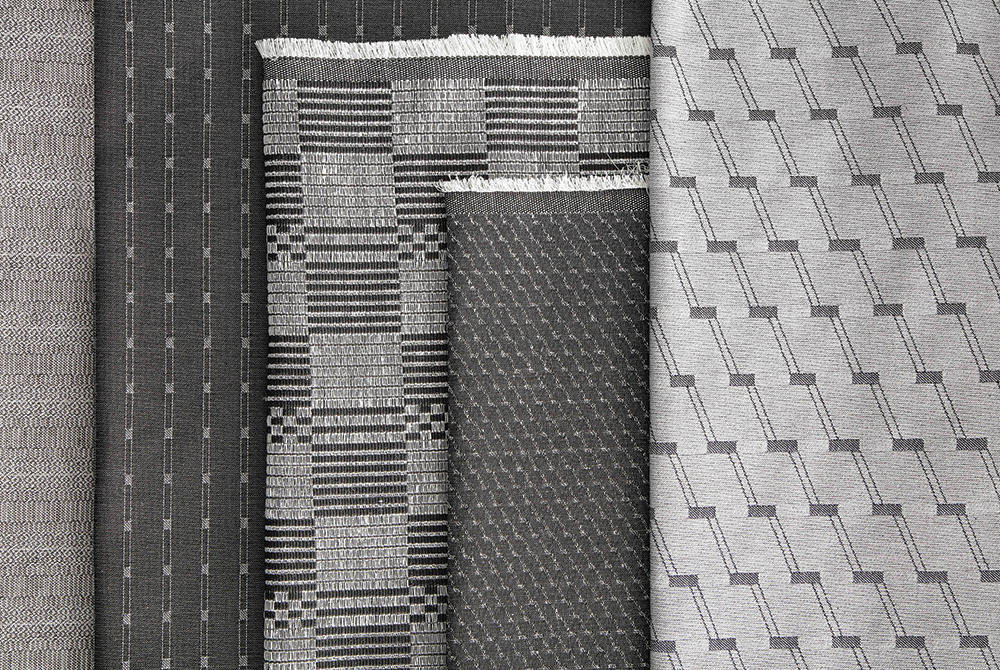 Marked
New York–based designer Mark Cunningham launched textile brand Marked in 2019, and its debut collection landed at ALT for Living showrooms in the spring of 2020. Working on his second collection (which includes an outdoor line) with an all-remote staff, he found discerning color and texture to be the greatest challenges. (Shared references like paint chips and Pantone colors offered a clever workaround; specifying weaves through a camera never got easier.) That said, Cunningham has embraced Zoom as an essential, and increasingly pleasant, tool. "Meeting in person can't be beat, but overall it's been a positive experience," he says.
Morris & Co.
When the first lockdown was announced in England, the design team at Morris & Co. (part of the Zoffany family of brands) was coloring the Queen Square collection on the press. Designer Ben Pentreath, who collaborated on the line, brought the samples to his Georgian country home and began sending the creative team photos of the wallcoverings in various rooms, documenting how the colors reacted to the changing daylight—an exercise he likely wouldn't have pursued if he'd been able to participate in person, but one that altered the collection's outcome. "It felt simpler to work this way, and allowed us to focus and make decisions quickly," says Claire Vallis, Zoffany's creative director of brands. "We were able to create a collection that worked brilliantly with the aesthetics of this beautiful period house."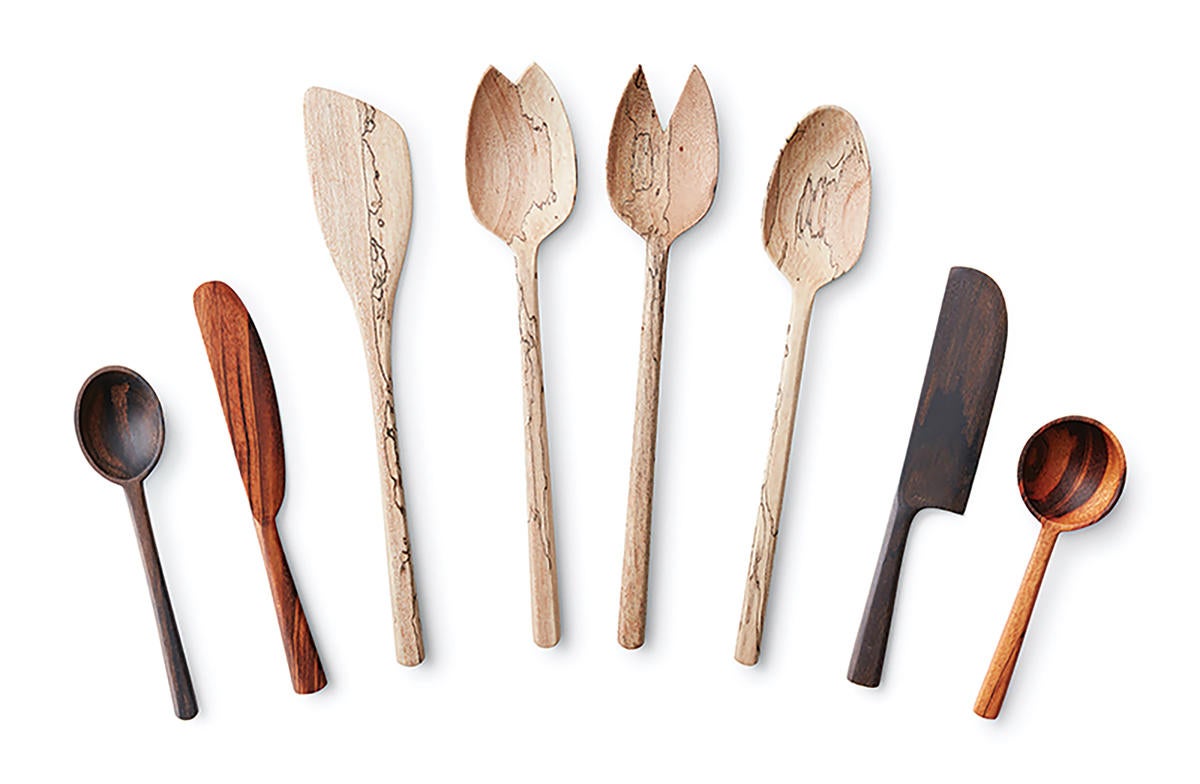 St. Frank
Since its inception in 2013, St. Frank's raison d'être has been to bring traditional craft from far-flung corners of the globe to market—a decidedly challenging mission with travel on pause. The development of the company's latest product introductions, which include Guatemalan wood serveware and Zodiac embroidered wool throws handwoven in Peru, required unexpected costs—shipping samples to multiple team members added up quickly. In the end, the investment was worth it. "In general, designing remotely takes longer and is more difficult and expensive," says Christina Bryant, the brand's founder and CEO. "There are so many things that can be done efficiently remotely, but I'm not convinced that physical product is one of them."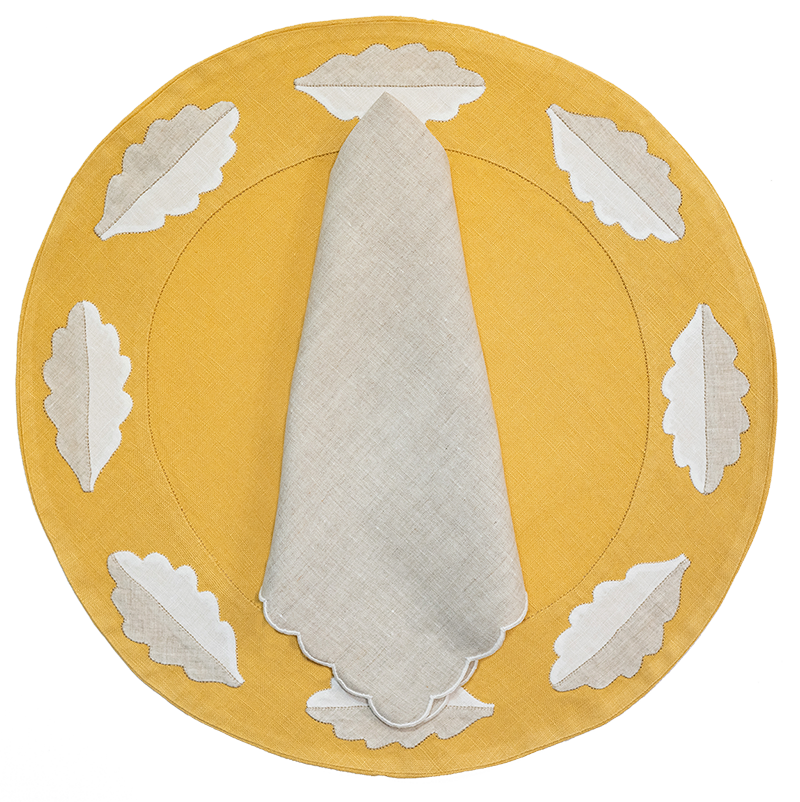 Courtesy of Elizabeth Lake
Elizabeth Lake
When Elizabeth Lake, the lifestyle brand by Australian designer Lily Lanahan, launched last year amid the pandemic, a core component of its collection of table linens was hand-stitched embroideries and appliqués developed with Portuguese artisans. "Without travel, it's been a considerable challenge to continue to create in such different circumstances—and without the benefit of their collaborative spirit," says Lanahan. She produced her products through phone and email communication, and found inspiration from her personal collections at home rather than from far-flung travels. The result is a playful line filled with plant motifs and high-contrast stitching. "There's still so much inspiration to absorb online, but I find it more important than ever to continue to have tactile experiences with beauty."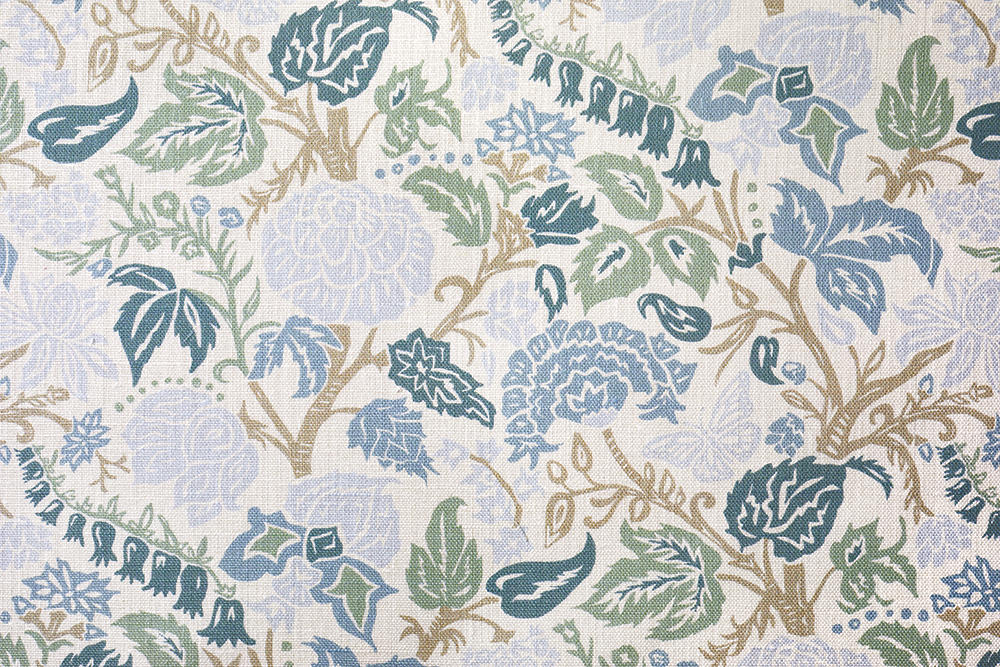 Courtesy of Marika Meyer Textiles
Marika Meyer Textiles
For New York–based textile designer Marika Meyer, the idea of developing a tree of life textile had hatched before COVID, but it wasn't until the shutdown that she felt inspired to launch it. "The tree of life is a symbol of the connectivity of all living things, and it felt even more appropriate with the whole world experiencing the same crisis," she says. The fabric's colors were influenced by her time in lockdown: one vibrant colorway to lift the spirits, the other to soothe with a subdued palette. Meyer also asked designer friends Bella Mancini, Caroline Rafferty, Julie Massucco Kleiner and Melissa Warner Rothblum to design their own colorways, which are available as ready-to-order pillows.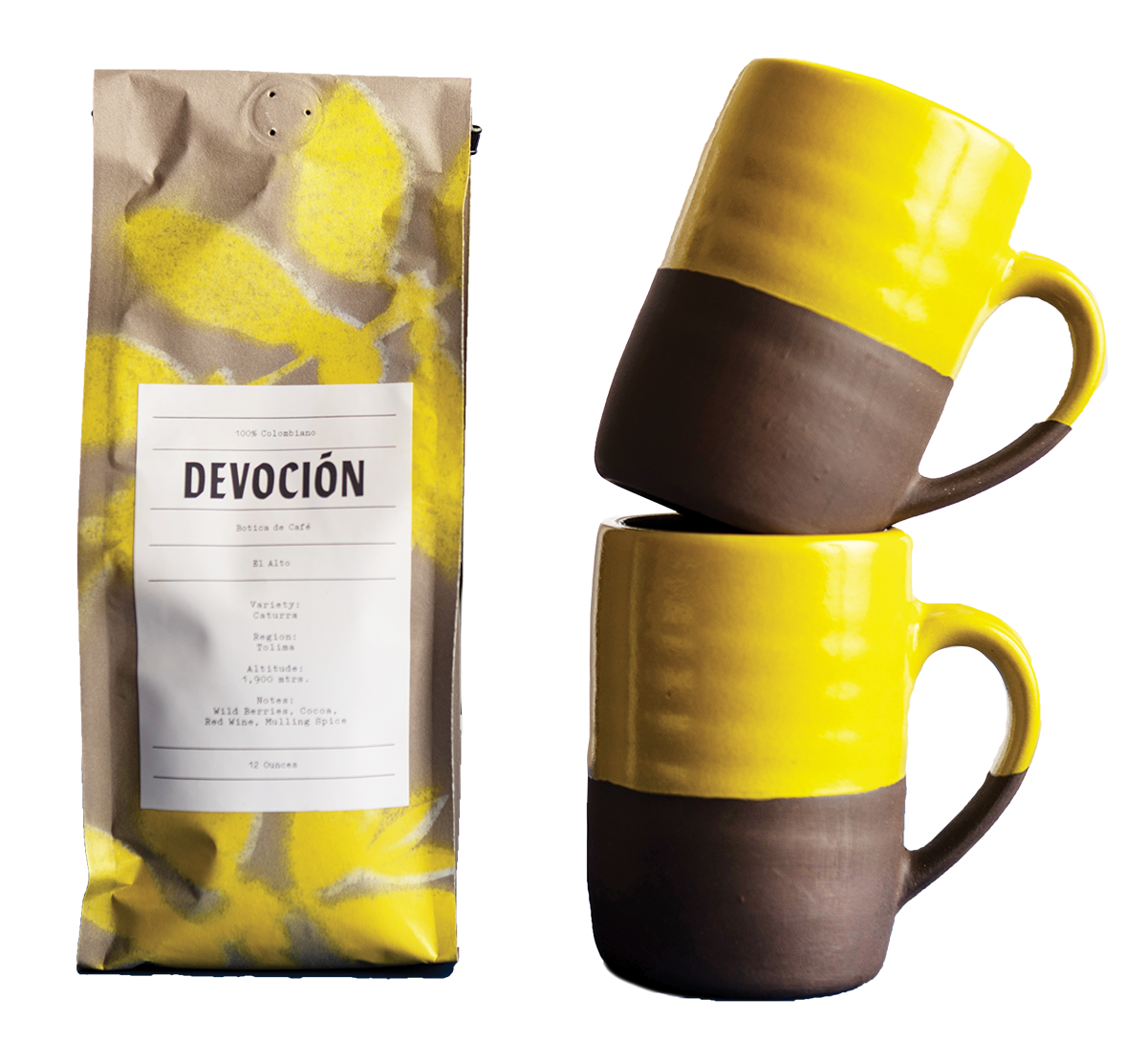 Courtesy of Jono Pandolfi
Jono Pandolfi
Ceramics designer Jono Pandolfi is best known for his ebullient dining sets and dishware, but as an extrovert who admits that he feeds off the energy of others, the pandemic has been a trying time. "I miss collaborating with clients in the studio, and sharing the process and the product firsthand," he says. "Also, ceramics, and especially dinnerware, is a super tactile thing. Feeling something in person is a lot different than seeing it on a computer screen." While the back-and-forth of sending samples wasn't an obstacle in his most recent collaboration with coffee company Devoción, Pandolfi anticipates that it could complicate future remote design scenarios.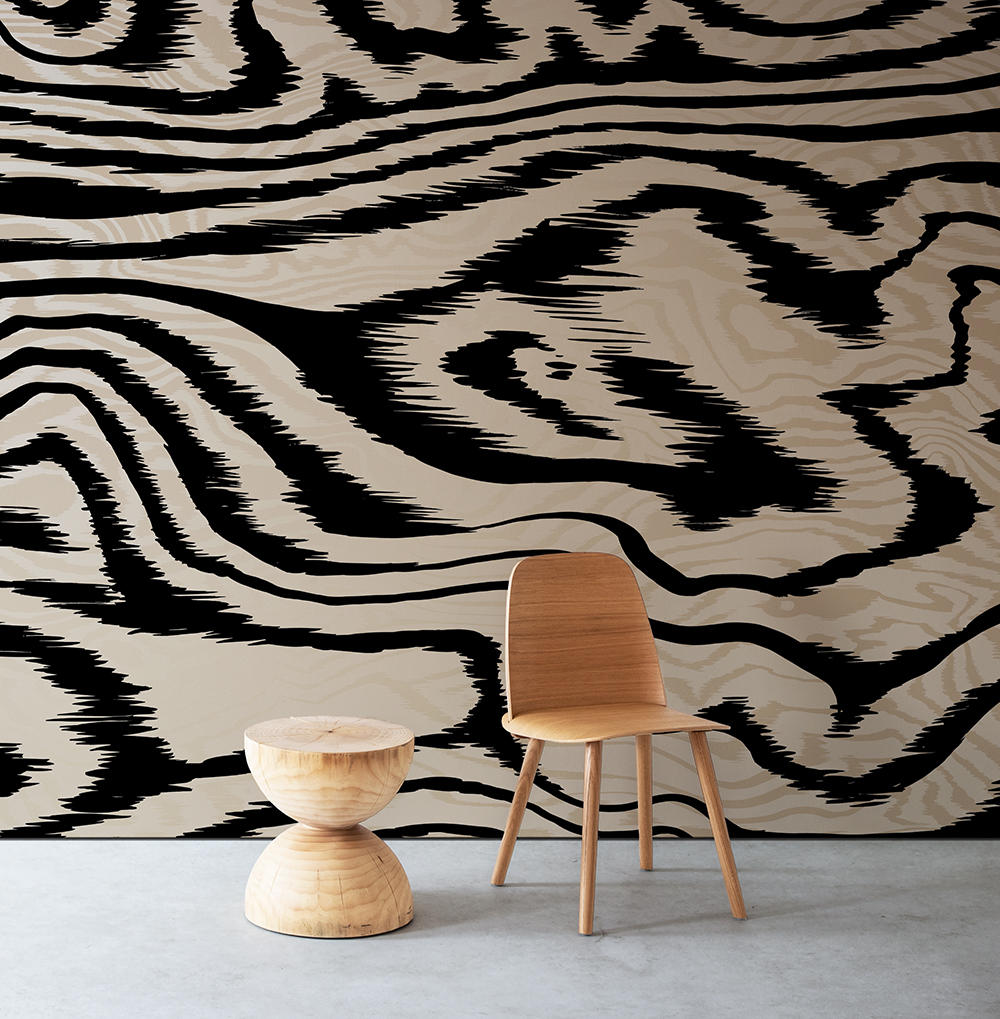 Courtesy of Calico Wallpaper
Calico Wallpaper
In a collaboration with Humberto Leon, co-founder of fashion brand Opening Ceremony, Calico Wallpaper shifted the design process (which normally takes place in the company's Brooklyn studio) to a work-from-home format—a challenge for such a high-touch product. "It is so hands-on," says Rachel Cope, the brand's co-founder and creative director. "But we quickly adapted and began to ship three sets of samples to all parties, so when we had our Zoom calls, we could be physically touching the work together and make edits in real time." Together, Leon and the Calico team produced Heartwood, a graphic wallpaper that ripples with a wood-grain abstraction.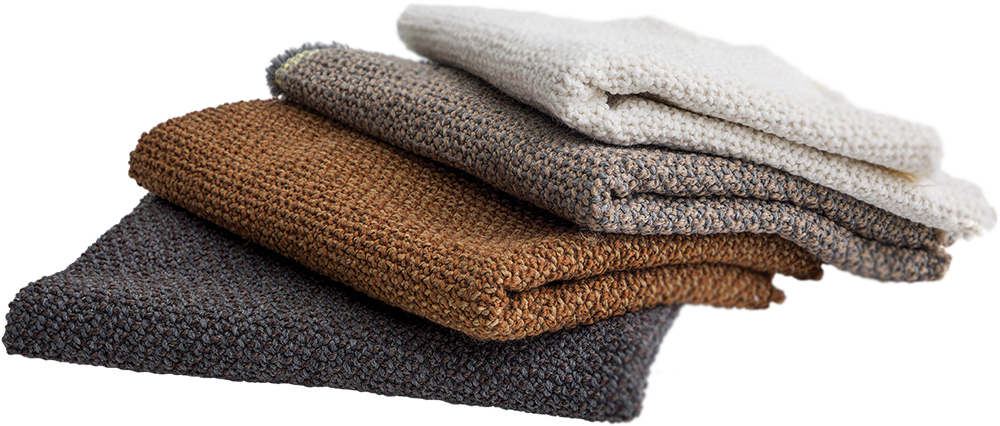 Courtesy of Lori Weitzner
Lori Weitzner
When designing a collection pre-pandemic, designer Lori Weitzner would typically meet with suppliers and mills in person, so she could get a better sense of new yarns, colors and textiles—which made the transition to remote work particularly frustrating. "Not being able to touch and feel fabrics is almost impossible—holding a material up to the Zoom camera does not work," she says. A combination of high-resolution photography and sample-shipping has become the stand-in, and while Weitzner misses traveling to see the artisans, she's surprised by how positive an impact a quiet studio has had on her creative process. This latest collection of fabrics is a supple ode to that peace of mind, combining subdued jewel tones with high-pile weaves for a soft, luxurious textile.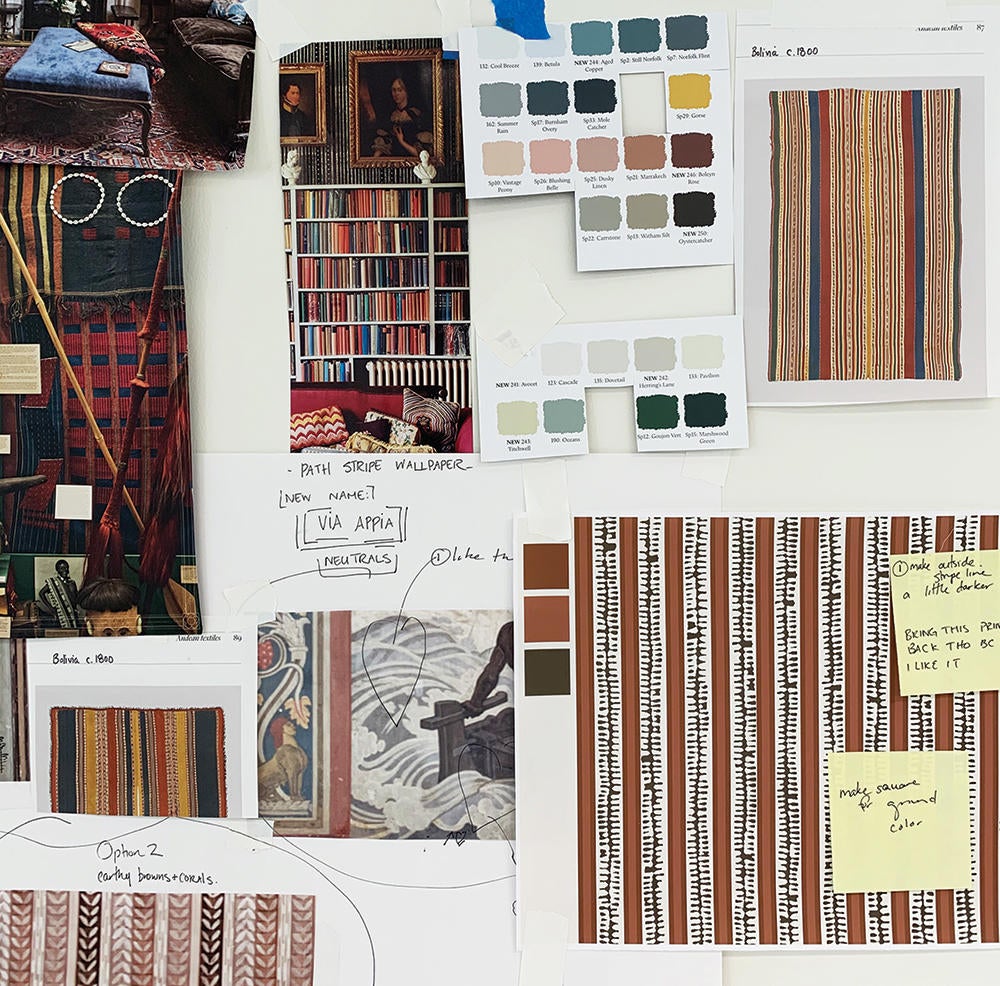 Courtesy of Brook Perdigon Textiles
Brook Perdigon Textiles
For her latest collection of wallcoverings, Los Angeles–based designer Brook Perdigon found that connecting with her team was a significant hurdle in the early days of the pandemic. But as they settled into the new normal, staff came to meetings increasingly prepared for remote creativity, clarifying notes post-Zoom to make sure that individual tasks were properly seen through. The collection that came from this process is nothing short of inspired: Drawing colors from ancient sculptures, landscape paintings and photos of old libraries, Perdigon married geometric forms to a traditional floral stripe.
Homepage image: Heartwood by Humberto Leon x Calico Wallpaper | Courtesy of Calico Wallpaper