Last weekend I eavesdropped on an intimate conversation between a small group of interior designers. Or at least, it felt that way. I was spending my Sunday afternoon bouncing around the buzzy audio-only social media network Clubhouse, a platform where various "rooms" host open conversations on subjects ranging from "The Psychedelic Space: Bio Hacking & Mysticism" to "PR Tuesdays: How Is Your Brand Relating to the Media?" to "Stoned Parents" (for real).
Originally founded in April 2020 by entrepreneurs Paul Davison and Rohan Seth, the app has made headlines in recent weeks for hosting high-profile chats between celebrities, CEOs and big-name entrepreneurs—Clubhouse has occasionally been painted as a semi-exclusive playground for the Silicon Valley elite. However, interior designers have very much entered the building. Without looking too hard, I was able to sit in (and join in) on conversations about wellness in design, boucle sofas, the best charging strategies, a new fire safety regulation for furniture manufacturers, and the enduring appeal of natural stone countertops.
Designers are flocking to Clubhouse. But will the app become a major force in the industry, or is this a flash in the pan?
First, a quick primer. Two things about Clubhouse to know right off the bat. In order to use the app, you have to be an iPhone user, and you have to be invited by a current member. If you're an Android user, for the time being you're out of luck. If you don't happen to have an invite sitting around, don't stress—you probably know someone on the app already; just ping your network.
Once you're in, Clubhouse is a bit disorienting. There are no pictures to latch on to, and the app's notifications can feel a little stressful ("John Smith is talking about social media marketing right now. Join him?"). But put simply, Clubhouse is a feed of audio-only "rooms" where users have themed discussions. Scroll through the feed, find a topic that seems interesting, click on it, and you can listen in on the conversation. If you want to participate, you "raise your hand" and the room's moderators "invite you onto the stage" to join the chat.
Clubhouse is sometimes described as a competitor of the podcast ecosystem, but the overall experience feels much more like listening to a never-ending series of quirky, hyper-personalized call-in radio shows. Not every minute of every chat is interesting, but the discussions have the kinetic energy of real-time conversation. And just like call-in radio, you can half-listen to Clubhouse in the background while you do the dishes, or hop on the line if you have an opinion to share.
Ashley Ross, of Charlotte, North Carolina–based firm Muse Noire Interiors, discovered Clubhouse a few months ago when friends in her circle joined. Initially, she brushed it off—but when she started to see other designers popping up on the platform, her interest was piqued, and she jumped into the fray. At the time, there were almost no regular discussion groups for interior designers, but Ross found and popped into one of the very few: a conversation hosted by Bri'an Miller of Atlanta-based B. Miller Interiors and Kassy Dieujuste of Clover City, California–based Kassy + Company that takes place daily at 10 a.m.
"I raised my hand, they brought me up onstage, I introduced myself, and the conversation started to pick up," says Ross. "Soon after it ended, [Dieujuste and Miller] asked me to be a moderator with them. I didn't know these two women from a can of paint, so I was like, 'OK? Sure!'"
Courtesy of Muse Noire Interiors
The daily discussion in the room Ross co-moderates feels like a combination of a networking event, cocktail party, discussion panel and group therapy session. Each day is broken down into themes (Monday is dedicated to setting an intention for the week, Wednesday is for branding), which then generally evolve into an open chat. Designers from all over the world tune in to get advice on sticky situations with clients, stay on top of trends, and sometimes simply vent.
Ross found herself enjoying the conversations, but also reaping direct benefits. For one, her Instagram follower count began to shoot up as the room gained attention. For another, while a flurry of requests to "pick your brain" from regular room attendees was initially overwhelming, Ross quickly spun up a consulting business to offer remote coaching sessions to designers in need of advice.
Clubhouse also helped Ross land new work. Miller had been chatting in the room about a luxury spa project she was working on in South America that could benefit from another designer's involvement, and participants in the room immediately pitched Ross for the role. "At first, it was funny because we had just been discussing, 'Why do designers even collaborate?'" says Ross. "But we started talking and our skills fit together for the project, and it just made sense to work together."
Most designers probably won't find Clubhouse to be as directly financially rewarding. However, there are plenty of opportunities to grow your network and learn from experts in other industries. "I encourage designers to get on Clubhouse, but I'm not telling them: Get on this platform and you'll get clients," says Gail Baral, a business coach who specializes in working with creative entrepreneurs. "There is so much valuable business marketing, social media information to learn out there."
To be sure, there are plenty of networking opportunities—and plenty of free knowledge—out there on the internet at large in a variety of mediums. But something about the immediacy of the real-time conversations coupled with the audio-only format, say devotees, makes Clubhouse a particularly compelling venue to learn and connect. "You benefit from someone's experience as a person, as well as their expertise," says Baral. "And I think it being audio-only … you're not distracted by what they look like."
"Whoever thought to push on this during the pandemic is a genius," says Ross. "Because we're all craving this kind of connection." Indeed, the app has unquestionably tapped into a collective longing for social interaction. Being "together" in real time in a room, even a digital one, leads to a feeling of closeness that's difficult to find on Facebook or Instagram. Ross says her group has forged friendships that go beyond casual social media acquaintance—they even banded together recently to help designers find a more affordable alternative when a popular rendering company dramatically raised its rates.
If networking sounds exhausting right now, Clubhouse is also a particularly fertile ground for philosophical musings, chance encounters, and the occasional celeb spotting. Elizabeth Bolognino, a New York-based interior designer, discovered the app last summer. "I think I was basically the first interior designer on the app," she says with a laugh. "I got on and no one I knew was there." She recently started hosting a Sunday-afternoon room dedicated to a free-form discussion of design trends as they relate to big-picture societal shifts.
"There are other places where designers can talk about charging strategies; I didn't want to do that," says Bolognino. "I wanted to talk about some of the bigger-picture ideas relating to interior design, how the pandemic has changed things and what's next." A recent discussion in her group was centered around whether a longing for comfort in an uncertain world had led to the rise of textured fabrics.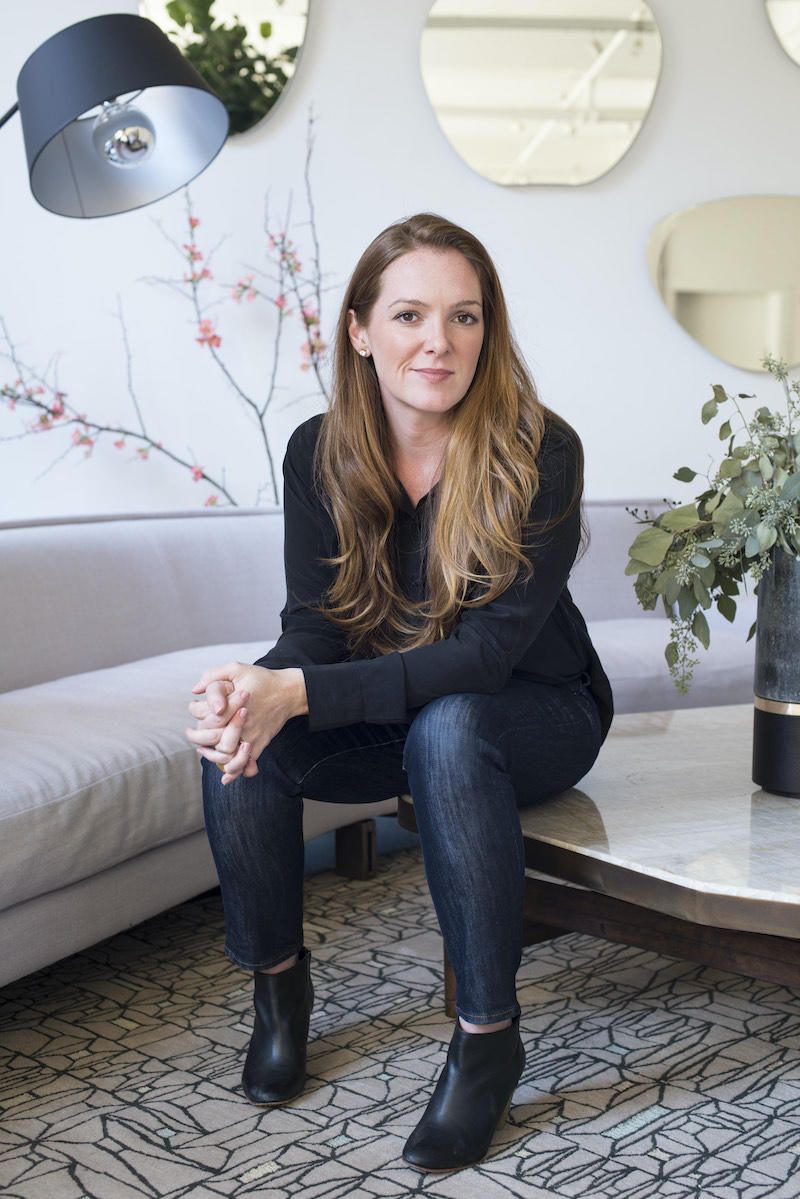 Courtesy of Elizabeth Bolognino
Bolognino, a Clubhouse room-hopper, enjoys the platform as much for what she has learned about the world outside of design as the networking she has done within it. Another fun hook to the platform: It's rife with celebrity guests, ranging from suddenly famous crypto artist Beeple to Diane von Furstenberg to Oprah popping into rooms to expound on their areas of expertise. Bolognino's dream drop-in guest? Elon Musk. Ross's group had a pseudo-celebrity cameo of its own when popular design world podcast host LuAnn Nigara dropped in for a minute. "People were like, 'LuAnn, what about this? What about that?'" says Ross. "LuAnn was Beyoncé in that room."
The downsides to Clubhouse? While most social media apps are designed to give users a comfortable sense of control over their environment, the app can occasionally put users on the spot—especially if you chance into a small room (one with few attendees) and are invited to speak. The attention-shy might find it daunting. The good news is that, in general, Clubhouse is a positive place.
"I spent the first week listening," says Baral. "The first time I actually joined a conversation was in a room specifically for introverts on Clubhouse. Since then, I've hosted five or six rooms. … It's really rewarding. Sometimes you'll say something in a room that connects with someone and they'll reach out on Instagram and send you a DM—it's lovely."
Then, of course, there's the time sink. Most designers struggle to find time to stay on top of their projects alongside keeping up with more obviously monetizable social media platforms like Instagram and Pinterest. It helps that Clubhouse can be a fairly passive activity ("I often just have it on in the background," says Bolognino), but even so, the idea of carving out time to participate in yet another social network might exhaust some designers.
Indeed, Ross has found that moderating a daily conversation alongside running a bustling design business is getting a little stressful. She's now trying to line up new moderators and, long-term, pivot the group to a once-a-week Wednesday afternoon chat, but it's difficult to walk away from the traction the daily meeting has gained. "It's a community. People show up," she says.
The upside is that, as it is with all relatively new social media platforms, early adopters to Clubhouse will have a built-in advantage. If the app outlasts its pandemic boom and continues to gain traction, it may one day become the default place for the design industry to gather online (and maybe, someday, a place to connect with curious clients). Establishing a presence early could have huge benefits down the line.
"I don't know how long it will last," says Baral. "And, as with all social media, it will evolve. But we're in on this early, and there's a great opportunity to meet people and grow your network. So whether it'll be around in 10 years [I don't know], but I'll invest my time into it now."
Tune in for a Clubhouse conversation hosted by BOH's Fred Nicolaus and Kaitlin Petersen on Wednesday, February 24, at 4 p.m. EST, when they'll be talking about the latest design industry headlines.