More than 45 years ago, Diane von Furstenberg made history in the women's fashion business with the debut of her iconic wrap dress. A few years later, she made waves in the home furnishings business, as well, with an unprecedented licensing deal with a famous national retailer. (More on that in a minute.) Then, nearly a decade ago, she briefly returned to the home business with a short-lived line carried at major department stores.
Now, as her fashion business struggles to find its footing amid the pandemic, she is about to make home furnishings history again.
Earlier this month, millennial-tinged fast-fashion retailer H&M announced the introduction of a new line of Diane von Furstenberg home goods, including tabletop, home decor and textiles. "With an interiors collection that encourages expressions of personal style in the home launching next year, the collaboration brings together von Furstenberg's iconic fashion prints and color play to the world of H&M Home interiors," wrote the brand (which moved into the home business more than 10 years ago) in an online announcement. Though details are scarce right now, here's what we do know: It will be a capsule collection, which means it will be available for a limited period of time, and we'll have to wait until sometime next year to see—and buy—it in person.
When von Furstenberg first introduced her wrap dress in 1974, it became one of the landmark apparel items of all time and forever associated the Belgian designer—or DVF, as she's affectionately nicknamed—with the casual yet sophisticated approach that has been her trademark ever since.
In 1978, she connected with Sears Roebuck—yes, that Sears—to launch a line called The Diane von Furstenberg Style for Living Collection, which featured both hard and soft home products. In fairness, the Sears of the mid-1970s was very different than the remnants of the company left today, but the collaboration was still a stretch for both parties and didn't go on to be a big hit. The partnership was one of many at the time for von Furstenberg, who extended her brand into all manner of licensing deals—a move that eventually brought her company down in 1988.
Gradually she rebuilt her business, and by the dawn of the next century she was back at the design and cultural forefront, and her wrap dress was once again a fashion staple. In 2011, she returned to the home business through a licensing partnership with Springs Global, which included home textiles, tabletop and selected decor items. The line debuted as a Bloomingdale's exclusive with secondary distribution of sub-brands elsewhere, including at Bed Bath & Beyond.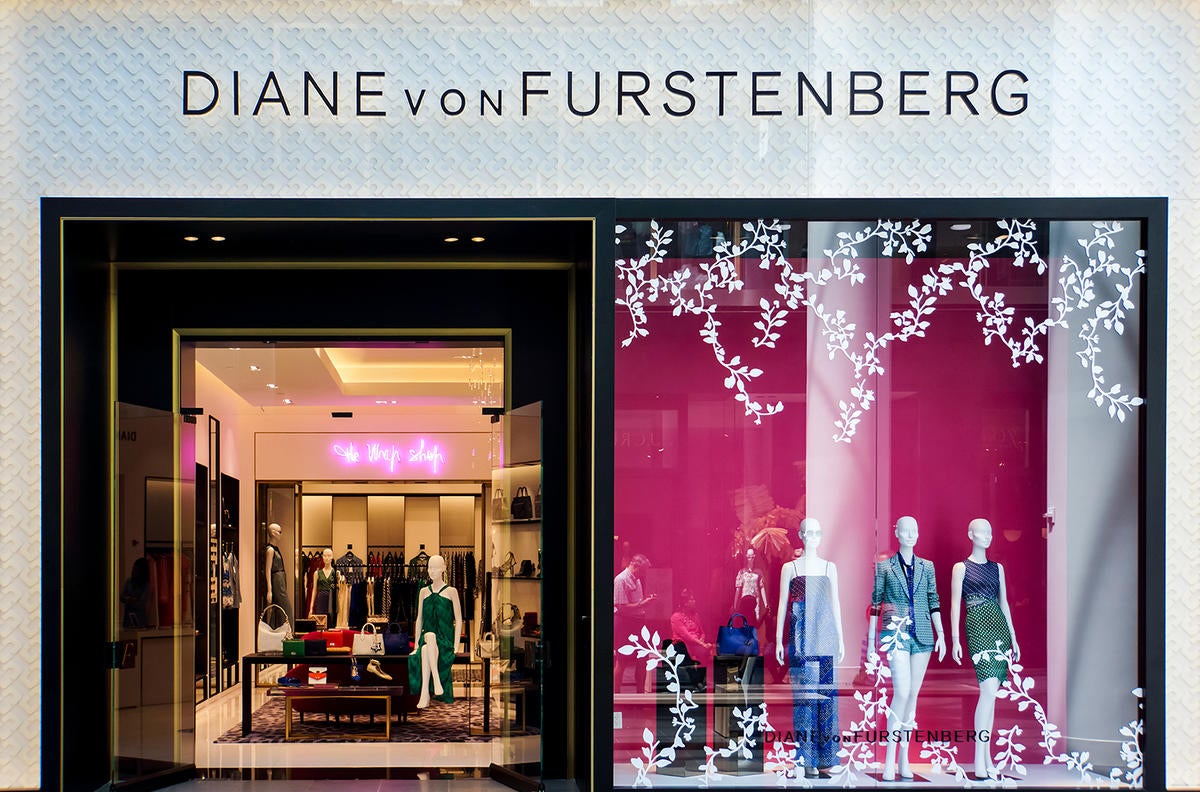 The DVF home program was once again short-lived—and therein lies the Achilles' heel of translating her bold, colorful prints and patterns to products like sheets, towels and dishes: Americans, for better or worse, are relatively conservative in their design preferences for what they sleep on, eat on and dry themselves off with, generally gravitating toward solid, neutral colors with the occasional (read: very occasional) splash of color. It's why von Furstenberg's home efforts, as nicely designed and merchandised as they were, have not been terribly successful.
With the H&M program, she will have several new advantages. As a capsule program, the line will only need to exist for a relatively short period, creating a sense of exclusivity and limited supply that will serve it well. The demographics of the H&M customer—younger and perhaps more adventurous in its design choices—will also be a plus. Likewise, the expected pricing should increase the appeal of fashionable products with a shorter design half-life.

"With this collaboration, I want people to take charge of their home decor," wrote von Furstenberg in a statement announcing the new program. "The only rule I have is that your home should reflect who you are. The main point is to create a space that you're incredibly comfortable in and is a true expression of your personality."
All good enough. When von Furstenberg introduced the Springs line nearly a decade ago, I had the opportunity to interview her at her company's incredibly chic offices just off the High Line in New York's Meatpacking District. Surrounded by Warhol portraits of herself and with color and pattern throughout, she said she hoped the collection would do well and resonate with consumers. Sadly, it didn't.
One suspects, 10 years later, she's hoping the third time's the charm.
Homepage image: Diane von Furstenberg | FashionStock.com, courtesy of Shutterstock
____________
Warren Shoulberg is the former editor in chief for several leading B2B publications. He has been a guest lecturer at the Columbia University Graduate School of Business; received honors from the International Furnishings and Design Association and the Fashion Institute of Technology; and been cited by The Wall Street Journal, The New York Times, The Washington Post, CNN and other media as a leading industry expert. His Retail Watch columns offer deep industry insights on major markets and product categories.