Stevie Nicks waxes poetic in her iconic love song, "Give to me your leather / Take from me my lace." Now, Natasha Baradaran uses the same materials to explore masculinity and femininity in Andro (inspired by the word androgynous), her latest furniture collection, which aims to challenge gender norms and reshape how people think about furniture.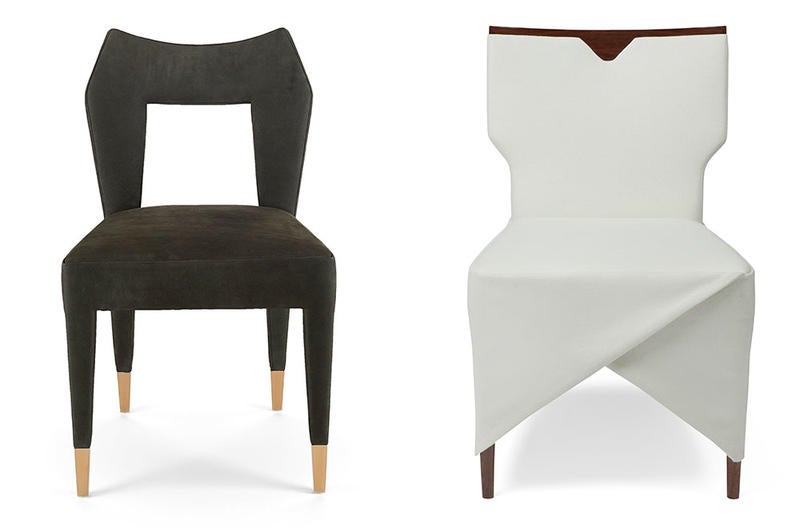 Courtesy of Stephen Busken
To date, the designer has launched three furniture lines. The latest, Andro, is manufactured in her home base of Los Angeles, and includes 11 pieces. A self-described feminist, Baradaran tells Business of Home that the inspiration for this collection is women today. "When someone thinks about feminine furniture, they may think about overly delicate pieces. Andro plays with that stereotype. Women today can be feminine and strong at the same time, and that is how I see pieces from this collection."
Through a recent collaboration with leather specialist Bill Amberg, Baradaran designed a digitally printed lace pattern, which she calls Elle. The rugged nature of the leather juxtaposed with the delicate lace shines a light on the "duality and outdated ideas of masculinity and femininity as they related to design. Lace is typically associated with femininity and not with leather, which is strong and durable," she says. "I like how these two unexpected elements coexist and work so well together."
Courtesy Bill Amberg Studio
Baradaran explains that even the slightest nuances can sway how design is portrayed. "With furniture, finish and fabric can completely change the overall feel of any piece." The pieces in the collection represent the dichotomy between the genders, not only in their names, but in form and style. The LBD chair, for example, is a versatile seating series that can dress any space up or down, much like a little black dress. Its sturdy, geometric shape is softened by curvy lines and rounded edges. And with the Wrap chair, Baradaran pays homage to iconic fashion designer Diane von Furstenberg—whose wrap dress propelled her to fame—with bold pleats and draping. The piece is stark, solid and angular, but its skirt-covered legs, hourglass-shaped back, and a collarbone-like dip in the top rail's upholstery echo the traditional female form. Both chairs are available in a variety of lacquered, metallic and wooden finishes in rich, muted tones.
"[The collection] is not only about the masculine and feminine aspects," adds Baradaran. "It's also about how something can feel very feminine and be very strong at the same time. Most people see something that's strong as linear, clean and masculine. But today, so many women are dealing with how you can be feminine and still have a voice and be strong."
After select pieces were previewed at Milan Design Week earlier this year, the Andro collection's official launch is November 7 and will be rolled out in key markets in the coming months.