High Point Market will be abuzz with new creative partnerships between designers, artists and your favorite brands. Keep an eye out for these pairs as they release their first duets.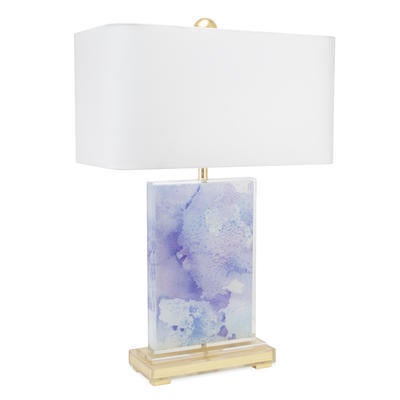 Courtesy of Couture Lamps
Beth Glover x Couture Lamps
Lighting is often used to illuminate art in a room—why not make the light itself a work of art? Watercolorist Beth Glover is game: She partners with Couture Lamps on a capsule collection of two table lamps. Both feature the artist's work printed on fabric and encased in a clear acrylic base. Finished during the height of the pandemic, the mini collection combines the sophisticated austerity of a clean minimalist shape with the lively abstraction of Glover's brush. "At first, you may see [only] the art," she says, "but upon a closer look, you'll discover a unique blend of texture from the printed fabric." 
On the map: Downtown Main | Profit Center, 110 W. Commerce Ave.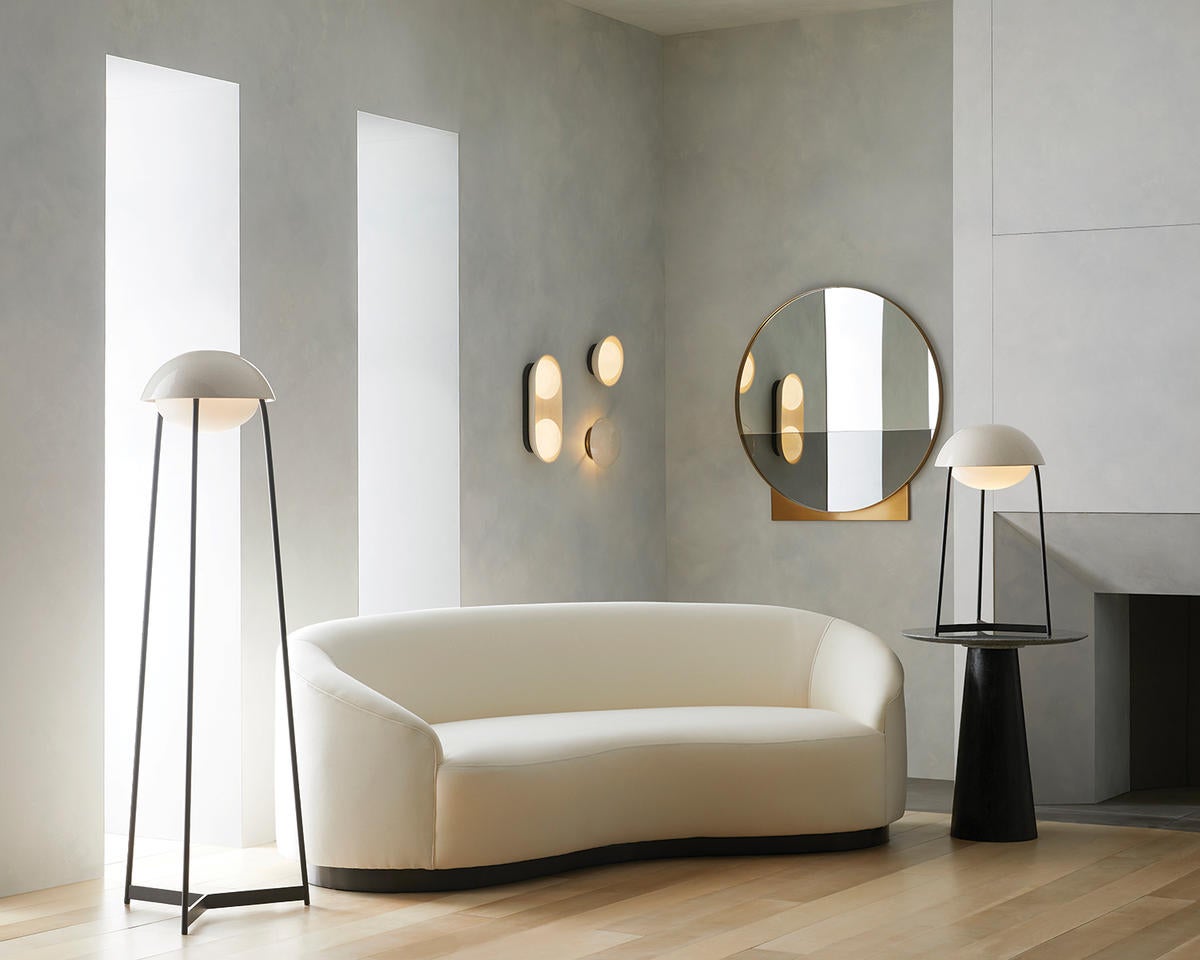 Workshop/APD x Arteriors
For a collection that blurs the line between residential and commercial, Arteriors could not have picked a better collaborator than Workshop/APD, a New York–based architecture and design firm known for being equally adroit on a boutique hotel project as on a townhouse renovation. With an emphasis on maker and maker-adjacent processes like traditional glazing, rolling clay and slumping glass, the 48-piece lighting collection combines organic finishes with minimalist forms. It also features a number of contract-grade pieces, just in time for the early stages of the commercial design industry's post-COVID comeback. "Because our architecture and design work spans residential, development and hospitality spaces, we typically think about product design in a way that works across those categories, too," Workshop/APD design director Andrew Kline tells BOH. "A single Glaze Sculptural sconce would be a dramatic lighting option for a home; install a rotating series of them climbing up a staircase in a commercial project, and they are jaw-dropping." 
On the map: Market Square & Elm | Commerce & Design, Floor 1
Courtesy of Charleston Forge
Lauren Nicole Designs x Charleston Forge
Designer Lauren Clement and fellow North Carolina treasure Charleston Forge team up for a collection that brings subtle equestrian details to classic American craftsmanship. The line, which includes consoles, occasional tables and accent pieces, is all dark wood, elegant glass and forged metal polished to a gleaming silver finish. In a nod to Clement's passion for horseback riding, the shape of a bridle bit is a recurring motif. "It's small enough to appeal to a large audience base while special enough that it'll remind fellow equestrians of time spent on the saddle," she says. Her elevator pitch to fellow designers? "American made. All completely customizable. Unique design. Durable—glass is nonporous, easy to clean and a safe surface in busy homes." We're sold. Tallyho! 
On the map: Hamilton Wrenn | 311 N. Hamilton St., Floor 2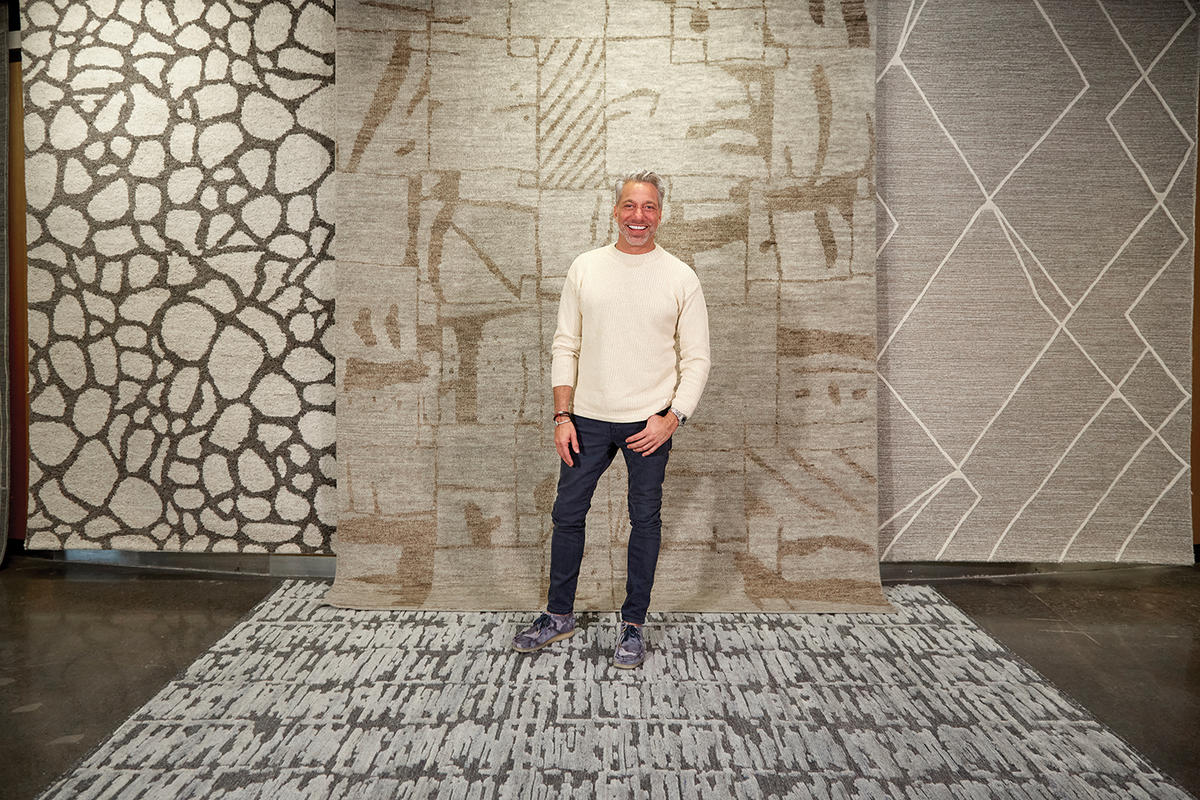 Thom Filicia x Feizy Rugs
He's on TV with Carson Kressley! He's in the New York Design Center with Alexa Hampton! He's here, he's there, he's everywhere—and now, busy designer Thom Filicia is underfoot with a new rug collection, a collaboration with Feizy that focuses on texture and features a mostly neutral palette occasionally energized by pops of color. The initial run debuts pieces at an accessible price point, but higher-end rugs in Feizy's "fine" collection are in the works, as well. The line, says Filicia, "can cool down a classic Georgian or warm up a New York loft." 
On the map: Market Square & Elm | Market Square, 145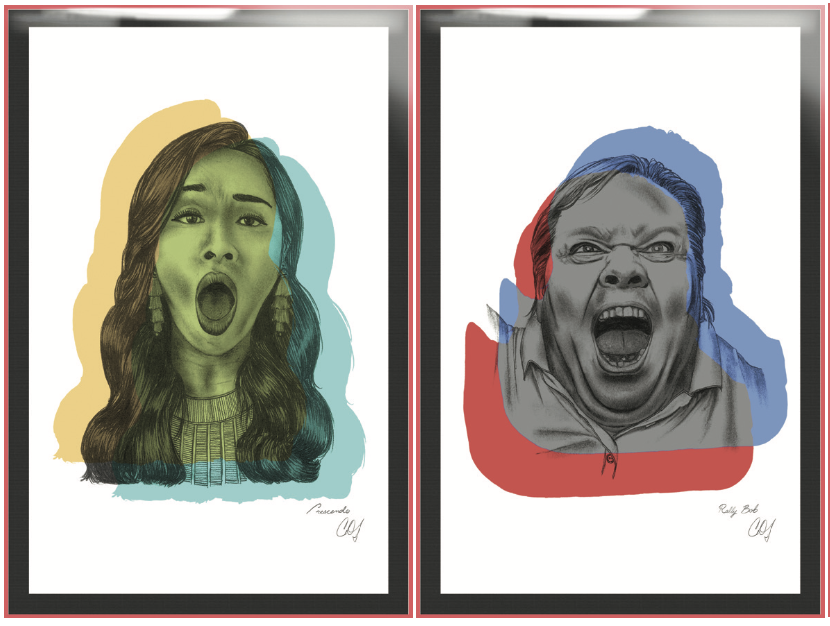 Corey Damen Jenkins x Leftbank Art
Fresh off a hit book and a debut on the AD100 list, interior designer Corey Damen Jenkins has no plans to slow down this summer, with two collections debuting at Market. The first is a personal project with Leftbank Art, "Mouths Wide Open," a series of evocative lead-and-ink portraits he drew of subjects like a singer hitting her crescendo, an impassioned political partisan screaming at a rally, and a rabbi deep in debate. As if that wasn't enough, the designer has a new pattern-rich bedding line with DownTown Company. "In choosing a partner for this endeavor, it was very important that the manufacturer embraced a high standard of quality and would approach this relationship with a certain measure of fearlessness in terms of my designs," says Jenkins. "I can't wait for everyone to see what we've created." 
On the map: Commerce Concourse | IHFC, H304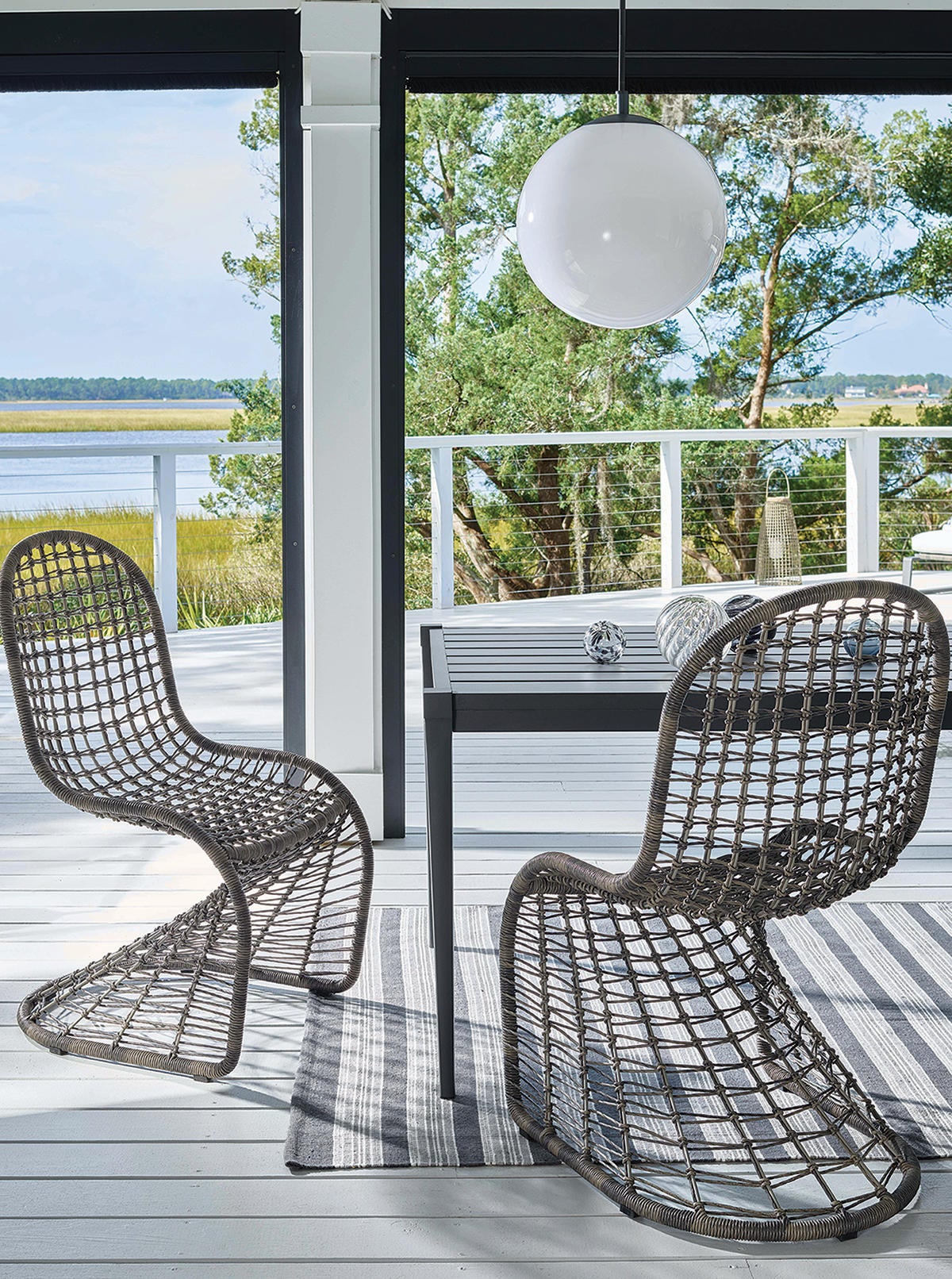 Courtesy of Coastal Living
Coastal Living x Regina Andrew Detroit
Carla Regina and James Andrew, founders of their eponymous decor and lighting brand, have joined forces with Coastal Living for a collection that brings elegance and edge to the beach. Running the gamut from sconces to outdoor lanterns to table lamps, the 79-piece collab does a neat job of conveying "coastal" without screaming it (the rattan is tastefully employed, and there's nary a starfish motif in sight). The showstopper is an ombré beaded chandelier that fades from stormy navy to placid blue—perfect for a glammed-out seaside retreat, but it wouldn't look out of place in Regina and Andrew's hometown of Detroit. Who's to say "coastal" can't include Lake Michigan?
On the map: Commerce Concourse | IHFC, IH006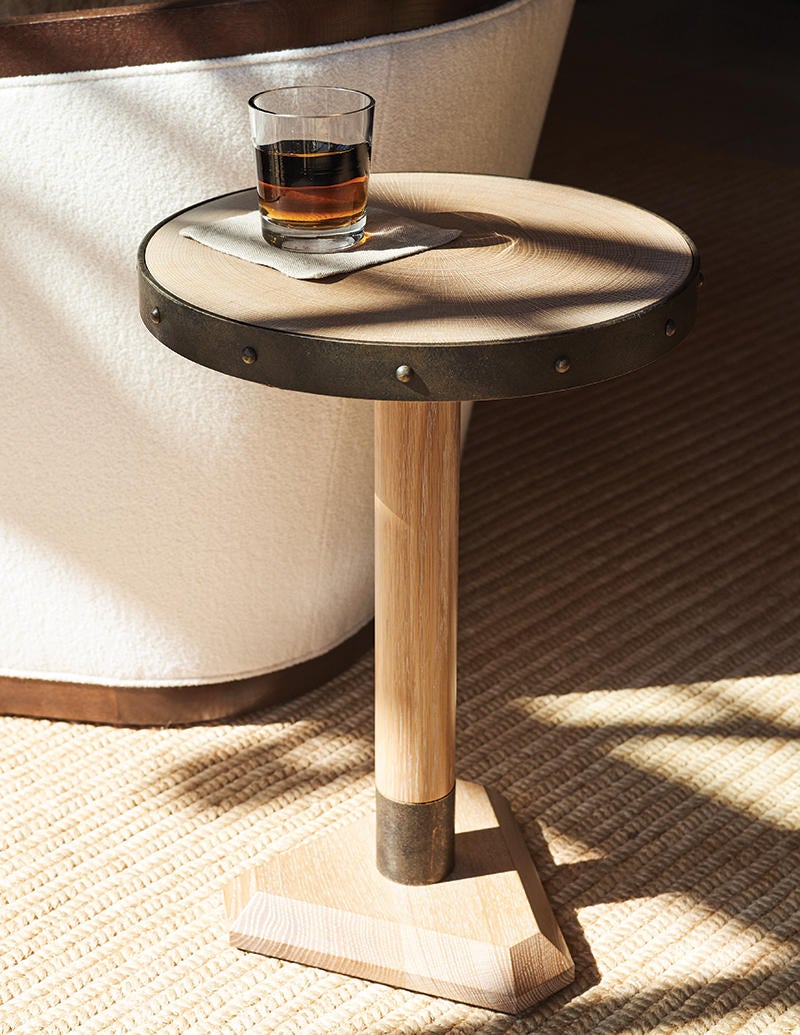 Alfredo Paredes x EJ Victor
You already know Alfredo Paredes's work, but until now, you knew it by another, very famous, name: Ralph Lauren. After 33 years of creating iconic spaces for RL—The Polo Bar, anyone?— Paredes left as chief creative officer of home and retail in 2019 to pursue his own interior design studio. This season, he makes his solo product debut with EJ Victor, unveiling a robust collection including sofas, sectionals, chairs, dining tables, a bar cabinet and a bed. The look (rich materials, classic forms, a cinematic flair for subtle drama) will not disappoint fans of RL Home, but the collection is unmistakably Paredes. "I'm beyond excited—I'm in shock. To be able to design a collection of furniture under my own name after so many years of doing it for such an incredible brand is truly a dream come true for me," he says. The detail that most reflects his newfound creative freedom? "There's a sliced wood veneer featured in one of the tables and in the bar cabinet that I'd never had a chance to use before and that I really love."
On the map: Market Square & Elm | 116 S. Lindsay St.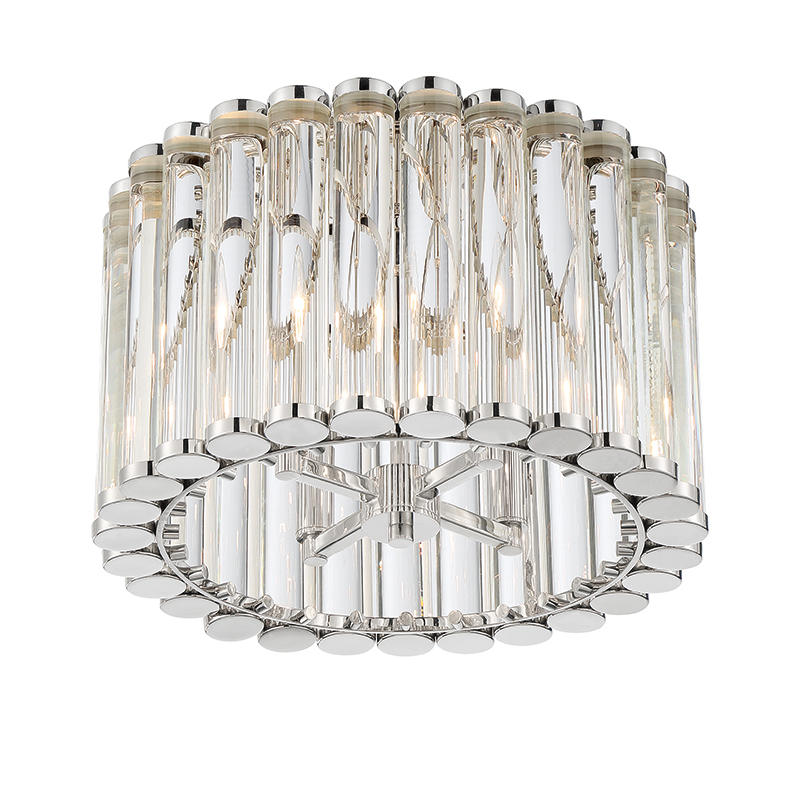 Libby Langdon x Crystorama
New York designer Libby Langdon teams up with Crystorama to debut not one, but two lighting lines this Market. Devon is the workhorse of the pair—an elegant but understated design that could fit comfortably into a wide variety of styles and applications. Elliot is the show pony, a modern chandelier constructed from hefty glass rods and polished nickel. "The fixture's view from below was as vital to me as what it looks like from the side," says Langdon. "One of the most dramatic fixtures in the Elliot collection is the Linear pendant. The filtered light bounces between the glass rods and gives off a beautiful glow."
On the map: Commerce Concourse | IHFC, H241
Encore!
There's nothing quite like reuniting with an old friend. The partnerships that drive these High Point Market debuts have lasted years—decades, even. Long may they continue.
For those who have dearly missed international travel over the past year, let Suzanne Kasler's new collection for longtime partner Hickory Chair (Market Square) soothe you. Haut Marais, named for a historic district in Paris, draws on the designer's love of art, architecture, history and (of course) France. A blend of tailored upholstery pieces, pale neutral stone and natural wood finishes, the collection was crafted with the flexibility that designers crave.
Another treasured partnership: designer Barbara Barry and the Baker family of brands. This Market, Barry has an indoor line with Baker (319 N. Hamilton St.) that draws on the bohemian romance of Eastern Europe, and an outdoor collection with McGuire in a more modern vernacular. McGuire is also joining forces with Thomas Pheasant, another frequent Baker designer, on a new line inspired by Japanese art and culture.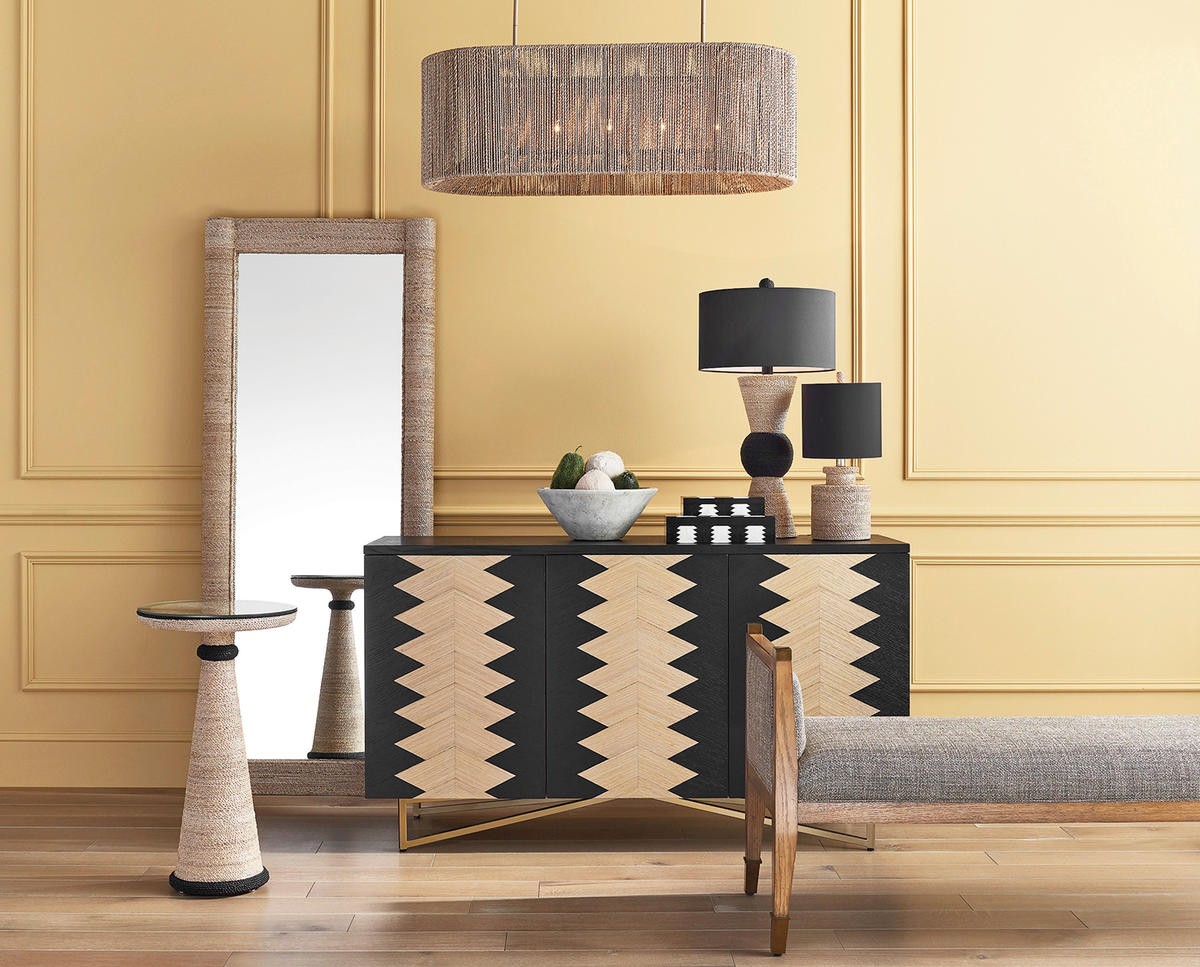 Courtesy of Currey & Company
Several designers are adding pops of new to existing lines. Cara Woodhouse has expanded her Nathan Anthony (IHFC, IH602) collaboration with the Pilar bed, a statement-making upholstered number that's equal parts futuristic minimalism and indulgent glam. Meanwhile, Jamie Beckwith is adding to her line with Currey & Company (IHFC, M110) with the Arrow credenza, inspired by traditional French chevron patterns.
Finally, befitting the season, there's plenty of great outdoor product debuting at Market. Accomplished architect and designer Paola Navone builds on her collaboration with Janus et Cie (IHFC, M130) with the colorful Chopstix line, while Danish designer Søren Rose is adding pieces to his Cane-line (IFHC, IH110) collection that put a streamlined spin on classic wicker construction. "The idea for the Basket collection was born during COVID," says Rose. "Suddenly, my team at the studio had a profound need to get outside, for obvious reasons. We carried out part of the design process in a beautiful garden north of Copenhagen."
Want more Spring Market news? Don't miss the rest of BOH's Designer's Guide to High Point Market.