It's Tuesday, the best day of the week—at least, for the BOH news desk. In our weekly digest, find a roundup of need-to-know (and nice-to-know) news.
MORE RENTAL FURNITURE
A new direct-to-consumer rental furniture service, Oliver Space, received $6.8 million in its latest round of seed funding. The money will help fund the company's expansion into multiple cities; today it launched in San Francisco. Mayfield Fund and Abstract Ventures were part of the round, as well as, interestingly, the co-founders of Eventbrite and a handful of Uber executives. Oliver Space was founded by 32-year-old former Uber Asia executive Chan Park. The brand says in a statement that for a monthly fee, users can work with the UX team to design their spaces, and furniture is delivered within a few days.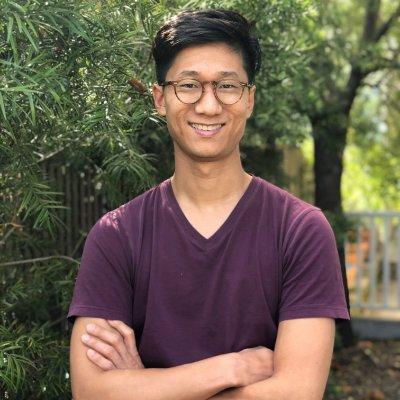 BOH caught up with Park and asked him about how he's setting his company apart in the rental furniture marketplace, why forging connections with clients will lead to future growth, and how to scale.
BOH: It seems like rental furniture has already become a relatively crowded space in a short period of time—the business model, but also the products available and the aesthetic look of the brands out there.
Chan Park: I agree that there are a bunch of startups out there, but I do think that there's so much room in this space. This business model is a behavior-changing exercise—95 to 98 percent of the market still the traditional furniture-for-purchase model—so we're still in the early innings.
BOH: How do you set yourself apart?
C.P.: We focused on the customer who is furnishing an apartment from scratch—going from bare floorboards to furnishing the place. From a merchandising perspective, we carry not just core furniture sets like sofas, tables and chairs, but also rugs, pillows and throws, even the plant in the corner. We've got a feature called "mood board" that helps customers visualize items they're about to pick out together instead of seeing a manifest list in their shopping cart vertically—something we feel is a differentiated product experience.
But where we truly differentiate ourselves the most is being a trusted partner. We take a very high personal touch approach to helping someone decide how to design that space, and that's something the competitors are not as focused on.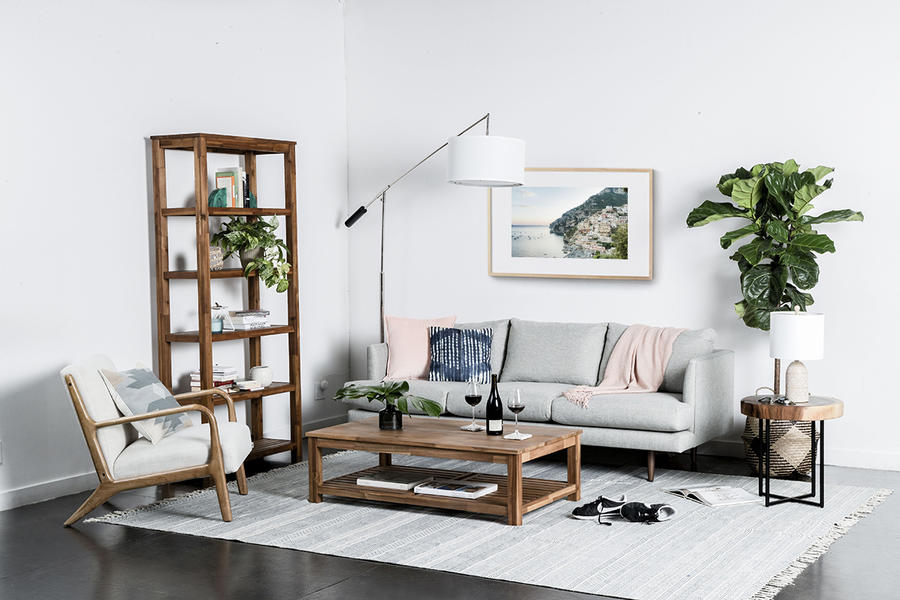 Courtesy of Oliver Space.
BOH: What does that look like?
C.P.: Our live chat tool has 15 hours a day of coverage. You can also schedule design consultation calls, tell us what you're looking for, give us your floor plan or photos, and we'll partner with you to ideate and come up with different ways to furnish your space.
Right now, what happens—either you hire an interior designer, or in this demographic, they have that trusted friend [that they call on]. The majority of our customers have a general sense of what they want but need validation from someone they trust to say, "Yes, this looks great," or "Have you thought about this?" Little nudges that help the customer build confidence is where we're focused: We're not trying to replace the interior designer; we're trying to replace that friend.
And on the logistics side, plenty of people are familiar with the pain point of furniture companies delivering in three- to six-hour window. We actually give people an option to be at work; we arrange to pick up their keys, go into their homes, and set up everything according to agreed-up layouts.
BOH: How do you scale something that involved over time?
C.P.: As we grow, there will definitely be more involvement with technology to make it scalable. Having said that, I think of this as a long-term relationship-building exercise with our customer. We're not just going after a customer getting one sofa from us—we're in the business of being a partner to create their space moving forward. The economics are attractive if as you go to the next space and then the next, we stay with you.
And by focusing on helping customers complete the entire space rather than selling one or two items at a time—Wayfair's average order value is $250; our average order value is an order of magnitude higher.
BUSINESS NEWS
Digitally native mattress brand Casper is working with Morgan Stanley and Goldman Sachs on a public offering, reported Bloomberg. The New York brand may go public by the end of the year or early 2020. Part of the motivation may be due to its push toward physical retail. Casper reached a $1.1 billion valuation this year.
Studio Four NYC has become the exclusive carrier of Martyn Lawrence Bullard Fabrics & Wallpapers in New York's tri-state area. The showroom now carries 230 of the brand's SKUs, and it will have the latest fabric collection when it drops later this month. Other designers on the Studio Four roster include Anna Spiro, Christine Van Der Hurd, Eskayel and Wayne Pate.
The American Society of Interior Designers has released an extension of June's Salaries and Benefits General Report, specifying how career path, specialty and firm size impact salary. The ASID 2019 Salaries & Benefits Specialization report participants comprised 39.3 percent commercial designers, 37.4 percent residential designers and 23.3 percent designers working in both. Overall salaries were higher for commercial designers, but in general, the higher the business profits, the better the salaries. It turns out that firm size and salary do not correlate. Also, median salaries were highest on the West Coast.
OPENINGS, AUCTIONS AND EVENTS
The 3-million-square-foot mall meets theme park, American Dream, opened in East Rutherford, New Jersey, last week. This destination, the second-largest mall in the U.S., was over 17 years in the making, and includes a 16-story indoor ski slope, a roller coaster, a water park, and retail, food and other shops, reported CBS News. As BOH Market Watch columnist Warren Shoulberg reported in April: "If you build it, they will come—but you have to finish the sucker first." Well, cheers.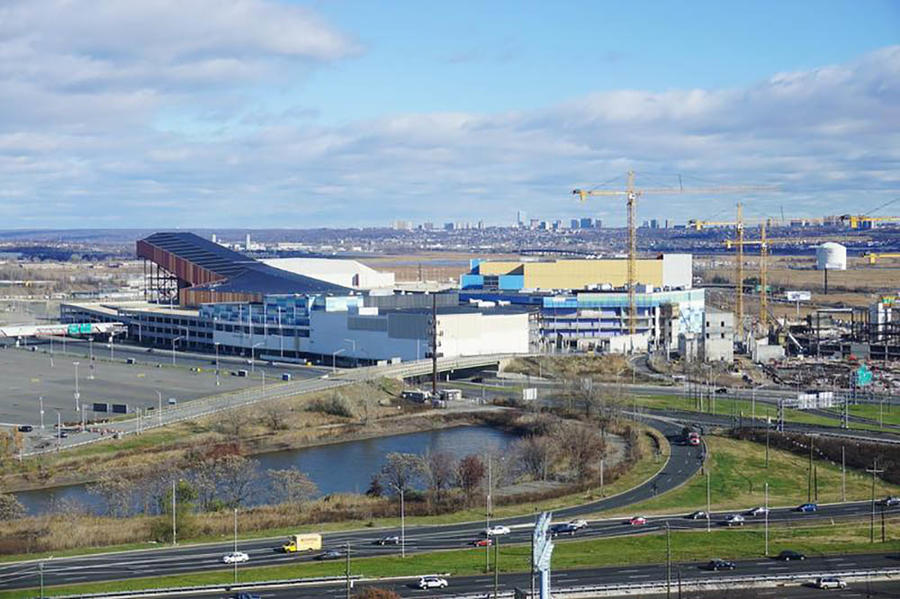 Forty One Madison will host the New York Tabletop Show from October 29 to November 1. Opening in time for the big week are Blue Pheasant Tableware, Eleven75 Home, Costa Nova and Casafina. In the lobby for Market are vignettes of celebrations (think cocktail party). Jon Sherman of Flavor Paper, Cooper Boone of Foundry42 and Andrew Kline of Workshop/APD will headline this year's Tastemaker Takeover program.
"Women in the Arts" is the theme for SOFA Chicago, which holds its 26th edition October 31 to November 3. Chicago-based interior designer Emily Mackie will host a women's rights exhibit and panel called "Still Counting." The Female Design Council is curating a textile exhibit titled Intricate: Complexity & Beauty Sewn Up." The podcast-in-residence is "The Art History Babes." You can purchase tickets here.
Holiday House NYC is open to the public from November 14 to December 15 at 125 East 65th Street. Participating local firms include Ally Coulter Designs, Baltimore Design Center, Bennett Leifer Interiors, Bjorn Bjornsson Interior Design, Elsa Soyars Interiors, Hilary Matt Interiors, ID Creations, Jasmine Lam Interior Design + Architecture, Lauren Berry Interior Design, Lewis Design Group, MHM Interiors, Nicola Rosendorff Interior Design, Rooms by Zoya B, Studio Neshama, Tara Kantor Interiors, Touijer Designs and Vanessa Deleon Associates.
RECOMMENDED READING
The New Yorker unpacked the rise of the "Getting Real" post on Instagram. "If every action has an equal and opposite reaction, then every perfectly staged Instagram photo must have a mess lurking just out of frame," writes Carrie Battan. "Lately, though, the messiness of real life has crept out of our imaginations, charging into the foreground of social media." Our feeds have become a mix of aspiration and reality checks, a bit of candor coated on pretty posts like a veneer.
In New York magazine, Reeves Wiedeman peels back the curtain on the inner workings at Condé Nast. It's a fascinating warts-and-all look at how a titan of traditional publishing is grappling with the realities of a digital world. Among other revelations: Anna Wintour hates the financial district, the budget for Orangina in staff fridges has been cut, and the future of the company rests in the hands of S.I. Newhouse's heirs.
Cue the applause
The Hollywood Reporter released its Top 20 Interior Designers in Los Angeles, ranking the designers behind the homes of major celebrities like Beyoncé, Chrissy Teigen and Amal Clooney. "Gone are the days of the headline-grabbing, Hollywood designer whose brand is emblazoned on every throw pillow and candle," writes Abigail Stone. "Tinseltown's new breed of influential interior designers are more discreet, less dictatorial and all about creating chic spaces where the tastes of their industry-insider clients reign." Among those on the list are Kishani Perera, Brigette Romanek, Cliff Fong and Joy Moyler.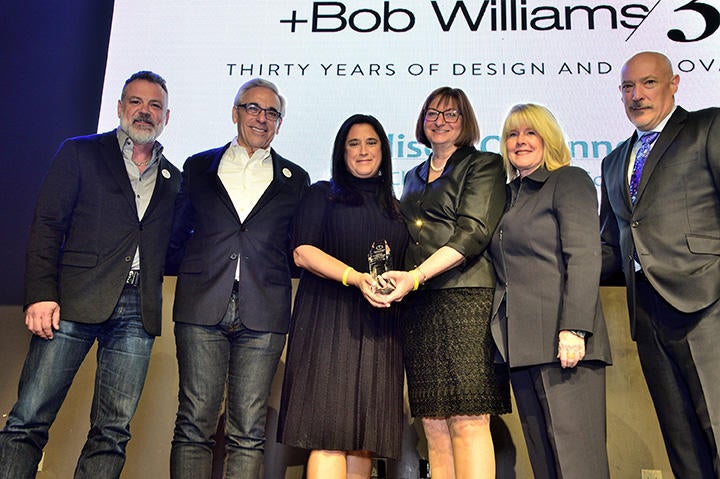 Courtesy of Mitchell Gold + Bob Williams
The Tyler Clementi Foundation, a national anti-bullying nonprofit, has given this year's Corporate Upstander Award to Mitchell Gold + Bob Williams, for its commitment to the organization and for Mitchell Gold's advocacy for LGBTQ youth. (For more on Gold and Williams, check out their conversation with Dennis Scully on the BOH podcast—or for a real tearjerker, this Washington Post piece from 2018 on the duo's influence on their company's headquarters of Taylorsville, North Carolina.)
The New York School of Interior Design has announced a new scholarship established in honor of interior designer Nate Berkus. Created in recognition of Berkus's commitment to socially conscious and charitable design, the endowed scholarship (supported by The Williams Legacy Foundation) will be awarded to a NYSID student who is pursuing a course of study with a demonstrated emphasis on improving the human condition and advancing fellowship through the built environment. "We believe that education is an investment that pays dividends for students," said NYSID president David Sprouls in a statement. "Unfortunately, that investment is out of reach for some, and programs like Berkus Scholars will assist as we close the gap between those who can afford education and those who can most benefit from it."
Homepage photo: A rentable furniture set from Oliver Space | Courtesy of Oliver Space