Even after ending their personal relationship, Mitchell Gold and Bob Williams kept their business partnership—and friendship—intact. That decision, and the mutual respect that undergirds it, still defines their brand 30 years after they founded it together.
For every business rule Bob Williams and Mitchell Gold have successfully broken, perhaps none is as outrageous as this: Nearly two decades after ending a 15-year romantic relationship, they remain professional partners to the mutual benefit of both—and the company they created together.
Anyone who has ever worked with a significant other knows how hard it can be to finesse that delicate balance. But Gold and Williams have accomplished the rare feat. "It's easier now that we're not together," says Gold, who usually does most of the talking—an arrangement, by that way, that still suits them both just fine. "After we decided not to be life partners, we decided to still be best friends."
"And we decided it right after our breakup," adds Williams.
The duo met at a Manhattan bar called Uncle Charlie's in the spring of 1987. Gold, a New Yorker by way of Trenton, New Jersey, and Williams, the younger transplant from Texas, hit it off immediately; by that summer, they were together in the Hamptons talking about starting a business. Furniture was by no means their first choice. Gold, who was working for Lane Furniture after a stint as a Bloomingdale's buyer, and Williams, a graphic designer at Seventeen, bought a farm in rural Virginia with the idea of growing Christmas trees and starting a vineyard. That plan fell by the wayside when Gold was promoted at Lane; they packed up and moved again, this time to Hickory, North Carolina. But the idea of doing something together didn't disappear. By 1989, Gold had been fired from Lane and they opened a showroom in High Point to promote DesignLine, their new collection of upholstered dining room chairs, designed by Williams. The bold floral prints were a far cry from the status quo in what was still a very conservative industry. But the style statement stood out, and propelled by Gold's sales pitch, the line got picked up by J.C. Penney and Levitz Furniture, both in their heydays—well ahead of the fledgling company's operational capacity to service either retailer.
"We were profitable in our first year," recalls Gold. The two settled into their Hickory home, eventually buying a local manufacturing facility. DesignLine became Mitchell Gold's DesignLine, and eventually just Mitchell Gold. The name sat well with both of them: "Neither one of us knew how to build a brand, but Mitchell was known in the trade and I was back in the showroom and factory," says Williams,whose name was added to the company when it became Mitchell Gold + Bob Williams in 2004.
At first strictly an upholstery supplier, the company is now equally known for its case goods and decorative accessories. Its domestic manufacturing operation has long offered employee benefits like day care, health care and a healthy cafeteria—perks that are practically unheard of in the tradition-bound industry. The company has also taken stands on social and political issues despite the industry's tendency to shy away from controversy.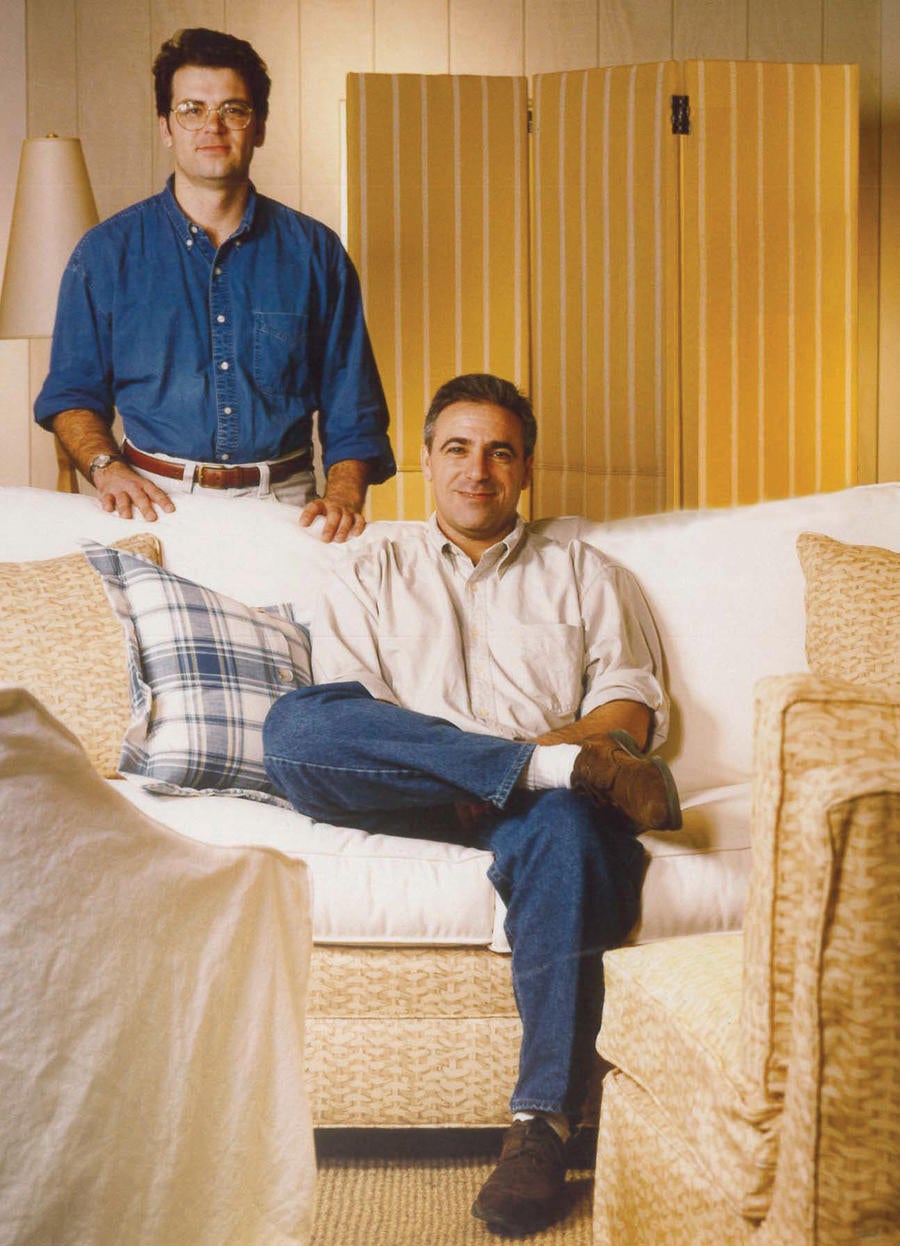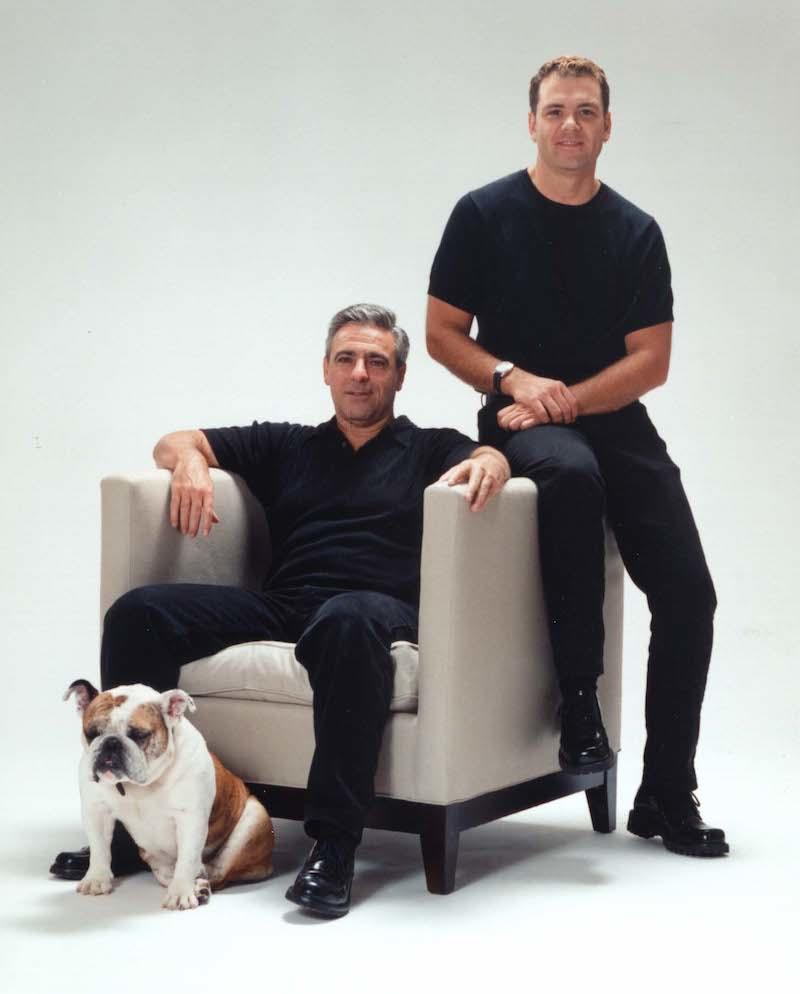 As the company grew, so did Williams and Gold's romance—until it didn't. "We started growing apart in our personal relationship," says Gold, as Williams nods in agreement. "We were together on several different levels: our friendship, our business relationship and our personal relationship. Just because one stopped working, we decided, we didn't want to lose the other parts of what we had—and we worked very hard to keep it."
"In any successful business, there are usually two people," says Mitchell. "That's how we started. When we decided to break up, we realized it was both of us [that made the company what it was]." To this day, they appear together in every ad. And they still complete each other's sentences, occasionally disagreeing like the old married couple they remain—if only in business. (They never legally wed, mostly due to the laws of the era.) "The foundation," says Gold, "is that we have to care about each other."
"We still eat lunch together most days," says Williams. In fact, even after they split up, they continued to live together for six months while they sorted things out. Years later, they bought an apartment in Manhattan together.
Both have since married. That the two couples socialize together shouldn't surprise anyone who knows them. Nor should the fact that both remain deeply involved with the company they created, even as they have brought in outsiders to help run it—most recently Allison O'Connor, who was named president and CEO in June.
"Hiring a new CEO to take us into the next phase allows us to focus on improving and growing our business," says Gold. Neither intends to leave their current partnership, though their roles will continue to evolve. Together, they remain the cornerstone of the brand. "We still have each other's back," says Williams.
Header image: Gold and Williams today | Courtesy of Mitchell Gold + Bob Williams