In January 2019, longtime Ralph Lauren Home executive Alfredo Paredes, the creative force behind the brand's stores, restaurants and furniture collections for more than three decades, announced his departure. And then—nothing. No whispers of behind-the-scenes scandal, no cheery retirement announcement, just silence.
As it turns out, that was intentional—a purposeful pause for a man who had worked steadily since age 15 (including 33 years at Ralph Lauren), trying to figure out what he wanted to do next. "The challenge was to sit in it, and don't let yourself get preoccupied with what's next," Paredes tells Business of Home. Then, exactly one year after his departure as executive vice president and chief creative retail officer of Ralph Lauren Home, Paredes announced the launch of his own interior design studio.
Now, he has inked a deal with a longtime collaborator: Morganton, North Carolina–based furniture manufacturer EJ Victor, which until recently had the license to produce the Ralph Lauren Home collection. (The collection is now manufactured by Theodore Alexander.) In the decade their companies were partners, Paredes and EJ Victor CEO John Jokinen worked closely together.
When Jokinen saw the January press announcement about Paredes's new venture, he got in touch. "I texted to wish him luck and said, 'Look, if you ever want a collaboration in the future … ' and he answered, 'Let's talk about it,'" Jokinen tells BOH. "I've gotten to know him pretty well over a decade, and have come to admire his abilities, his sense of taste and scale, and how they convert to a successful interior design—I mean, he's just a great talent."
For EJ Victor, teaming up with Paredes reflects a strategy shift that has seen the brand reshuffle its assortment of collaborators in recent years. In addition to the departure of Ralph Lauren Home, the company's partnership with performance textiles brand Perennials also ended; though the EJ Victor continues to produce designer Kelly Wearstler's furniture, it no longer exhibits her line in its showrooms. Instead, the company has launched new collections with the likes of updated traditionalist brand Browne & Moore and bright young modernist Ryan Korban. EJ Victor will also debut a new line with Ellen Degeneres this fall.
Jokinen feels that Paredes's aesthetic fell somewhere in between the lines the company is currently developing. "Alfredo fits in a nice niche for us—it's a little more casual, a little more traditional, but also has a contemporary flair," says Jokinen. "It's comfortable, it's not pretentious, and it's not contrived in any manner. It's very wholesome and warm and inviting." Assuming COVID restrictions lift, Jokinen hopes to host a private opening to debut the collection at Alfred Paredes Studio in late spring or early summer, followed by a formal collection launch in their High Point showroom in fall 2021.
"Alfredo's aesthetic has always been informed by a love of interesting, somewhat quirky European antiques," says William Li, a longtime Ralph Lauren colleague who has been advising Paredes on business and brand development. (Li left his post as global brand president of Ralph Lauren Home in January 2019 to produce a documentary on Asian cuisine and culture, as well as launch a consulting firm.) "It's the one piece that doesn't look like anything else in the shop, the one that's a little bit unusual, a little bit more sculptural and artistic. It's really about a love for history, but in a nonsentimental way—a respect for design precedent adapted to modern living."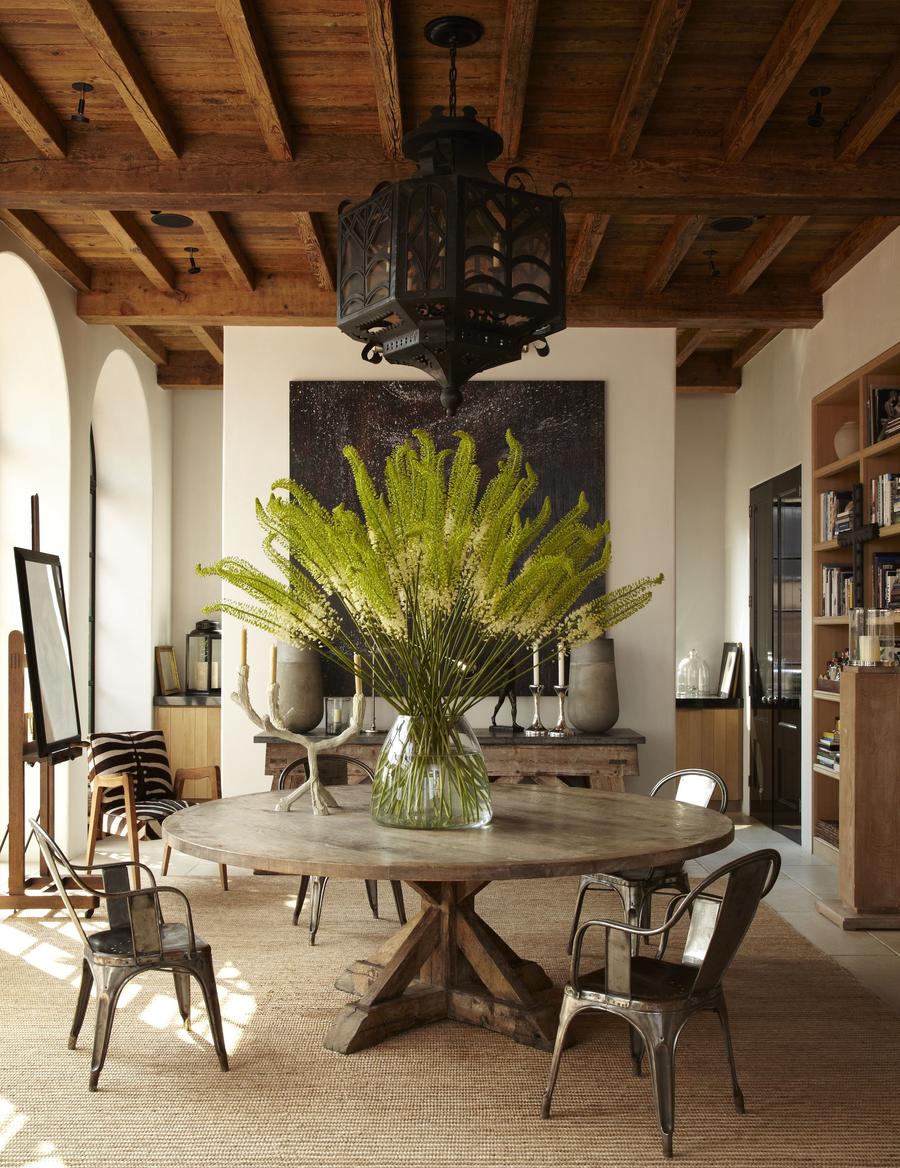 Courtesy of Alfredo Paredes
As Paredes began formulating the shape of his next endeavor, he connected with Cheryl Sterling, yet another decades-long Ralph Lauren veteran in both the home and womenswear divisions, who left the company in 2016 and was most recently CEO of Donghia. "She was there when I was hired in 1986, and has always been a dear friend and mentor to me," says Paredes of Sterling. "When I was thinking about this, I immediately went to her, and she has been instrumental in supporting me." As he looks at future opportunities, Paredes says that Sterling will be a trusted partner to help him navigate additional licensing opportunities.
Though it's too early to paint a precise portrait of how the pieces in the line will come together, Paredes's passion for antiques will play an outsize role. "I always lean toward the more eccentric stuff that has a patina to it, that's quirky but feels modern," he says. "I don't love nostalgia—I don't want to go backwards—but I like things for their form and shape. And I don't want everything to be precious. The juxtaposition to me is more interesting."
BOH caught up with Paredes to talk about his career at Ralph Lauren, what keeps him inspired, and how he plans to chart his own path now that he's designing under his own name.
Is this something you've always known you wanted to do—your own line under your own name?
To be honest, no! I was very committed to my life at Ralph and really enjoyed doing it. And when I decided it was time to move on, I took a year off to just not think about it. I had been working since I was 15, and then got to Ralph in March of 1986. I loved it—and worked nonstop. It was very intense, as far as being able to have a perspective away from it, so everybody that I knew and respected said, "Why don't you just take time off to not think about anything?" And I did. When I came out of that year, I decided that I'd start my own business.
Why was it the right time to leave?
It was one of these situations where it was like: Either I stay for the rest of my career, or make the change now. I never imagined I'd be there 33 years, honestly, but it was an amazing experience. When it started to feel like it was the right time, I mulled it over. I had that moment where I was like, I'm going to be 56—do I want to stay here for the next 10 or 20 years? And it just felt right [to go].
Were there other milestones when you thought about going out on your own?
No, I can't say that there were. You get so involved in what's going on, and it's so amazing and sometimes so intense, that you don't really think about that. I was designing restaurants—I did Ralph's in Paris and the Polo Bar [in New York]—but I was also involved with the fashion side. So when I had that nagging feeling that I had to do this for myself, I did. And Ralph was very supportive. I adore Ralph—he's like a father figure, and he gave me endless opportunities. But it was just time. And that's the truth, by the way—that is the whole truth. It wasn't any crisis. It was just like, Wait, I have good stuff that I want to do on my own, and that I want to say. It wasn't that I had any issue with what I was doing, it was just time to do something else. And I got his support and that was it.
What did that year off look like? How did that shape your thinking for what came next?
I went camping, hung out with my children, and tried not to worry about what's next—because that's so how we're all wired.
How do you break out of that urge to know what the next thing is?
Well, I think that was the challenge: to sit in it and not let yourself get preoccupied with what's next. New Yorkers, in particular—I feel like we're so go, go, go. So I stopped. It was weird at first, but it was a great chance to gain perspective on my future and what I really wanted to do. Honestly, what I love to do most is designing environments and creating places for people to have experiences in, whether it's homes or hospitality or retail or restaurants. It started to become clear that that was something I wanted to get back to. And then, as I started working on projects for clients and needed to bring in product, I always liked what I was designing. I was like, Wait, I don't need to go get that from somebody else—I should make that. Luckily, EJ Victor agreed.
You had worked with them really closely before on the Ralph Lauren Home line. What is that working relationship like?
I'm thrilled that I'm working with a team that knows me, and I know them and their capabilities, and I know that they trust me. We're able to speak the same language and be very honest with each other based on 10 years of work.
You talked a little bit about finding your own voice. Does creating this line demand something different of you as a creative?
Yeah, because it's basically stepping up front as opposed to being comfortable under a brand. What do I want to say, and how do I want to say it? And how does it make sense out in the world amid the competition? I want it to be relevant and successful, something that has legs.
How does the breadth of your work at Ralph Lauren shape what you want to do next?
What I have taken away from all of it is you have to dream the thing, soup to nuts. You really have to give a client the sense of a complete story—not a rug sample, or the arm on the chair. The whole thing in front of them has to get them excited. And that's what I did at Ralph—that's a lot of how the company operates, and certainly how the man operates. And that's a great gift, to be able to give the people coming to you a complete vision so they feel secure about what they're getting. You present a complete story.
I'm doing a second home in Mexico for a big celebrity client. The house is a lot like a hotel—it's not as personal as a first home or main residence, and it's really for the friends and guests. It's more about the experience when you're there. They get excited about the robe that the guests are going to wear, or the pool towels, or how they're all going to hang out and sit in groups of 20.
When people write about the Ralph Lauren brand, a lot of what they talk about is those immersive interior environments.
It goes back to the experience. I worked on his house in Jamaica, I don't know how many years ago—the blue-and-white one, Cottage 26—it's been published everywhere and belonged to Babe Paley at one point. I'll never forget when we were down there together, Ralph and I, before construction. He already had the ultimate house [on the island], which had already been published, so I asked, "So what do you want this to be?" And he said, "You know, I want it to look like how you feel when you go spend the day in the sun, and then take a shower and put on a pair of white tennis shorts." That's how he and I talked all the time, and I knew exactly what he meant. A little barefoot, a little cool—you're tanned, you want to wear all white, your hair is wet.
I learned so much of that from him. You might say, What is [cowboy-inspired fashion] all about? Well, when you go to Ralph's ranch in Colorado and see the colors and what's happening, you see the inspiration. You totally want those clothes in that environment. You get it, it's so authentic and so real. So for me with him, it was always context—the set behind the people in the movie.
What does the future look like? What are you excited about?
Finding what that is for me—what is the voice, and where's it going to lead me? A lot that got created over the years was led by Ralph. Without his voice, I want to figure out what that is for me and then have it keep evolving.
Homepage photo: Richard Phibbs