Furniture is increasingly designed to appeal to a 360-degree view.
With the rising popularity of open-concept spaces in recent years comes the inevitable echo of furniture designers following suit, producing pieces that rise to meet the new demands of fluid floor plans. Enter floating furniture.
Dislodging seating, shelving and desks from the walls and corners they've historically backed into opens up a world of possibilities—and for some, uncovers a new canvas. That's the case for Los Angeles–based Tina Nicole, co-founder and creative director of Nathan Anthony Furniture, whose Laurent sofa showcases its finest focal point on the back—an oft-overlooked spot that's typically short on design flair. That kind of attention to unique details and craftsmanship, according to Nicole, is part of the allure of furniture designed to be floated. After all, why shouldn't your view be beautiful from all angles?
"When you're creating something in 360 degrees, it's really important to consider all the scenes someone's going to see," she says. "You consider the design from all angles—it's really like a sculpture. When you have something floating, you want every angle to be pretty, and every seam to be perfectly tailored. When someone looks at it closely, you want them to see it's been sewn to perfection, done by hand."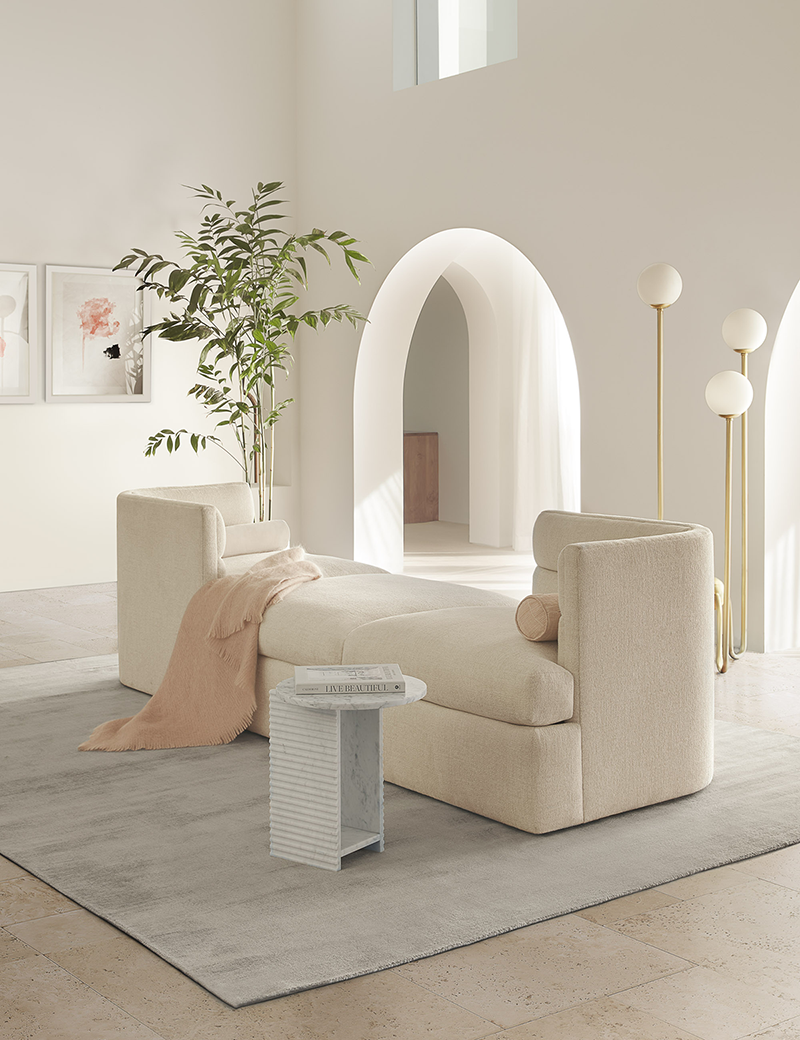 Courtesy of Lulu and Georgia
For New York designer Alexa Hampton, it's not as important to float a piece entirely, but rather to situate it in a way that allows the surrounding space to be reconfigured as needed. She designed the Eugenia writing desk, part of her collection for Theodore Alexander, to feature drawers on both long edges—perfect for anchoring the short side to a wall, then allowing the chairs on either side to be moved. "If everything hugs the wall, then you end up with this cavity in the middle of the room," she says. "It's nice to have things jutting out into space to occupy it."
The shifting demands of daily life over the past year, Hampton says, have put a prize on adaptability in living spaces: "You want your room to lend itself to you—to have your room be in service of you, and not you in service of your room." 
Conversation Starter
The aptly named Vivi Tête-à-Tête chaise lounge from Lulu and Georgia invites approach from both sides. It's easy to envision cozy conversations on the plush bench seat, which is composed of three modular pieces that can be configured to suit your space.
Exquisite Handiwork
Built and finished entirely by hand, Iatesta Studio's rift-sawn white oak Everett desk features cantilevered shelves on the back and one edge, as well as pencil drawers and hanging file drawers on its working side.
Shape-shifter
Alexa Hampton's stately Eugenia desk for Theodore Alexander draws on Russian neoclassical influences, with inlaid brass details and fluted legs. "It's sharp and angular, and when things are distilled to geometric motifs, they transcend a moment in time," she says. Along with a leather inset top, the desk features drawers on both sides—one faux, one real—for symmetry's sake.

Catnap Chic
Handcrafted in the Philippines, Red Egg's twin-size Indochine daybed sits in an intricately sculpted cane and rattan structure and is available in 25 paint colors and three rattan finishes.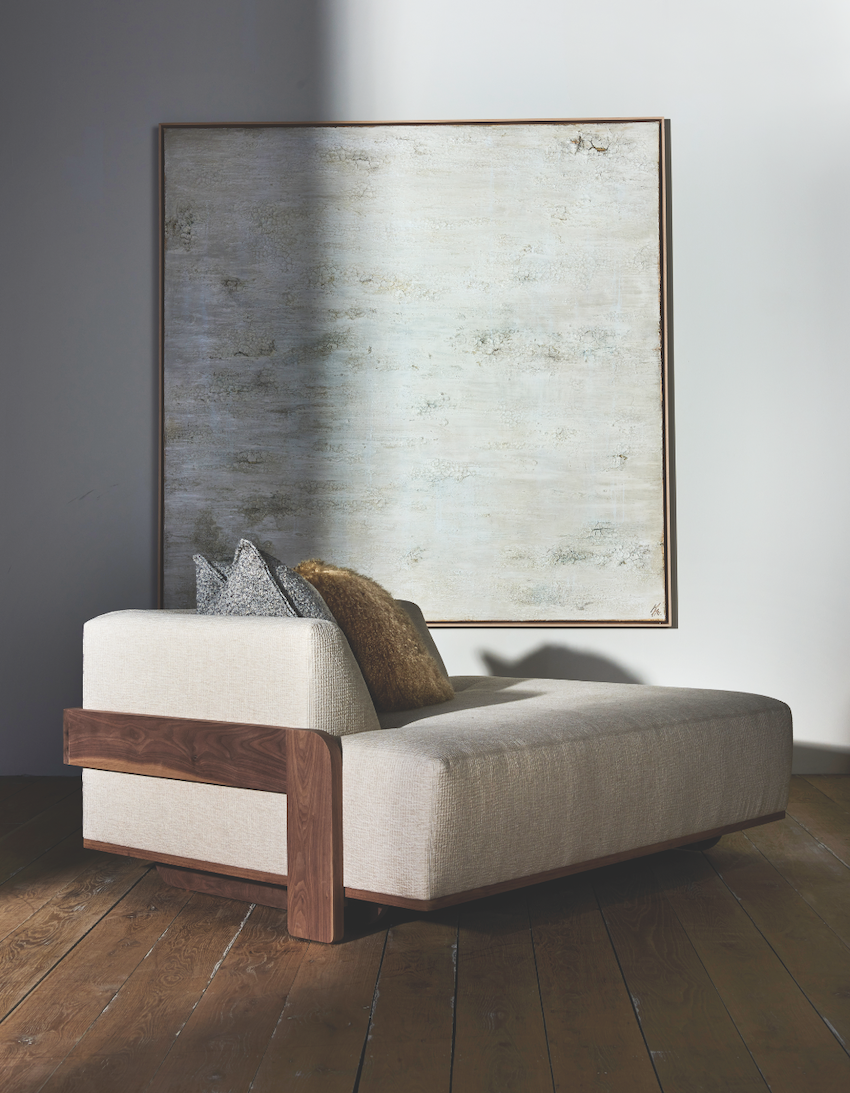 Elevated Design
An inset base allows Verellen's Rowan chaise to appear to hover above the ground, while a curved frame of harvested walnut suspends the plush, upholstered body of the piece.
Clear Winner
The transparency of the acrylic legs and headboard on Bernhardt's minimalist Estella acrylic bed contributes to an elevated, weightless quality.
Ahead of the Curve
The upholstered wavelength pattern in Nathan Anthony's Laurent sofa is shaped with foam grated by hand and sculpted into plush curves along the back and sides, with sleeve-fit upholstering techniques borrowed from fashion ateliers. The entire piece is then fitted within a surrounding metal frame for a neat finish. "We upholstered it to be rounded and fluffy and kind of voluptuous," says designer Tina Nicole. "There's actually a curve to each wave."
Suspended in Space
Designed by Jeremy Kamiya—part of the Mill Collective's curated group of makers—this floating drawer console marries function with artistry. Crafted of black walnut (and without the use of metal fasteners like nails or screws), it includes mail cubbies, a movable key dish pedestal, and a tiger maple drawer with sculpted walnut pulls—each situated in a negative space, allowing for access from either side.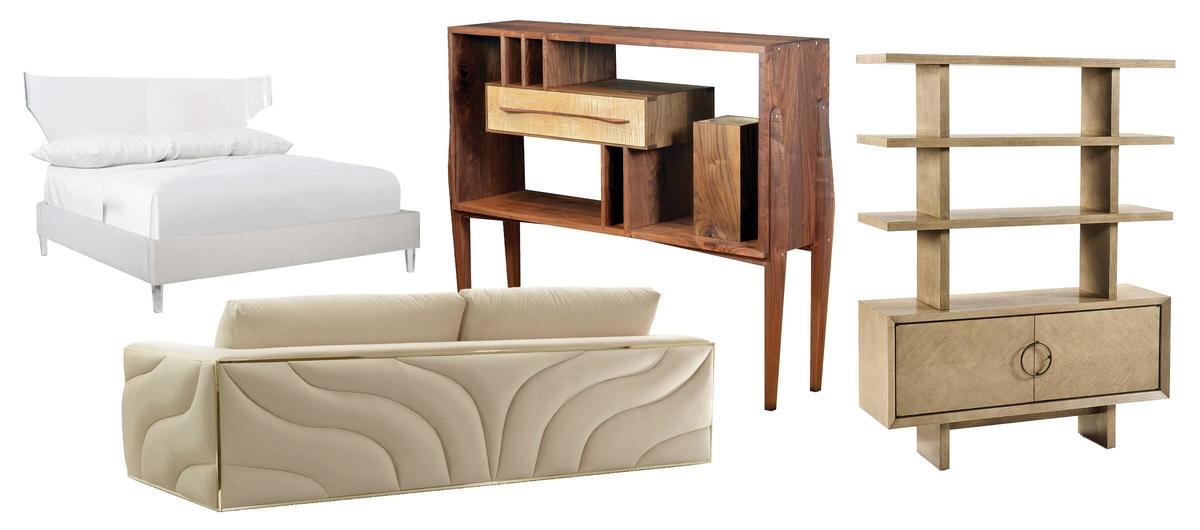 Shelf Life
Crafted of American white oak with a cerused finish, the open-concept shelving in the Cambrio étagère from Jonathan Charles adds dimension, dividing a room or allowing for all-angles access and display. Framed by beveled moldings, its doors feature a diamond match pattern and brass pulls with a rich patina.