Spring is in the air, and those looking to fly the coop may want to act fast—this week in April is apparently the most ideal time for a move. But before you pack your bags, stay in the know with our weekly roundup of headlines, launches and events, recommended reading, and more.
Business News
Herman Miller Inc. acquired Knoll Inc. early this week in a cash-and-stock deal valued at $1.8 billion. Andi Owen, Herman Miller president and CEO, will stay on at the helm, while Knoll CEO Andrew Cogan will exit when the transaction is completed. Between them, the companies comprise 19 leading brands, more than 50 retail locations and 64 showrooms across more than 100 countries—and the combined entity is expected to draw $3.6 billion per year.
Real estate app Casa Blanca has announced the completion of a $2.6 million seed round, which brings its total funding up to $4.1 million. The company compares itself to the dating app Bumble, aiming to connect renters and buyers with properties through matchmaking technology, while implementing an alternative commission model that returns up to 1 percent to buyers at closing. After its New York launch six months ago, the business is expanding to Denver and Boulder, Colorado, with other markets soon to follow.
Phillips auction house's most recent evening sale of 20th-century and contemporary works had an impressive turnout last week, bringing in $24.8 million and exceeding the previous year's total by 17 percent. Highlights include Alberto Giacometti's Nu debout II bronze sculpture, which inspired a seven-minute global bidding war before it was nabbed for $2.5 million.
LVMH's stock hit a record high last week—a confirmation of the luxury goods industry's positive upward trajectory, according to UBS analysts. In the first three months of 2021, the French conglomerate saw organic growth of 30 percent year-over-year, with first-quarter revenue that was 8 percent higher than the pre-pandemic first quarter of 2019.
Design Holding, the parent company of Flos, B&B Italia and Arclinea, has signed an agreement to acquire the U.S.-based e-commerce retailer YDesign Group. According to a release, YDesign, which operates as YLighting and Lumens, has more than 200,000 active customers (including architects, designers and specifiers) and generated $160 million in revenue last year. The acquisition fits into Design Holding's current strategy of expanding into the North American market and strengthening its digital presence.
Amazon is experimenting with a service that would allow customers to have furniture and appliances assembled upon delivery, Bloomberg reports, in a move that would rival similar services offered by companies like Wayfair. The premium service would require delivery drivers to unpack and assemble a customer's items at their home—nullifying the company's current Amazon Home Services offering, which allows customers to arrange a separate contractor to arrive for assembly after delivery.
Facebook announced this week a suite of audio products to rival emerging audio platform Clubhouse, TechCrunch reports. One of the new products allows users to tap into live audio rooms and join discussions—a format nearly identical to Clubhouse—on both Facebook and Messenger platforms. The tech giant is testing the feature in its Groups first before a larger rollout this summer. In related news, the audio app's novelty may be waning by then, CNBC reports. Social media analysts are beginning to notice signs of the its declining popularity, citing irregular homepage content organization and reduced user interest in connecting virtually as pandemic restrictions begin to ease.
Design trend forecaster WGSN is taking a big leap into the future, partnering with color systems company Coloro to dub Digital Lavender the 2023 Color of the Year. Drawn from video games and virtual realities, the hue signifies the comfort and stability found in digital escapism, according to Coloro's head of content, Joanne Thomas. The collaborators also developed a color palette for the spring/summer 2023 season, which includes shades they named Luscious Red, Sundial (an earthy yellow), Tranquil Blue and Verdigris—chromatic colors that emphasize overall well-being and activation.
Launches and Collaborations
TV personality Ellen DeGeneres is hosting an upcoming show titled Ellen's Next Great Designer, which begins streaming this week on HBO Max. Seven emerging makers and furniture designers will complete challenges in their hometown studios, competing for a $100,000 prize decided by a panel of judges that includes DeGeneres, actor Scott Foley, interior designer Brigette Romanek, and contemporary artist and designer Fernando Mastrangelo.
Plant Prefab has announced its first AIA-accredited course, "Designing for Prefabrication," along with its official status as an AIA Continuing Education Provider. The course will be administered by CEO and founder Steve Glenn and Amy Sims, the company's vice president of design.
Fairfield Chair Company has partnered with Banko Design to produce a furniture collection curated specifically for Fairfield's senior living division. Melissa Banko, founder and principal of of the interiors studio, will lead the design team, placing an emphasis on comfort, durability and cleanability through an assortment of dining and bistro pieces.
Furniture rental service ZZ Driggs has introduced a new rent-with-purchase option: For customers who fall in love with a piece they'd been renting and decide they want to buy, the money spent renting will now count toward ownership.
In collaboration with London's National Portrait Gallery, wallpaper company Graham & Brown is celebrating its 75th anniversary by releasing a collection of portraits and murals with a contemporary twist—spotlighting a range of historical and cultural figures, from Elizabeth Barrett Browning to Audrey Hepburn.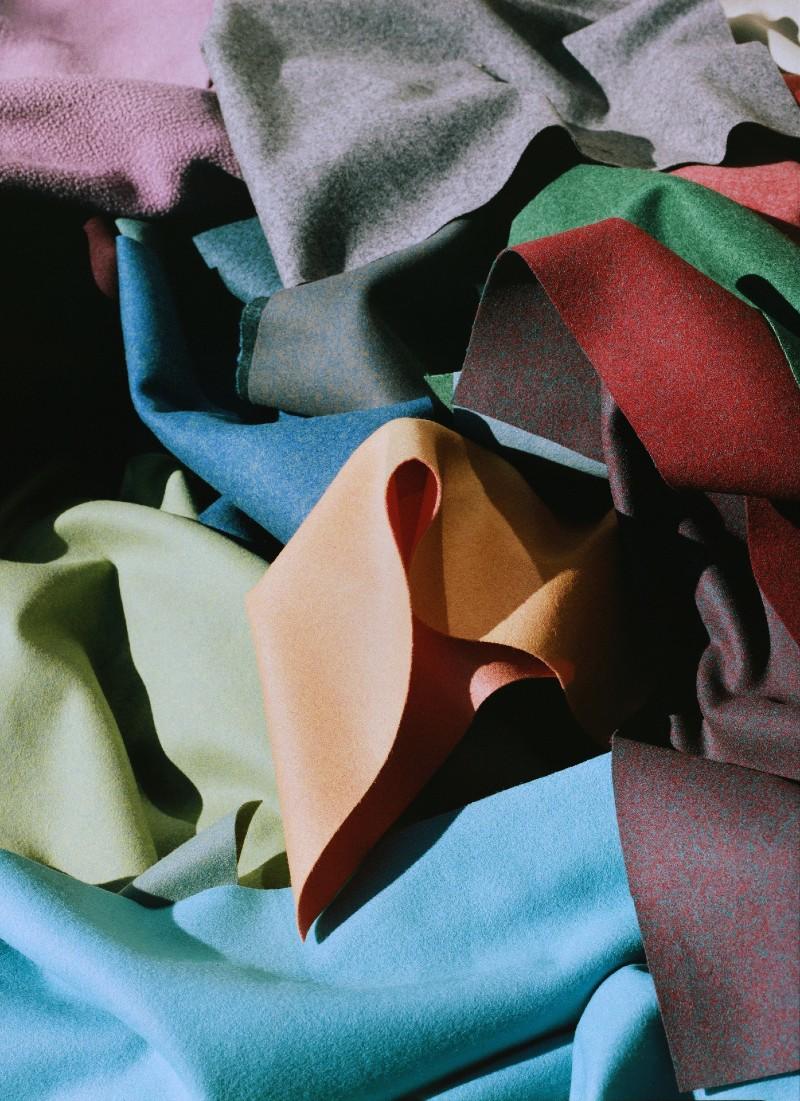 Maharam Design Studio has collaborated with Sander Lak for a wool collection imbued with the fashion designer's experimental approach to color. The assortment includes three different textile blends—Terra, Gemma and Gemma Multi—available in nearly 200 different hues.
Bassett McNab has announced the inaugural "Windows for a Cause" virtual auction (April 19 to 23), benefiting the Children's Hospital of Philadelphia. The heritage brand tapped six interior designers to incorporate fabrics from its debut relaunch collection into window vignettes, which were then brought to life by illustrator Diane Carnevale.
This week, Semihandmade will unveil Boxi by Semihandmade, its new direct-to-consumer e-commerce avenue for cabinets. The service ships prebuilt customizable cabinets directly to customers' homes within two to three weeks of ordering, and enlists the brand's support services to inform measurements and design.
Showroom Representation
Textile and wallcovering producers Pollack and Weitzner will be represented by Holly Hunt in the New York area beginning May 1. Products from both brands will be available in the Holly Hunt showroom in the D&D Building and through sales representatives across New York, Fairfield County, New Jersey and Connecticut. The existing Pollack/Weitzner showroom in the D&D Building will close at the end of April.
Recommended Reading
The term "space-saving furniture" may conjure images of creaky pullout couches, but several New York startups are now bringing a sense of futuristic luxury to the concept, the New York Post reports. Businesses like tech startup Bumblebee offer built-in systems that allow users to lower a bed from their ceiling at the touch of a button. "It shouldn't feel like you're living in a closet with Murphy beds," Bumblebee CEO and co-founder Sankarshan Murthy told the New York Post. "I want to live in a place that is futuristic, that feels like Ironman's house, that changes based on [what you] ask."
Last April, face masks became the hottest and hardest-to-find commodity. The next month, consumer demand shifted just as quickly—to a more traditional staple. "In May, the world woke up and decided they wanted to make bread," says Etsy CEO Josh Silverman on the Leadership Next podcast. "Within hours, you had thousands of sellers offering yeast recipes and bread-making recipes." (There are nearly 3,000 results for this, with one top seller banking more than 11,000 sales for a $2.30 recipe.) Luckily, the e-commerce platform's makers could also quickly offer face masks—and whatever else this year's fickle consumers developed an overnight demand for. Silverman joined the podcast to talk about the startling success of the cottage industry in 2020, and what it means for a platform previously seen as an industry underdog compared to e-commerce giants like Amazon and eBay.
Call for Entries
The 2021 Best of NeoCon Awards will take place October 4 to 6 this year at the Mart in Chicago. This year's edition will feature 58 categories, and exhibitors may submit any new products introduced in the U.S. market since NeoCon 2019. Submissions will be accepted from June 1 to September 9; to learn more, click here.
The International Society of Furniture Designers is now seeking entries for its second annual Innovation + Design competition and exhibition. Finalists' work will be displayed at The Loft at Congdon Yards at High Point from September 19 to 24, and winners will be announced at a "Meet the Designer" ceremony on the 21st. The entry deadline is June 30th; to apply, click here.
Cue the Applause
Kravet Inc. has been selected as a 2021 U.S. Best Managed Company in a program sponsored by Deloitte Private and The Wall Street Journal, which recognized the fabric brand for its demonstrated excellence in strategic planning and execution, as well as a commitment to people, culture and strong financials in the face of uncertainty caused by the COVID-19 pandemic.
Humanscale has received the Red Dot Product Design Award in the Office Chair category for Summa—a made-to-order executive conference chair customized for each owner in a range of chrome-free leathers and wood finishes.
In Memoriam
Renowned architect Donald P. Ryder passed away at the age of 94 on February 17 of this year. Alongside J. Max Bond Jr., Ryder co-founded the architecture firm Bond Ryder & Associates in the late 1960s, and it served as a powerful influence in New York and beyond. Working to confront barriers to racial equity, they designed such buildings as the Martin Luther King Jr. Center for Nonviolent Social Change in Atlanta and the Birmingham Civil Rights Institute in Alabama. "Their designs provided outdoor gathering spaces for the community wherever possible," said John Samuels, a former colleague of Mr. Ryder's. "Don's philosophy also included providing opportunity to members of this same community to participate in the design process and influencing their own built environments."
Homepage image: Graham & Brown puts a pop twist on historical figures from the National Portrait Gallery. | Photo courtesy of Good Word PR