It's October, and whether or not you find yourself leaning into the spooky season, John Derian is—in a whimsical collection with Target, he's designed 50 eerie accents and home decor pieces. No matter your mood, read on for headlines, launches and events, recommended reading, and more.
BUSINESS NEWS
Last week, Bed Bath & Beyond reported second-quarter earnings, and the results pleasantly surprised investors. The Motley Fool's Howard Smith writes that the home retailer reported an increase in comparable-store sales for the first time since 2016, boasting an 89 percent growth spurt in its e-commerce division—despite foreboding cost cuts, store closures and other restructuring announcements a few weeks prior. "Bed Bath & Beyond's successful quarter reflects the renewed interest in home improvement as consumers continue to spend more time working from home, and adding to the comfort of being at home," he adds.
Fall High Point Market is just a week away, and the High Point Market Authority has announced that 70 percent of active exhibitors will open their doors for the event. Attendees will be able to plan their itineraries using an updated list of open vendors, available through the High Point Market app or on HPMA's website.
LAUNCHES, COLLABORATIONS & PARTNERSHIPS
London-based decorative lighting brand Vaughan has kicked off its second "Made in the Shade" campaign in partnership with solar lighting nonprofit Watts of Love. All of the 30 participating designers, from Alessandra Branca to Kit Kemp, have been tasked with creating a unique lampshade for their favorite Vaughan lamp in their local showroom. For each social media post using the campaign's hashtag before October 31, Vaughan will donate one dollar to Watts of Love. The lamps will be auctioned by Christie's online through the platform Charitybuzz.
Office systems and furniture brand Knoll has launched its own scholarship fund as a step toward achieving a more equitable and diverse industry. The Knoll Diversity Advancement Design Scholarships for Black Students will provide tuition awards of $10,000, renewable annually, to five 2021 high school graduates in the U.S. and Canada who will be pursuing design degrees at two- or four-year institutions.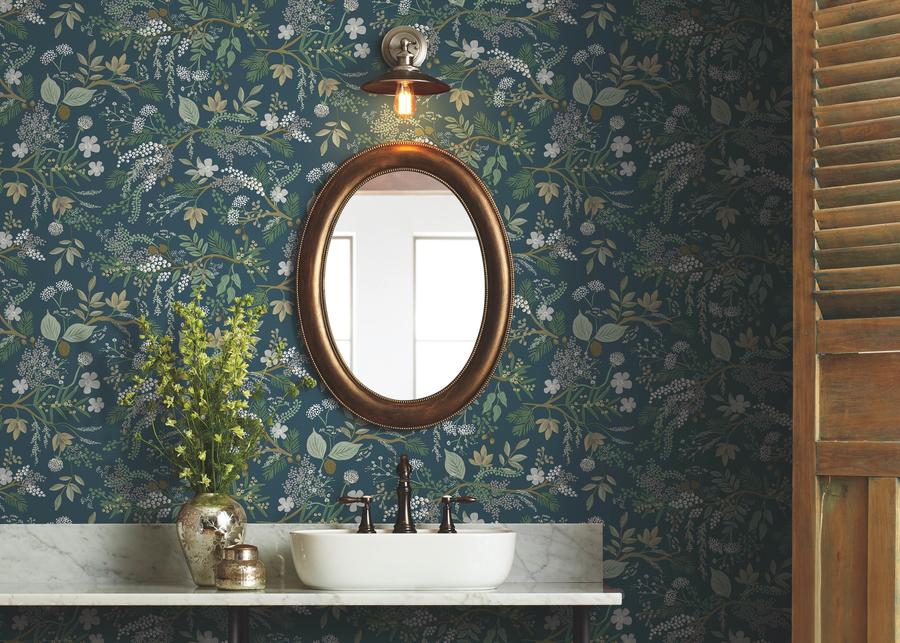 Courtesy of Rifle Paper Co.
This week, two home brands took a step deeper into DIY with lines of peel-and-stick wallpaper: Rifle Paper Co.'s launch comes as a partnership with Pennsylvania-based York Wallcoverings, while heritage design house Scalamandré has launched a collection with NuWallpaper. Rifle Paper Co. will release nine popular patterns, pricing each roll at $50; Scalamandré will release four patterns, ranging from $79 to $99 a roll.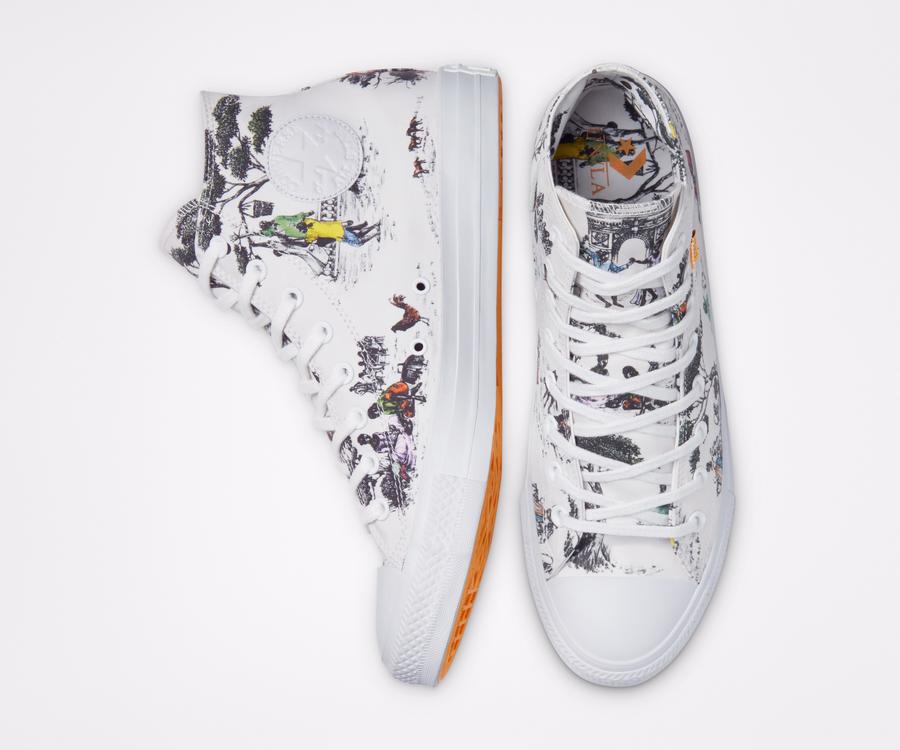 New York–based interior designer Sheila Bridges has launched a line with Converse, bringing her iconic Harlem Toile de Jouy to high-top Chuck Taylors, a sweatshirt and a bucket hat. "[The collection] introduces a new and younger generation to my original design, which addresses stereotypes but ultimately celebrates Black culture," Bridges tells BOH.
Casa Blanca, a New York–area real estate app, aims to use machine learning and insight from local agents to pair buyers and renters, eliminating the need for brokers (and offering buyers up to 1 percent cashback when the property is purchased). While in beta, the app achieved more than $100 million in sales, and is projected to reach $250 million in 2021.
Virgil Abloh's luxury fashion label Off-White has partnered with 1stdibs to release Home, a collection of 80-plus products ranging from ceramic tabletop items to bathrobes and doormats. The collection will be offered exclusively through the 1stdibs digital storefront.
Furniture brand Hem has announced a debut line with British artist Faye Toogood, the Puffy Lounge Chair, available in three neutral colorways. The collaboration plays into Toogood's sculptural talents, offset by Hem's contemporary repertoire.
Pantone has partnered with Swedish feminine products brand Intimina to release Period, a new shade of red, as part of its campaign to end the stigma surrounding menstruation. Laurie Pressman, vice president of the Pantone Color Institute, tells The Guardian: "An active and adventurous red hue, 'Period' emboldens people who menstruate to feel proud of who they are."
CALENDAR UPDATES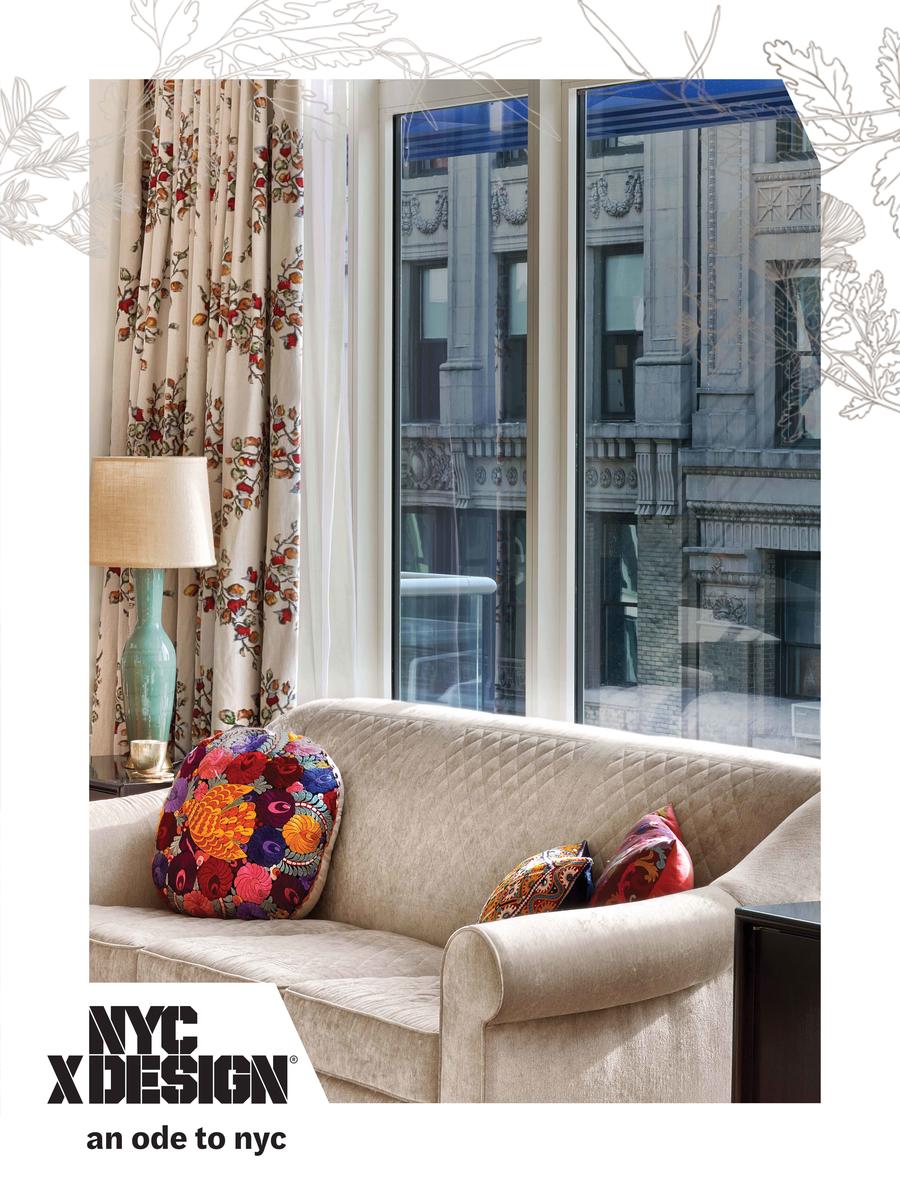 On October 7, NYCxDesign will launch its citywide poster campaign, "An Ode to NYC." This collection of Milton Glaser–inspired posters was created by a fleet of New York designers, and will be posted across the city as a way to foster connection and to support local businesses—the original works will be sold through Poster House, and all proceeds will go to the Black Artists + Designers Guild.
As part of Design Chicago's digital programming this week, Business of Home editor in chief Kaitlin Petersen sits down with acclaimed designer Victoria Hagan on October 8 for an in-depth conversation sponsored by The Shade Store about how building a strong team has been a secret to her success, the important distinction between delegating and being hands-off, and the approach she takes to finding the right clients, vendors and partners. To register, click here.
The International Contemporary Furniture Fair and WantedDesign Manhattan will host a two-day trade event (October 28 and 29) inspired by a TV show format—it will feature programming for product launches, trend direction, and virtual networking experiences.
Due to the pandemic, interior design show I-Made has been postponed—now, in partnership with Artemest, the event has launched as a virtual exhibition under the artistic direction of Giulio Cappellini. Until the end of the year, an online marketplace will showcase the works of over 20 Italian designers, supplemented with virtual talks on IGTV.
RECOMMENDED READING
Across the country, real estate trends have been thrown for a whirl—big-city apartment prices are sliding, and as the summer recedes in the rearview, Americans have been turning to the slopes. In The Wall Street Journal this week, reporter Nancy Keates writes about how home sales in ski resort towns have spiked, but not just for the promise of powder come January. Space, fresh air and mountainous vistas have drawn buyers to places like Park City, Aspen and Jackson Hole.
Tile's long history has been filled with a celebrity cast, from Pablo Picasso and Antoni Gaudí to the breathtaking mosaics of Moorish and Mediterranean architecture. In the Financial Times this week, contributor Jackie Daly delves into a new generation of creatives, street artists and interior designers that are fueling a tile renaissance.
"The coronavirus pandemic accelerated a major shift in the retail industry," writes The Wall Street Journal. "Traffic to stores evaporated." But a small bounceback in consumer spending across retail doesn't make up for the ground lost since the pandemic kicked in. That said, in looking at the changes in weekly foot traffic from a year earlier, one industry is in the green: home improvement. This isn't to say the home furnishings industry wasn't affected, though. In April, as with the majority of retail industries, sales plummeted, and according to WSJ's data, furniture only began seeing positive sales in June, despite the anecdotal evidence that speaks to a spike in home spending.
CUE THE APPLAUSE
The International Furnishings and Design Association's educational foundation has announced its professional grant winners for 2020. This year's recipients include Eric Dolph, assistant professor at SUNY Buffalo State; Kyle Hughes, curator at the American Home Furnishings Hall of Fame; Virginia-based designer Andrea Olsen; Carol Bentel, chair of interior design at New York's School of Visual Arts; and Melissa Blanchenay, southeastern regional account manager for Baer Paint.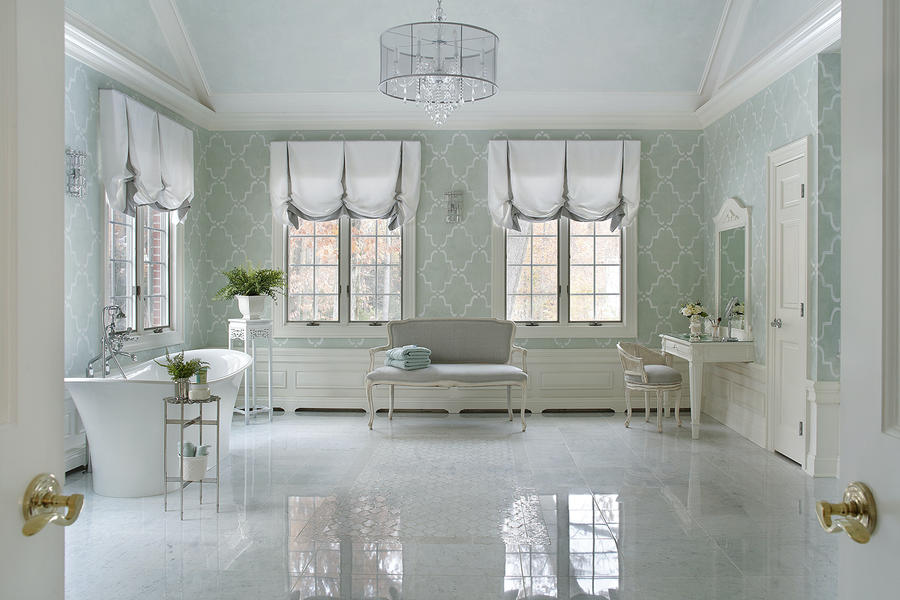 Courtesy of ASID, New Jersey Chapter
The New Jersey Chapter of the American Society of Interior Designers has awarded 17 interior designers a total of 35 prizes in this year's Design Excellence Awards, which included two new categories: Industry Partner and Student.
Multidisciplinary architecture and design firm CLB has been recognized with four awards in this year's American Institute of Architects (AIA) Wyoming Honors and Awards Program. The Jackson Hole–based firm won two Awards of Merit and two Awards of Excellence across four standouts from its residential portfolio.
The International Society of Furniture Designers has named Samantha Fonseca, an industrial design student at Appalachian State University in Boone, North Carolina, as its Foundation Scholarship recipient for the upcoming academic year. The scholarship will help offset tuition and other costs for her final year pursuing a degree in furniture design.
CALL FOR ENTRIES
The National Kitchen & Bath Association is now accepting nominations for 2021 inductees to the Kitchen & Bath Industry Hall of Fame. While nominees don't have to be NKBA members, nominations must be submitted by NKBA members. Nominations will be accepted until October 30; to submit a nomination, click here.
Kips Bay Decorator Show House Palm Beach is returning for its fourth year—designers are encouraged to apply by submitting a PDF of six to 12 images with a single-page bio. To learn more, click here. To submit your application materials, click here.
New York–based historic preservation nonprofit James Marston Fitch Charitable Foundation has opened applications for its 2021 Fitch Fellowships. Until November 6, people are invited to apply for one of three available grants—the Fitch Mid-Career Fellowship, a new Robert Silman Award, and the Samuel H. Kress Fellowship—to pursue their passions in historic preservation practice and theory. For more information, click here.
IN MEMORIAM
On October 4, fashion and furnishings designer Kenzo Takada passed away at age 81 due to COVID-related health complications. Takada's fashion design career began in Paris, with his first collection presented in 1970—less than 30 years later, his brand was sold to LVMH, at which point his career began to extend more markedly into interior design. In January of this year, he opened a furniture showroom in Saint-Germain-des-Prés, solidifying his transition into the industry. This week, The New York Times republished a photo-rich survey of his collected objects in celebration of his life, full of storied ancient objects from all over the world.
Dutch interior designer Jan des Bouvrie passed away on Sunday at the age of 78 after a multiyear battle with colon cancer. The designer was perhaps best known for his iconic Cube sofa, but is also responsible for introducing white, minimalist interiors to the Netherlands. In 2009, the self-proclaimed pioneer of open kitchen designs was named a Knight of the Order of the Netherlands Lion, the country's oldest and highest civilian order of chivalry, after years of teaching and practicing design.
Homepage image: Peel-and-stick wallpaper from Scalamandré and NuWallpaper | Courtesy of Scalamandré