When Harlem-based designer Sheila Bridges first created Harlem Toile in 2006, it was because she wanted to make something that she had never seen before—something that spoke to her personally, a contemporary version of a pattern that could occasionally feel downright dusty. In her version of the toile du Jouy, 18th-century European pastoral images are exchanged for scenes that satirize depictions and stereotypes of African-American life. "While her characters are performing everyday activities such as shooting hoops, dancing to a boom box, or playing double Dutch, the figures are all dressed in 18th-century attire, which creates a fun and contemporary interpretation of a centuries-old style," writes Gregory Herringshaw, the assistant curator in the wallcoverings department at the Cooper Hewitt Smithsonian Design Museum, where the pattern is part of the permanent collection.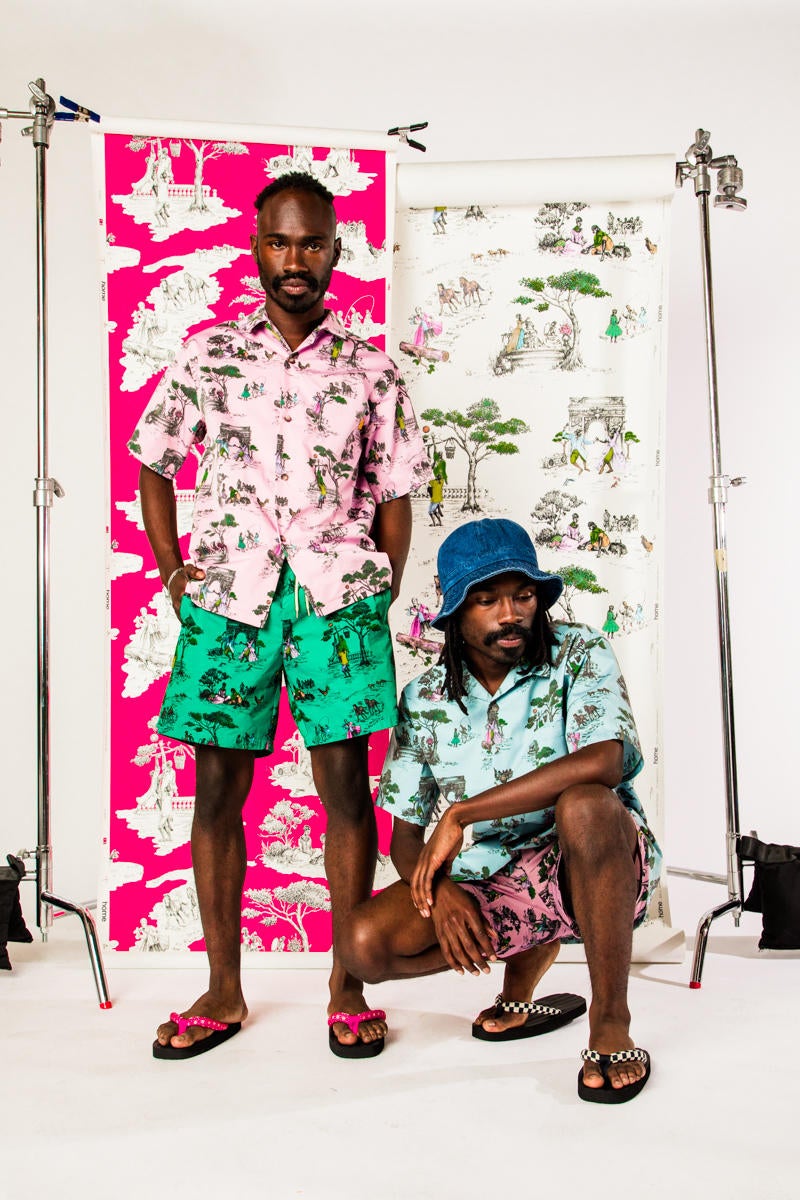 Notably, the pattern was originally intended for her own home, which she then shared with a few high-end residential clients. But it quickly appealed to a wider audience. Thirteen years later, Harlem Toile has been produced in many mediums, from bedding and fabric to wallpaper, plates, glassware and umbrellas. Now, fans of the pattern can wear it, too, as part of Los Angeles– and Tokyo-based streetwear brand Union's latest menswear collection. (At least, patrons can wear it more easily—one devotee actually converted a set of sheets into a wrap dress. Inventive, but not wholesale.) The clothes are available at Union's shop in Los Angeles as well as online and in-store at Nordstrom. The Harlem Toile wallpaper serves as the backdrop, setting the scene for each pop-up. Prices range from $55 for a Harlem Toile T-shirt to $280 for a Toile Hawaiian shirt.
"I love giving [Harlem Toile] legs and letting it be a part of a design that comes to life in different ways, forms and shapes," Bridges tells Business of Home. "Design has become so much more fluid and interdisciplinary, so it's hard to separate interiors and fashion and graphics. All of design is just this big umbrella, all of these things sort of connect to one another."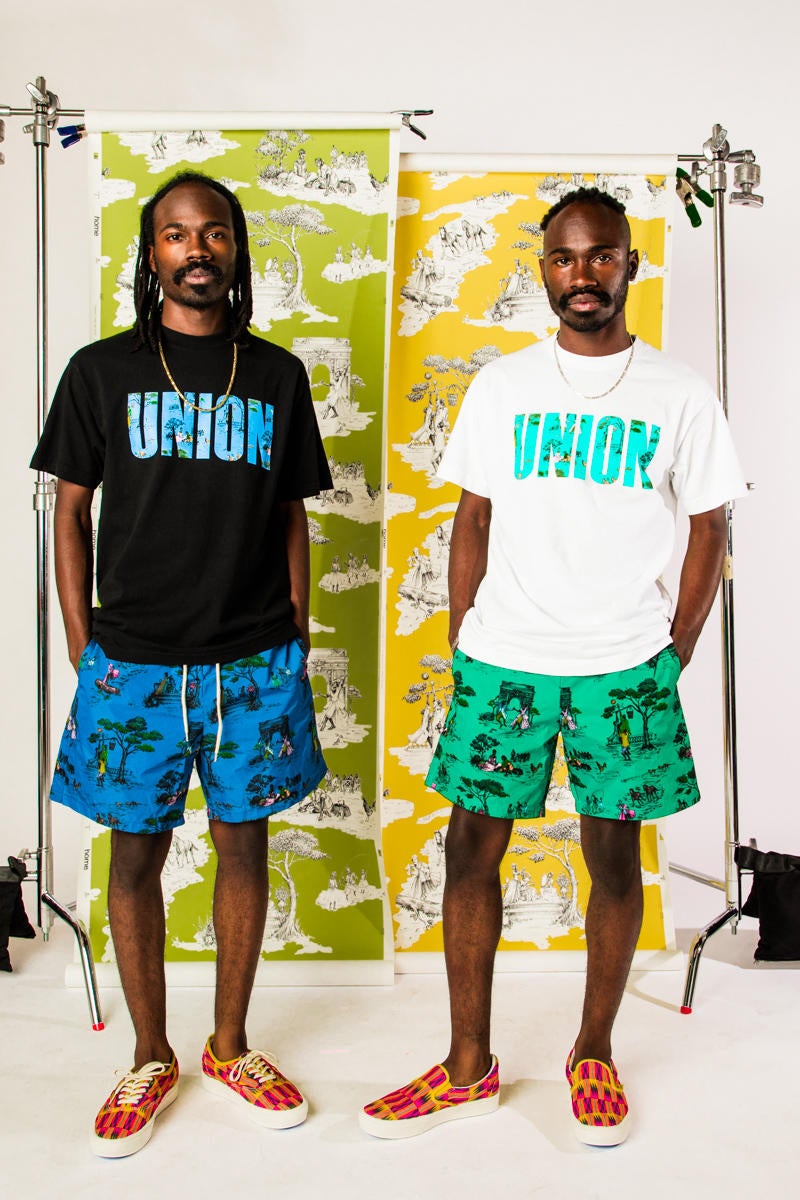 The synergy of the industry is all well and good, but why does Harlem Toile, with its sociopolitical message, resonate with so many? Bridges believes that in 2019, perhaps more than in 2006, the pattern is undoubtedly present. "Given where we are in the world right now, I think that's part of the reason why it's still relevant. This is something most African-Americans understand," she says. "And I think that [Harlem Toile] spoke to Chris [Gibbs, co-founder of Union]. He's African-American, his wife is African-American. It's about trying to mix it up and do things that are interesting and thought-provoking. The design doesn't have to be for everyone, but I think if you get it, it really resonates."
When Gibbs approached Bridges on the collaboration last year, the conversation started with just a request for the wallpaper to go up in Union's Tokyo shop, reported Elle Decor. It grew into more, fast. Bridges described the button-down shirts, shorts and T-shirts as "a very fresh approach to menswear," and it reminded the reporter of one of Bridges's first careers, as a fashion designer working in menswear before starting her eponymous firm in the early 1990s. Union's followers don't typically overlap with the designer's clients, so it's nice to bring the pattern to a new audience, one that embraces bright colors regardless of gender identity.
But don't consider this new collection Bridges's grand return to the second-most-stylish industry. "I feel like the possibilities are endless," she says. "I love collaborating with other people, other brands—the relationships are really fun. And as I'm getting older, I'm looking to have more fun. That's for sure."