Scalamandré has scooped up Hinson, a fabrics, wallcoverings and lighting brand founded by the late home furnishings icon Harry Hinson in 1971, in the same Chapter 7 bankruptcy auction on August 7 that saw Kravet acquire Donghia's assets.
Court documents show that Scalamandré purchased the entirety of Hinson's assets, including intellectual property, trademarks and designs, current and discontinued inventory, lighting, and archives, for a winning bid of $325,000. Four other companies participated in the auction, which started with a stalking-horse bid placed by Quadrille (Harry Hinson was among the company's co-founders in 1969); North Carolina–based interior designer Traci Zeller was the auction's runner-up.
For Scalamandré, which recently repositioned itself as The House of Scalamandré, the Hinson brand has a simpatico heritage while bringing a decidedly contemporary note to its family of brands, including Old World Weavers, Grey Watkins and Boris Kroll. "With our new strategy as The House of Scalamandré, we are continuing to strive for a complete, diverse assortment," said company CEO Louis Renzo in a statement. "The Hinson wallcoverings and fabrics, along with their amazing lighting, are differentiated from our other offerings, but have a unique and compelling story like our core brands."
The Hinson & Co. brand name and some of the company's designs was acquired by Donghia in 2014, after the company had already been distributing the line for several years. "In an effort to keep the brand alive, we recently agreed to an assignment of the Hinson trademark with the intention of editing the line and possibly relaunching some of Hinson's historic bestsellers," Donghia's then-president and CEO Andrea Favaretto Rubelli told Fabrics & Furnishings at the time. (In a small-world twist, Hinson had been acquired in 2010 by the then-owners of Brunschwig & Fils, which was subsequently purchased out of bankruptcy by Kravet in 2011.)
The Donghia brand—itself the nameplate of legendary designer Angelo Donghia—was purchased in 2005 by a consortium of companies led by Italian textile company Rubelli, which at the time saw the brand's network of showrooms as a clear path to showroom distribution throughout the United States.
After abruptly closing all nine of its showrooms and firing most of its staff in March, Donghia filed for Chapter 7 bankruptcy. (Unlike a Chapter 11 bankruptcy, which focuses on reorganization and continuity of some business operations, a Chapter 7 liquidates assets to pay as many creditors as possible.) According to documents filed in Connecticut District Court in April, the company estimated that it owed between $10 million and $50 million to more than 1,000 creditors, including design centers where it had operated showrooms and a long list of top interior designers. At the time of filing, Donghia valued its assets at between $1 million and $10 million.
The brand's history was a key part of its appeal. "Since my father and uncle bought Old World Weavers and Grey Watkins, they instilled in us a responsibility to our industry to maintain the legacy of great and influential designers," said Chad Stark, president of The House of Scalamandré, in a statement. "With the utmost respect for the brand's history and aesthetic, the addition of Hinson to The House of Scalamandré umbrella supports those same morals that have been instilled in our family, and we are excited for the opportunity."
Scalamandré plans to pick up where Hinson left off before the Chapter 7 filing, moving Hinson's inventory into its warehouse, going through customer records and fulfilling orders. "The best way to maintain the brand's integrity is to take care of the designers that got put in a difficult situation [when the company filed for bankruptcy] by making sure their orders, if they still want them, are fulfilled," Stark tells BOH. "That's our first focus before we introduce anything new."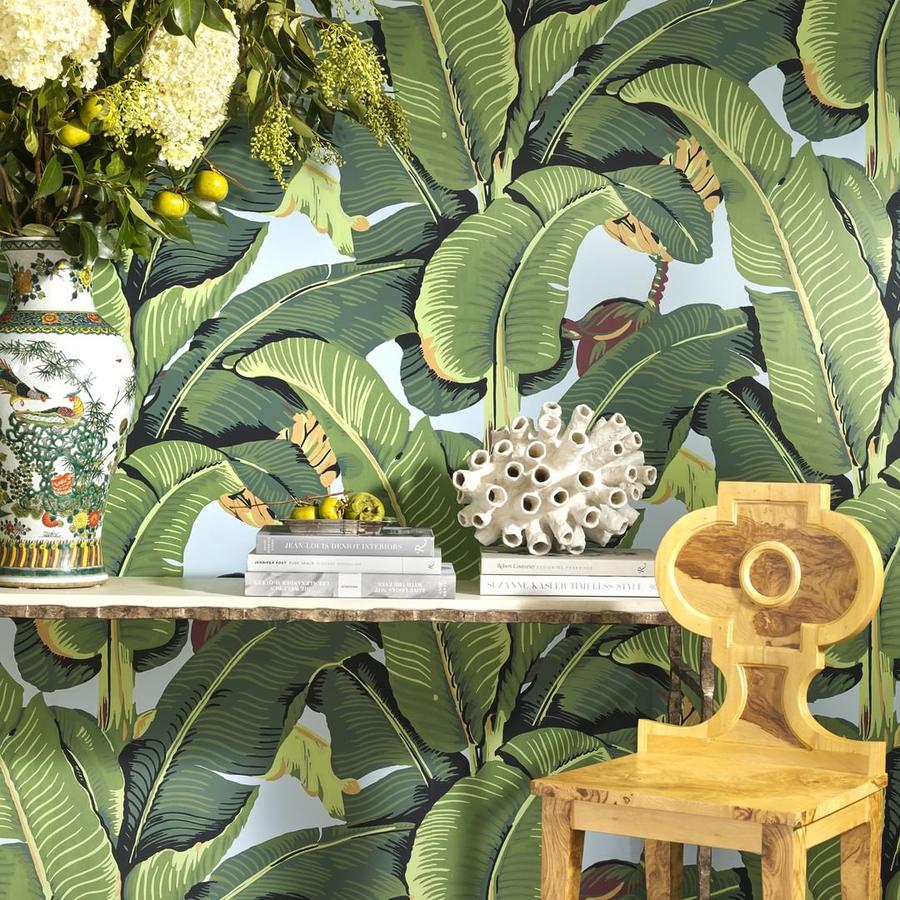 Courtesy of The House of Scalamandré
Ultimately, though the line may get a branding refresh, the focus will be on paying homage to the company's history and heritage. In the meantime, designers can expect to see some of the most iconic and bestselling Hinson wallcoverings and fabrics displayed and sampled in Scalamandré showrooms as early as this fall. "We want to make sure the stuff they were known for is available in our showrooms as soon as possible," says Stark. "We're focusing on that before revitalizing and reintroducing the brand, and then anything new will be building on top of that to create a more comprehensive assortment."
Scalamandré also bid on the Donghia brand in last week's auction; the brand ultimately sold to Kravet Inc. for $1.4 million. According to Stark, either brand was well-positioned to add a contemporary note to the company's collections. The acquisition is part of the company's larger strategy of establishing itself as a family of brands. "About a year ago, we decided to move forward with The House of Scalamandré strategy with the goal of developing more comprehensive offerings across styles and product categories," says Stark. "Right now, from a style perspective, we needed an owned brand more focused on contemporary—that's where Donghia or Hinson made sense [within our portfolio]."
He sees the acquisition of Hinson's lighting line as especially advantageous. Scalamandré recently began distributing the lighting line Bella Figura, which had previously been represented in Donghia showrooms. "Now, with Hinson Lighting, we can make a more serious run into the lighting category," says Stark. "Between our combination of road sales, showroom distribution, and now Bella Figura and Hinson, I think we will have a very compelling lighting offering for the design community."
Beyond distributing Hinson's iconic patterns or growing the company's lighting business, Stark says the move to buy the Hinson brand is also about the protection and preservation of history. "Stark and Scalamandré have the responsibility of ensuring that what makes the design industry so special continues to flourish," he says. "In the world we're in now, so many companies are not doing well. We need to make sure we can band together with those industry friends that continue to provide value to professional designers so that there's always an advantage to using a designer over going retail."
Homepage photo: The Hinson pattern Boom Bloom | Courtesy of The House of Scalamandré