A designer shopping in a Mitchell Gold + Bob Williams store in November might have noticed something new: seven books of Kravet fabrics on offer. The partnership between the two brands, which quietly debuted several months ago and officially launches this year, brings more than 340 of the fabric house's colors and textures to the Mitchell Gold + Bob Williams stable, amplifying the retailer's textiles offering in a significant way.
"Our desire to have this partnership with Kravet was based upon a deeply rooted foundation with interior designers around the country," says Allison O'Connor, who became CEO of Mitchell Gold + Bob Williams in June. "We knew the beautiful design and quality Kravet offers would really resonate with our interior design partners—and it has."
"It's easy to do business with good people, so the decision to partner with Mitchell Gold + Bob Williams was a simple one," adds Kravet president Cary Kravet. "Commitment to good design and the paramount importance of customer service are shared values of both of our companies. We know that interior designers are looking for personalization and customization, and we believe this partnership fills a need for our customers by bringing the luxury and quality designers expect from our brands."
Though the collaboration also makes Kravet's textiles available to Mitchell Gold + Bob Williams retail customers, the early response to the collaboration suggests that designers are the most eager audience for a partnership that delivers to-the-trade textiles on a quick-ship timeline. BOH caught up with O'Connor and Mitchell Gold, the company's chairman and co-founder, to find out how they approached the collaboration.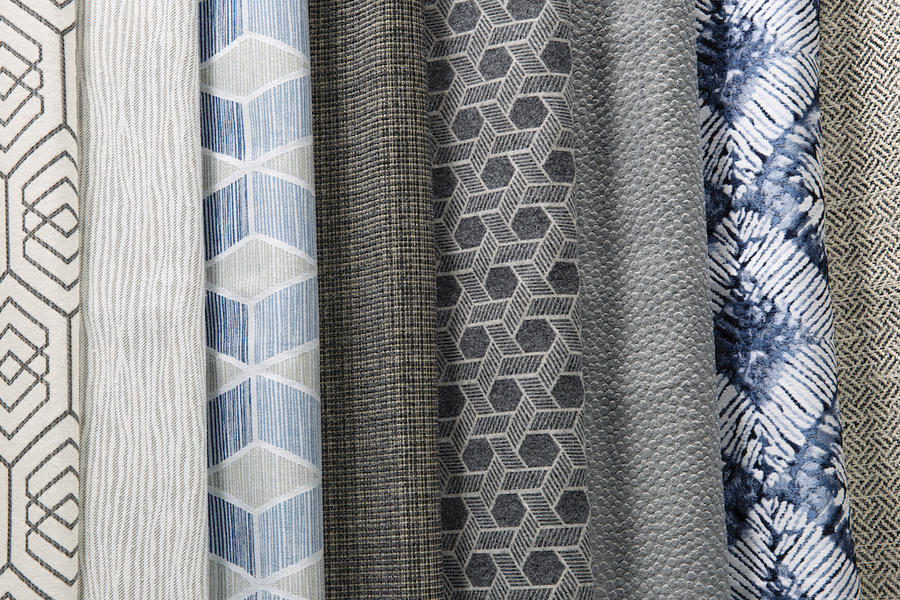 Courtesy of Mitchell Gold + Bob Williams
These fabrics have been soft-tested in your stores since November. What have you discovered about the partnership in that time?
Allison O​'​​​​​​Connor: The interior designers we work with have really embraced this extensive introduction. In addition, we've gotten a very good response from our retail customers. You can imagine, adding that number of fabrics—and then within that, we've got 193 performance fabrics—it's resonating at a very high level. It has allowed us to offer a lot more texture and in a lot of different color palettes—colors that we certainly had an offering on, but not at the strength that Kravet represents.
Why was Kravet the right partner? When you were exploring options in the marketplace, how did you know that they were it?
Mitchell Gold: At one of our meetings, we challenged everybody to come up with a big idea. This one started with our vice president of fashion direction, Leslie Stoll. She had been thinking about how we can serve our interior designers—not just better, but better than any of our competitors. She looked to the Kravet line because they have very beautiful, upscale patterns and textures, and also because it's a company that has the same ethos we do, the same dedication to customer service; on-time, quick delivery; quality; and standing behind your product. So it was such a natural fit.
How did you curate the Kravet offerings that made the most sense for you?
Gold: Leslie led it with Bob [Williams, the company's co-founder and president of design]. I was involved. There were a lot of people combing through lots of fabrics. But I think what was exciting is that Kravet was such a great collaborative partner to develop the collection—deciding what the assortment would be. There are seven different books: six books by color and one book of all velvets. It's a wide array of colors.
We obviously have some history with our interior designers—the things they buy from us, and the COMs that they use on our pieces. This is kind of like a great COM program that doubled our offerings to them.
And a lot of the fabric in those books are performance fabrics.
Gold: So many customers today want high-performance fabrics, and of the 340-plus fabrics from Kravet, 193 of them are high-performance. It gave us an opportunity to have a much bigger range of high-performance in a beautiful, quick way.
O'Connor: It's bringing that luxury and quality combined with performance. Not long ago, performance fabrics didn't have that luxurious hand-feel, and what Kravet's been able to do really sets them apart. And it's definitely in keeping with our ethos, right? We believe that we create beautifully styled furniture that is truly comfortable for all. So that unique combination is something that we're really excited by.
You mentioned COM orders from designers as a good barometer of what they're looking for. Why is this program a good alternative for them?
Gold: In the scheme of our entire business, COM is small, but for our interior designers, it's a decent percentage. But one of the things we heard from designers was [frustration] with the whole process of ordering a fabric, getting it shipped in, and looking at it [before sending it to us]. This has eliminated days and weeks from the delivery experience.
So it's about speed.
Gold: I was in our SoHo store in April and an interior designer came in and said, "My client wants their whole home furnished by Memorial Day." We're able to do that. And this is one more ingredient to give them much faster delivery than they get with anybody else.
On the logistics side of that, are you stocking the Kravet fabrics?
Gold: No, they're stocking it, but we get it within a couple of days.
O'Connor: It's a very streamlined process. While we were selecting the fabrics, the logistics and manufacturing teams on our end and at Kravet were working seamlessly together. And we're happy to say that the initial orders have been going through seamlessly. So that is also a competitive advantage, and something that's really important to our trade clients. A lot of the work that's been required on the trade side, we're taking it on our side. It's a way to continue developing these very important relationships that we honor and respect.
I know it's early to ask, but what's next? Where could a collaboration like this go, and what are you hoping for from the partnership?
O'Connor: This isn't something we see as a seasonal collab—it's a long-term partnership between the two brands. As Mitchell said, we didn't just throw a name in the air. We did a lot of due diligence and truly feel that there's so much synergy between us. Where it goes from here, I think it is a pretty open book—and one that we'll continue to learn from and massage to create additional opportunities.
Gold: We think of suppliers very carefully and very long-term. So many of the suppliers that we started our business with 30 years ago are still our partners today. We build relationships with them, because that is how you get consistently good quality, consistently on time—by having a great, consistent supplier base. We've been doing business with Kravet for years, but this was really an opportunity to jump up and do something bigger, and have something even longer-term.
Homepage image: Courtesy of Mitchell Gold + Bob Williams