B&B Italia, one of Italy's most well-known high-end furniture makers, is entering a new chapter. In 2019, Giorgio Busnelli, son of founder Piero Ambrosio Busnelli, stepped aside as chairman, ending 53 years of family leadership. (He was replaced by Gabriele Del Torchio, the CEO of Design Holding, the luxury conglomerate that owns B&B Italia.) After a year with a new name at the top of the business side, the storied brand has fresh leadership on the creative front as well; last month, architect and designer Piero Lissoni was appointed artistic director of B&B Italia.
Lissoni embodies a very modern, broad-scope definition of the title "designer." Over the course of a much-lauded career, his firm has created everything from corporate branding to private villas, factories and yachts. In recent years, he has focused more on crafting contemporary furniture, working with everyone from FLOS to Knoll (in addition to creating a few recent collections for B&B Italia).
A veteran with ample experience in the world of Italian design, Lissoni is known for his clear-eyed minimalist design and irreverent sense of humor (in the press release announcing the news, he joked that he had gotten the job because of his good looks), making him a natural choice for a brand looking for a mix of stability and forward thinking. Via email, he told Business of Home about his plans for B&B Italia.
What are you most excited about doing first? What's going to be the hardest part about the job?
When I begin a new project, I feel the same enthusiasm as a child. Being art director means being one of the public faces of the project, but things always exist in a context of complex relationships and are the result of good teamwork. Creativity requires collective thinking, and I am very excited by the idea of starting to work with this new team.
Given the history of B&B Italia, it will be a great challenge, but I count myself very lucky because the work that [former artistic director] Antonio [Citterio] did for B&B Italia was truly wonderful. My work will be more a question of fine-tuning, drawing out even more its penchant for the contemporary, for which it is well renowned.
You were once interviewed about your work with Knoll and you said collaborating with a brand is a bit like a love affair—which makes me wonder if becoming artistic director is like getting married. What made you fall for B&B Italia?
On the one hand, it was without doubt its history, made up of great names, collaborations and beautiful pieces. But it was also the way it looks to the future: a highly technological company that allows you to experiment, explore, and work with state-of-the-art instruments.
What direction does B&B Italia need to go in over the next few years? What will we see more of from the brand?
I want to work on the contemporary element.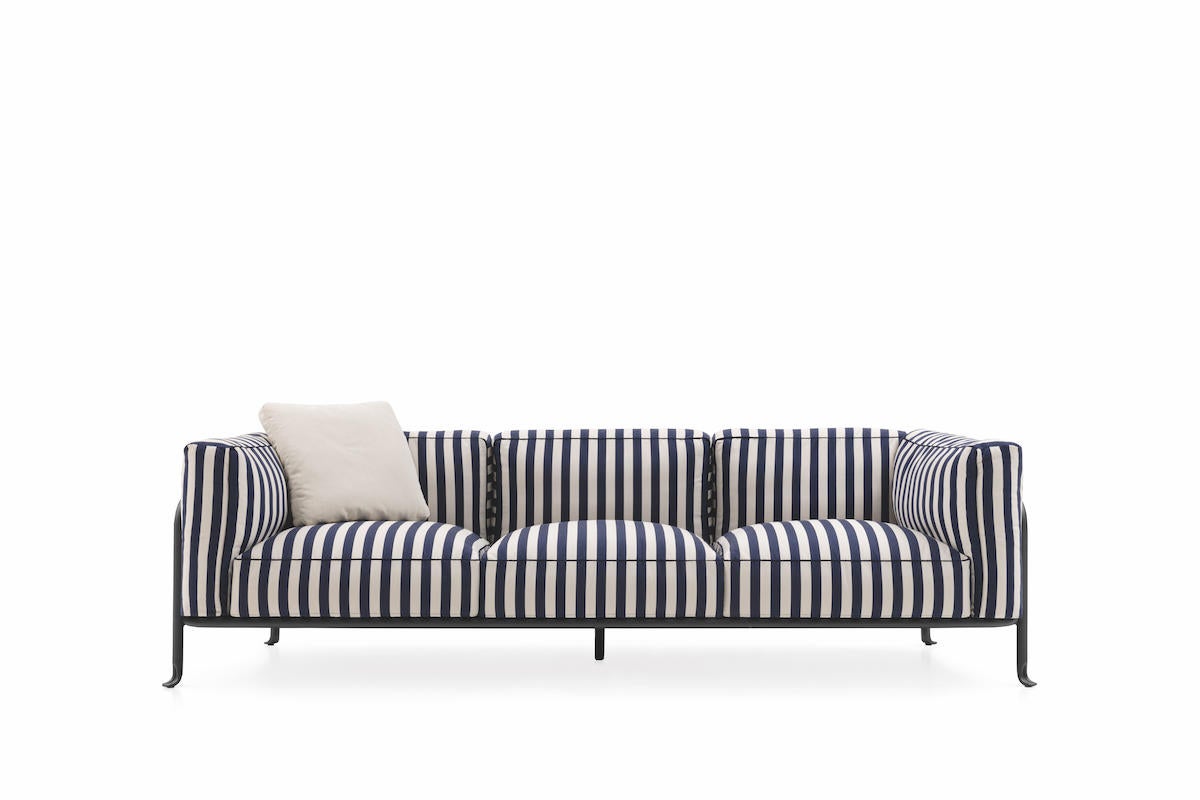 I wonder if you have any thoughts about the American market in particular. In your experience, is there anything surprising about the kinds of things American interior designers are drawn to?
I would say that there is a cultural difference that arises from the different training and methods. Ours is a holistic approach, very humanistic. Normally, the architect who designs the building also designs the interiors and the furnishings, or at least is used to thinking in this way.
On the other hand, [American] interior designers find themselves faced with the "architectural box" already done and they must work within that. There are architects who sometimes try to mesmerize with a surprising look, showing something "strong," while we work more on the detail and achieving a harmony of all the constituent parts.
Last year, we wrote about a study by a designer, Jomo Tariku, where he analyzed all of the major furniture manufacturers in the world and found that they had collaborated almost universally with white designers. I'm wondering if you have thoughts about the racial homogeneity of the furniture design world, and if that's part of the conversation when you look at whom to collaborate with and hire at B&B.
Being a designer is a profession that requires discipline, lots of curiosity and the willingness to take on great responsibility. I'm interested in whether a designer is any good, regardless of where they are from, their gender or the color of their skin.
The design world can be perceived as very serious, but you have a great sense of humor. When does a light, funny touch serve you well in the industry? When does it get you in trouble?
Being an architect or designer requires a great deal of discipline, and here, there is no room for a sense of humor, but when you start thinking about yourself—when you see yourself a little removed from your physical being—then you can really use your sense of humor, you can see yourself as a person and someone to poke fun at.
I find it really annoying that in our world, many designers take themselves too seriously and have no sense of humor, above all with regard to themselves. But we are human beings with the ability to see things, do things, get them wrong, sometimes intentionally … and it's here where you have to be particularly good.
Homepage photo: Piero Lissoni | Courtesy of B&B Italia