Thanksgiving is just days away, and while grocery lists are finalized and finishing touches put to tablescapes, our team at Business of Home is wishing you a wonderful holiday. Until then, stay in the know with our weekly roundup of headlines, launches and events, recommended reading, and more.
BUSINESS NEWS
Last week, HomeAdvisor released its 2020 State of Home Spending report, which details the amount of money that's been spent on different types of home projects, based on data collected from 5,000 Americans. This year, total spending on household projects increased by more than $4,000 per residence to an average of $13,000. Bathroom remodels, interior paint jobs and new flooring were among the top three project types across the survey. In terms of shifts in overall spending patterns, 33 percent of people shifted commuting budgets toward home spending, 48 percent shifted vacation budgets, and 52 percent shifted restaurant budgets.
Large retailers like Bed Bath & Beyond and Kohl's are scaling back their SKUs, reducing the number of options in order to combat decision paralysis, reports the Wall Street Journal. "With choices overwhelming shoppers and clogging supply chains, some brands are moving in the opposite direction," writes retail correspondent Suzanne Kapner. Not only do these companies hope that a "less is more" approach will boost sales, but they're hoping that the number of end-of-season markdowns will fall.
The deluge of "early" Black Friday e-blasts and promotions are a harbinger of yet another pandemic-altered norm: This holiday season promises to be more powered by online shopping than ever before. The New York Times reports that empty stores are transitioning into fulfillment centers, and the market for warehouse space is on the rise—is this the future of holiday gifting? Using Macy's as a case study, NYT details how certain changes to the retailer's model will be lasting ones, from expedited fulfillment timelines to free shipping. "COVID has pulled forward five years of fallout into an 18-month period," said Vince Tibone, a senior analyst covering retail for Green Street.
Fashion is closing in on the home space (again). A number of fashion labels have developed ambitions in the home industry, hoping to capitalize on pandemic-era tastes and spending habits—but as Business of Fashion reports, the logistical differences between the two industries pose a significant learning curve to these newcomers. "The [home] industry operates with longer lead times and different processes of development, production and quality control," writes Tamison O'Connor. "Plus, consumers who swap wardrobes from season to season might want to eat off their Dior plates for years or even decades; functionality matters as much as design." But for many of these labels, introducing home goods into their portfolio creates a new point of entry—especially from a price standpoint—for consumers to engage with their product.
Last week, NYCxDesign announced its new nonprofit status—a definitive step in the organization's transition as it works to support the New York design community. As a not-for-profit corporation, NYCxDesign will continue to expand upon its long-term objectives to showcase the city's rich design leadership, working to further engage and educate the public.
A few weeks ago, Facebook Inc. rolled out an update to the Instagram interface, and users are not happy about it. As Inc. explains, software developers typically alter app design to benefit the user, but "in this case, the change made it harder to use Instagram and did it for the sake of making Facebook more money," writes tech columnist Jason Aten. Instagram's update has conspicuously placed its Reels and Shopping features in the main toolbar of the app, which, since its launch in 2010, has been where users go to create a new post. The update not only takes advantage of its users' motor memory to generate revenue, but also represents a step away from Instagram's core purpose as a platform to share photos. "Facebook took the patterns and routines a user has when sharing photos to Instagram, and swapped out those buttons for ones that make Facebook money," Aten writes.
Last week, Melania Trump announced that the White House Rose Garden would be gifted "Floor Frame," a 1962 work by the contemporary sculptor Isamu Noguchi. The sculpture's inclusion marks a historic moment in Asian-American cultural history, reports The New York Times. "Unfortunately it comes at a complicated moment," says Brett Littman, the director of the Isamu Noguchi Foundation and Garden Museum, citing the election. "But the key for us is that this will be on display in perpetuity at the White House. Administrations come and go, but artwork remains. We do feel proud, and we think Noguchi would feel proud as well."
Buzzfeed News last week reported that Sherwin-Williams fired part-time employee Tony Piloseno after discovering his viral TikTok channel, @tonesterpaints. The Ohio University senior had been working at a Sherwin-Williams store in Athens, Ohio, for three years as a senior sales associate when he began recording videos of himself mixing paint. After they started going viral, Piloseno pitched the videos as a potential marketing strategy for the company, but his proposal was dismissed. A month later, he was fired. But he isn't finished yet—he's still making paint-mixing videos (he now shops at Lowe's) and is developing his own logo in the hopes that he will one day develop his own paint colors.
According to a survey of 1,006 adults conducted by self-storage startup Neighbor.com, more than 20 percent more Americans plan to relocate in 2021 than 2020, but the majority don't cite safety concerns as their primary reason. According to the survey, while 18 percent of respondents say that the new job flexibility allows for their relocation, lowering the cost of living is the primary motivator.
LAUNCHES, COLLABORATIONS & PARTNERSHIPS
Interior Design magazine and the IIDA have announced a joint inclusivity initiative called DesignUnity, which champions racial equity, diversity and inclusion in the design industry. Beginning on December 4, the initiative will launch with a virtual panel discussion dedicated to the open dialogue of design's role in addressing social justice issues and the lack of representation in the field. In addition to DesignUnity, the IIDA is developing the Talent Collective, an active network of diverse design professionals that will promote equity and inclusion, facilitating opportunities and professional development.
In light of ongoing shifts around the pandemic, High Point Market Authority is supporting a number of initiatives that will allow designers to shop nearly 100 exhibitors off-Market. From December 1 to 5, High Point x Design will host Cool Yule, a holiday shopping event, showcasing the collective's 18 members; the 38 brands that form the High Point Showroom Association will hold their Design Holiday Market event on December 2; and a group of 76 exhibitors have committed to open on December 2 and 3 as part of a First Tuesday shopping initiative. All exhibitors will strictly adhere to CDC and North Carolina Department of Health and Human Services guidelines, with HPMA-issued wristbands for daily health checks.
Floor covering manufacturer Fame Hardwood has announced a partnership with Kathy Ireland Worldwide on a line of wood and vinyl floors. The collection will be sold exclusively through Houzz.com; for every acre of flooring sold, Fame Hardwood will plant an acre of trees through the National Forest Foundation.
British wallcoverings company Surface View has collaborated with London's Victoria & Albert Museum to release a collection of wallpapers and prints that bring fine art into the home at a time when museum traffic has seen such a dramatic decline. Featuring largely floral and natural motifs, the collection draws from both historical artworks and the works of contemporary artists who found inspiration within the walls of the museum.
The Shade Store has announced an exclusive collaboration with placemat and rug manufacturer Chilewich, offering the company's weaves in its first-ever line of blackout roller shades with The Shade Store.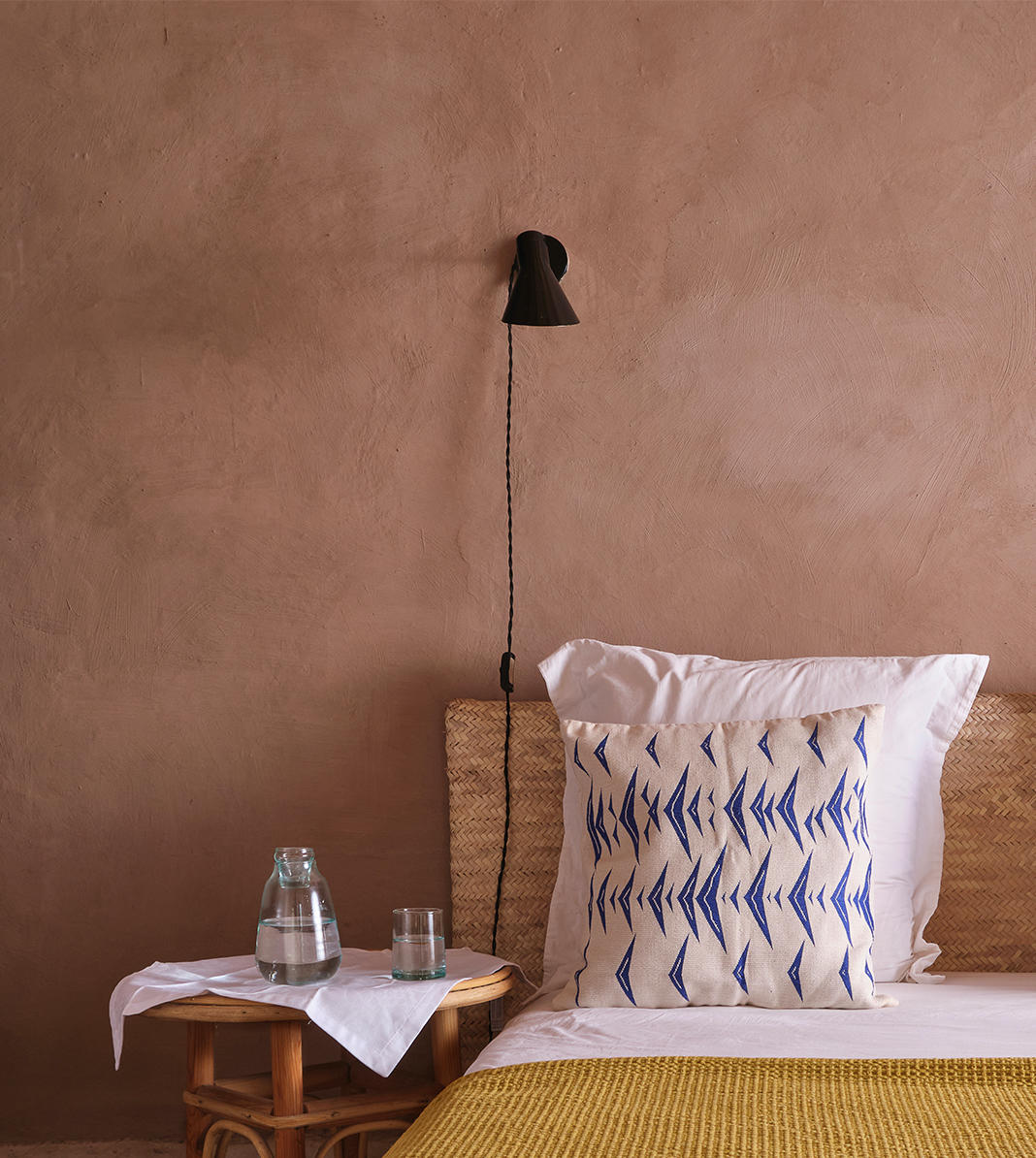 Revival Rugs has launched its first tabletop collection, featuring Moroccan glassware, table runners, cushions, placemats and baskets—all in keeping with the brand's focus on balancing handmade, heritage goods and sustainability.
SHOWROOM REPRESENTATION
Phillip Jeffries has announced that it will part ways with Holly Hunt/Knoll in January 2021, marking the end of a 14-year partnership. As part of the transition, Phillip Jeffries will be exclusively represented by its locations in Miami, Minneapolis and Washington, D.C., with the Chicago and Los Angeles territories to follow on April 1. Come spring, the wallcoverings brand plans to open two new showrooms, one at the Design Center of Hollywood in Florida and another at the Pacific Design Center.
RECOMMENDED READING
What can we expect from a post-COVID real estate market? The New York Times this week points out that priorities have shifted in the residential sphere—location matters less, having enough space is paramount, and peace of mind moving from lobby to living room is one of the marked shifts since the pandemic set in. For those in apartments, maximizing all of those considerations is the name of the game, and technology is here to help. From mechanized transforming furniture to bed frames suspended from the ceiling, the future of city living is here, and it's really cool.
It's a common plight among design-conscious renters—it can be difficult to justify renovations and home improvement when you don't own the property. And in the year of the home, a slew of millennials are grappling with conflicting feelings of "nesting fever" and pandemic-era budgets. In The Wall Street Journal this week, writer Julia Carpenter picks apart this of-the-moment dilemma.
CALL FOR ENTRIES
The American Home Furnishings Hall of Fame Foundation Future Leaders distinction has opened its call for nominations from now until January 15. Future Leaders honors individuals for their leadership, personal growth, communication skills and commitment to the design industry. To nominate a Future Leader, click here.
Knoll's Diversity Advancement Design Scholarships for Black Students is accepting applications from now until January 14. The program will provide individual tuition awards of $10,000, renewable annually, to five high school graduates in the class of 2021, to support the next generation of Black architects, designers and industrial and architectural engineers. Applications are available here.
The Ceramics of Italy Tile Competition is officially accepting submissions for its 2021 edition. After 28 years honoring North American architects and designers for their creative use of Italian tile, the Confindustria Ceramica and the Italian Trade Agency are excited for the upcoming edition, announcing two new categories: single-family and multifamily residential spaces. Submissions will be accepted until March 1, 2021; to learn more about the competition, click here.
Homepage image: A table set with pieces from Revival's debut tabletop collection | Courtesy of Revival Rugs