It was only five minutes into my conversation with TikTok influencer Annika Hinds that she completely shocked me. Hinds, a college student studying photography in Portland, Oregon, makes upbeat design-themed content with a thrifty DIY bent, under the name Blondesigns. On TikTok, she has 684,000 followers, and many of her videos have millions of views. I asked her how long it had taken her to amass her audience, expecting to hear that it had been a couple of years.
"Four or five months?" she replied. "I started doing it at the beginning of COVID."
Such is the hyper-accelerated world of TikTok, where virality can strike almost at random, elevating creators and their content with lightning-quick speed. TikTok has made underground songs into global hits, minted internet stars, and generated political controversy—most recently when Trump threatened to ban the app, only to back down as Microsoft looks to purchase it. But, for all the hype and headlines, is there an opportunity for designers?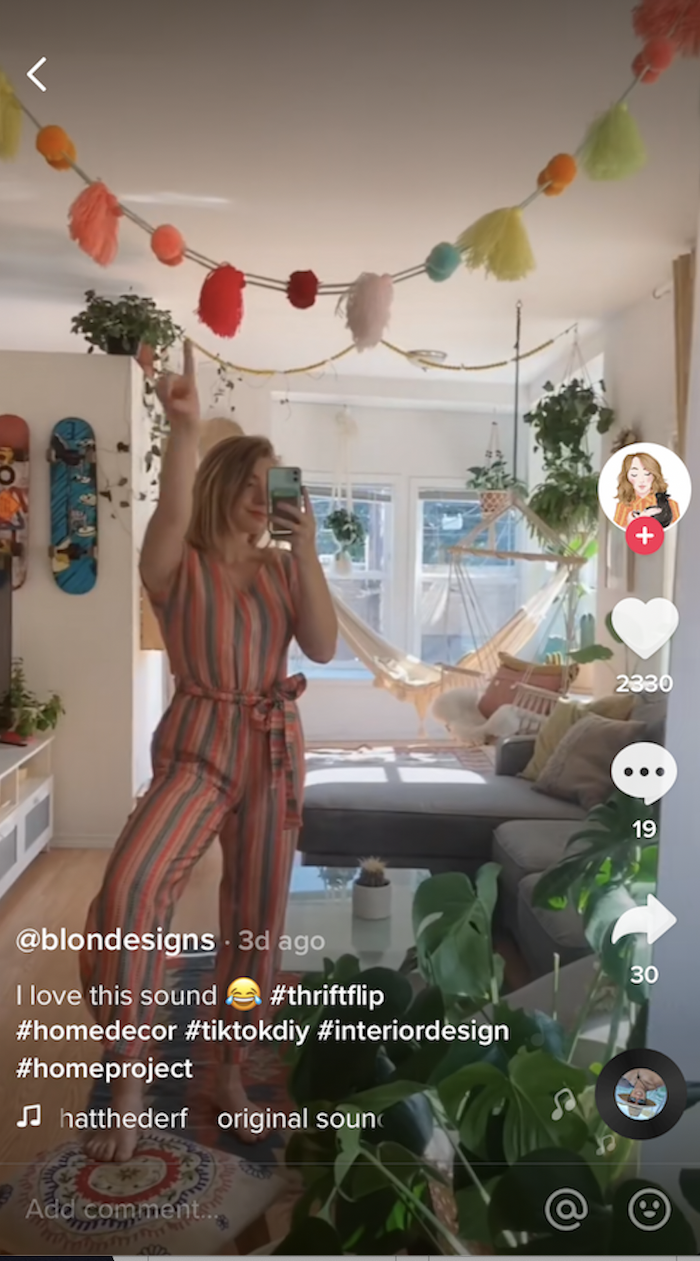 For the uninitiated: TikTok is a video-only social media platform where users post 60-second clips, aided by a suite of fairly sophisticated production tools. On TikTok, it's easy to make yourself look giant, or tiny, or create multiple versions of yourself, or make it appear as though you're lip-syncing to Taylor Swift, surrounded by flames. Think of it like Instagram stories on steroids.
But the differences between TikTok and Instagram go beyond technology. TikTok has a different vibe—the content is more creative, playful, and often sillier than Instagram. The audience is younger, too, with 69 percent of the app's users made up of 13- to 24-year-olds. No surprise then that much of what explodes on TikTok skews young: dances, funny animals, lip syncs, stunt challenges, and layered memes that are impenetrable for anyone over 30. Affluent homeowners are in short supply.
In addition to demographics, the fundamentals of the platform—all video, all vertical orientation—can be challenging for designers. The basic unit of design social media content, a still image of a painstakingly manicured room, is not likely to go far on TikTok. A lack of obvious opportunity and some basic obstacles have thus far kept most designers away.
However, design is beginning to pop up on TikTok. Alice Hall, an entrepreneur based in Newcastle, England, started using the platform to promote an e-design business she started earlier this year, Rowen Interiors. Like Hinds, Hall found a large audience (124,500 followers) fairly quickly. "I was mainly sharing my own home—snappy, short content," says Hall. "Then I got virality on a video of my daughter's bedroom."
Hall's video demonstrates both the opportunity and the unique challenges for interior designers on TikTok. In it, she slowly enters her toddler daughter's room, revealing a glammed-out interior, complete with hanging feather pendant lamps, swan wallpaper and pink velvet sofa, along with the caption "My two-year-old's bedroom." It's a fairly innocuous video; there's no trick to it, but to date it has garnered a whopping 4.5 million views. The reason why it caught on? Some people hated it.
"Some said, 'This is ridiculous that a 2-year-old has this bedroom,' but we [also] got a lot of comments from people saying, 'Oh, my God, can you adopt me?'" says Hall. "Content that asks for an opinion or divides people ultimately gets more engagement and more reach. It's sometimes about not taking the comments too personally, especially when it's your own home."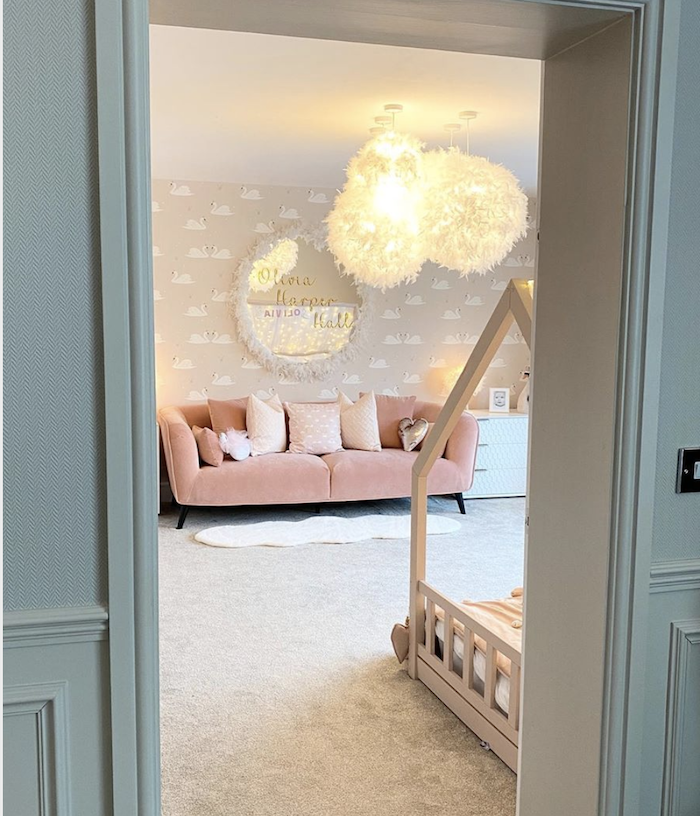 Courtesy of Rowen Interiors
Of course, not all TikTok success is based on divisive content, but the platform does reward a certain level of performance that designers may be unaccustomed to. Hinds, the Portland-based college student/influencer, makes videos of DIY hacks of her own apartment, often accompanied by sparkling dance music and cheerful commentary. Her most popular videos are before-and-after room reveals, including a grown-up makeover of her little sister's room and an impressive transformation of a Honda Odyssey into a camper van.
Hinds has undeniable design chops, but her own personality is clearly part of the charm. She frequently appears in her videos, espousing a DIY approach and championing her latest thrift store find, sometimes with her grumpy black cat in hand. Her followers respond to her work, but, just as often, to things she says. Not every TikToker appears in their own videos, but videos with the spice of personality do better.
However, sometimes what does well on TikTok is, well, just random. Christie Duffy, a New Jersey–based designer and real estate investor, started an account to help promote a company she runs with her husband, Restoration Lane. She began posting here and there, and scored an early hit with a video of herself getting ready for autumn. "It was literally me just putting pumpkins and fall decor on my front steps," says Duffy with a laugh. "I remember feeling like, This is really not something special at all, but for some reason it got a bunch of views."
Discovery works differently on TikTok than on other social networks. Unlike Instagram, TikTok constantly, aggressively shows users new stuff. Its "For You" tab, an algorithmically generated list of suggested videos, is a huge driver of engagement—on TikTok, you're often watching content the platform wants you to see, as opposed to keeping up with the accounts you follow. It's a seemingly small difference with big impact: The TikTok experience is driven by constant discovery and the whims of an algorithm, which can lead to massive growth and "random" virality.
That, combined with the fact that there's simply not a lot of competition for interior-design-oriented content, makes it relatively easy to quickly amass a following on TikTok. Turning that following into a business opportunity is a little trickier.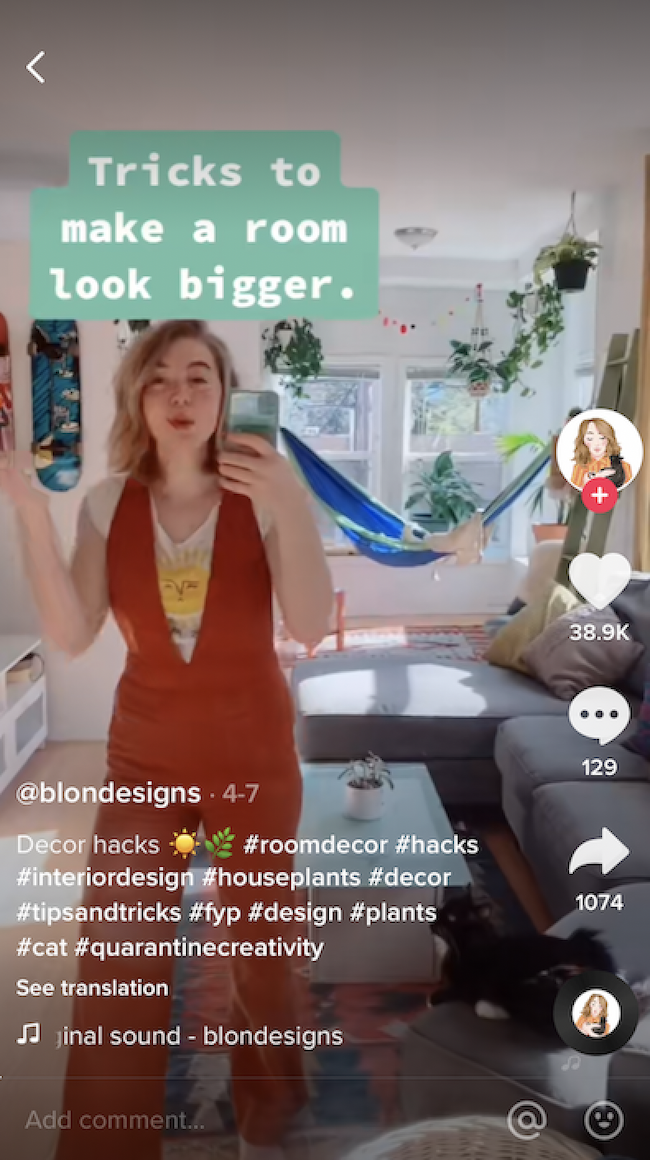 Communication, for one, is a little dicey on TikTok. "It's hard to hear [potential clients] through the noise," says Duffy. "If you get a message on Instagram, you get notifications that you have X number of messages. People get lost in the comments on TikTok—it's difficult to sort through them if you're actually trying to get business leads."
For another, the audience on TikTok isn't typically one interior designers want to reach. "We've definitely gotten clients from TikTok, but the majority of people there are quite young, so you've got to reach a lot more to reach your target customer," says Hall. "It doesn't drive a huge amount of revenue; it's generally a younger customer who might live with their parents." However, says Hall, TikTok is helpful as a funnel, directing followers to her company's Instagram account, a more effective conversion platform.
It helps, of course, that Hall's main product—an e-design package—is a finite, online-only offering. Designers looking to build direct relationships with in-person clients will still find Instagram to be a more effective platform, and many will find the concept of hooking a new project on TikTok to be a little silly. However, 10 years ago, most designers would have found the idea of getting clients on Instagram a little silly.
"There's not a huge amount of home content on TikTok, so it's a great opportunity for us," says Hall. "[But] all social media people start to jump on a trend, so you'll start to see a lot of these accounts coming out. I've seen a lot of tradespeople on there now, laying flooring and [doing] aesthetically pleasing [design processes]. What happens is the first one goes viral, then everyone jumps on it and it's hard to get engagement, so it's always trying to be the first to market."
Hinds, for her part, isn't looking to score interior design clients, but has been approached by a few small brands interested in partnerships. More will likely follow. "I initially thought of it as a fun hobby, but as it's grown, I see lots of opportunity coming my way," she says. "I don't really know what that is yet, but I'm here for it!"
Homepage photo: Stutterstock.com