The 50 States Project is a yearlong series of candid conversations with interior designers across the country about how they've built their businesses. This week, Nashville, Tennessee–based Lori Paranjape tells us how she finds the right clients (and lets the rest go), why she doesn't think the industry should be so transparent about designer pricing, and why "pretty" is the least interesting part of her job.
Did you always know that design was it for you?
Sometimes I wish I had gone straight from design school to working for someone, learned there, and then started my own business—that would have been super. But, no. I have a degree in English, and I used to be a TV news reporter. When my husband and I met and decided to start a family, I left the news business and didn't want to go back. In the beginning, it was very modest—I was offering a $35 paint consult.
How did you first dive in?
My mom hired a designer and did a major renovation on our home when I was in high school, and that had a big impact on me—both the technical things happening around me and then how the result made us feel about our home when it was finished. When I had my own home and my own family and then started to do work on our home, I felt that same feeling again. People around me started asking for advice. It got to be, "Hey, can you help me with this?" And, "What paint color do you think I should use here? Where did you get that sofa?"
How did you build that early business?
It was hanging little ads in the paint stores like Sherwin-Williams and Benjamin Moore, on the little board where painters put their cards. Talk about humble beginnings! When I would book not one hour but two, I'd be like, "Babe, dinner's on me."
When did you pivot to offering more design services?
There are a million little circumstances that happened in the middle, but we ended up moving to Nashville and, like so many people in the design world, I started in design as my second career. I partnered with Redo Home + Design, a local furniture retailer. I've always been independent of that retailer, but we've grown side by side. I just started hustling—and losing money at first, but hoping to meet people who were coming to the store, because [Redo] would let me get the leads if I could turn them into design clients.
Who approached whom in that relationship with the retailer, and why did that feel like a good fit?
I initiated. She had this cute boutique in downtown Franklin, just south of Nashville, and when we moved here, everybody I was talking to was saying, "Oh, have you been in there?" I walked in one day and I was basically like, "I'm here. It's time." And she was like, "Yeah, I don't know who you are. I don't know what this is about. This feels aggressive." But when I got a couple of small clients, I shopped there, and the more time I spent there, the more I got to know the owner.
When the financial crisis hit in 2008, she said, "Hey, I got an offer to do a model in one of the new buildings in town. It pays nothing, but let's partner and do this little project together." There was a little bit of magic between us, and I said, "I think we should do lots more things together." That was the beginning of our relationship: having a successful project together.
What does that look like today? How do you build in a mutually beneficial way?
Well, mutually beneficial is the key [term]. We call it "win-win." We had a check-in this week, and I said, "Here's what's going on: Business is stronger than ever. I'm making all of these new hires. I'm growing, and I need to grow, but I'm out of space." Because I use design space in her furnishings boutique. But when I'm growing, she's growing, because she's my furniture retailer.
You shop exclusively there, then?
Yes, and I'm a buyer for her as well. That's the only word we have available to describe that relationship, I guess. We go to Market together, or I'll be like, "Have you ever heard of the furniture company Dmitriy & Co?" And she's like, "No, but that's beautiful." I'll send an email to her operations manager saying, "Hey, we're interested in opening an account with Dmitriy. We intend to use them for XYZ project." They then open that account. Then when we do our design work and Dmitriy sofas are on the order, they handle that order and that account for us. They track shipping and damages, they do the pricing—everything—for me.
So you've always had a built-in procurement arm for your firm, basically.
That's correct. I do not employ that. I'm not saying that we have it all figured out, but we definitely have something figured out.
How do you make that relationship work?
We started the question with the win-win. That is the only way that she and I operate. ... If I'm growing and pushing [her] out because I need more space—she's like, "You having more space and you growing means we sell more furniture. We make more money. You make more money. So that's a yes. That's a win-win." We do that touch-base every time there's a change for either one of our businesses, and the question is always, "Does this continue to be win-win?" And the answer is yes.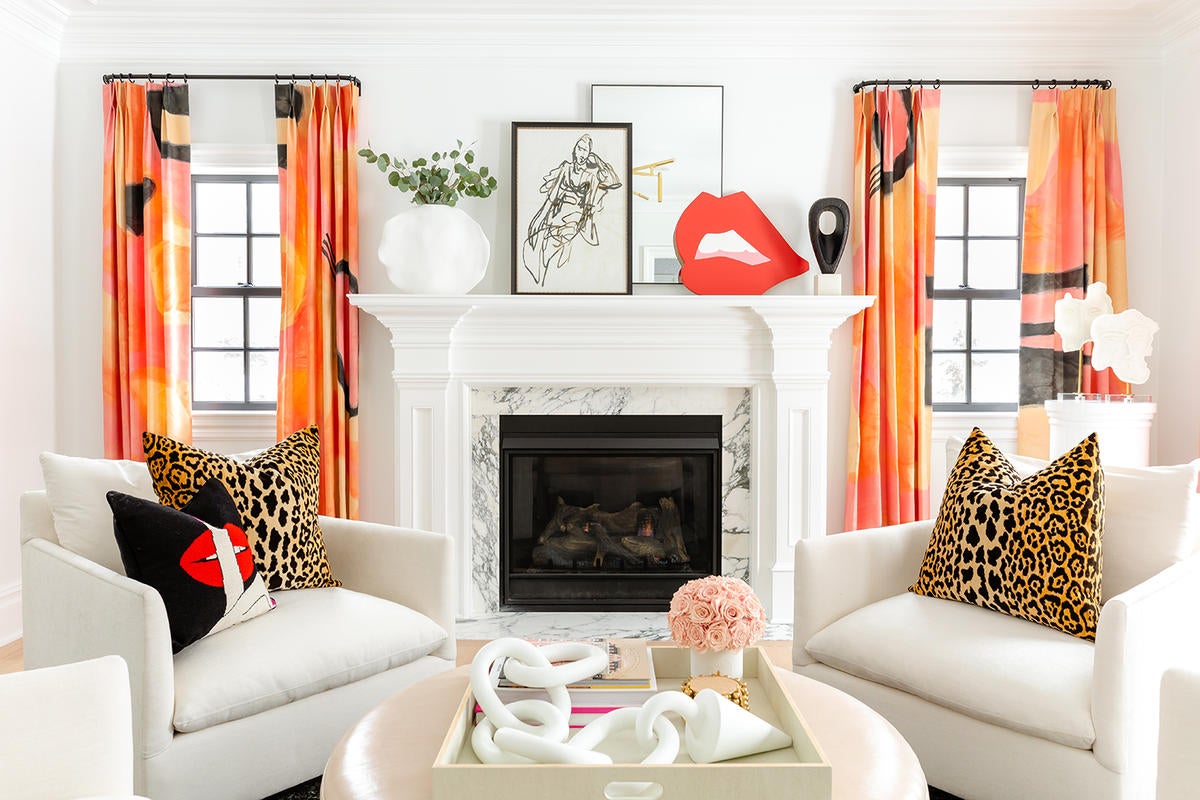 How does that relationship impact client pricing?
I believe that our industry should not be revealing costs to clients. There are no other industries that I'm aware of that would ever do that. If I walk into Home Depot and I need a screwdriver, I don't look at the clerk and say, "This screwdriver is $9. How much did you pay for it?" And then if the Home Depot guy was to say that it was $4, I'm not like, "Well, then I'm not paying anything over $4," or "I'll pay $4, plus 20 percent."
So our model has been, Let's cross-check how much this costs in the retail market. Make sure that we are within reason, and then that's how much the product is. In my conversation with the client—typically on the very first call, they say, "What kind of discount [do you offer]?" or "Do I get your discount?" I could go on and on about how absurd I think that is. My answer is always no. We sell at a fair retail price. And I don't mean "retail" like what Arteriors has on their non-login website, which is like four times [the retail price]. I mean fair retail, like what you'd see if you're looking across multiple reputable websites. That's how much it costs.
The clients asking about your discount—has that always existed? Or where does that come from, do you think?
It comes from the setup of other design firms who offer their trade discount, or they'll reveal cost—or what I think is even murkier is [firms that] say, "We'll give you 20 percent off retail," but then they're using a fake retail price—that inflated "times four" price—and they reduce an inflated top number to make it appear like there's some sort of discount happening. I find it all to just be absurd. I'm not sure why our industry feels like we should reveal all of those things in order to be credible. Everyone else is credible.
Where does credibility come from in your business for you?
Social proof. Evidence of successful projects is where I get my credibility. By the time a client makes contact with me, they're pretty much decided that they'd like to hire me because they have seen enough social proof of the work. Then, really, the only question that remains is: How much? So our entire first conversation is about walking through the pricing structure and our process.
Our process may not be incredibly unique across the industry, but we're a pretty all-inclusive experience. We present broad ideas, but we handle the details and create a reveal experience where the client sees it all together. That means we are heavy in the getting-to-know-you phase, so we understand who they are and can prove that they've been heard and that we understand what they want. Then we deliver that—but we don't ever walk through minutia together.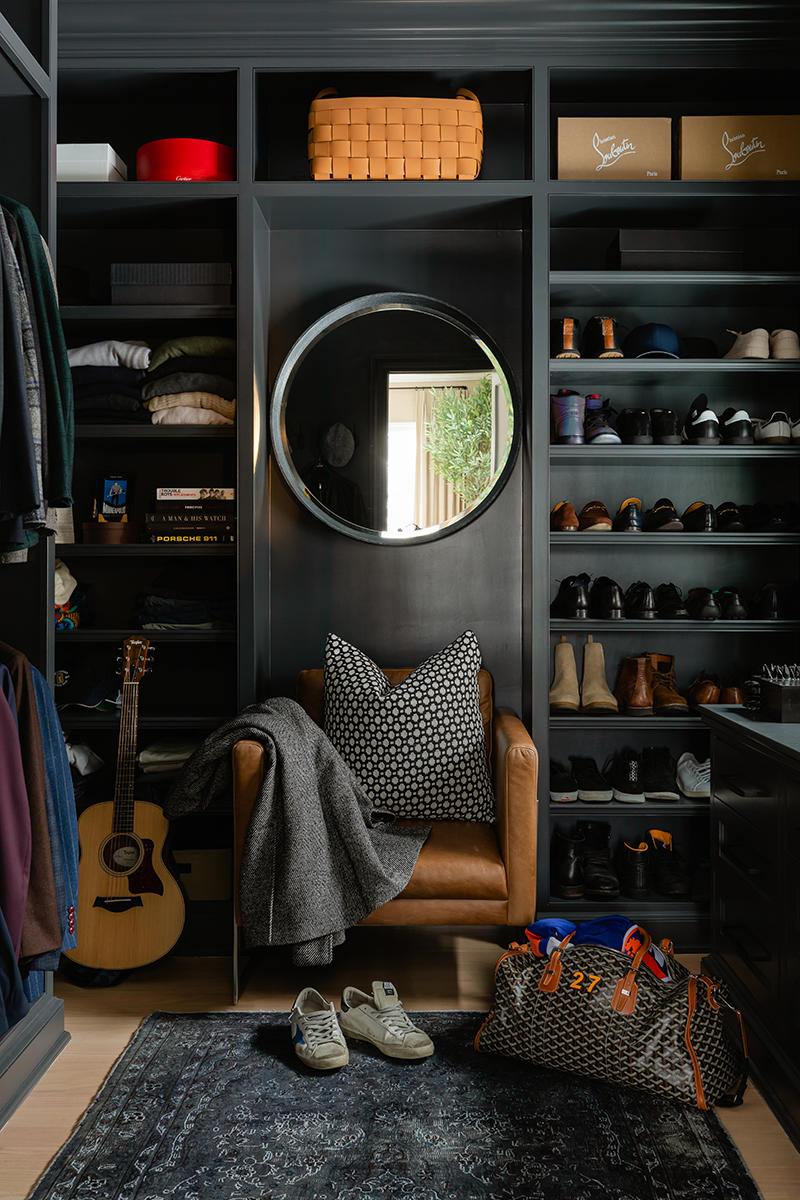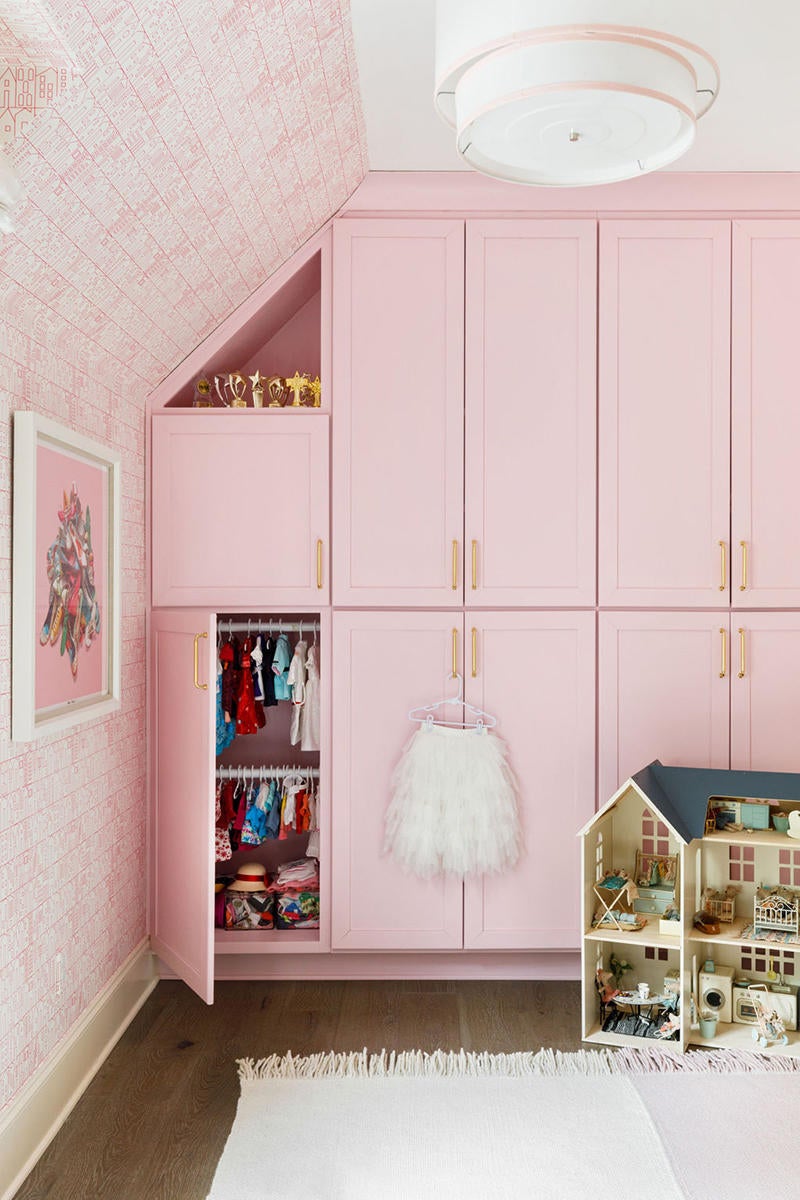 What does your presentation look like, then? What would the client see in a presentation of the design concept?
We present multiple times throughout the process. We do a lot of new construction, so we would present a mood board for the exterior: "Here's your light fixture family. Here's the brick color. Here's the stone path. We're going to do black windows, or we're going to do white windows." We present, and they say, "Love it," or "Love everything, but that's not my favorite light—can I see another one?" Once we all agree, and that has all been blessed by the client, we're not going to rehash that and they're never going to touch that again. We're going to just extrapolate that out as an understanding that that's the DNA and we'll build from that DNA.
Then we would present an interior mood board—things like floors or a detail we want to do on your stair railing. It's, "Here's a general idea of light fixtures. Here is a molding detail we'd like to put throughout the house." Then the same concept for furnishings. We'll do major spaces in the house: "Here's a look at the kitchen concept, or here's a look at the primary bathroom concept, primary bedroom concept, family room, dining room. We're going to do that whole wet bar/golf simulator area." We present concepts, and they say, "Hell yes, love that." Then maybe there are a few changes. Like, "Oh, my best friend has this light fixture." OK, changed. We good? And then when we get to good, we're finished. That is the concept. It's not necessarily each item we're going to use, but once that design direction gets approved, we will then populate all 482 details that will continue to go into that space. But they're not approving them.
So the client doesn't necessarily see each lamp or an individual chair.
That's correct. When [other designers] hear that, sometimes they're like, "Don't your clients—" The answer is no. Because by the time we get there, I already know that they have three kids, they might have another, and there's going to be yogurt on the sofa. They like to read and lay all over the floor. When she sits down, she likes to sit on her feet, and when he sits down, he wants a chair, not a sofa. We've already taken all of their personal wants and needs into consideration, and those things are accounted for when we present. The reason they hired us is because they can't pull individual pieces together—I find that presenting individual pieces, it's very difficult for them to understand them in context. So we offer context for the intent, and if that's exactly what they're hoping that we can accomplish, then we can fill in the details that make sure that that's exactly what we do accomplish.
That's so interesting. The idea of letting go of seeing the textiles, for example, would make me so nervous as a client.
Sometimes we do show them. Because we do so much work all over the country, we're not together all the time, so we give them a touch-and-feel moment with some of the key materials. Maybe it's the finish we want on the La Cornue range, the main sectional fabric for the family room, your drapery fabric, and a pattern we want to use in the room—enough to give them a sense of the vibe. But again, if we send four pieces of material for them to approve, there's actually 30 or 40 in a room, and we're not going to send 40.
You don't want all of the "Does it all really go together?" questions.
That's exactly right. I say in the initial phone call: If you are the type of person who would love to get all the samples of white linen so you can look at them in the sunlight in your home and decide which one you prefer, I will frustrate you. If that is you, then we are not aligned, and that's OK—there are designers out there who are better suited for you. I require a trusting relationship with a client who is willing to let me in to know them and then allow me to execute for them.
How do you know when you've found that person?
That's what our initial phone conversation is for. I've had people try to adjust my process, and my response is always: "There are super-talented designers out there—I could actually refer you to 15 who might work better if that's the process you prefer." I can tell you that we've had enormous success in our process, and I have learned through experience that doing it the other way has led to unsuccessful projects. If I let you send me a chair that you see in a catalog and ask if we can interject it, that's the beginning of the end, and this whole house of cards is about to fall. That's my job. And that's not me being an asshole—that's just how it works. I'm not mean; I'm actually protecting the result. But I know it's not for everyone. This is a design experience, and I am their designer, but we are not forging a design partnership.
I love that you just said that. That's such a great way to distinguish between two ways of working.
Look, some people want to design beside their designer. I've had that to great failure, but there are designers who will do that. I'm not for everyone.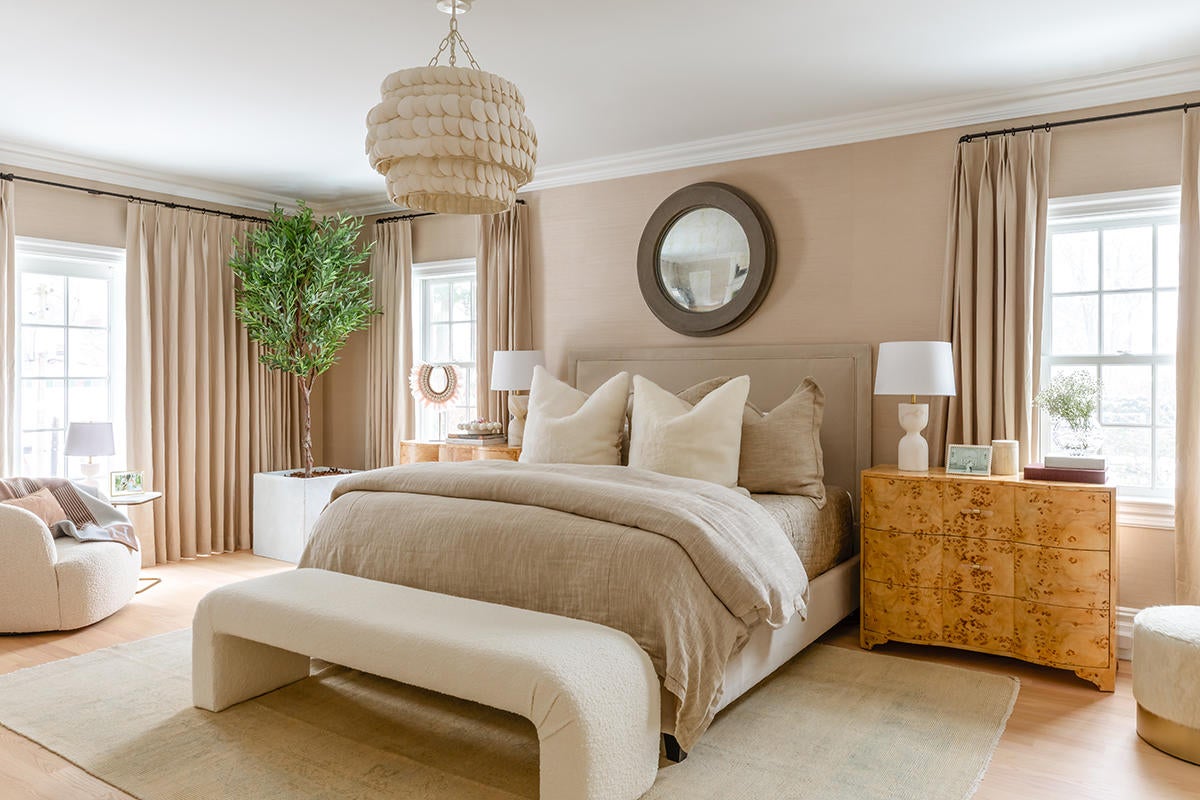 What does the team look like behind you to make this happen?
Well, it's looking very different these days. So bear in mind that I don't employ half of my business. So while we are pretty broad, we've run leaner than one might expect because we have no procurement partner. I am onboarding a design operations manager, and then I have two designers and one junior designer on my team. We're about to add another junior designer, and then we will probably add another designer and a junior.
Where do the clients see you, or what are the people's roles at each of those levels?
My job as the principal is to set the design direction—the concepts and big picture. At the beginning, we get a set of house plans, and I sit down with the designer and say: "OK, this for sure feels like a black kitchen, but let's do it in oak so it's a little bit more durable and the kids won't leave fingerprints. I think we're probably going to do all of the walls in slabs of marble. Let's do no uppers and put up shelves, but we've got to have a killer pantry."
Maybe I'm also saying, "I love those light fixtures we saw at Market," or, "Let's use that Matthew McCormick pendant." I'm sharing the broad strokes, and I also define price points. I can say, "This is all Wolf and Sub-Zero, and maybe we're going to do a La Cornue range," and my team understands what that price point means. Or if we're doing Lindsey Adelman lighting, versus if I say, "This is going to be a mix of Visual Comfort and some Arteriors," they understand what that means. I might say we're going fully custom on the furnishings—that means we're going to be using Lancaster, Dmitriy and Verellen, and that's it. But if I say, "This is Lee industries, and we can use some CR Laine," they understand.
You've talked money with the client already, and you're translating the client's budget expectations into those buckets for the designer.
Right. I outline the budget during my first call with clients. Typically, my clients have not done what we're about to do, so they don't have a true expectation of what it costs to do what they're seeing on my Instagram. I share with them, "You're looking at seven figures in those images." I'm like, "If you're telling me that you love this project, that's amazing, and I am thrilled at the opportunity to do a version of you with that same level of completion. I need you to know that that's seven figures in furnishings." And that does not align with almost anyone. But going back to what I said earlier: That's OK. If that's what you want, I'm sharing with you what it takes to get there. It only aligns with a few, and then those few are our clients.
Once you've given your designer the overview of sources and the level of design, or what the spend or the quality will be, what happens next? Where do you reenter the process?
Once we get the wide angle and the designer has that, they fill in all of the details and then they present to me. Once that's approved, I present to the clients alongside the lead, and then we all move things through the process. And I'm setting expectations along the way. I tend to have all of the hard conversations and inform the clients of difficult things like timeline, which I'm talking about in the initial consult anyway. I'm definitely telling them, "We will get this never, and it costs a freaking fortune."
Let's jump in anyway?
Right, and then if you're in, that means you understand that these are not the result of some lackadaisical spirit within my design team. I can't help lead times, and I need you to know that. After everything is approved, we explain that there's going to be a little bit of a silent period while we wait for procurement, for the builder, and for all of the items that we've selected during the building process to be executed. And then we're going to ramp up again toward the end. And I set the expectations for installation, which is: We will coordinate all of the trucks. We will ask that the builder hand the keys over to us instead of to you, and that you stop swinging by the house as soon as we start installing wallpaper. We will manage the wallpaper. We will manage the window treatments. We will manage the art installation. We will manage the trucks. We will manage all of the elements required to execute this installation.
We'll come into town for three days or six days or whatever it takes and manage that entire process. And as it all comes together, we'll light the candles and turn on the music and pour a glass of whatever your favorite is, champagne or bourbon or whatever. And we'll meet you at the front door and we'll welcome you in. And you can bring a suitcase, and you'll sleep in your bed that night with new sheets.
Have you ever considered doing it another way? Not doing the big reveal, not welcoming clients in that way? Or why is that so important to you?
It's the first time between delivering them a concept and then seeing that concept come alive. And we are so close at that point that that's an experience that they're really looking forward to. And hearing the story of their home. We've changed it actually in that we do it in the evenings now because we used to do it during the day and then we'd all leave and we'd all be sad—the clients and us. So now we do it in the evenings. And then what we typically do is move from room to room in the house so they can hear how that room came together. I can explain, "Oh, here is where we sketched your childhood home, framed it and hung it in your office." And, "Oh, your partner gave us a photo and we sent it to this artist that I love, who did this gesture drawing of you and your family." They see it all for the first time, and we get to unveil the layers of what they're seeing in the house.
That's beautiful.
It is a privilege to get to know these spectacular people in the intimate way that they let us in to truly know and understand them. And then for them to trust us with the biggest investment of their lives is incredible.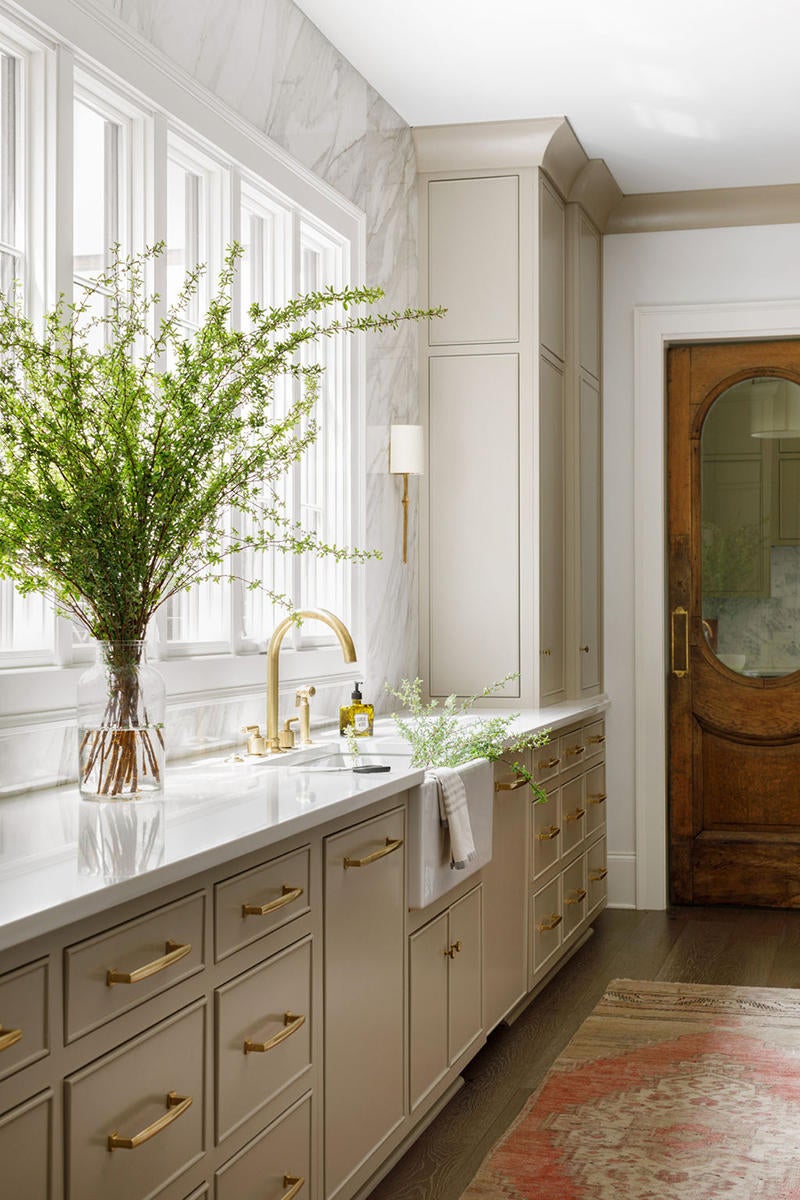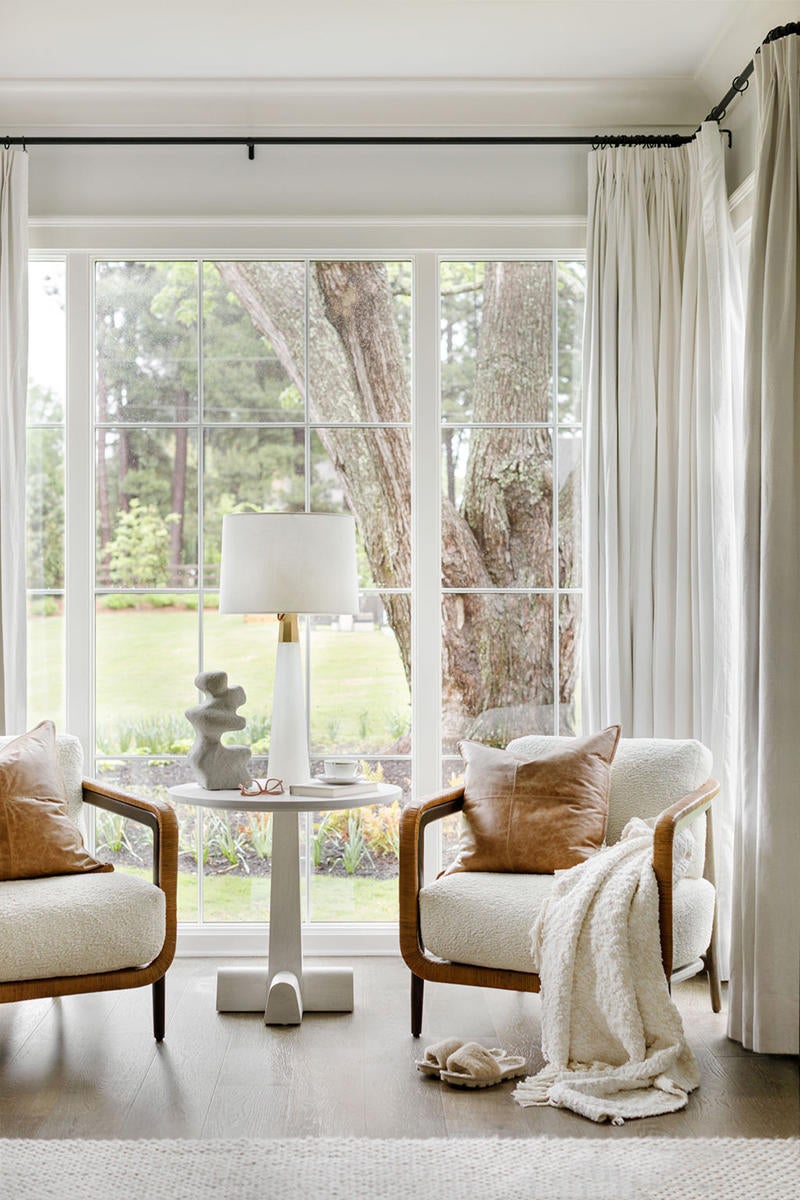 You said your firm is growing right now. How many projects are you working on at one time? And what does that growth look like for you that you needed to hire?
Right now, we have about 22. Our projects last anywhere from one to three years, and they're in different phases—they're going through all sorts of portions of home construction and all the way through to install. I guess the good thing is your audience will be the design industry as opposed to my client base, because people get a little twitchy about that. They want to be the only one. They want me to be in demand and very hard to get, but then they want me exclusively. I'm like, "Well, those two things are at odds."
Is growing your team just an opportunity to work with more people, or what will that growth look like?
I think our client profile is increasing, which requires a higher level of service. So while the numbers are right now growing with clients, it's actually, they're growing in breadth and width. So we require a really high intensity level of communication and attention and I do want someone spending half a day on the design of the mudroom and what detail we might put in that cabinet door and how many outlets there are and phone chargers. And is it boots or shoes? Because those two storage options are different. And really knowing and loving the house to form it in the mold of this family that has trusted us to do so. That requires a lot of time. So we're growing to meet the demands of these spectacular clients.
How do you bill for that time?
We have a flat rate. But we have evolved, and what we're going to do now is monthly billing for the duration of what we think this project will be. So if we expect you to move in during the summer of 2024, we'll bill you monthly until then,` and it's just a flat rate. If it goes past the summer of 2024, then the monthly billing continues until we are no longer touching that project.
How is that different from your previous flat fee or from how you were billing that flat fee before?
I was doing billing at milestones on a project, so we were doing just four invoices. Over the course of one project, we found that, because of delays that were no fault of our own, we only collected $40,000 for a year of work.
Because of the way the milestones were spaced out?
They weren't happening, so we weren't making any money even though we were in constant contact. And so I'm like, "OK, that ends right now." We needed to even out our cash flow.
You're making the design fees an ongoing commitment.
Yes! And I really am at your service. I really am. It's how we're built. People at this level want personalized attention, and it's what we're good at.
It sounds like you're really good at weeding out the prospective clients that aren't the right fit. Is it easy for you to say no to jobs that aren't right for your firm?
I don't know that I actually have to say those words. At least 95 percent of my design inquiries are not aligned with my pricing—but I also don't need that many to say yes. I only want the ones that are a perfect fit. But there are many little nuances in there that bring to light the incompatibility, so I never really have to say, "You've committed to six-plus figures in design fees and seven-plus figures in furnishings, but I don't like your personality." That's not really how it works.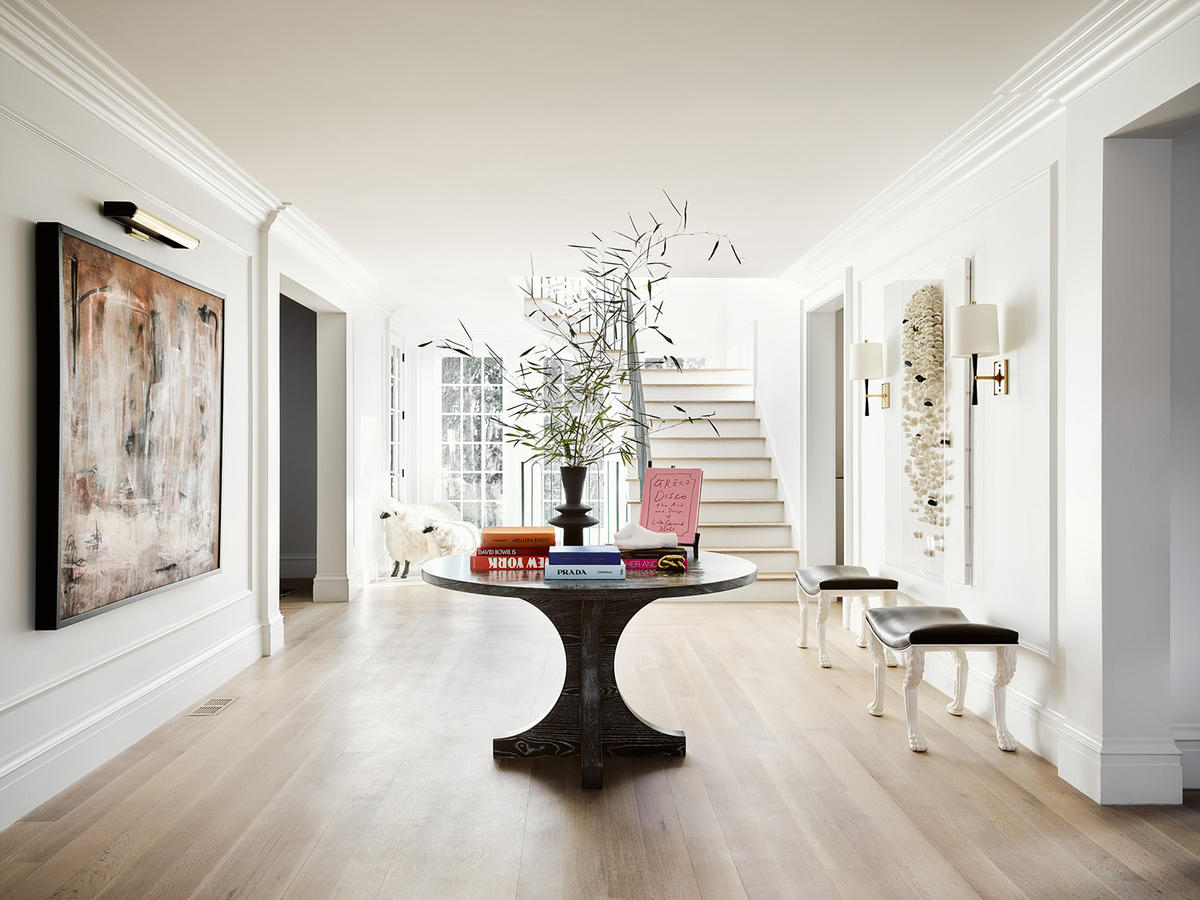 Can you tell me about the Nashville design scene?
Our work is spread out all over the country, but our design community here is pretty strong. I'm on a pretty daily group text with Nashville designers with messages like, "Hey, I need to get something reupholstered. I haven't reupholstered anything in years. Anybody have anybody?" Even at Redo Home + Design, there are five independent designers who call the store home.
You were the first, but you're not the only?
That's right. We're all at different stages of our careers, and we work in community. I mean, if I get yelled at, or I get an upset text from a client, the first thing I'm going to do is tell everyone at the office, and all of them are going to be like, "Oh, my gosh, I'm so sorry. You knew that he was going to do that." And, "I hate when that happens." And, "That happened to me." And, "I'm so afraid that's going to happen on XYZ job." Living in a community like that is spectacular as a business owner.
How did that community come to be?
I think you have to foster it. I don't think that it happens to you—I think it's created. And it's very, very intentional that that's what we have. Mitzi Maynard, who owns Redo, always uses the word culture. We have a supportive culture of women who are very smart, very talented and working very hard on their own path. That is the energy that is welcome—and any other version of that isn't. This is our happy place, and anything besides that is unwelcome. So we cannot gossip. There cannot be any, "Oh, did you see so-and-so come in today in those hideous shoes?" No. I'm building a business, and I need a community of positive people who are supportive of one another. If I'm going to fail in front of everyone, I have to feel really great failing in front of them, and that requires a level of trust. Admitting our failures—that's the first thing on the group text. If someone says, "Guys, I'm dying. My client hates the ottoman. What am I going to do?" You get 15 voices, standing in solidarity to help. That's priceless.
Your work is coming from all over the country. Where are clients finding you?
At least 95 percent of my design leads come from Instagram.
You also said 95 percent of your leads do not lead to a signed contract. Is that the same 95 percent?
No. The vast majority of the people I'm working with—I signed a contract for a project in Indiana, and that's pure Instagram. I recently finished a project in Boston, and that's also Instagram. I can go on and on.
Do you shoot all of your work, then, to make that possible?
The second-largest budget in my entire business, besides salaries, is photography. It's in my contract that we shoot the process and that we shoot professional photography. And now we've added video. And really, that's how [clients] found me, so they want it. They have seen that social proof, and they want to be a part of it—they want to see their home among those ranks.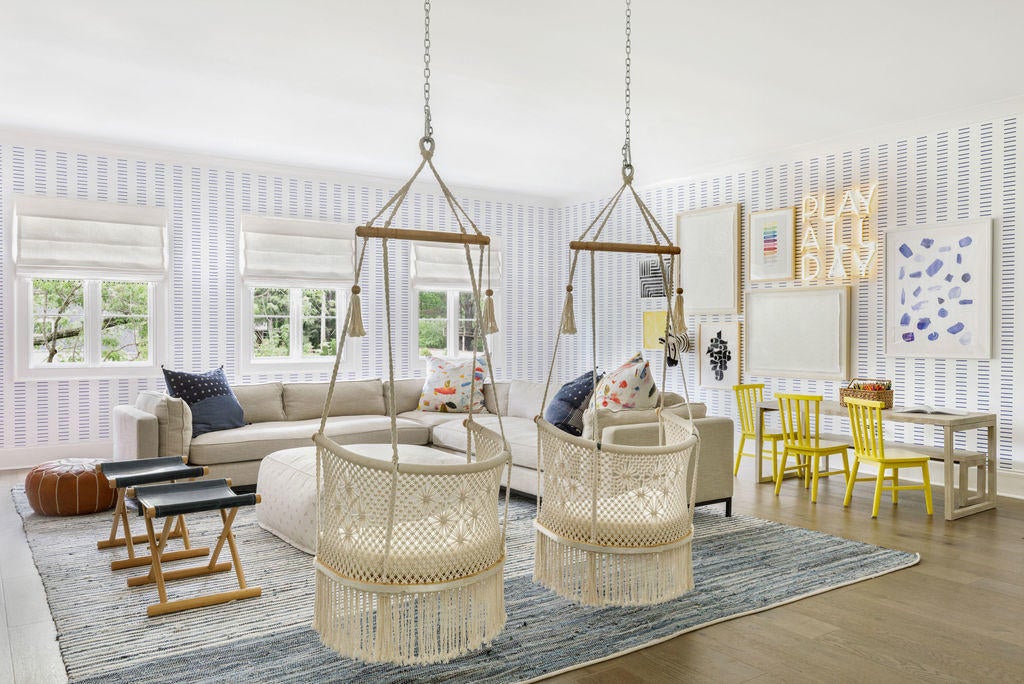 Where does getting published enter the equation, then?
I have to stop myself from indulging in getting peer respect by being on the pages and go for exposure with digital. I struggle with not pursuing print. But my clients are in their 20s and 30s, and none of them are subscribing to magazines. They get nothing delivered to their mailbox that they're interested in, ever. They are looking on their phones and they're looking at Instagram—and I'm aware that my next generation of clients is looking at TikTok. And that is the only thing I care about. I need to be on HouseBeautiful.com, not in House Beautiful's pages. I need to be on Rue digital, because my clients follow Rue on Instagram for the pretty pictures. That's where I need to be, because that's where my clients are looking.
Who are these young clients?
Our main client base is young, between 20 and 40 years old. This is typically the first time they have built a home of this magnitude or spent this budget level on furnishings, so part of our service is to assist in establishing what is expected at this price point in order to help protect their investment. When it comes to specific programming for the home, we try to present options that perhaps they didn't know were possible.
In a recent conversation with a new client, they were like, 'We'll try and get a list together of what we want in the house." I told them, "You don't have to do that by yourself. I'll help you. For example, in your primary bathroom, do you want separate closets and separate bathrooms? Do you want separate closets and a shared bathroom, but two water closets so you have your own toilet? Do you want a shared vanity space, but private showers and private water closets?" She said, "He's nodding. He nodded when you said two toilets. He totally wants two toilets." But they don't know that that's an option. I do. I've built it all—every version of that, I've designed. They don't know what to want—they're spending this bonkers amount of money, and they don't know what type of appliances you're "supposed" to have. And so that's a lot of what we are doing.
Do you like the teaching part of it?
Oh, I love it.
To show someone what's truly possible must be such a great experience.
Right. Do you want a golf simulator? We're doing new construction, so you can build whatever you want. Do you want a batting cage? A bowling alley?
How many bowling alleys have you built?
A couple—and one of them also had a batting cage. I mean, it's crazy, but I'm there to help them dream, and I try to do it in a responsible way. I tell them in that first conversation: "If we have a $2 million budget for furnishings, I can assure you that my goal is not to hurry up and spend $2 million. My goal is to spend $2 million and you cannot believe the level of detail and how well it suits you and your family."
I'm not out there buying the most exquisite fabric so I can spend $600 a yard. I don't care about that. It's boring to me. But when a lineman for an NFL team sinks into the sofa and his big body sits in it really nicely because I paid attention to the depth and the pillow height and the back height—and then there's an ottoman that's just below the height of the seat of the sofa so the blood doesn't rush out of his feet when he puts them up—that's when I have shown them the true value of this level of investment in a designer. And when his electric toothbrush plugs in on his left side, because he's left-handed. That, to me, is where our value is. Yes, it's pretty. Is it going to be pretty? For sure. Check. But that's the least interesting part. How does it work? How does your family work? Where do you sit in your PJs when you drink your coffee? Or do you work out first? And if you work out first and then go straight into the shower, you probably need laundry along the way so that you can get undressed and put wet clothes right into the washing machine instead of in a hamper. That, to me, is the magic.
To learn more about Lori Paranjape, visit her website or find her on Instagram.