Fall High Point Market kicks off this weekend, and we've created a guide as the ultimate designer resource for the latest products and partnerships debuting this season. Need to get off your feet after walking Market all day? These comfy sofas on display at High Point offer a plush place to perch. 

1. Nathan Anthony's densely padded Michel sectional is upholstered in cuddly ivory cream chenille and features deep, egg-shaped channeling that extends from the inside back across the entire surface of the rear panels.
2. Equal parts relaxed and refined, the Carmel Curved sofa at Lancaster features a chic sculpted silhouette and comes dressed in lush mohair upholstery.
3. As if the silky-smooth chenille upholstery wasn't enticing enough, the elegant Le Mans sofa from Alfonso Marina is gently lined in premium-grade memory foam for added snugness.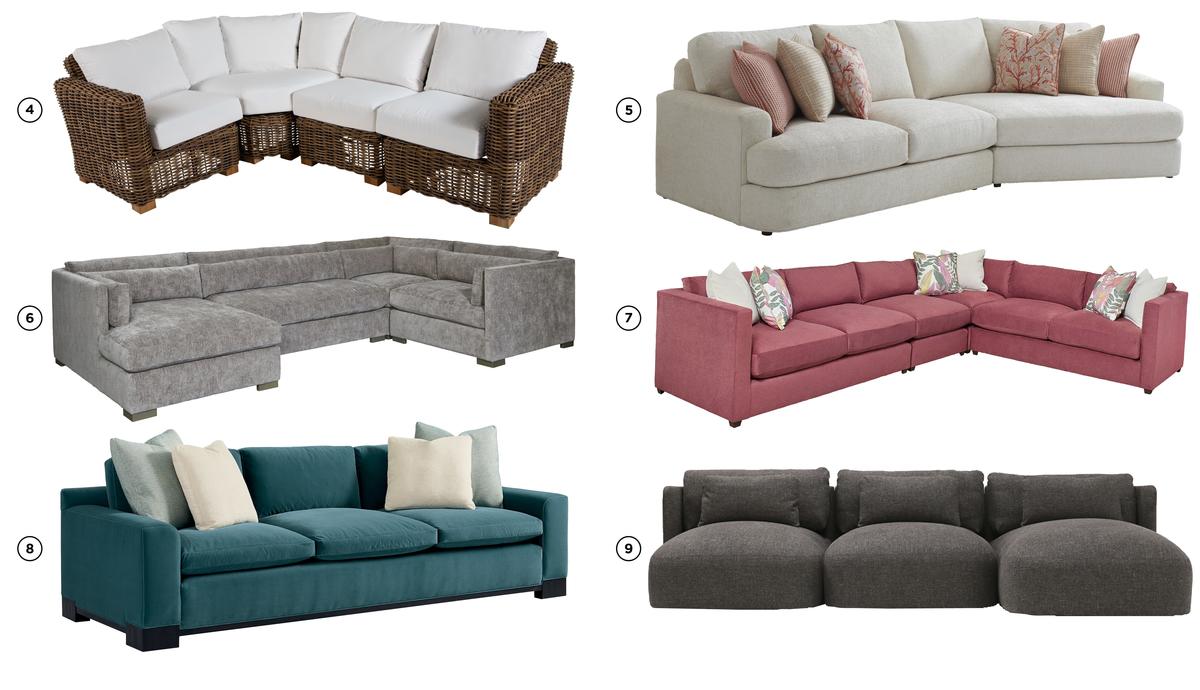 4. Constructed from durable (and on-trend) woven resin wicker, the Montauk sectional at Summer Classics is designed to withstand the elements without sacrificing an ounce of comfort or style.
5. A two-piece sofa with a comforting twist, the Lansing sectional at Lexington is composed of a love seat and cuddler, which creates a subtle angle and extra space for lounging. 
6. Featuring 46-inch-deep seats and an extra-wide frame, Burton James's 659 Margaux sectional is dressed in a sumptuous chenille-style performance fabric that gives it a velvety smooth finish. 
7. The only thing better than a deep, cozy sofa is one that's roomy enough for napping. The Ally sectional at Universal Furniture features five strikingly soft seats and can be customized in your choice of over 450 upholstery styles.
8.  Bold yet timeless, Caracole's Refresh sofa in buttery soft velvet boasts pillow-topped cushions that invite you to sit and stay awhile. 
9. Soft and simple, the Hudson sectional at Verellen features fluffy-as-a-cloud cushions that envelop every inch of your body.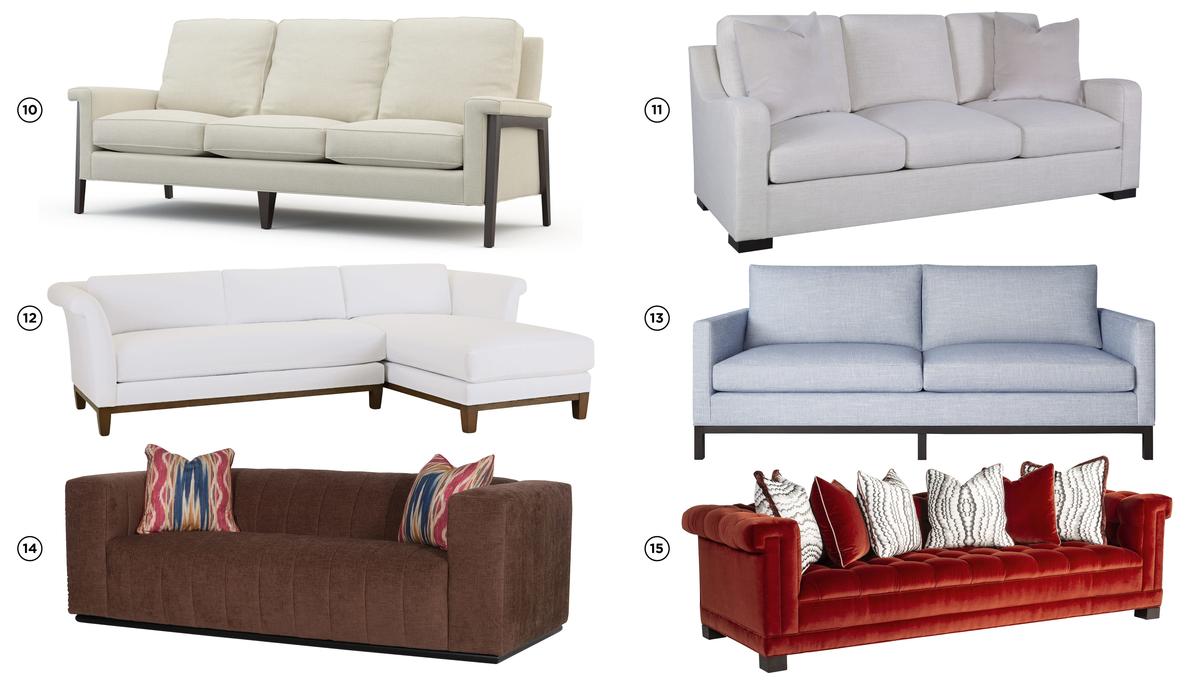 10. Don't let the good looks of this clean-lined sofa fool you: It's a real multitasker. In addition to a sleek exoskeleton-inspired frame, the Exo-Leg sofa from Sherrill Furniture is designed with three cushiony seats and an extra-high back for added support.
11. Sloped arms and soft, blind-stitched edges give Chaddock Home's Connor sofa its shapely silhouette, while three broad back pillows and seat cushions situated on an eight-way hand-tied base make it an inviting addition to any space.
12. Luxe yet eco-friendly, the 3152 Series sectional at Lee Industries is upholstered in the crisp Petry Optic White fabric and features soy-based cushion cores with recycled plastic fibers.
13. For a fresh take on transitional style, look no further than the Frampton sofa at Thibaut Fine Furniture. Designed with slim trick arms and perfectly plump seat and back cushions, this two-seat stunner is every bit as streamlined as it is snug.
14. Handsome and approachable, the Roma sofa at Norwalk Furniture offers a comely channel-back and channel-seat, as well as generously scaled arms for kicking back in style.
15. The Vittorio sofa at Theodore Alexander is a streamlined take on a classic chesterfield, offering a deep, biscuit-tufted seat and back and overscrolled arms for a dash of drama.
Homepage photo: Nathan Anthony's Michel sectional | Courtesy of Nathan Anthony