After weeks or months hard at work, it's time to present your vision. But how?
You can have the most beautiful room concept in your head, but if you present it with a crayon scribble and a clumsy pitch, it's not getting approved—and the client may start looking for another designer. It's easy to spot a bad presentation, harder to craft a great one. Partly that's because designers today suffer from a glut of options, from high-tech 3D renderings and virtual walk-throughs to old-school mood boards and hand-drawn design schemes. Choosing the right presentation method matters: You are translating your vision into something clients can understand, get excited about and ultimately sign off on.
SLIDE INTO IT
There's an elegant simplicity about the tried-and-true slide presentation—assembling a deck of individual slides on a computer can consolidate the many moving parts of a design scheme into one neat package. "We literally lay out everything, whether it be the design concepts, floor plans, elevations, mood boards, if I had any renderings done—everything that I want to portray to the client goes into that presentation," says Irvington, New Jersey–based designer Beth Diana Smith.
Why it works: These applications work well for presentations because that's exactly what they're designed for. Digital slideshows have the added benefit of being easily shared before or after the meeting. Smith uses Keynote to walk her clients through the presentation, but also provides them with a hard copy so that they're able to take notes along the way. When she's finished, her clients can easily reference the places where they had questions. A slideshow also moves in a linear fashion, which means that designers are able to set the pace and build a narrative on their own terms as the presentation unfolds—no jumping ahead or getting distracted allowed.
The hard part: As with all technology, there's always the possibility that the program you're using will glitch out and make you look bad, but the human element is risky, too. Slideshow presentations, especially with physical samples in the mix, are choreographed multi- media performances—they're not easy to pull off smoothly. And while it's convenient to have one tool that can present everything in one place, there's a danger of overwhelming the client with an avalanche of details. You don't want a presentation about a dream home to feel like a never-ending work meeting.
TRAY TIME
Samples are an incredibly effective tool when it comes to conveying a design scheme—clients can handle each swatch as their designer describes how the corresponding piece fits into the larger picture. That's especially true if the samples themselves are artfully arranged. San Antonio–based designer Alison Giese assembles an Instagram-worthy tray of samples for each project; after explaining the floor plan to her clients, she steps back and lets them explore the materials. "I have done presentations where we have the sofa and we'll [show] the fabric next to it, but I don't think that's as powerful," she says. "If we're doing a whole house, we walk them through the textures and the overall feel we're trying to create. In my mind, we're creating an atmosphere, and paper will never convey that."
Why it works: You can show as many pretty pictures as you want, but having clients actually feel the fabric activates their sense of touch and opens up a new part of their brain. Also, you just can't beat the real thing when it comes to accurately conveying what a room will look like. "We all know that color is never properly represented digitally," says Smith. Giese has found a side benefit to curating an artful sample tray: It's social media gold. Her flat lays, carefully photographed and shared on Instagram and Pinterest, have attracted several new clients. "I've had clients show me one of my mood boards, and they're like, 'Whatever this is together, we love this,'" she says.
The hard part: Design trays can be time-intensive. Beyond that, for some designers the notion of a mood board can feel outdated. "In design school, you had to do these old-school design boards, but clients really don't want to pay for all that time and effort [a designer] puts into that," says Charlotte, North Carolina–based designer Cathy Austin.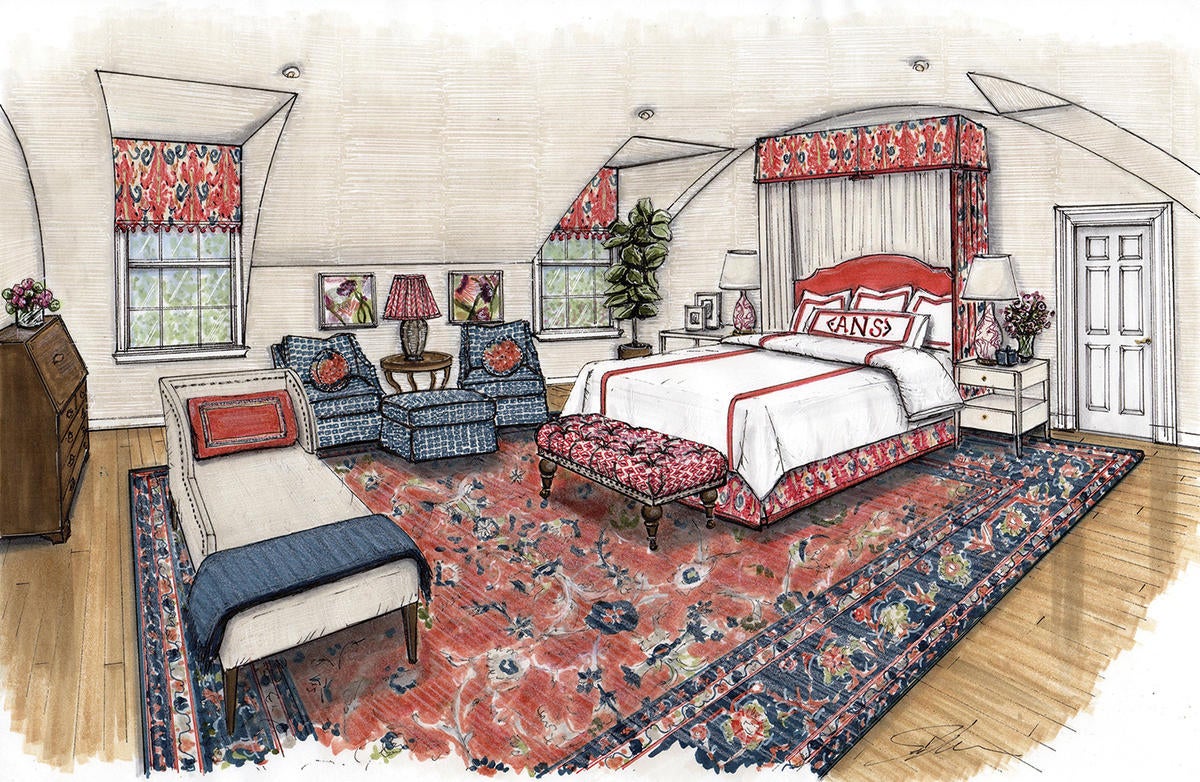 ART WORKS
For the last several years, Austin has commissioned artist and former designer Jane Gianarelli to create full-color, hand- drawn renderings to showcase her design schemes. "Clients want to see what [a design] is going to look like before they're willing to take a leap of faith," she says, attributing this growing trend to the abun- dance of inspiration images on platforms like Instagram, Pinterest and Houzz. "You try to stress that what we're trying to do is completely original, so it's not going to exist out there. I can't find a picture of what it's exactly going to look like." Now, with Gianarelli's help, she can. In Austin's experience, seeing is believing, as the drawings capture a client's imagination, helping them understand the kind of transformation that's truly possible. Even if they know a rendering is coming, the excitement it inspires can come as a delightful surprise—many even choose to frame it and hang it in their home after the project is completed.
Why it works: For designers looking to convey a high-touch experience with their presentations, hand renderings amplify the human element in the design process. What better way to say you take a personal, thoughtful approach than with a work of art? There's a backdoor bonus to hand renderings as well: There's enough dissonance between the illustra- tion and reality that the clients won't obsess over small details. Drawings evoke an aspirational feeling without letting the client pick apart the design scheme for a lampshade they don't like.
The hard part: Hand renderings tend to  take longer (and cost more) than digital renderings. The designers who work with Gianarelli are asked to provide details like floor plans, measurements and products via email, and no matter how accommo- dating your renderer is, the minutes of back-and-forth emails and phone calls add up—it can be several days, even weeks before a hand rendering is ready to present. There's also the matter of paying for the artist's time and talent, though in Austin's experience, clients are more than happy to pay for those services. "I have it built into my design fee because it's such an invaluable tool," she says.
DIGITAL DISPLAY
Technology is playing an increasingly inextricable role in how designers communicate their ideas—including photorealistic renderings, which lately have become so easy and inexpensive to procure that many professionals have decided to bake the costs into their fees and the production time into their project timelines whether the client expects the service or not. In addition, a number of new programs are offering an antidote to the steep learning curve of building your own renderings, making them a go-to tool for designers of all stripes.
Why it works: Photorealistic renderings and 3D virtual walk-throughs are not only impressive, but they also ensure that almost nothing gets lost in translation. "It's the quickest way to make the sale," says Miami-based designer Gloribell Lebron. Not only do the renderings trans- late her ideas effectively, but the 3D walk- throughs leave a strong emotional impres- sion with her clients—even the ones she's not meeting face to face. On a recent Zoom presentation, Lebron screen- shared with her clients to present a virtual experience. "[As I] explained the design, I could hear everyone [on the call] gasping and saying, 'Wow! How did you do that? I love it!' It was very impressive." Plus, once a designer brings the rendering process in-house, it's both time- and cost-effective. Lebron enrolled in an eDesign U class to learn the platform's rendering software during the pandemic; these days, it takes her only one to two hours, on average, to put together her own 3D images.
The hard part: There is something to be said for leaving something to the imagi- nation. Lebron is careful to limit the aspects of her design that she shares, giving clients just enough information to understand how the space will change, but not enough to remove the element of surprise from the end reveal. Plus, there's always the risk that clients will fall in love with the image exactly as they saw it and then resist any efforts to switch gears. 
Homepage image: Although Alison Giese started creating the flat lays she posts to Instagram as a creative exercise, her clients have come to expect them as part of her presentation. | Alison Giese