No gimmicks here. The high-tech home of the future has arrived, and we've got our finger on the pulse of the latest that connectivity has to offer.
Walk any trade show and you'll see a phalanx of new appliances and gadgets—an overwhelming wave of technological advancements that can be a stressful reminder that the next upgrade isn't far behind. While most clients aren't looking for robohomes, certain high-tech features, from self-tinting windows to voice-automated fixtures, can significantly enhance quality of life. One shortcut to getting it right? Adding a technologist to the team of expert trades you call in for a project.
For Portland, Oregon–based designer Molly Switzer, partnering with her technology integrator transformed her design capabilities—and her ability to talk about tech with her clients. "They're an integral part of creating a whole-home system, especially because clients are intimidated [by the technology]," she says. To make the home's layers of technology useful and meaningful, it's essential to help the client to pinpoint where apps and appliances can help. The trick is to think beyond a singular device and choose a platform that integrates a home's connected products into a comfortable, symbiotic system, and then cater that system to your client's wants and whims. "The technology shouldn't be everywhere—it should be hidden," she adds. After all, peace of mind comes from an easy-to-use home. One, two, even three gadgets—that's nice. A fully integrated suite? That's neat.
---
Integration Apps
Unlock the true potential of connected technologies with a single, synergizing platform. Do your homework here, as not all of these systems are created equal—some exclude certain brands and appliances, while others don't support certain product categories.
Control4 OS3
Control4 corrals all of a home's tech in one sleek control center. The system is accessible via touch-screen tablets (which can be wall-mounted or propped up on strategically placed docks), as well as a smartphone interface and a handheld remote control. A main dashboard controls the most popular aspects of the home—from music streaming and Netflix to dining room lighting and door locks—and offers an at-a-glance overview for temperature control and security.
Intellithings RoomMe
Using recognition software in smartphones and smartwatches, RoomMe tracks the people entering and exiting a room—data that can save energy (by regulating temperatures) and personalize the space (by adjusting lighting and air circulation). It can also send emergency alerts in case of prolonged periods with no movement, functioning as an aging-in-place safety system.
Drop OS
This kitchen-specific system is designed to harmonize the space's myriad tools, syncing up with appliances by Bosch, Electrolux, GE Appliances and LG Electronics. Drop OS goes beyond appliances by creating recipe libraries and linking home cooks with local grocers for an easy-to-use connected kitchen.
Temperature and Air Quality
Indoor air filtration has become an especially hot topic during the pandemic—not least for wildfire-afflicted West Coast residents—as consumers become increasingly mindful of air quality. The right technology is a boon to the environment and can also save your clients serious money, considering that HVAC systems account for 46 percent of total energy usage in the average U.S. home.
Bosch BCC50 Thermostat
New from Bosch comes the BCC50 connected thermostat, a sleek, touch-sensitive wall mount with a compact design, backlit controls and highly compatible integration capabilities. In addition to offering easy control of HVAC systems, it pairs with Google Nest and Amazon Alexa.
Sensibo Air & Room Sensors
Stop heating and cooling rarely used spaces by pairing Sensibo's Air Sensor, a smart AC controller, with the brand's Room Sensor. The devices team up to create more precise indoor air climates by adjusting temperature and humidity in real time in rooms where motion is detected, creating a self-regulating environment that saves energy.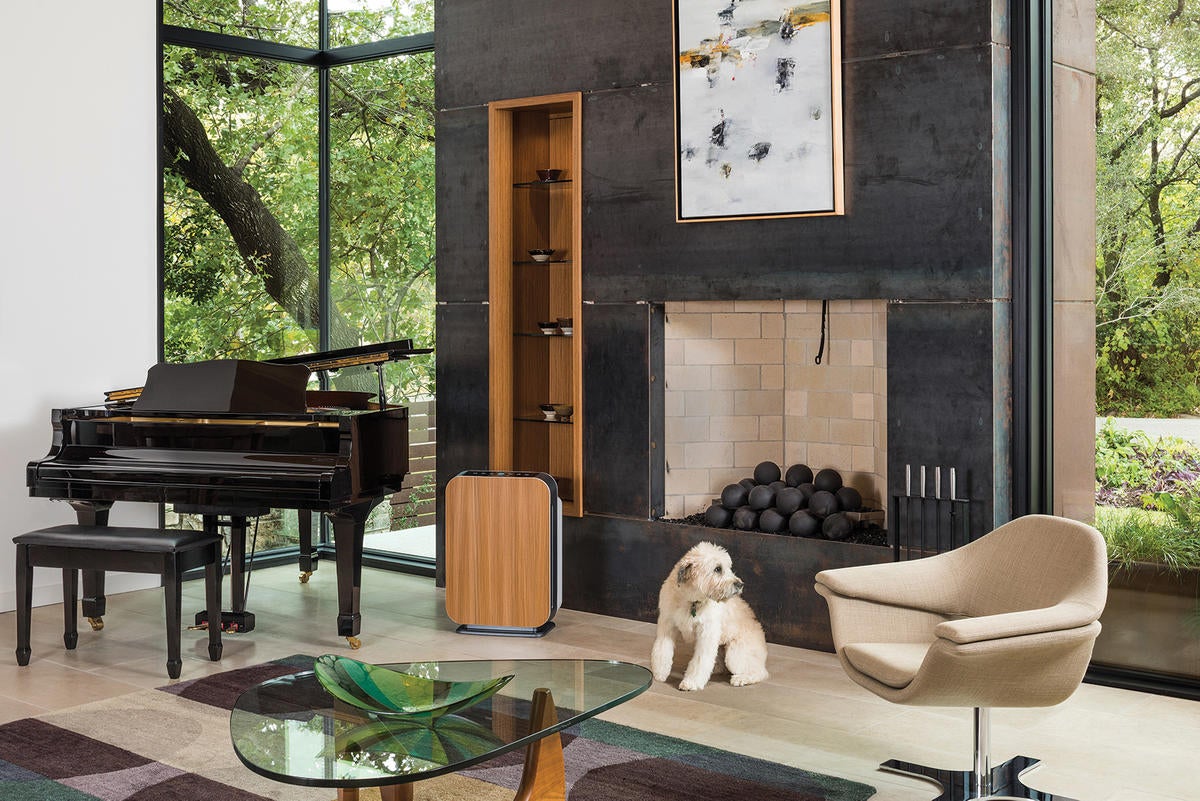 Alen BreatheSmart 75i Air Purifier
Air purifiers have seen an uptick in popularity amid the surge in climate change–induced wildfires, but the devices also regulate everyday airborne allergens like pet dander and dust. Austin, Texas–based Alen recently released its BreatheSmart 75i as a design-driven air purification tool, available in seven colorways and featuring a color-coded LED lighting system to indicate impurity levels. The device has an automatic mode for 24/7 air regulation, with a specially tuned "pink" noise (which emphasizes lower frequencies than white noise to mask unwanted sounds) for better sleep.
Smart Windows
Automated window treatments can be adjusted to open and close in sync with the sleep habits and daily preferences of homeowners. The latest advancements have made these devices' movement more uniform and noise nearly unnoticeable for a maximally restful space.
Courtesy of The Shade Store
The Shade Store Automation by Lutron
Earlier this year, The Shade Store teamed up with Lutron to bring automation technology to its customizable window treatments. The company's shades have been refined to move in unison, nearly noiselessly. Lutron's technology also integrates with a wide array of home automation systems, connecting to an app for easy use anytime, anywhere.
Hunter Douglas PowerView Automation
Hunter Douglas offers PowerView automation on 22 of its window shade designs. The independent motorized shades move according to a preset schedule, with additional adjustment capabilities through voice activation, Hunter Douglas's Pebble remote control, or the PowerView app.
Kinestral Halio Smart Glass
From Kinestral Technologies comes Halio, an electrochromic glass solution that quickly and uniformly tints, adjusting to varying intensities of sunlight. Boasting more than 60 patents, this smart glass is engineered to respond to sky conditions in real time, with an additional Tint Selector app that allows for manual adjustments.
Connected Kitchen
The kitchen is easily one of the hardest-working rooms in the home, and since the onset of COVID-19, it's working overtime—transforming into a classroom, an office and a place to congregate. With so much going on in one space, here are a few products to help lighten the load.
U by Moen Smart Faucet
The elegant gooseneck shape of the U by Moen smart faucet is designed to lend a hand to the busy home cook, offering voice-activated precision measurements through Amazon Alexa or Google Assistant. (Think: "Hey Alexa, ask Moen to dispense one cup of hot water.") The faucet can also be turned on or off with a small touch sensor near its apex, in addition to a manual lever. Using presets in the Moen app, users can create custom settings for various quantities and temperatures—from one teaspoon to 15 gallons, and up to 120 degrees Fahrenheit.
Wolf M Series Contemporary Convection Steam Oven
This sleek 30-inch black steam oven from Wolf senses the volume, shape and consistency of food using a climate sensor that controls the cooking time and temperature for each dish. Users can even specify when they want the dish to be ready and the oven will adjust its cooking settings accordingly.
Sub-Zero Refrigerator/Freezer 
Sub-Zero's latest panel-ready 36-inch over-and-under model features a number of thoughtful new features, including internal fridge-temperature monitoring through Wi-Fi connectivity on a smartphone or tablet, plus a NASA-inspired air purification system that cycles out the ethylene gas emitted by many fresh foods, reducing smells and fighting spoilage.