After a nailbiter of a week, the Suez Canal was finally unblocked—and while the effects of those delays may be felt for weeks to come, the industry pushes on. Stay in the know with our weekly roundup of headlines, launches and events, recommended reading, and more.
BUSINESS NEWS
Los Angeles–based real estate startup Pacaso has received $75 million in growth funding, co-led by Global Founders Capital and Greycroft, and a $1 billion valuation—impressive numbers for a company that launched less than five months ago. Pacaso is a lending platform that facilitates investment in second homes, bringing together small groups of co-owners to purchase a share of a home and orchestrating shared access of the property. According to TechCrunch, Pacaso has also achieved unicorn status (a designation given to companies worth $1 billion) faster than any other startup.
Coworking space operator WeWork has filed to go public through a special purpose acquisition company, or SPAC, that values the company at $9 billion reports Crunchbase—a fraction of the $47 billion it was supposedly worth when it originally filed to go public in 2019. At the time, investigations into WeWork's governance and infrastructure led the company to oust CEO Adam Neumann and postpone its IPO indefinitely; in the immediate aftermath of the shakeup, many wrote off the company as dead. But as the world resurfaces from a year of pandemic lockdowns, new attitudes around flexible and remote work may have reinvigorated the value of the coworking model.
Nine months ago, Atlanta-based home furnishings store Wisteria announced that it would be closing its doors after 19 years. Now, the retailer is making a comeback. Last week, newly appointed co-CEO Dominic Rispoli announced that Wisteria is now an e-commerce destination for home furnishings and accessories, operating under a revamped website.
Ashley Furniture has released its first-ever corporate social responsibility report, which outlines the three main categories that the company will commit to improving: sustainability, community and "One Ashley," which represents its core values, including education and employee happiness. According to Furniture Today, the report also highlights the company's ongoing efforts with respect to the pandemic, including its support of military personnel and first responders and medical research.
Founded in the late 20th century, home services platform Angie's List has a new, very 21st-century name: Angi. With the rebrand comes a host of new features that make the company not just a directory but also a transactional resource. Now, in addition to the platform's listings, the Angi app features pre-priced services, new financing options, end-to-end hiring and payment tools.
Ingka Group, the owner of most Ikea stores, just bought a $16 million stake in London-based startup What3words, reports Reuters. True to its name, the company digitally divides the world into three-meter squares, each with a unique three-word name, with the overall goal of creating a more exact global address system. (Here's where Ikea comes in—the ability to pinpoint a location even more precisely than a street address could potentially aid logistics firms in making deliveries.)
The flooring industry is experiencing price increases, with particular spikes on vinyl and hardwood products, reports Floor Covering Weekly. While the cost of materials, shipping and labor have been steadily rising, the recent spike in demand for these flooring products is owed to a mounting number of home renovation projects, compounded with shipping delays and subsequent rises in freight costs. As a result, the prices for hardwood, laminate and vinyl flooring have gone up at much as 8 percent.
American Express has announced that it is shuttering the print editions of Departures and Centurion, moving each magazine to a digital-first distribution model and ending its publishing deal with Meredith in the process, reports Yahoo Finance. Departures editor in chief Jeffries Blackerby is leaving, as is home and design director Dan Rubinstein. The magazine's forthcoming spring Home + Design issue will close out its 30-year print run, while Centurion's spring/summer edition will be the title's final print issue.
LAUNCHES, COLLABORATIONS & PARTNERSHIPS
Contemporary design studio Voutsa has partnered with new-again heritage brand CW Stockwell to create Martinique Celebration, a capsule collection of five patterns. The patterns, each of which is inspired by a different artist, feature the iconic Martinique print overlaid with Voutsa founder George Venson's vibrant multicolored painting.
The RH Outdoor 2021 collection launches this week, featuring a curated assortment of furnishings marked by classic, modernist and midcentury influences. This year's designer cohort includes first-time collaborations with Ronald Sasson, Claudio Bellini and Gommaire Cleybergh, as well as a partnership with the Belgian company Heatsail.
Boulder, Colorado–based kitchen appliance manufacturer Big Chill has tapped interior designer Kate Marker to collaborate on Spring Edit, a capsule collection of refrigerators in four refined colorways: Oyster, Light Grey, Telegray and Pigeon Blue.
The Harvard Graduate School of Design has launched Harvard Design Magazine, a biannual publication devoted to avant-garde fashion and culture. Under the direction of newly appointed editorial director Julie Cirelli, the magazine will address topics across architecture, design, urbanism, economics, public policy, social justice, art, fashion and culture, with each issue centered around a new theme. The school has also announced the launch of a new publishing imprint, Harvard Design Press, which will begin releasing titles in fall 2022.
American Leather has launched a line of bespoke home office furniture called Label 180, complete with customizable fabric and leather upholstery. Available online, the collection features desks and chairs in a variety sizes.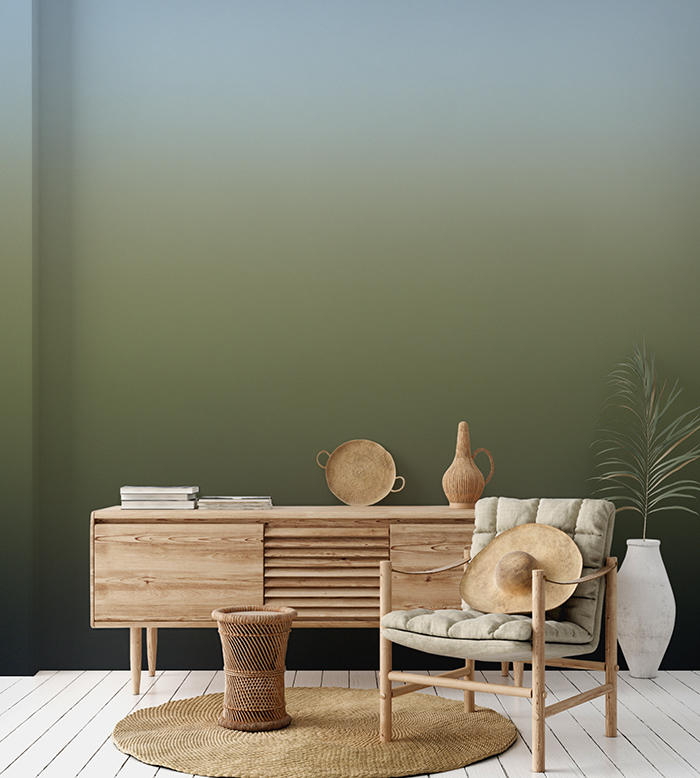 New York–based wallcoverings company Calico Wallpaper has launched a new collection of collaborative designs called Dawn, tapping four designers and studios—Ini Archibong, Dimorestudio, Sabine Marcelis and Neri&Hu—to create richly-colored ombre wallpapers that aim to inspire hope and optimism through their vibrant palettes.
A digital marketplace called The Nopo, short for Nomad Popup, launched this week with the goal of connecting consumers directly with artisans from around the world. Created by entrepreneurs Kelly Breakstone Roth and Shanny Harel, the platform will also host virtual workshops, events and panels for artisans to share their stories and practices.
CALENDAR UPDATES
This year, Forty One Madison's #TableTogether fundraising auction will be hosted in partnership with Gift for Life, benefitting God's Love We Deliver, a nonprofit organization that cooks and delivers medically tailored meals to New Yorkers suffering from chronic illness. The virtual auction will begin on April 13, featuring tablescapes by designers like Alexa Hampton and Young Huh. To visit the auction site, click here.
While NeoCon won't resume in-person programming until October, the trade show has announced that it will host a lineup of talks and panels on the theme of "Designing Well" on April 21 and 22. Speakers include Maya Bird-Murphy, founder and executive director of Chicago Mobile Makers, and Susan Chung, vice president of research and knowledge at the American Society of Interior Designers. To learn more about the event, click here.
Brussels–based design fair Collectible has announced that its fourth edition will run in-person from May 28 to 30, bolstered by a new editorial platform as well as a virtual option. The international event showcases 21st-century design collectibles ranging from artwork to furniture.
RECOMMENDED READING
A group of perfect strangers found friendship (and possibly love?) in a reply-all email chain mistakenly sent from ABC Carpet & Home in November, The Wall Street Journal reports. Thrown together by their place in the CC field—not the BCC, as was likely intended—the group kept up their correspondence over the course of several months, first bonding over a shared delay in sofa deliveries and then finding much-needed connection in the midst of the pandemic.
For the third annual Christie's "The Collector" sale, the storied auction house tapped artist and illustrator Riley Sheehey to let her imagination run loose, reports House Beautiful. Sheehey, whose work initially found an audience on Instagram, was commissioned for a series of paintings depicting antiques in the sale incorporated into fully realized homes of her own creation. Placing pieces from the 17th to 20th centuries at home in maximalist, eclectic design schemes, the artist renders a vision fresh enough to engage younger shoppers—a demographic Christie's has its eye on.
The dream of leaving the chaos of a big city for a simple life in the country is hardly an American-only phenomenon. Furniture designer Peter Mabeo recently moved his eponymous 20-person workshop from Botswana's bustling capital city of Gaborone to its quieter outskirts, reports WSJ. Mabeo's operation may have an international reach—including partnerships with Patricia Urquiola and Claesson Koivisto Rune—but his finely crafted furniture remains firmly rooted in African heritage. "Village life is calm, slow and removed from developing-world aspirations and all their trappings," he told WSJ.
CUE THE APPLAUSE
The 2021 Pritzker Prize has been awarded to French architects Anne Lacaton and Jean-Philippe Vassal, according to The New York Times. The pair earned the highest honor in their field for achieving feats of restorative architecture that are at once affordable and sustainable, including a 2010 redesign of a 1960s housing project on the outskirts of Paris.
Homepage image: The Henri print from the CW Stockwell x Voutsa collaboration, Martinique Celebration | Courtesy of CW Stockwell