While online-only auctions have become commonplace over the last decade for certain categories (like jewelry), decorative arts auctions have not yet fully made the transition. Interiors sales usually feature large-scale exhibitions that run for days ahead of the sale itself, giving prospective buyers a chance to inspect the lots in person before bidding. And while clients have the option of placing bids online for in-person auctions, more traditional decorative arts collectors have generally chosen to pay a visit first.
"Historically, with furniture, we've worried that people might not understand the pieces online," says Bliss Summers, the vice president of decorative arts at Christie's. Because of that concern, auction houses have long avoided bringing interiors sales completely online. Now, with their customers housebound until further notice, they're giving it a go.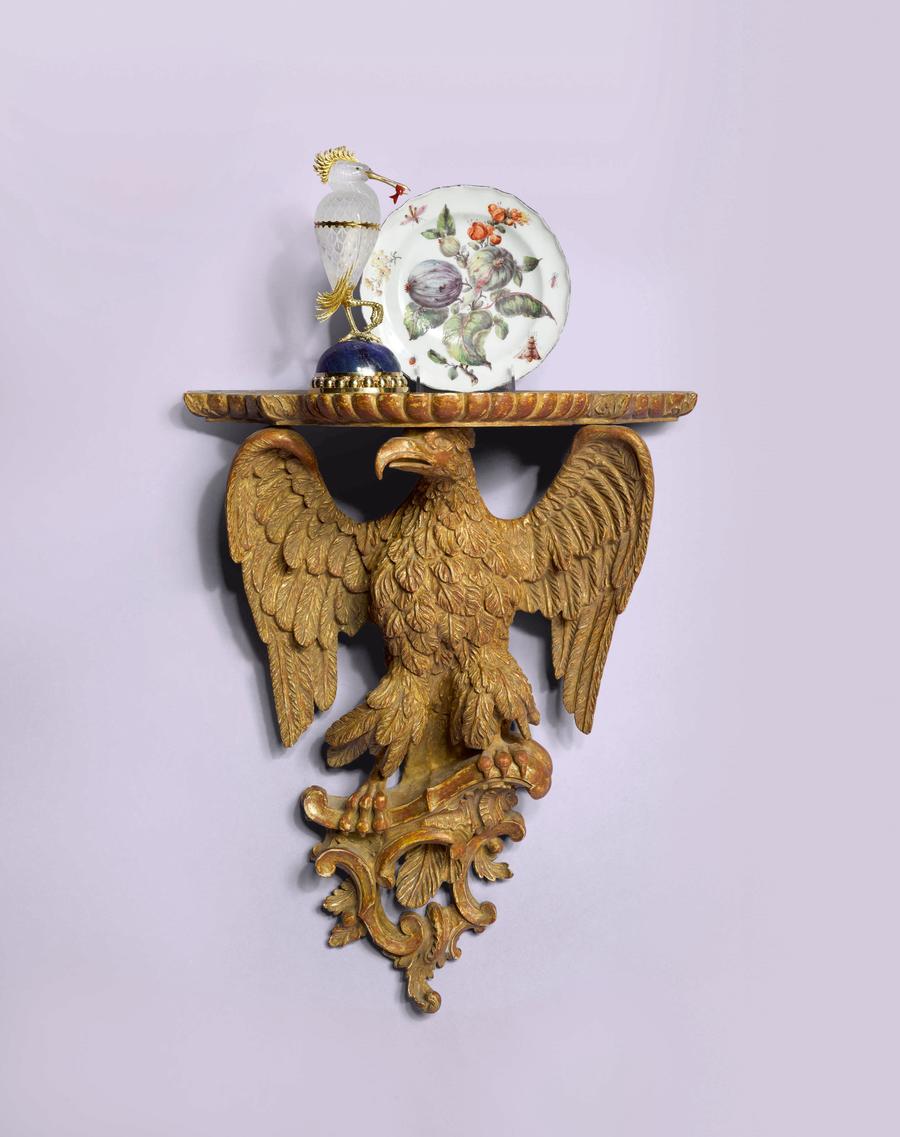 "I think people are better at looking and gauging things online than they used to be," says Summers. "People are more comfortable making large purchases online than they were when we started doing online auctions in 2011." That theory will be put to the test on April 28, when the next Christie's interiors sale—"The Collector: English & European 18th & 19th Century Furniture, Ceramics, Silver & Works of Art"—goes live.
For Dennis Harrington, head of English and European furniture at Sotheby's, the amount of photography that his team had done for their biannual auction, "Style: Silver, Furniture, Ceramics," which opened last week and runs through April 22, was a stroke of luck. "We were ready to go to the printer with the catalog for the sale the second week of March," he says. "If everything hadn't been fully photographed and cataloged, we may have had to postpone, as many auctions have been. But we happened to be in a position to move our print catalog online and carry on in this new way."
The team at Sotheby's was able to digitize the print catalog and make it interactive, layering hot spots over the images that prospective bidders could click for more information. A large portion of the sale comes from the estate of interior decorator and garden designer Andrew Hartnagle and was photographed at the late designer's Pennsylvania home, which meant there was a trove of images featuring lots in situ—as they might have looked at the planned exhibition to launch the auction—in addition to the more traditional shots of pieces against a stark white backdrop. "Our catalog felt more like a magazine," says Harrington. "The scenes are summarized a bit more thoroughly and we've added a lot more details than usual. It makes it a bit more personal, since people won't actually be able to see the items in person."
Before Sotheby's closed for the coronavirus, Harrington and his department took another round of photos of the auction lots, anticipating that buyers would want to see as many angles of a piece as they could, since they would be denied an exhibition. "Where I might send a couple of photos to a client normally, I'm sending maybe 20 or 30 per piece for this auction," says Harrington. "This experience is new for both us and our clients, so there's been a lot of outreach to clients who might not be as familiar with the online process. But they've adapted and seem excited to give it a try."
Summers has seen a similar enthusiasm among her clients at Christie's, particularly from their consignors, who have been totally on board with the new process. "You're always hopeful when you do something new that it will translate," she says. "So, it's been amazing to see how people are responding already."
Both Harrington and Summers are interested to find out what sort of engagement their sales get amid these unprecedented conditions. "I'm curious to see if this actually ends up getting more attention than usual because we're playing to an enforced audience, because everyone is at home in front of their computers," says Harrington.
There's no telling when things will be back to business as usual at either auction house—though as long as items are photographed and cataloged, they could be made ready for an online sale. "We're trying to be flexible and work with our clients, but we're also prepared that auctions might look a little different for the next year or so," says Summers. "We don't want to have live auctions until it's absolutely safe. We all have to collectively come back together at the right time."
Homepage photo: A vignette from the upcoming Christie's sale "The Collector: English & European 18th & 19th Century Furniture, Ceramics, Silver & Works of Art" | Courtesy of Christie's