Many city dwellers fled to country estates and warmer locales during the pandemic—meanwhile, New York has recently acquired a retreat of its own—an urban island perched on the Hudson River. Stay in the know with our weekly roundup of headlines, launches and events, recommended reading, and more.
Business News
WeWork incurred $2.1 billion in losses during the first quarter of 2021, the Financial Times reports, adding to overall losses of $3.2 billion in 2020. The co-working company suffered a series of blows in the past year, including losing a quarter of its members to remote work, shuttering unprofitable locations and shelling out $500 million in a settlement with former CEO and co-founder Adam Neumann. Despite the massive losses, the company plans to make a second attempt at going public later this year through a merger with BowX Acquisition valued at $9 billion.
Ikea has pulled 159,000 plastic Heroisk and Talrika bowls, plates and mugs off the shelves in the U.S. and Canada after receiving over one hundred reports that the items were breaking and causing hot foot or liquid to scald users, Fast Company reports. As part of the recall, customers may return the products for a full refund even without a receipt.
In other product recall news, streetwear brand Supreme is holding the release of its upcoming lounge chair after a last-minute defect was discovered. As Input reports, selective drops have historically driven the brand's hype, so the reported recall could ironically end up benefiting the company should a smaller release spike prices.
Google is opening a brick-and-mortar store in New York this summer, The Wall Street Journal reports. Shoppers will be able to purchase products like the Pixel phone, Nest smart thermostats and Fitbit wearable devices at the Google corporate campus in Manhattan's Chelsea neighborhood, and the store will also provide repair and troubleshooting services. Though the tech giant has run temporary pop-up shops in Chicago and New York in the past, this new space marks the company's first permanent step into in-person retail.

Last week saw the introduction of a new online marketplace for contemporary art called Platform—a stand-alone venture backed and conceived by gallerist David Zwirner. Each month, Platform will introduce a new selection of 100 unique paintings, drawings and mixed-media works available on a first-come, first-served basis at prices ranging from $2,500 to $50,000. The debut selection, available from May 18 through June 15, features original works by artists such as Lily Stockman, Tunji Adeniyi-Jones, Jesse Mockrin and Kenny Rivero.
The growing demand for e-commerce has placed an even tighter strain on the labor market for logistics and distribution, WSJ reports. In response, warehouses are employing growing numbers of robots to help shoulder the load. The automated bots are most typically used to retrieve goods and hand them off to workers for faster order delivery, though some logistics operators are beginning to up the ante by testing remote-operated forklifts. According to technology research firm Gartner Inc., the robots may be here to stay—the group projects that demand for robotic systems assisting human workers will quadruple through 2023.
Launches and Collaborations
LG Electronics USA has launched a live shopping event series called The Upgrade, allowing shoppers to purchase the brand's products during Instagram Live presentations featuring a variety of influencers. The first event will feature father-son YouTube duo Dan and Lincoln Markham of the What's Inside? product review series, who will host a live Q&A that showcases LG products—marking the company's first direct-to-consumer live shopping venture.
Rapper Lil Jon will soon hit the silver screen on his own HGTV home renovation show—aptly named Lil Jon Wants To Do What? According to Page Six, the hip-hop star, alongside co-star Anitra Mecadon of the DIY Network's Mega Dens, will push Atlanta-area homeowners to try daring projects (gutting a basement to make way for a speakeasy, for example). "I love walking into someone's house and turning it upside down," said Lil Jon in a statement. "When people hear my name, they automatically think … fun! That same energy goes for my designs as well."
Fashion brand Anne Klein has debuted a new home collection, available on the brand's website and at Macys.com. Drawing inspiration from the design archives of the company's namesake founder, the collection features bedding influenced by the late fashion designer's Connecticut country home, West Hampton beach house and downtown Manhattan apartment.
French interior architect Pierre Yovanovitch has launched his first furniture brand, titled Pierre Yovanovitch Mobilier. Inspired by the designer's native Provence, the new line features 45 pieces of furniture and lighting set to debut in a special installation in the historic Académie d'Architecture in Paris from May 19 to 21.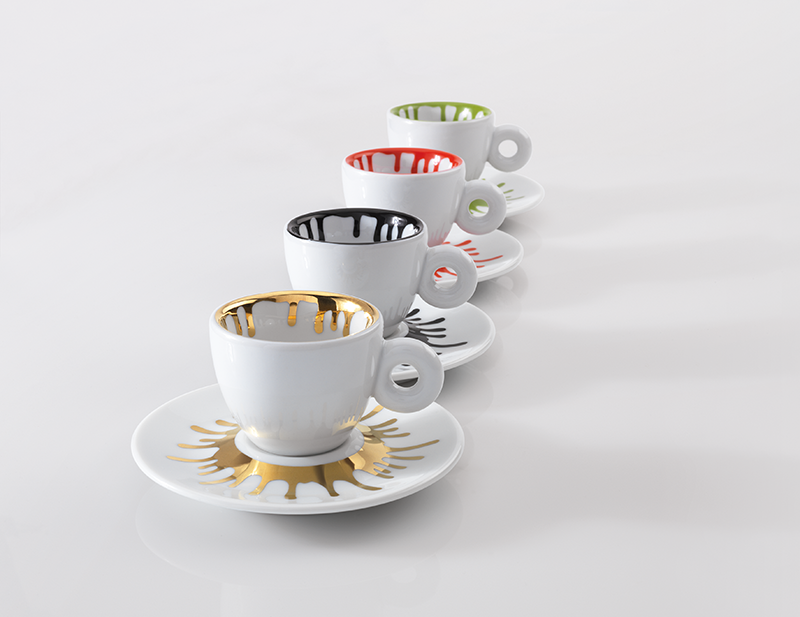 Ai Weiwei has partnered with Illy Art Collection for a line of cups available exclusively on the coffee purveyor's website. Inspired by Weiwei's 2006 work Colored Vases—which sought to eliminate the historical and cultural value of a vase—the new collection reimagines the Illy espresso cup with a driplike painted pattern similar to the artist's iconic vases.
Furniture rental company Feather has launched its first outdoor furniture collection. It has partnered with a number of brands to rent their pieces, including West Elm's Playa and Cagney collections, as well as Pottery Barn's Indio collection.
Dallas Market Center has announced an official partnership with online wholesale marketplace Tundra. Together, the two will create a virtual and physical buying and selling experience in which Tundra will offer Dallas Market Center customers a concierge onboarding specialist and $100 credit for advertising on the site for a limited time. The brand will also participate in the center's Total Home & Gift Market through on-site activations and demonstrations.
Showroom Representation
As of June 1, Design Alliance LA will represent New Zealand–based textile brand James Dunlop Group for the Southern California, Hawaii and southern Nevada markets, carrying James Dunlop's newest collections, Fusion and Fusion Cocoon.
Four new luxury interior furnishings brands have joined the Somerselle roster for representation in the New York tri-state area. The new additions include designer Emily Daws's nature-inspired textile collection; Johanna Howard Home's luxury pillows and throws; textiles, wallpapers and artwork from Shell Rummel; and wallpapers and textiles from Society of Wonderland, founded by artist Stephanie Eventov.
Recommended Reading
Celebrated ceramicist Christopher Spitzmiller has spent the last 15 years on a five-acre plot of land in New York's Dutchess County, turning a former dairy operation into a "lifestyle laboratory." According to The New York Times, the folksy habits the craftsman has cultivated there—from cooking and decorating to gardening and beekeeping—may just set Spitzmiller up to be the next Martha Stewart. His recently published volume, A Year at Clove Brook Farm, offers a peek into the lifestyle he has adopted, complete with recipes, instructions and DIY tips.
Maya Angelou famously escaped to nearby hotel rooms to do her writing, even taking the artwork off the walls in order to focus on her craft—but what if there's a science behind this method? For The New Yorker this week, Cal Newport makes the case for separating work from home by pointing out the psychological effects a familiar interior has on the brain.
Cue the applause
The Los Angeles County Museum of Art has acquired into its permanent collection a first version of the Nyala chair from Ethiopian American artist and industrial designer Jomo Tariku. Made from bleached ash wood, the chair's hand-carved armrests and legs mimic the horns and hind legs of the elegant mountain antelope native to the Bale Mountains in southern Ethiopia. Tariku's work specifically centers on various African references, and this acquisition marks the artist's first piece to enter a museum collection.
New York–based architecture and design firm DXA Studio has been named a winner of the 2021 NYCxDesign Awards presented by Interior Design, earning the distinction in the commercial category for its reimagining of the Brooklyn Bridge. Titled "The Great Bridge: Path to Equilibrium," the project envisions the famed bridge adding an upper deck that's a planted promenade for foot traffic. The design was created in collaboration with Patrick Cullina Horticultural Design + Consulting, Philip Habib & Associates and Thornton Tomasetti.
The American Society of Interior Designers has announced the winner and scholars of its 2021 Ones to Watch program. The awards recognize outstanding industry leaders, prioritizing participants whose backgrounds are underrepresented in management roles in the interior design field—specifically women, members of racial and ethnic minority groups, LGBTQ people, and people with disabilities. Winners are selected in the categories of Design Excellence, Education Leadership, Manufacturing Leadership and Volunteer Leadership, and are given access to connections and leadership opportunities in the design community. For the full list of winners, click here.
Patti Carpenter, an international expert in trend research, analysis and forecasting and principal of Carpenter + Company, will be honored with the 2021 Gift for Life Industry Achievement Award during Gifts & Decorative Accessories' 70th annual Retailer Excellence Awards on August 3. Along with identifying trends in home decor, accessories, fragrance and gifts, Carpenter serves as an advisory board member of the Black Artists + Designers Guild and is a founding member of the World Fair Trade Organization.
Call for Entries
In partnership with Thermador, the Interior Design Society has announced the Diversity in Design Pipeline initiative, which is centered on providing design students with scholarship packages, IDS membership and access to trade events, as well as connecting recipients with an interior design mentor. For more information on applying or becoming a mentor, click here.
Homepage image: Courtesy of Pierre Yovanovitch Mobilier