Amid buzzy headlines around vaccine optimism, the home industry is still facing significant supply chain delays and shortages. Spring is here, and as the world continues to find its bearings, stay in the know with our weekly roundup of headlines, launches and events, recommended reading, and more.
BUSINESS NEWS
Christie's has pledged that it will be net zero by 2030, an announcement that comes as part of a broader sustainability initiative launched by the auction house. Over the coming months and years, the company plans to reduce its emissions by 50 percent across its global operations, and divert 90 percent of waste away from landfills.
The global supply chain continues to be a mess. Long lead times and significant delays are being felt acutely in the interior design industry, sure, but according to The Wall Street Journal, manufacturers of everything from automobiles to mobile phones are suffering, too. WSJ attributes the delays to an unlucky combination of severe Texas weather and port backlogs that exacerbated an already-challenging situation. In North America, car manufacturers like Toyota and Honda announced that they would halt production as a result, and Samsung Electric Co. chimed in, publicly announcing the strain being felt internally. "The disruptions, which come as the U.S. and some other economies are beginning to lurch toward normalcy, show how messy the reopening of business is proving to be a year after pandemic's onset," write Sean McLain, Christopher M. Matthews and Costas Paris.
Another wrinkle in international shipping: A nearly quarter-mile-long cargo ship named the Ever Given became stuck in the Suez Canal on March 23 after strong winds forced the ship aground on one of the canal's banks, reports The New York Times. By Wednesday morning, more than 100 ships were caught at each end of the canal, trapped by Ever Given's perpendicular orientation that blocks canal traffic in both directions. The disruption will only compound the delays being felt in the global supply chain—roughly 90 percent of the world's goods are transported by ship, and the Suez Canal sees the transport of about 10 percent of worldwide shipping traffic each year. It remains unclear how long it will take for the Ever Given to be dislodged, but "if the ship is not freed within a few days, it would add one more burden to a global shipping industry already reeling from the coronavirus pandemic, creating delays, shortages of goods and higher prices for consumers," write Vivian Yee and Peter S. Goodman.
Last week, Samson Holding Ltd., parent company to home brands Baker Furniture and Universal Furniture, issued a profit warning for 2020, reports Furniture Today. The company expects a loss of about $15.5 million and an annual sales decrease of 13 percent, compared to a 2019 loss of $48.5 million. In its report to shareholders, Samson attributed the decline to COVID-related " work stoppages, business slowdowns, social distancing, travel restrictions and regional lockdowns."
Digitally powered real estate brokerage Compass is the latest tech startup planning to go public, Forbes reports. According to the prospectus the company filled with the SEC, the company saw major growth in 2020, with revenue shooting up 56 percent to $3.7 billion, though it wasn't quite enough to put the brokerage in the black—it lost $270 million in 2020 and $388 million in 2019. Since its 2012 launch, Compass has raked in $300 billion in deals from the 19,000 agents on its platform, while raising $1.5 billion in venture capital.
In the lumber industry, soaring demand and widespread shortages have driven prices to new highs, reports Fortune. Prices have been driven up 180 percent since the start of the pandemic, and homeowners hoping to renovate have been bearing the brunt of the cost increase, with single-family home new builds costing an additional $14,000 on average in 2020. Since then, lumber prices have continued to climb, while the lumber industry weathers periodic mill closures.
Sonoma County's historic Madrona Manor is getting a major face-lift, thanks to a recent acquisition from a new local ownership group led by interior designer Jay Jeffers. Built in 1881, the 22-room, 8-acre Healdsburg estate is now home to a Michelin-starred restaurant and holds a spot on the National Register of Historic Places. Its newest owners have plans for a sleek redesign and are expecting the Madrona to undergo construction before reopening in late 2021—just in time for wine country's peak tourism season.
LAUNCHES, COLLABORATIONS & PARTNERSHIPS
Wholesaler Sam's Club has tapped interior designers Nate Berkus, Becki Owens, Jennifer Houghton and Jonathan Stiers for a new outdoor living collection. The launch is being released and promoted through a virtual shopping experience that uses 360-degree imaging technology to create digital vignettes.

Courtesy of Beautiful Kitchenware
Drew Barrymore has launched a new kitchen appliance brand, Beautiful Kitchenware, featuring small-scale gadgets from a toaster to a blender and air fryer. The colorful collection will be available through Walmart.com and in-store nationwide come mid-April.
In a departure from its usual selection of new and vintage rugs, home decor brand Revival has launched its first-ever bath collection. Complete with towels, washcloths and bath mats made from 100 percent Turkish cotton, the new line features shades inspired by the Aegean coast, including blush pink, sky blue and classic cream.
Ohio-based Norwalk Furniture is launching an upholstery collection with Los Angeles designer Kim Salmela, featuring four new seating options with a modern West Coast sensibility.
CALENDAR UPDATES
New York–based rug manufacturer Tantuvi and PR agency Hello Human have come together to launch #DesignForATL, a fundraiser to benefit the Atlanta affiliate of Asian Americans Advancing Justice, a legal advocacy nonprofit dedicated to protecting the civil rights of Asian Americans, Pacific Islanders and immigrant communities. The social media initiative is taking place on Instagram until March 26, and will consist of a raffle of donated products and design services. The proceeds will benefit the families of those who were killed in the Atlanta shooting spree on March 16; to visit the raffle page, click here.
In light of the recent attacks against the Asian American community, tabletop brand Material is donating 50 percent of its profits on sales from March 24 to 31 to benefit Asian American and Pacific Islander (AAPI) nonprofit organizations. The collection, designed and photographed entirely by Korean women, features matte-glazed plates, bowls and serveware.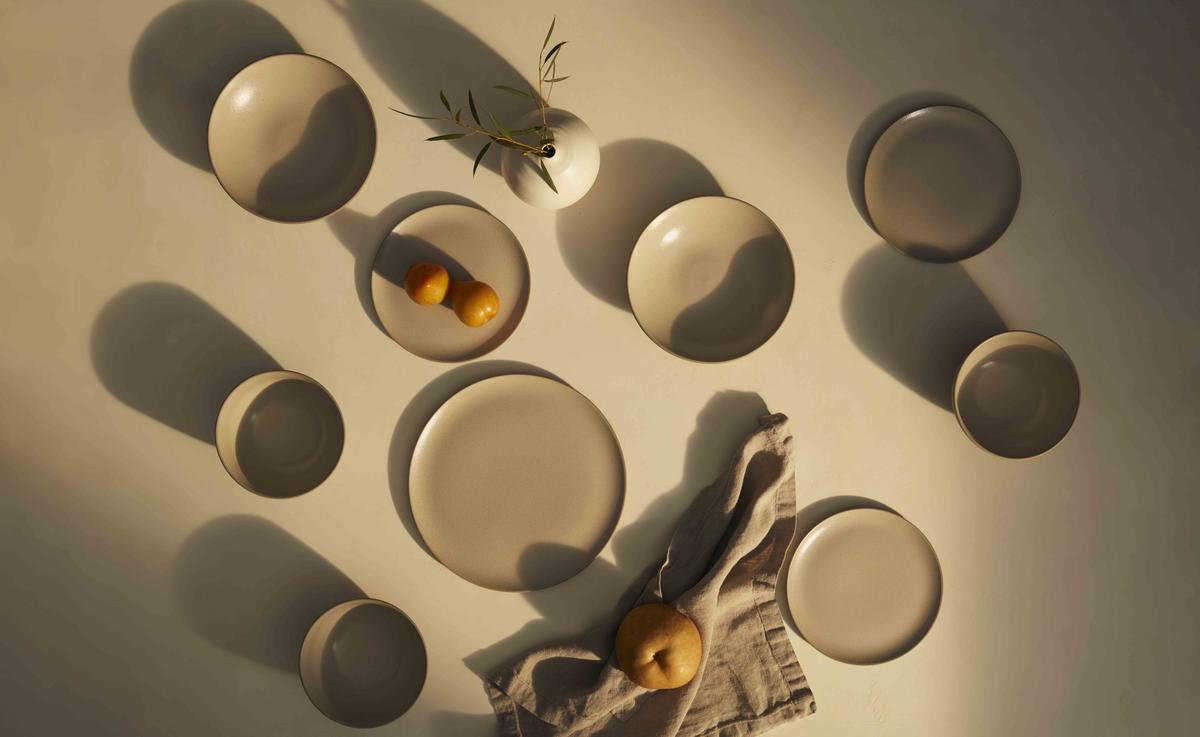 SHOWROOM REPRESENTATION
Dallas-based multiline Pholio Co has announced a number of new lines at its showroom: Italian lighting manufacturer Potocco, Kvadrat at Home, and wallcoverings brand Giardini.
RECOMMENDED READING
The hottest fabric of the Regency era—worn by Marie Antionette, Joséphine Bonaparte and Jane Austen alike—has since been lost to the world. BBC News tells the story of the precious material, called Dhaka muslin, which was made from a now-extinct type of cotton in an elaborate 16-step process. Once handmade by artisans in present-day Bangladesh, production of the delicate, transparent fabric was quashed by increased demand from European aristocrats and subsequent pressure from colonial enterprises like the Dutch East India company. Thanks to a recent project dedicated to resurrecting Dhaka muslin, there may be hope yet for one of history's most talked-about textiles.
HGTV is perhaps best known in the industry for its peppy hosts and impossibly short timelines, tied together by a consumer-friendly design aesthetic. "But HGTV is a splendid, crenellated house in a neighborhood built on quicksand and termite tunnels," writes Ian Parker in the The New Yorker. The television network built much of its cable following on a foundation of passive viewers, with the hum of its shows on the screens of community gyms, reception offices and even some police stations, explains Parker—but in the age of streaming, how will the network stay afloat?
IN MEMORIAM
Stephen Levine, a prolific creative force in the design industry, passed away suddenly of heart failure at age 53. Over his three-decade career, Levine held leadership roles at Kneedler Fauchère, Rose Tarlow, Donghia and Robert Allen Duralee, among others. "What he was able to see through a photo lens was magic, and the furniture, fabric and interiors he designed made the world a more beautiful place," wrote his partner in a statement. "Stephen was charismatic and hardworking, yet never took himself too seriously. He would light up a room and kept everyone around him inspired and laughing at all times."
Gregory Vargo, president and CEO of his eponymous design licensing and brand strategy firm, passed away this week after a battle with ALS. Vargo joined the home industry more than 40 years ago, and dedicated the past two decades to helping artists, designers, architects, and other home industry companies develop their brands.
Homepage image: Ceramics by Material | Courtesy of Material